ITSM for high-velocity teams
The Jira Approach To HR Service Management and Delivery (HRSM)
In today's world employees expect immediate service and open access to internal systems. Jira Service Management's HRSM (Human Resources Service Management) solution offers a consumer quality self-service portal, automating HR service delivery for competitive onboarding experiences, and simplifying access to internal tools. All of this combined speeds up employee productivity.
HR teams today sometimes rely on manual processes like chasing down signatures from finance or walking by the IT department to let them know a new employee is starting. This manual process is prone to error and lacks consistency. An HRSM solution helps HR create amazing employee experiences and makes sure nothing falls through the cracks.
The service-centric solution integrates HR with cross-functional departments like IT, finance, payroll, and facilities, facilitating processes like onboarding new employees end-to-end. With every team using the same service delivery tool, employees benefit from on-demand access.
For HR teams looking to get up and running with a service desk, Jira Service Management offers out-of-the-box templates for HR teams that have pre-built workflows for processes such as onboarding, offboarding, and general HR inquiries. To initiate a collaborative HR service delivery system, there are four key elements to have in place.
Simplify access to services
HR teams are the first point of contact for a new employee. And when a new employee has questions, they'll likely reach out to the HR team for information about gaining access to new systems, how to get hardware equipment, and more. IT teams can work with HR to initiate end-to-end automated services through a service catalog approach. In Jira Service Management, teams can set up a portal with a number of service areas for the different teams bringing service management to the entire business. Instead of wasting time by going through several individuals, employees can request a new laptop, and automatically have it routed, approved, and provisioned through a few simple clicks.
Each team can have their own service desk, with workflows behind it working hard to speed up service delivery.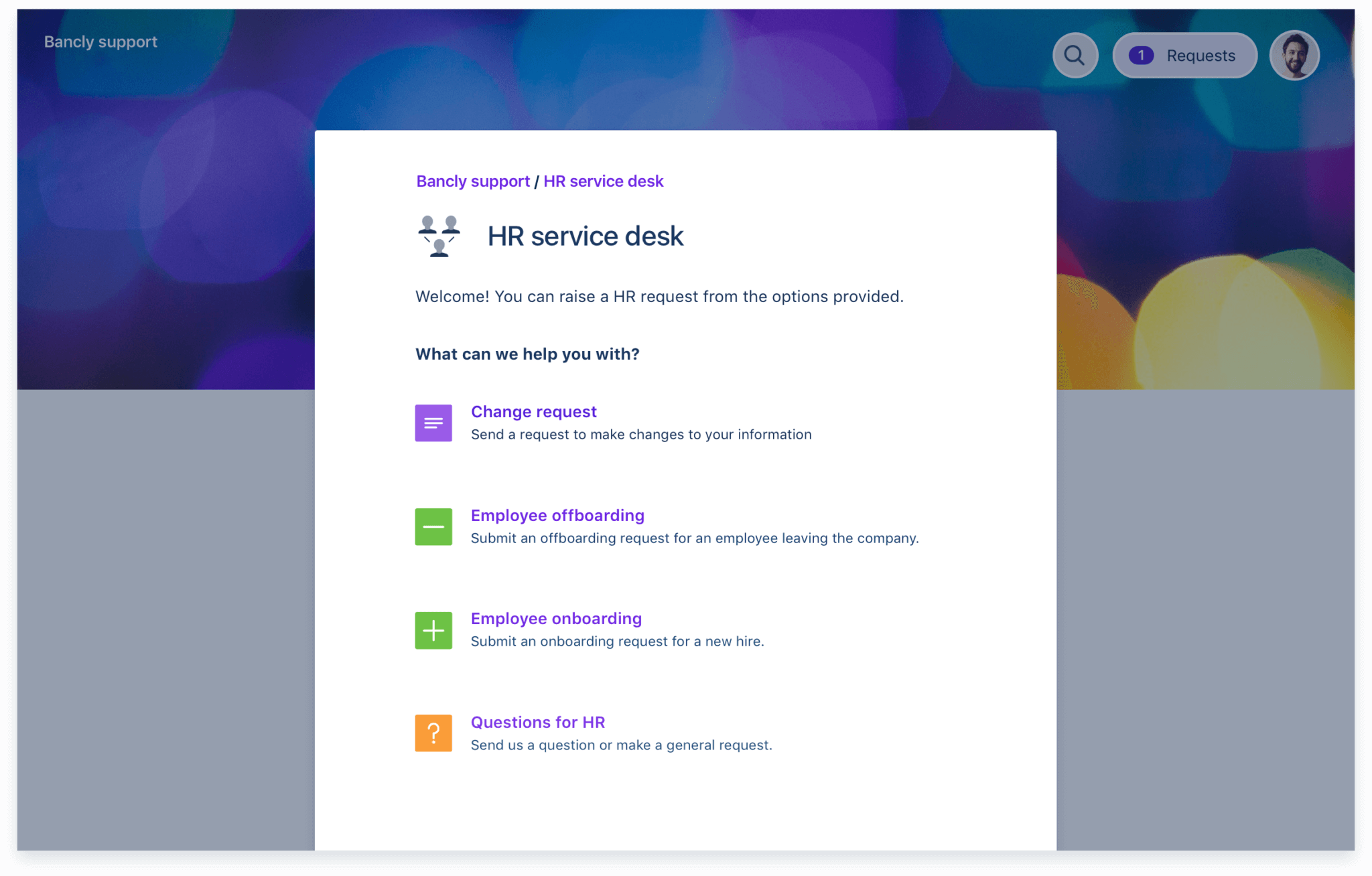 Employees no longer have to hunt down the right department or point of contact. They can visit one central place to request service from any internal team.
Provide consistency in HR onboarding and offboarding
Employee onboarding and offboarding requests are efficient and scaleable using Jira Service Management. By introducing workflow automation for these processes, fewer resources serve more employees - creating consistency in the way onboarding is delivered. Multiple departments like HR and IT are connected together to create one sequenced flow, with each step kicking off the next task. Atlassian customer Appdynamics doubled its headcount over two years, using Jira Service Management to manage the growing team as they scaled.
Maintain security with HR case management
Internally, Atlassian uses Jira Service Management to track sensitive employee relations cases. HR teams deal with an array of sensitive requests that only one or two eyes need to see. In order for HR to fulfill each case to resolution, a safe space is required to document and track the events related to the matter reported. With Jira Service Management's HRSM solution, HR teams can operate a confidential service desk for case management using permissions to manage who can view, find and comment on requests. In the same solution, they maintain a separate public-facing service desk for matters of payroll, onboarding and more general HR services.
Minimize repetitive tasks
While employees see a unified single portal to access help, Jira Service Management helps teams hide the complexity behind the scenes. From well-designed intake forms that can reduce request volume by 70% to automating how data flows through all the required teams, Jira Service Management helps HR teams better allocate their resources and stay focused on higher-value work.
IT and HR teams collaborate to map common processes to determine where to start. Compiling frequently asked questions (FAQs) and building a knowledge base is a quick win for many teams.
With the FAQ addressed and detailed request forms ensuring HR teams get the information they need to do their jobs quickly, onboarding automation can be tackled at a later stage as it usually involves more orchestration across multiple departments.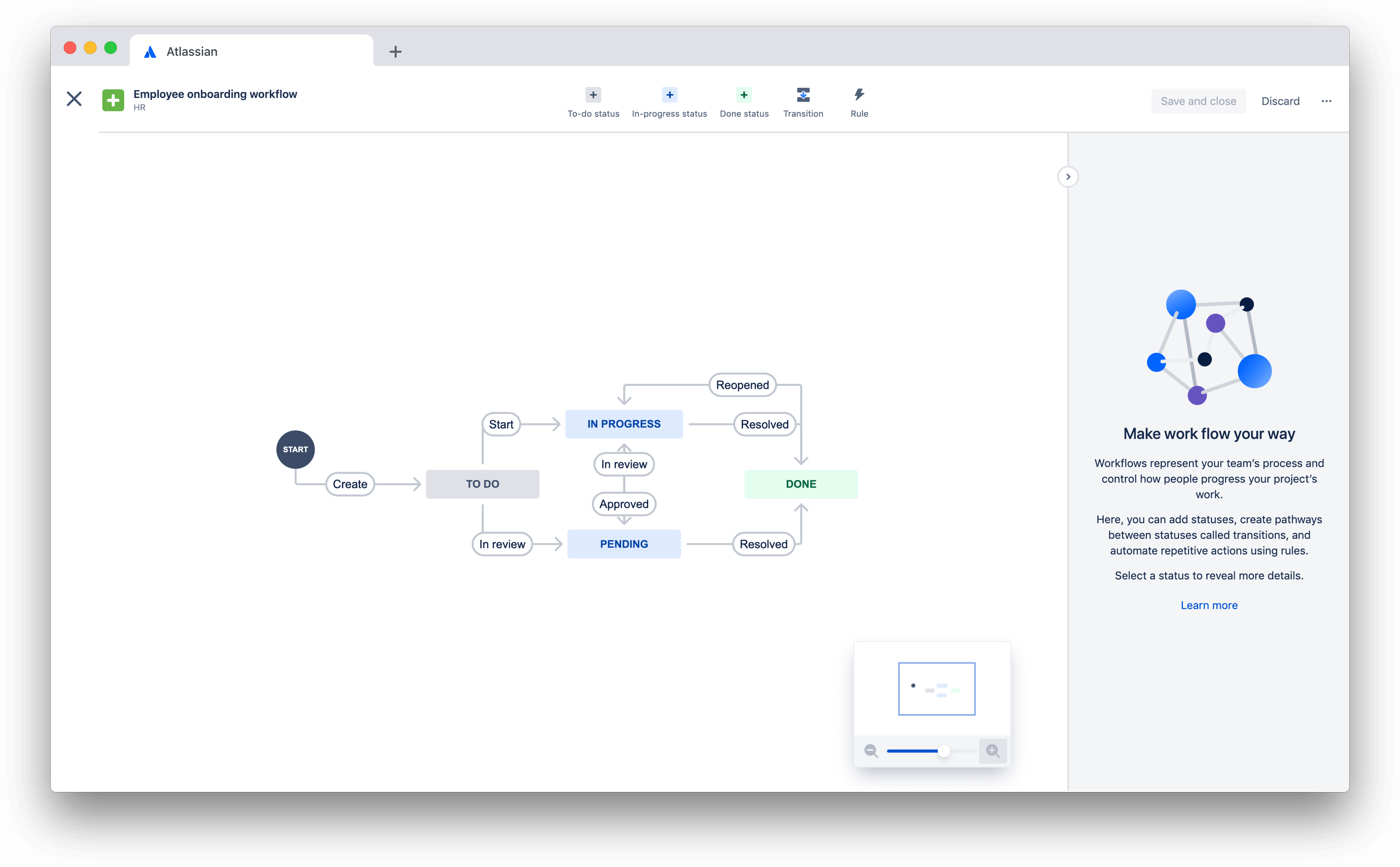 Track service demand
IT teams can set up simple reporting dashboards that help HR track and report on the delivery of their services. Monthly reporting becomes easy when HR managers can understand the volume of requests coming in, how many employees have successfully been onboarded, and what each of their team's workloads is - all at a glance. Instead of guessing, they can use data to make informed decisions about scaling their team or know where to improve.
Want to learn more about service management for HR teams?
Article
The complete guide to Enterprise Service Management (ESM)
What is Enterprise Service Management? Learn how to implement ESM for better service delivery in this guide.
Read the article
Article
HR Automation Best Practices
When IT understands the HR team's unique needs, it can better identify which processes should be automated and dramatically amplify the HR team's efficacy.
Read the article