The only service desk built on Jira
Jira's service desk empowers teams to deliver great service experiences and ensures your employees and customers can get help quickly.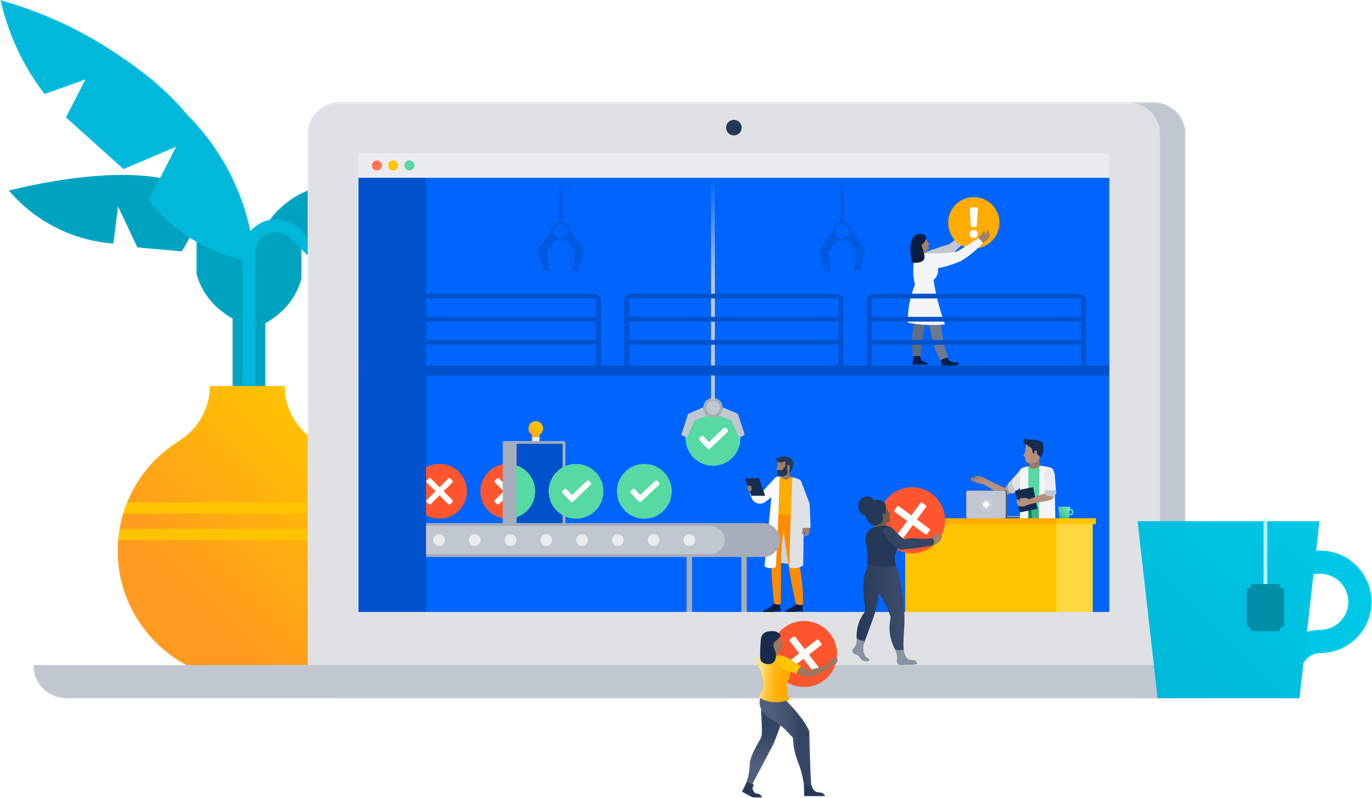 Jira Service Desk vs. Jira Service Management
To be fair, it's not really a "this vs that" scenario, because Jira Service Management includes all the functionality of Jira Service Desk with richer ITSM capabilities. Jira Service Desk is now part of Jira Service Management.
How did we get here? We created Jira Service Desk in 2013, after we noticed that nearly 40% of our customers had adapted Jira to handle service requests. Thousands of teams managed requests through service desks, reduced manual effort, and set up workflows across their organizations in departments like HR and legal.
In 2020, we introduced Jira Service Management to further unlock development, IT operations, and business teams, so they can deliver exceptional service experiences.
High-velocity service request management
Happy, productive teams
Give customers and employees an intuitive, self-service portal that provides them with one place to get help fast. Easily spin up service desks that fit unique team needs. Leverage Jira Service Management's knowledge base to respond to and resolve incoming requests faster.
A unified view of work
Triage, track, and assign incoming requests from various sources with queues and SLAs. With conversational ticketing, employees can seek help directly from Slack and agents can track all the information they need in Jira Service Management. Gain full context on customer needs through linked issues and associated Insight assets.
Deliver exceptional service experiences
By bringing development and IT support teams together on one platform, it's easy to collaborate across teams to rapidly address concerns. When employees or customers report incidents or issues, you can easily escalate and route them to the right development and operations teams to squash bugs, resolve incidents, respond to changes, and deliver exceptional service quickly.
Service request management features
Service desk
Make it easy for every team to spin up a service desk. Showcase services through a simple, intuitive portal that makes it easy for your employees and customers to get help quickly, and for your teams to streamline incoming work.
Request queues
Bring together requests from email, chat tools, your service desk, and other channels. Configure queues to track, triage, and assign incoming requests. Group similar tickets and make it easy to categorize service requests, incidents, problems, and changes.
Self-service
Empower customers and employees to find answers to common questions using a self-service portal. Users can use the knowledge base inside Jira Service Management to surface relevant articles to deflect requests. They can get the help they need, without having to engage with an agent.
Service Level Agreements (SLAs)
Set as many SLA policies as needed to keep track of deadlines based on elapsed time or request categories. Resolve requests based on priorities, and use automated escalation rules to notify the right team members and prevent SLA breaches. 
Reports and metrics
Dive into customer satisfaction reports to better understand your customers and improve service with a simple, built-in tool for collecting feedback. Monitor and optimize your team's work with slick reports and dashboards.
Requests from Slack and Microsoft Teams
Jira Service Management chat users can create a two-way sync between conversations in Slack or Microsoft Teams and Jira Service Management. Employees never have to leave Slack to get the help they need, and agents get all the information they need right in Jira Service Management.
Jira Service Desk has revolutionized how we do IT. We're dealing with 236% more tickets with only a 63% increase in IT engineers – and our IT team has worked to become 44% more efficient."
Business Tools Team Lead, Skyscanner
Try Jira Service Management for free