---
The power of teamwork
Behind every great human achievement, there is a team.
From medicine and space travel, to disaster response and pizza deliveries, our products help teams all over the planet advance humanity through the power of software.
Our mission is to help unleash the potential of every team through open work.
Global offices in 7 countries
1% donated of all profit, employee time, and equity
$132 million donated in Community licenses
4,000+ apps in our Marketplace
2 planets with our software on them
A brief history
Armed with a credit card and a dream, two college friends, Mike Cannon-Brookes and Scott Farquhar set out to create Atlassian. In 2002, they didn't know what kind of company Atlassian was going to be, but they knew exactly what it shouldn't be—an environment where they had to conform rather than be who they authentically are.
Now, over 15 years later, our team has grown to over 3,000 Atlassians worldwide with offices around the globe. But it didn't happen overnight. Here's our story.
---
Mike and Scott, both 18, land in the same scholarship course at the University of New South Wales.
Atlassian, inspired by the Greek Titan, is registered as a business name.
Atlassian becomes real with the launch of Jira 1.0.
We welcome our first employees—Mike and Scott's college friends.
Confluence 1.0 is born and released to the world.
After an "interview" over a game of pool, we hire our first U.S. employee, Jeffrey Walker.
We begin hosting our quarterly internal innovation days, ShipIt. It's like 20% time on steroids.
1,000
We get our 1,000th customer
We make a pledge to donate 1% of equity, product, profit, and employee time to charitable causes and Atlassian Foundation is created.
Codegiest, our annual add-on and power-up hackathon makes its debut.
Our five core values come to life.
Open company, no bullshit.
Build everything with heart and balance.
Don't #@!% the customer.
Play as a team.
Be the change you seek.
We acquire Bamboo, Fisheye, Crucible, Clover, and Crowd and grow our suite of developer tools.
Atlas Camp, our annual developer conference, kicks off for the very first time.
We open our first European office in Amsterdam.
Our donations to Room to Read total $1.25 million.
Code hosting service Bitbucket joins the family.
Accel Partners invests $60 million in Atlassian in a secondary market transaction, their largest single investment in a software company.
Atlassian Cloud is created to deliver cloud-based, fan-favorite products.
10 years!
Atlassian celebrates its 10th anniversary.
We hit $100 million dollars of revenue without a sales team.
Hipchat joins our suite of tools.
We release Bitbucket Server, giving teams full control of their code.
Scott shaved his head into a mohawk and dyed it blue after challenging Atlassian to raise $40,000 for charity.
We open offices in Yokohama and Manila.
Jira Service Desk (a former ShipIt project!) joins Atlassian's suite of tools.
We're voted Australia's Best Place to Work (#7 in the U.S., and #1 in Asia.)
Atlassian goes public! We list on the NASDAQ under TEAM.
Statuspage joins our suite of tools
Goodbye, Charlie! We introduce our bold, new brand.
Roo! Trello joins our growing family of tools.
Opsgenie joins our suite of tools.
---
Values to live by
Our unique values describe, at the most fundamental level, what we stand for. These five values shape our culture, influence who we are, what we do, and even who we hire. They're hard-wired into our DNA and will stay the same as we continue to grow.
Open company, no bullshit
Build with heart and balance
We :heart: teams
Over 125,000+ customers use Atlassian to empower their teams and drive their missions forward.
We take 'Don't #@!% the Customer' seriously because our customers are the reason why we do what we do. It's even why we price our products so every company can afford them. They inspire us, challenge us, and in turn, help us build better products.
---
Working open
We believe all teams have the potential to do amazing things when work is open.
Much of the world works, often unwittingly, in a closed way. Information is hidden or lost, bonds between teams and teammates are weak, and perspectives are withheld. The result? People burn out. Knowledge is wasted. Potential is left on the table. Forward progress is halted. This is why Open matters. This is why we do what we do at Atlassian.
Open work has always been central to our values. It's in the DNA of our products and we bring it to life through our practices. But it doesn't just happen. Our teams make an effort to work, communicate, and collaborate openly every day to lead by example.
Open unlocks new opportunities. Open brings us together. Open unleashes potential.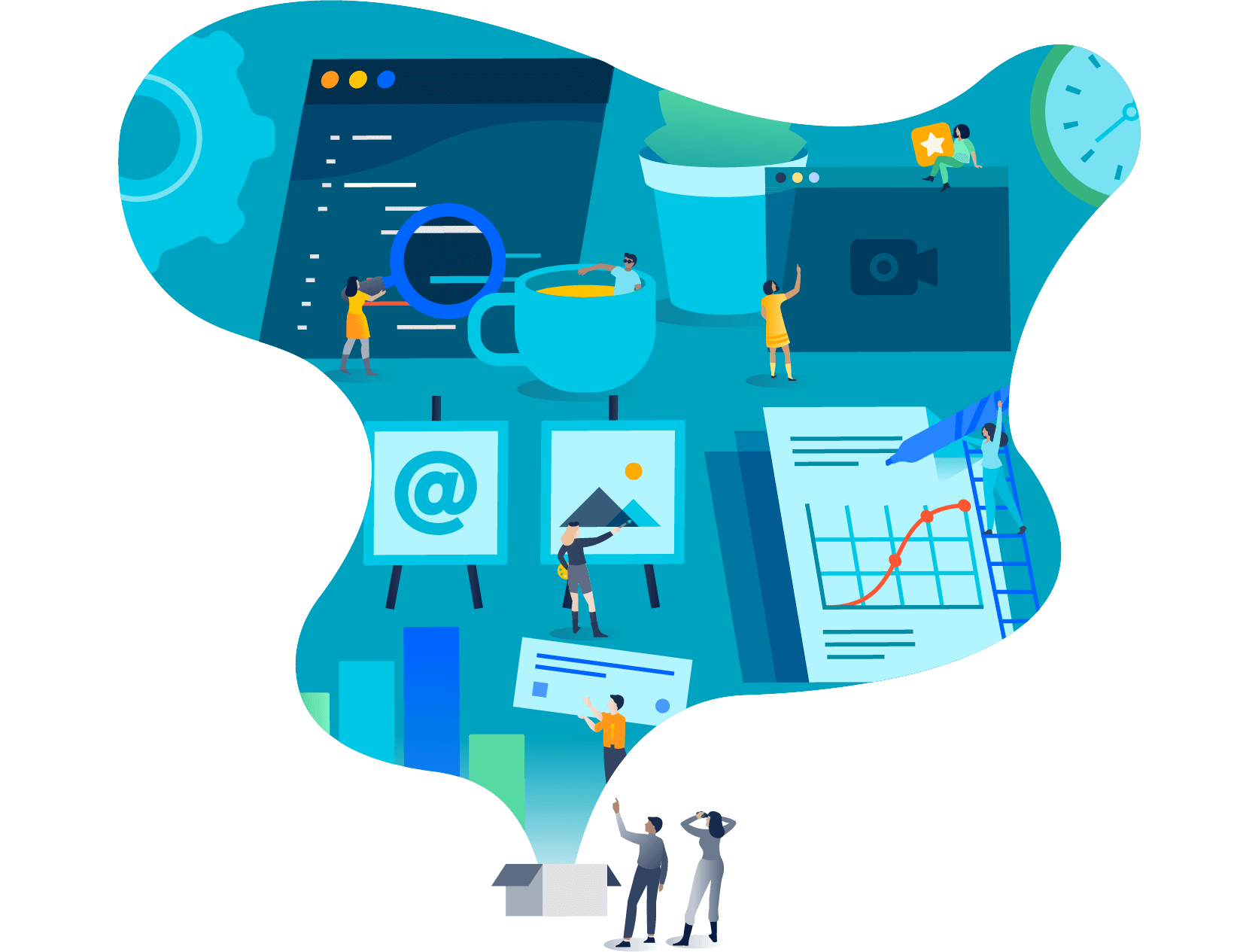 Opening work up
See how our philosophy of open work inspires and influences everything we do.
---