ITSM for high-velocity teams
How a service desk can streamline email support
If you rely on email for internal support, chances are valuable time is wasted going back and forth trying to get the right information. Work is assigned inefficiently, leading to slower resolution times and unhappy employees. Plus, you're not able to report on progress to show the value of IT to the rest of the business.
As much as we might hope, email isn't going anywhere, any time soon. Email is a flexible alternative to phone calls and live chats, and is often the most convenient method of communication for those seeking support.
Employees already know and use email to communicate with the rest of the business. They have memorized the IT support team's email address, so they just fire off emails every time they need help.
But for all the "convenience" of email support, there are a lot of hidden time sinks for both the employee and responder, such as excessive back-and-forth replies and flooded inboxes.
This page will cover how a service desk can address these pain points, using Jira Service Management as an example. Following these email support best practices, your teams can field email requests without having to navigate the chaotic hassle of an overrun inbox. 
Best practices for transitioning from email to service desk support
As organizations grow, requests for support start pouring in naturally via the email channel, because it already exists. Over time, those requests pile up, and overflowing inboxes become a hassle to keep up with. Ultimately, requests slip through the cracks.
Failing to scale a request management practice will eventually compromise the quality of service. This is where a service management solution comes into play. Mastering the transition from email to service desk support doesn't have to be a pain. Here's how you can handle email requests in Jira Service Management.
Map email requests to service desk tickets – your customers never need to know
Configure your service desk to seamlessly receive support emails. For instance, using Jira Service Management, employees can send emails to the same support email address that they know and love. In fact, they may never realize anything changed and continue to use emails to receive updates and provide additional context. Service teams can track the ticket within a dedicated service management solution.
Here's an example of how an email translates to a service request an IT agent can address:
In this case: The sender becomes the reporter, the subject becomes the summary, and the body of the email becomes the description.
Here's how you can set up email support in Jira Service Management
In order to sync email requests with Jira Service Management, you must first connect your existing address or preconfigured email, or use the preconfigured email provided with Jira Service Management.
First, navigate to Project Settings > Email Settings. Every instance includes a preassigned email address to jump-start the process; however, agents can customize the address to whatever email they chose. It's easy to add your existing address, hosted on Google, Outlook or other platform in the input fields.
Streamline service with customizable request types and workflows
While an inbox often overflows with disorganized emails and unclear next steps, a service management tool can help organize incoming issues by request types. Those request types are mapped to workflows, that streamline the steps necessary to fulfill the request. For example, all IT hardware requests follow a common workflow.
In Jira Service Management, you can use pre-configured workflows or easily adjust them to your specifications via a drag and drop editor. You can also change default workflow statuses to more customer friendly statuses that will appear for customers, and you can map multiple internal status descriptions to a single external status to communicate only relevant information to the customer.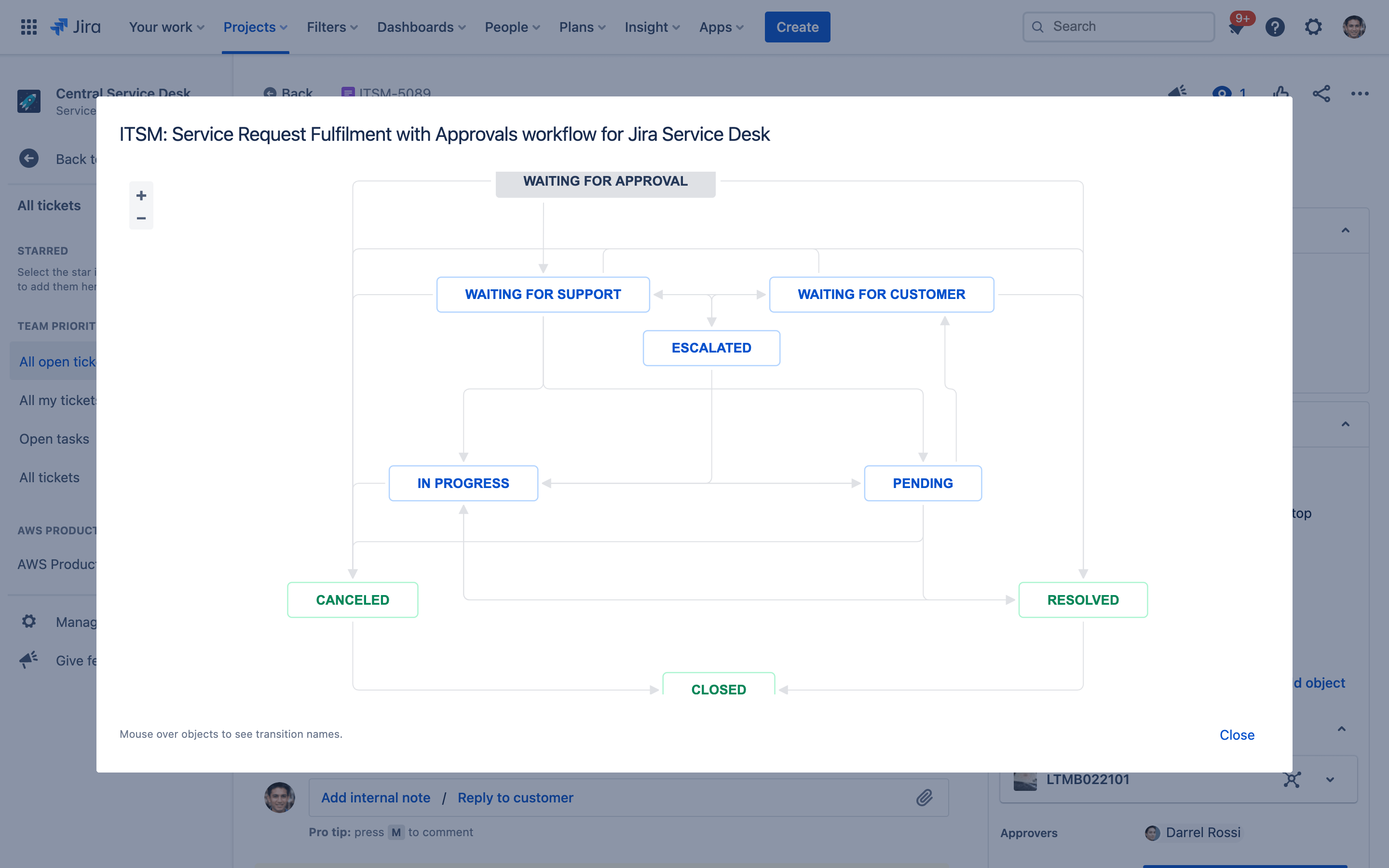 Set up SLAs and never lose track of what's important
Using SLAs (Service Level Agreements), teams can track how well they're meeting employee expectations.
In Jira Service Management, project admins can create SLA goals that specify the types of requests you want to track and the time it should take to resolve them. From there, you can define the conditions and calendars that impact when SLA measurements start, pause, or stop.
Once you have set up SLAs for a project, agents can view their SLAs and plan which tasks need to be resolved first and the timeframe in which they should be resolved.
Foster team collaboration and centralize communication
Email based communication is often clunky, and can create disjointed back-and-forth exchanes just to gain necessary context. In contrast, service management tools can foster collaboration. Relevant team members can be assigned automatically to incoming issues. Responders – whether they're IT support agents, hiring managers, legal compliance managers, or other team members – can stay in the loop with notifications on relevant updates. The ability to comment within a request enables asynchronous collaboration and keeps records available in a central place for future reference.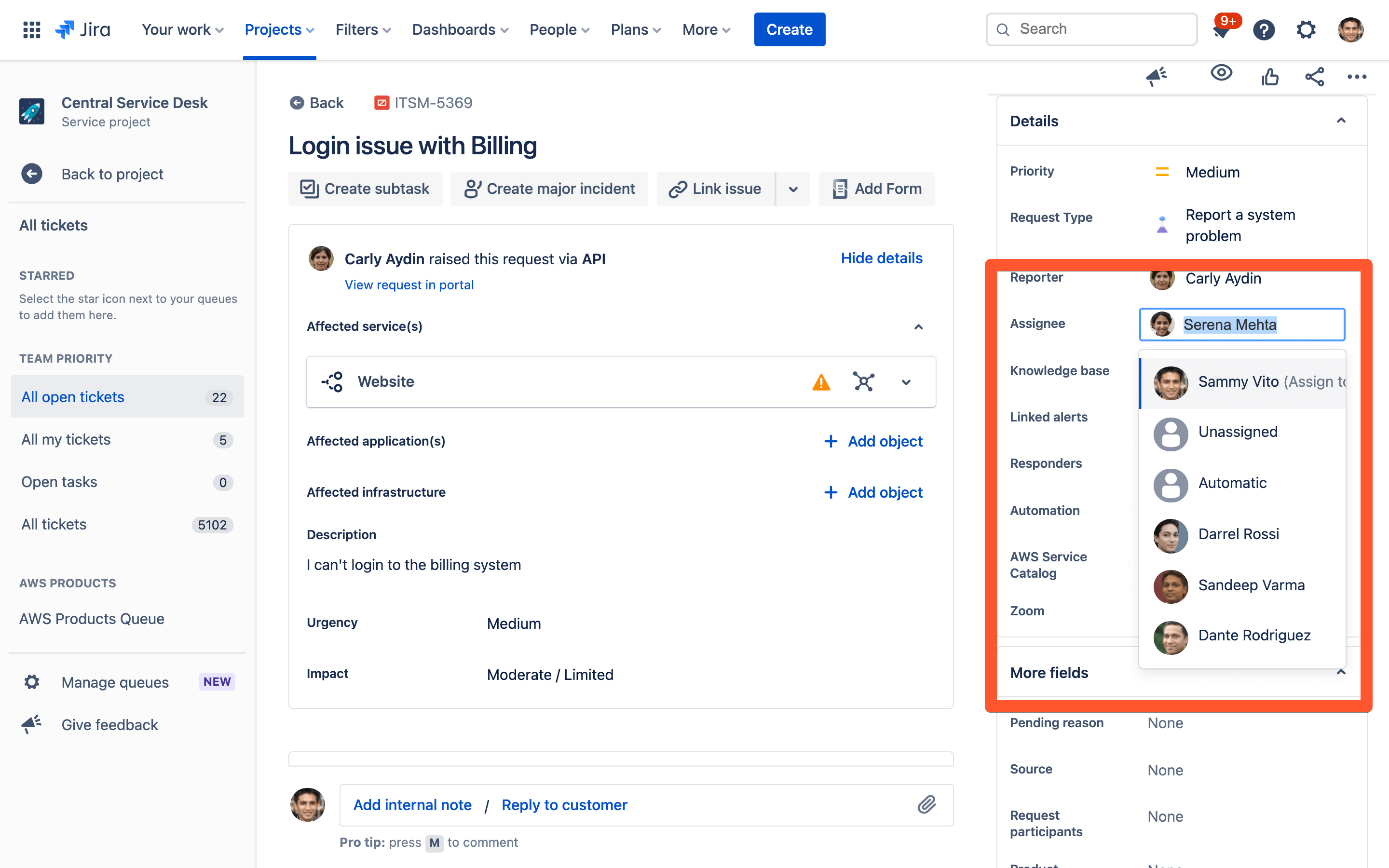 It's also important to keep the help-seeker in the loop. By connecting a support email with Jira Service Management, real-time notifications are automatically sent to the help-seeking employee as a responder makes progress on an issue. The issue itself triggers designated replies to keep the employee updated according to configured settings. 
This keeps the employee informed and reduces the need for excessive messaging on the same issue, saving the agent time. Agents can also communicate directly with a employee within a ticket.
Investing in a service management tool can help you scale beyond email support as your company grows. Better practices and tools boost teams' productivity, so they can deliver excellent service. And we aren't just saying that, in Jira Service Management you can measure improvements via metrics like CSAT (customer satisfaction) and reduced time to resolution.
Whitepaper
The Total Economic Impact™ Of Atlassian For ITSM
The Total Economic Impact™ of Atlassian Jira Service Management. The report includes cost savings and business benefits enabled by Jira Service Management.
Read the whitepaper
Whitepaper
Atlassian's guide to agile ways of working with ITIL 4
ITIL 4 is here—and it's more agile than ever. Learn tips to bring agility and collaboration into ITSM with Atlassian.
Read the whitepaper