ITSM for high-velocity teams
5 steps to setting up a knowledge base in Jira Service Management
Your support team is always ready to lend a hand, but chances are, they'd prefer not to be interrupted with drive-by questions all day, every day. Training employees to come to Jira Service Management to report issues and request help goes a long way toward making sure your IT support team isn't constantly interrupted with questions. However, agent productivity can be further streamlined by providing employees with immediate access to knowledge base articles right from an issue or request.
Whether you have an existing knowledge base or you're about to create your first, the process of building a library of self-serve knowledge is rather intuitive. Offer a wealth of information at your customers' fingertips—along with features like smart search, knowledge reports and scoring, template suggestions, etc.—by leveraging the power of Confluence and Jira Service Management.
Here are five steps to setting up a knowledge base in Jira Service Management, so your team can get to work deflecting tickets:
Step 1: add your knowledge base with a click
Create a knowledge base space in Confluence and link it to your service desk right from Jira Service Management. With one click in the configuration menu (that little "cog" icon in the top-right corner), you can create a new knowledge base space in Confluence where your agents can add self-help documentation. Read more about how to add self-help documentation here.
If you haven't yet added Confluence to your service management solution, you can choose which Confluence plan (free, standard, premium, enterprise) to add to your site based on your knowledge base needs.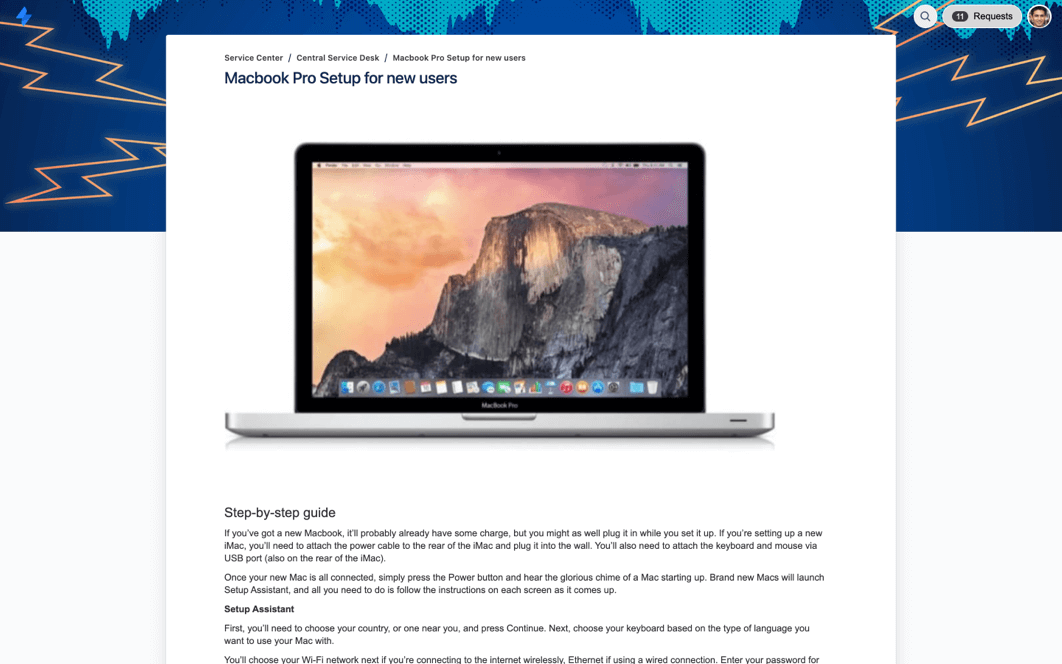 Step 2: create knowledge base articles directly from Jira Service Management
Your service agents probably already know what the most frequently asked questions are, so start by answering those with self-help documentation to tackle the most in-demand questions first. Search through Jira Service Management to find the most commonly raised requests and/or issue types. Let the data you already have be your guide.
Support documentation is automatically embedded into IT workflows, and agents can reference and write knowledge base articles from their service management project.
If you're not sure whether you've provided the right amount of information, ask a colleague from outside the IT team to read through the article. See if they're able to complete the task without getting blocked by missing info (or confused by too much). If not, revisit your knowledge base and update the steps per your colleague's feedback.
Step 3: recommend knowledge base articles in your service portal
Jira Service Management's recommendation feature via its Confluence integration makes this step simple. Confluence seamlessly integrates to save your team time and improve your customers' experience by surfacing the information your customers or employees need to resolve their issue fast.
The knowledge base is a place for your team to organize all customer-facing (or employee-facing) FAQs and documentation. It's also a private, collaborative workspace where your team can share best practices and institutional knowledge.
Once you've connected your knowledge base, customers will automatically see recommended articles as they type their requests into Jira Service Management. The integrated knowledge base intelligently recommends the right service and learns from every interaction, so answers are easy to find.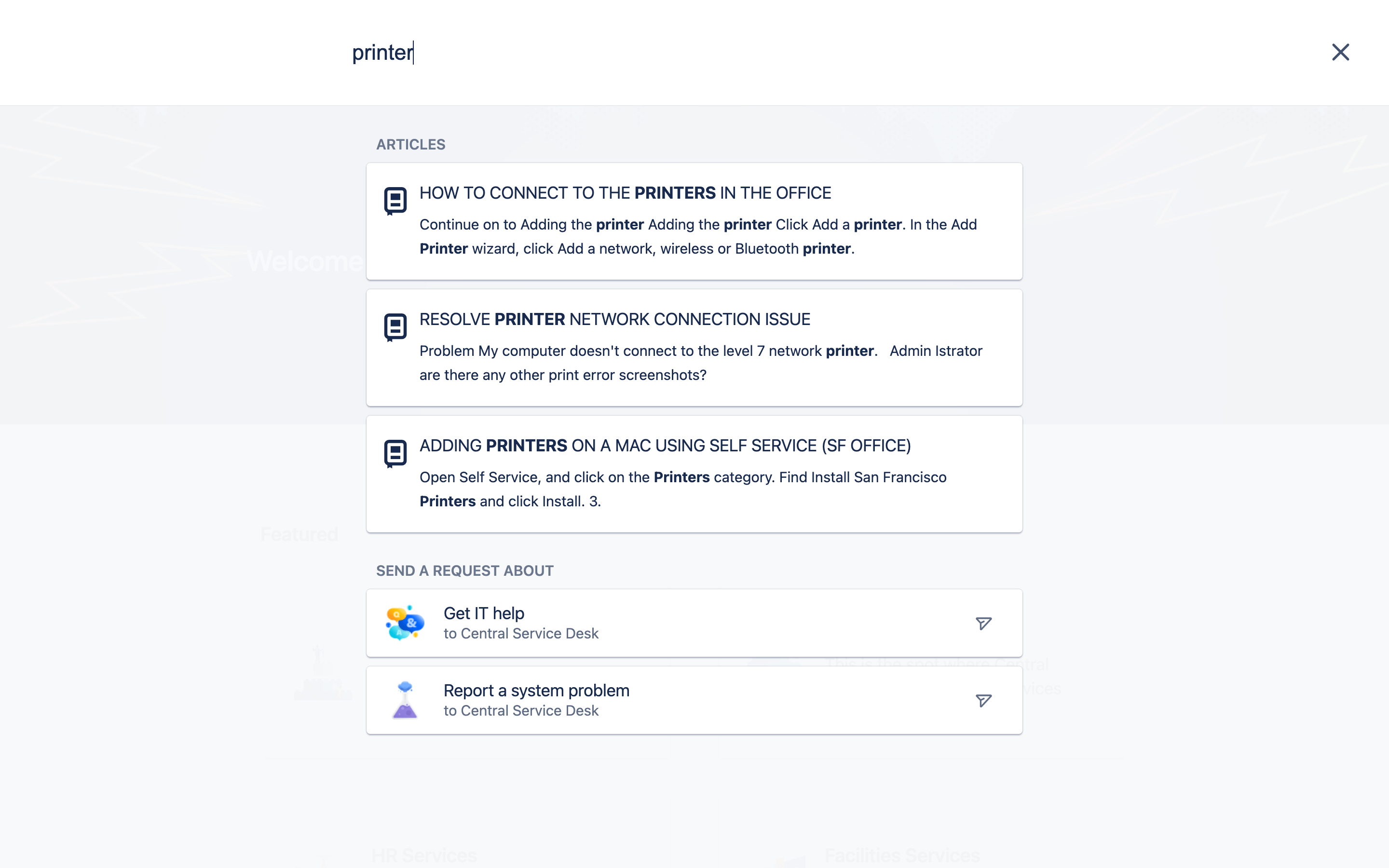 Step 4: view knowledge base articles in Jira Service Management
Once customers find a relevant article, they can access it right from Jira Service Management. The process is fast and intuitive for customers, and preempts common requests before they're even submitted.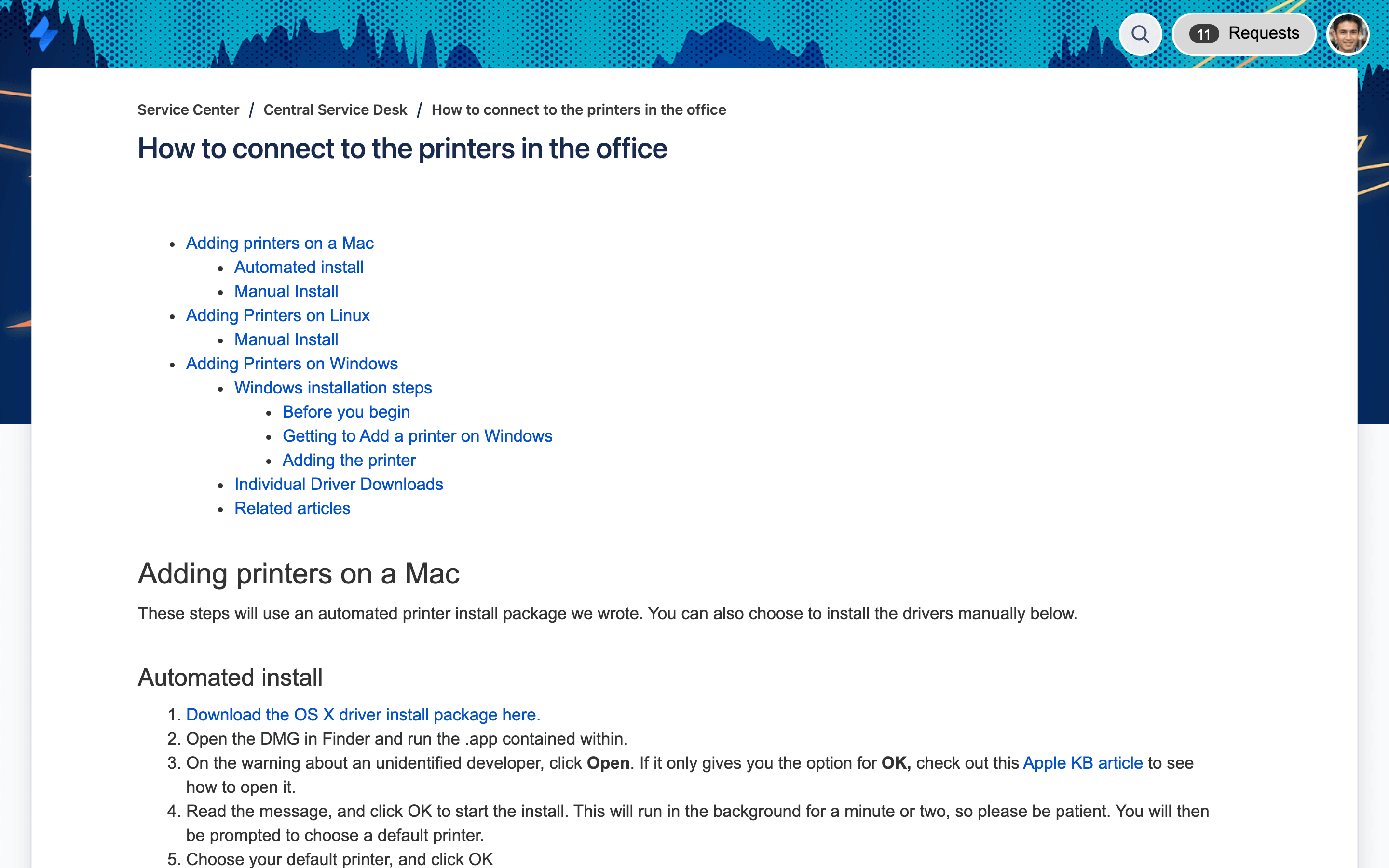 Step 5: keep improving your customer service with knowledge base insights
A knowledge base is only as helpful as your customers determine, which is why it is important to analyze insights behind your knowledge base.
Check out deflected and resolved request insight reports and understand how your audience is responding to your knowledge base articles. You can select a day on the graph to see more details about how knowledge articles were used on that date.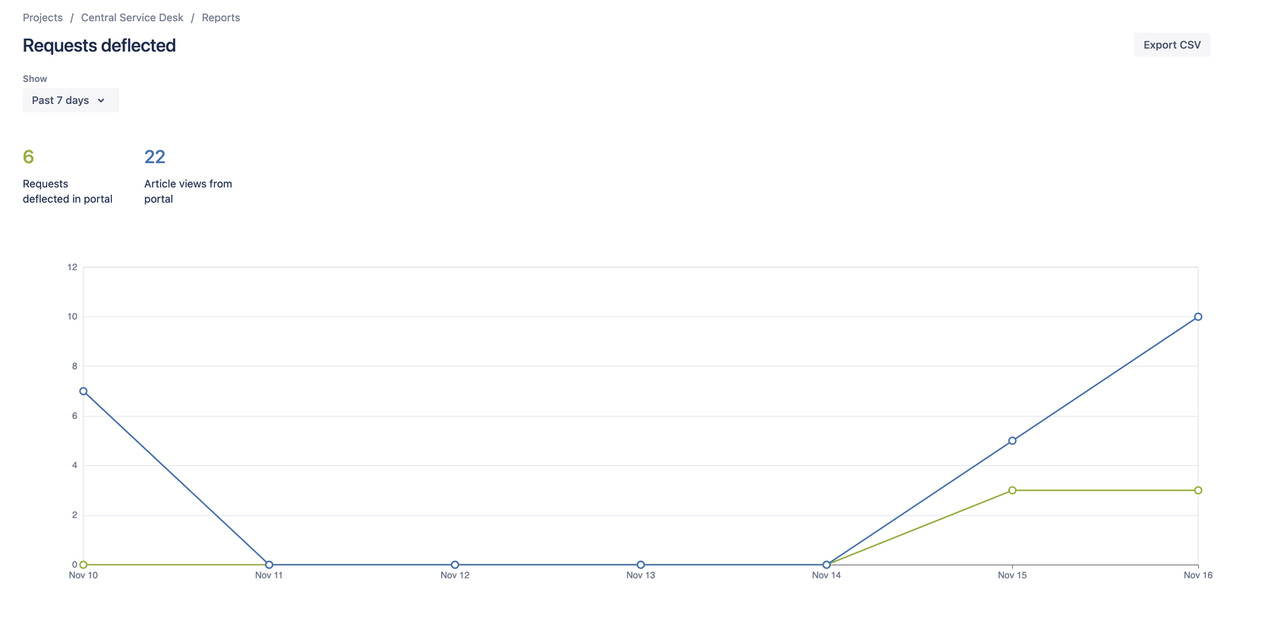 There are also thumbs-up and -down icons, so your customers can easily indicate whether they found the articles helpful. Your team can learn from the articles that deflect requests and make improvements to other knowledge base content.
A Jira Service Management knowledge base powered by Confluence is your team's one-stop shop for service requests, incident management, SLAs, and, of course, knowledge management. Click below to get started!
Whitepaper
The Total Economic Impact™ Of Atlassian For ITSM
The Total Economic Impact™ of Atlassian Jira Service Management. The report includes cost savings and business benefits enabled by Jira Service Management.
Read the whitepaper
Whitepaper
Atlassian's guide to agile ways of working with ITIL 4
ITIL 4 is here—and it's more agile than ever. Learn tips to bring agility and collaboration into ITSM with Atlassian.
Read the whitepaper