Twitter is an iconic social media platform that hosts more than 186 million users -- and growing. Behind the scenes, Twitter is a company with thousands of employees and hundreds of different teams, who use numerous tools to conduct internal work. Since 2007, Twitter's development teams have relied on Jira Software to manage their work. By 2019, the adoption of Jira expanded rapidly to almost every team at Twitter, as teams found that Jira helps them better manage and track their work. 
As the adoption of Jira increased at Twitter, Jira projects existed independently of each other with no standardization around using issue types, fields, features, or dependency management. Plus, many teams at Twitter didn't have effective reporting. Instead, they used spreadsheets and other tools to report, which didn't provide high-level visibility to help plan and track work strategically across multiple teams, projects, and larger initiatives.
Twitter's Experience Project Tracking
So for Twitter's Hack Week in 2019, Joe Pursel, senior application engineer at Twitter, proposed modifying Jira to help Twitter's Experience development team better manage and track work. The project, called Experience Project Tracking, was a set of guidelines for project tracking using Jira Software and Advanced Roadmaps for Jira. Pursel is part of the Twitter Atlassian Team, which manages software upgrades for Jira and Confluence. The team also provides user support, including creating custom projects and workflows and service management portals with custom automation. 
"We learned in our external research and interviews that successful companies build muscle around what they work on and why, who works on what, project tracking, measuring impacts or ROI, and continuous improvement," Pursel said. 
Recognizing the dynamic reporting capabilities of Jira, the Twitter Atlassian Team developed a script for Jira that aligned a project template for issue types, workflows, and screens. When the initial script ran over a weekend, it converted more than five hundred Jira projects automatically, transforming workflows and giving Twitter executives insights and visibility into work.  
"Anyone at the director level or the technical program manager level can look into a dashboard and get a dynamic report on what they want to see, and how a team is performing," said Aswin Achuthan, senior applications engineer at Twitter. "For example, a product lead can get a dynamic report aligned to the organization to see what they need and how a team is performing." 
From Experience to Unified Project Tracking
Experience Project Tracking was an immediate success. Soon after, teams from other departments saw the potential for their departments and asked for the same functionality. Twitter executives saw an opportunity to reorganize Twitter's purpose, vision, and objectives and soon approved the Unified Project Tracking project. 
Unified Project Tracking consists of new guidelines for creating projects and linking work with a clearly defined hierarchy. Leveraging Advanced Roadmaps for Jira projects and workstreams, the hierarchy uses higher-level issue types and introduces five levels above agile epics to define and guide projects. At the top is Purpose, followed by Vision/Objective, Goal/Strategic Initiative, Strategy/Workstream, Roadmap Project/Initiative, and Epic/Milestone/Risk.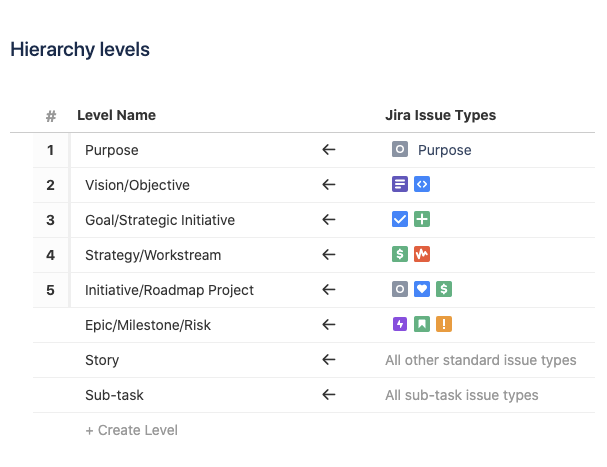 Twitter's Unified Project Tracking hierarchy in Advanced Roadmaps for Jira
The hierarchy was implemented for new and existing Jira projects and helps with planning, tracking, and accountability. Jira Advanced Roadmaps allows teams to customize issue types and assign the priority of data type. This allows Twitter to organize work by each functional team, aligned to the company objective.  
Dependency mapping is done by adding epic tickets as children of the roadmap project issue type. When a roadmap project issue is created, the reporter/assignee can click a workflow button to create a child epic, which is pre-populated with the name of the roadmap project issue for linking and dependencies.
Twitter has two types of users for Roadmap projects and epics: Portfolio Owners and Epic Owners. Portfolio Owners are responsible for Jira projects and Epic Owners identify and complete all work items within the epic. In addition, roadmap project issues use the parent link to link the hierarchy to strategy or workstream issues.
By using these newly created issue types, executives have greater visibility into the progress of work. Plus, teams throughout the company now take advantage of Jira for project management.
Unified Project Tracking at Twitter is:
Purpose-driven: Each team at Twitter knows how their work contributes to the company strategy and objectives. Project drivers are accountable for updates and progress on projects related to objectives.
Asynchronous: Status updates or comments can happen at any time and in any location as long as teams leverage Jira. Status meetings are not needed to generate these notes.
Accessible (and equitable): Anyone at Twitter can see who owns a project and can ask a question in Jira no matter their title or place in the organization. 
Jira and Confluence are tightly integrated at Twitter. Confluence is used as a knowledge resource for documentation including tutorials and project information. It's also used for team spaces that can include project plans, reporting, and calendars, as well as personal spaces. The Questions for Confluence plugin allows users to ask questions and share knowledge with fellow teammates.  
The Twitter Atlassian Team also created customized scripts to notify members of team Slack channels about updates to issues in Jira. Plus, new features were added to enhance the reporting and tracking objectives, including Rich Filter for Jira Dashboards, Time Tracking Dashboards, and Service Desk Dashboards. 
"One thing that's amazing with Jira is that it's so flexible that it can be used by any team and all they need is just one line of code command," said Achuthan. 
By creating a unified experience with standardized workflows for projects across teams, Unified Project Tracking allows Twitter teams to more easily measure progress and execute more efficiently. Advanced Roadmaps for Jira allows teams to easily establish a plan's critical path, explore different variations, and update Jira accordingly. New team members can quickly dive into projects and initiatives, while teams understand where they need to focus their attention.
Twitter executives and managers can plan and track work strategically across multiple teams and projects. Managers can easily answer questions like: 
How are team projects tracking each week, across objectives, initiatives, workstreams, core improvements, and "run the business" regular work? 
What projects will be delivered by a certain time? 
How is that rate of delivery trending over time?
Unified Project Tracking ensures everyone at Twitter is more accountable to each other, at all levels of management. Twitter's innovative use of Jira and Advanced Roadmaps helped to transform work across the organization, which is why the company earned the Best in Class (Technical) award from Atlassian's Team Awards.
A Jira for every team, a template for every project
No matter your team, you can overcome any challenge by working together with agility — with Jira. Our free template library gives every a way to get up and running quickly.