Summary: An agile marketing team applies one or more agile frameworks to help increase the quality of marketing work, boost innovation, improve processes, and work at a sustainable pace. They often use elements and practices from scrum, kanban, scrumban, and/or lean.
Most natives of agile methodologies come from the world of software development. Yet the benefits of agile — open communication, frequent feedback, and visual work management —  are now found in other parts of the business. 
Marketers were some of the first to adopt agile frameworks into marketing workflows. This led to the Agile Marketing Manifesto in 2012, which outlined core values and principles for practicing agile marketing. Since then, agile marketing practices have rapidly gained adoption. 
In 2021, agile was the dominant management framework for marketing work, with 51 percent of marketing teams using one or more agile marketing practices, according to the 4th Annual State of Agile Marketing Report.
The reason being, agile marketing teams enjoy numerous benefits, including an enhanced ability to manage changing priorities, improved productivity, accelerated delivery of marketing campaigns and programs, and more. 
Source: State of Agile Marketing 2021 - AgileSherpas and Forrester
What is an agile marketing team?
An agile marketing team applies one or more agile frameworks to help increase the quality of marketing work, boost innovation, improve processes, and work at a sustainable pace.
Some agile marketing teams are responsible for a single marketing function (e.g. content, performance marketing, or design). Others are cross-functional and combine several different types of skills. 
Both team styles can be effective for achieving marketing agility. Functional teams usually require less disruption when a marketing department is already built along functional lines, but cross-functional teams reduce dependencies and handoffs. 
Whatever flavor you choose, it's vital to remember that a true agile team is never built around a project. Instead, it maintains a backlog of work that blends together multiple projects as well as recurring tasks. This allows a team and its leadership to prioritize work effectively. 
How to create an agile marketing team
Creating high-performing agile marketing teams requires patience and consistency. It typically  takes at least six months to turn a group of marketers into a self-organizing agile team. Here's how to do so:
Adopt an agile framework
Unlike many software teams, most agile marketing teams don't stick to one particular agile framework. Rather, they use elements and practices from scrum, kanban, scrumban, and lean for a customized approach. Any practices from particular frameworks can be adopted into agile marketing workflows, with the most popular being sprint planning, daily standups, sprint review, and digital kanban boards, according to the 4th Annual State of Agile Marketing Report.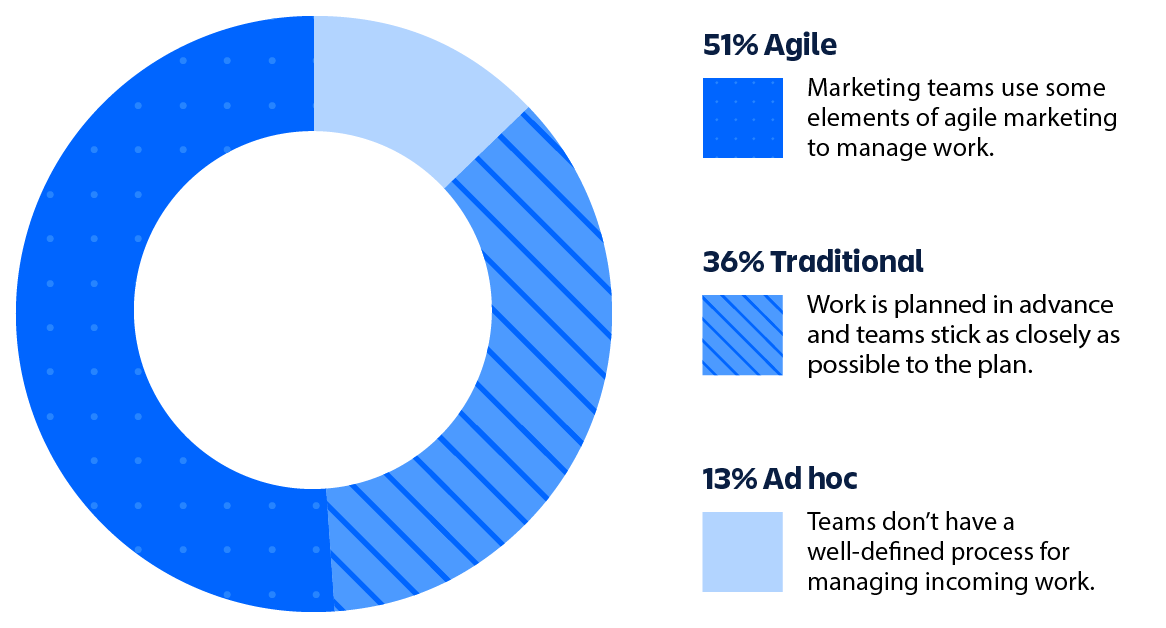 Source: State of Agile Marketing 2021 - AgileSherpas and Forrester
Establish a shared purpose
The first step is to establish and communicate a clear, shared purpose for the team. Since marketers receive input from all areas of the organization, they need to have a guiding mechanism for prioritizing and evaluating work that enters their backlog. This ensures the team supports the strategic goals of the organization and balances new requests with recurring activities.
Without a shared purpose, a newly-formed agile marketing team risks becoming a reactive entity that aimlessly accepts all incoming requests.
Data-driven decision making
Once a team establishes a shared purpose, it's important to identify and use key performance indicators (KPIs) that help evaluate performance and guide informed decisions about the future.
While each agile marketing team adopts its own unique marketing metrics, common process metrics include: 
Workflow efficiency
Cycle time
Throughput
Workflow efficiency is an important metric for an agile team. It's defined by the ratio between the time tasks sit in queues and time to completion. Teams should measure efficiency based on the type of work being done, and track average efficiency scores over time to get an accurate view of how long they actively work compared to how long they wait. For teams that serve numerous stakeholders, efficiency reveals the impact that waiting time has on the team's ability to meet goals. 
Cycle time can provide a customer-centered view of the time it takes a marketing team to deliver results, as long as a work item making it across their board and being marked as "done" provides value to a customer. If a team's customers are internal, or they're dependent on others to get work in front of a customer, then cycle time may be used as a less granular way to monitor how long work takes to get done.  
Throughput is distinct from efficiency and cycle time, because it's focused solely on volume. Put simply, throughput is the total number of tasks that are completed within a fixed amount of time. 
The aggregate of these metrics reveals an agile team's overall effectiveness. When the efficiency score is high and the cycle time is low, the team's throughput is higher. Many agile project management tools come equipped with analytics that automatically collect and process these metrics, then reveal insights through reports. This helps teams easily identify workflow problems, such as process bottlenecks and identify areas for improvement. 
Stakeholder support
Marketing is a crucial intermediary between the products or services and the end users. Since other departments are directly affected by a marketing team's actions, it's crucial to get support from stakeholders when transforming a marketing team.
Dedicated people
Many organizations make the mistake of placing employees only part-time on agile marketing teams. They expect partial agility and keep them working on other projects that rely on old management frameworks.
In our experience, this approach rarely ever works. Although it seems less stressful to the organization, it creates an enormous burden on the team. Team members need to acclimate to new working conditions, measure new KPIs, adjust to new meetings, and work in a different way, while still working on current projects. This creates imbalance and puts marketers in a position where they ping pong between two worlds. 
If a company is serious about achieving marketing agility, it should dedicate full-time staff to the efforts.
Agile marketing team roles
Traditional structures in marketing departments are often sorted by functional area, resulting in silos between teams that should communicate frequently. To achieve greater process improvements and marketing agility, organizations should move towards a flatter, more cross-functional structure supported by roles unique to agile management.
Scrum master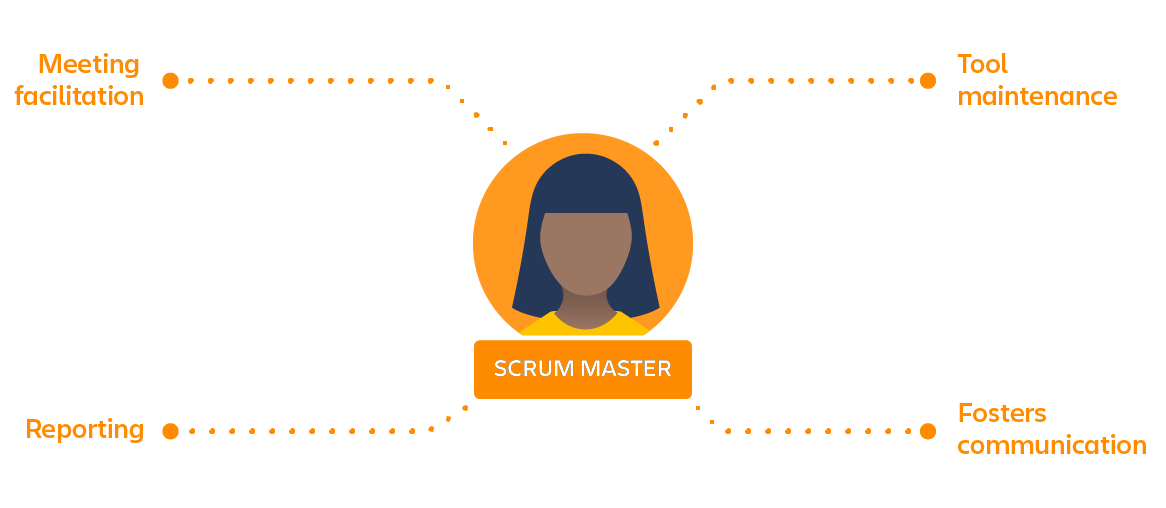 Scrum masters are process owners who facilitate scrum by ensuring the scrum framework is followed. They support the team as they make process improvements and help resolve process challenges. 
In marketing departments, team leads often take on the combined role of marketing owner and scrum master.
Marketing owner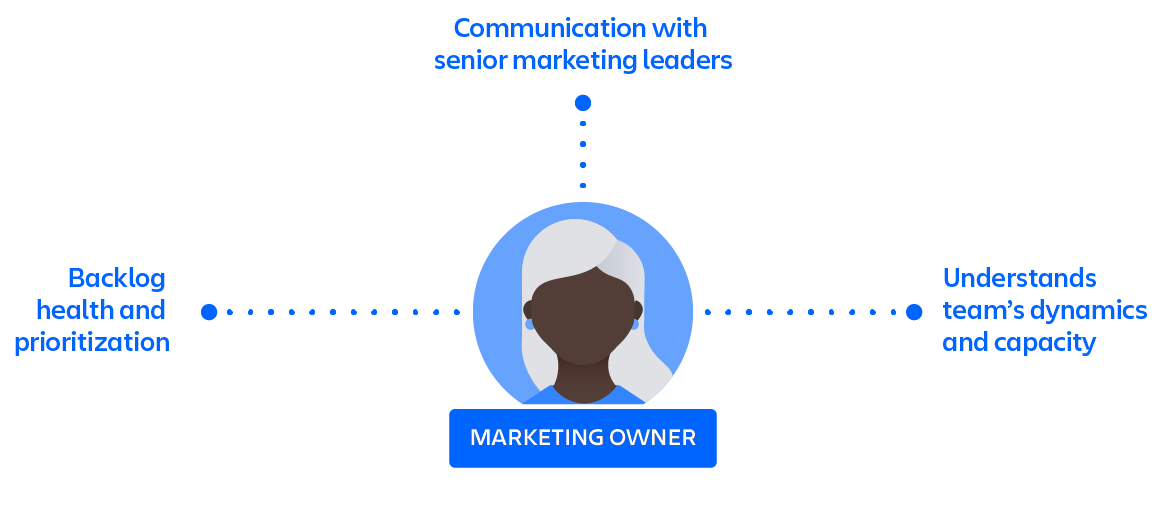 Similar to the product owner of a software development team, the marketing owner serves as a liaison between the marketing team and the stakeholders outside of it, either internally or externally. 
An effective marketing owner is accountable for backlog health and prioritization. This includes using new information and data to influence the priorities of the team, effective communication with senior marketing leaders, and a deep understanding of the team's dynamics and capacity. 
If you choose to combine the scrum master and marketing owner into a single person, make sure this person facilitates agile processes, connects with stakeholders, collects requirements, and supports the team members.
Agile coach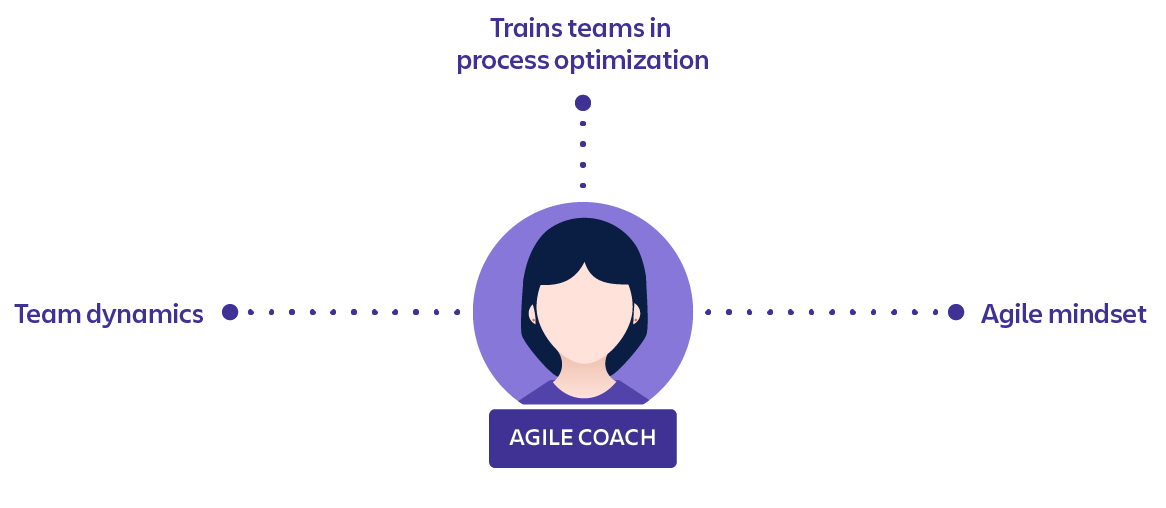 Agile coaches train teams in facilitation, process optimization, team dynamics, the agile mindset, and more. Agile coaches can incorporate elements of scrum, the kanban framework, and lean principles as they guide teams to greater process improvements. 
Their unique skills can be an asset to both new and mature agile marketing teams as they continually improve their work processes. They can also be integral in unblocking the team and helping it evolve towards high performance.
What does an agile marketing team do?
Agile marketing teams strive to apply agile values, principles, and practices in order to reap the benefits of this best-in-class way of working. Agility isn't a quick thing to achieve; it requires consistent, deliberate efforts on several fronts. Agile marketing teams unite around several key purposes that guide them towards higher performance in the short and long term.
Alignment with leadership
When marketing teams select their work, some aren't aware of what their business goals are for the quarter, let alone how their work contributes to them. At the strategy level, leadership often struggles to translate marketing goals into measurable and actionable objectives with clear KPIs.
This results in a misalignment between strategy and execution, which prevents marketing from being as effective as it could be. 
Agile aligns all levels of the organizational hierarchy, from strategy through execution, around common business goals. Through inclusive planning and better communication across departments, agile provides guidelines to develop a shared understanding about where a business is headed and how each contributor fits into the journey.
Identify opportunities by analyzing data
Data empowers agile marketers to have an understanding of the impact they have on their work. Agile teams collect data to prove or disprove their assumptions and then allow it to influence future deliverables. Data is also used to improve internal processes and customer outcomes.
Effective prioritization
"If everything is a high priority then nothing is," is a saying many marketers know. The fact is, when every duty is important, marketers can struggle to navigate and prioritize workflows.
Agile frameworks rely on meticulous backlog management and ruthless prioritization from a user perspective. 
Prioritization helps differentiate the backlog from any other non-agile to-do list. Important, time-sensitive, and valuable work lives at the top of the list.
To help you identify what's valuable from a user perspective, agile introduces user stories as a placeholder for invaluable customer conversations. They're the key to a backlog of marketing work that not only indicates priority but also successfully creates shared understanding among team members for the work in the pipeline.
In conclusion...
Marketing teams that apply agile can better manage changing priorities, improve productivity, accelerate delivery of marketing campaigns and programs, and more. 
At its core, an agile marketing team is self-organizing and consists of people who take ownership of their processes and work. Depending on the organizational needs and context, their structure may be either functional or cross-functional.
Many marketing teams moving to agile implement standardized project management tools, particularly at the enterprise level where marketing leaders need insight work across multiple agile teams. Tools such as Jira and Trello help teams implement agile workflows and provide visibility of work. In particular, Jira Work Management helps agile marketing teams provides agility to your marketing team. Also, learn about Jira Software templates for agile marketing teams.