This Atlassian Advanced Roadmaps case study is based on our webinar How Atlassian uses Advanced Roadmaps.
Atlassian strives to help teams work better -- even our own teams. So when Ron Romain, program manager for Atlassian's Cloud Foundations department, needed visibility of work across a division with hundreds of engineers, he turned to Jira Software's Advanced Roadmaps feature. 
Advanced Roadmaps helps solve a key challenge for organizations with distributed teams: the ability to gain insights across teams in order to plan and track more effectively. Romain needed to organize and plan across multiple teams, including how, when, and what work will be delivered. To do that, he needed a standard view of his team's projects and priorities.
Romain's team had seven distinct workstreams with their own plan, supported by four to six teams for each workstream. Each plan was designed around agile epics, or bodies of work broken down into specific user story tasks. He needed visibility into these epics to understand dependencies and whether work was on track or at risk. He also wanted his teams to have consistent workflows in these plans, with transparency and context, so that any team member could identify works in progress and bottlenecks.
However, information was stored across multiple teams and tools. The Cloud Foundations teams worked across dozens of Jira Software projects, created Confluence pages for context, and used spreadsheets to create reports. Romain could make sense of the data held in different projects and tools, yet he struggled to achieve a single, high-level view across many different teams working on numerous different projects. This made it difficult to keep track of status and progress across teams. 
"We actually had different versions of the truth floating around because they were pulled in at different times and with slightly different cuts or snapshots of work," Romain said. "Which resulted in the larger group having a lack of visibility because we didn't have that single source of truth."
Romain turned to Jira Software's Advanced Roadmaps feature, which helps teams build a plan, see the big picture, track progress, and easily share data with stakeholders. Advanced Roadmaps now provides his team with a consistent visual hierarchy that provides a bird's eye view of all work happening across multiple teams. It details whether work is on track or at risk, upcoming priorities, dependencies, and more.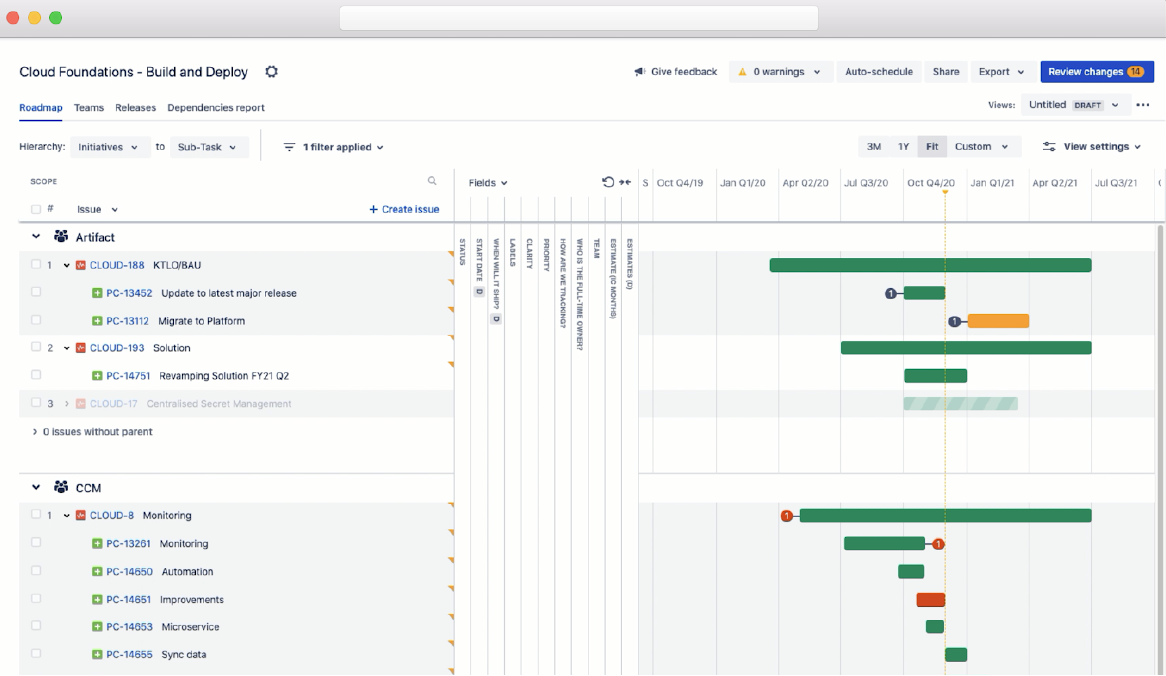 Plus, Advanced Roadmaps allows the Cloud Foundations teams to leverage categorization for greater visibility and tracking. They use custom fields and labels to categorize by team, strategic pillar, timeframe, and more. 
"Having a consistent view of custom fields and labels across the board gives a consistent view across all our teams in Cloud Foundations," Romain said.
Overall, Advanced Roadmaps gives Romain and his team the following benefits:
Teams spend more time doing and less time reporting
Filters and saved views provide different snapshots based on real-time data from Jira Software. Before using Advanced Roadmaps, the Cloud Foundations department had to pull data from numerous sources. Now when Romain's teams receive a request from stakeholders to display different overviews, they can easily pull from Advanced Roadmaps.
Dynamic planning
When Cloud Foundations underwent a reorganization, it took Romain just over an hour to transition his old planning data into his new plans, simply by adjusting the Advanced Roadmaps filters. "I didn't have to go in and change a whole bunch of Confluence pages or reports or roadmaps," he said. "I simply changed the JQL filters that drove my advanced roadmaps." 
Advanced Roadmaps now allows Romain to build a roadmap based on work from multiple Jira boards, projects, and filters. Additional levels of hierarchy can be created above the epic level, allowing him to connect epics from different teams or Jira projects to a single feature. Plus, Advanced Roadmaps provides the ability to build different versions of a plan.
Variable views/audiences for reports
The labeling and custom fields in Advanced Roadmaps helps Romain easily reorganize data in different ways. "When I get a different question from some of my senior stakeholders, I can look at the existing data we have and get them that information without interrupting my teams," he said. The following is an example of an Advanced Roadmap report Romain can create by using strategic pillars across different teams to understand how much time is dedicated to a specific OKR.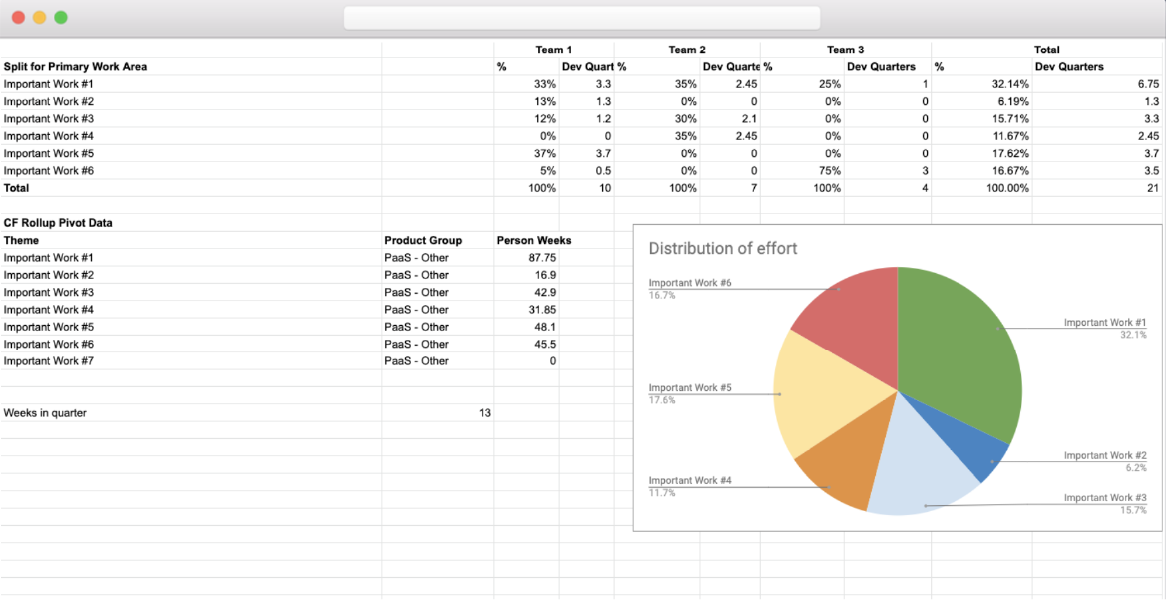 Tips to use Advanced Roadmaps like Atlassian
Romain's experience using Advanced Roadmaps taught him a few key things:
Start small, add complexity later
In order to get value as quickly as possible Romain worked with his teams to build a "big rock" initiative roadmap for the year. This allowed them to communicate work in progress mapped to specific goals (via labels). At the beginning of the following quarter, the teams turned their planned initiatives into epics and adjusted the plan as needed. This helped create a clear map of each team's work and timelines for completion. 
After alignment was established, teams added dependencies in Advanced Roadmaps that highlighted delivery risks, the complexity of work, and team capacity. This revealed if teams were overextended or underutilized and provided insight into what was being prioritized.
Embed in team rituals
In order to establish Advanced Roadmaps across the entire Cloud Foundations department, it was important to use it in team rituals. This encouraged team members to make frequent updates. When teams met for sprint planning meetings and needed to communicate priorities and dependencies, they turned to their Advanced Roadmaps plan.
Make Advanced Roadmaps the single source of truth
Romain ensured that Advanced Roadmaps was used as the single source of truth for any communication or reporting to stakeholders. He leveraged add-ons like Google Sheets for Jira to pull the data from Advanced Roadmaps and Jira Software, which allowed him to display data in the formats/reports requested by stakeholders. This significantly reduced the amount of time for creating reports and ensured a single source for all things planning.