This year has been challenging to say the least. As the world grappled with a global pandemic, Atlassian made the choice to make all its employees worldwide fully remote until the end of 2020. More recently, Atlassian announced our "TEAM Anywhere" initiative, allowing our employees to ultimately choose where they work – whether at home, in the office, or a combination of the two. It's one thing to work independently from home, alone, and quite another to work as a team remotely.
When the announcement was made to move our entire workforce to remote work, I was in the middle of creating a three-year business strategy with alignment goals across the entire company. While I still sought to reach the same goals, the way to achieve them had to be redesigned. Our product management team shifted to new ways of working and collaborating remotely with coworkers and customers. While product management requires close collaboration with stakeholders and coworkers, it's possible to adopt new collaborative practices and for remote product managers to thrive.
Of course there are challenges
We quickly realized we couldn't simply work the same way we had always done before. Home offices lend a variety of different distractions and challenges. Children, spouses, roommates, and/or pets can interfere with work and meetings. In fact, during a presentation I gave over video conferencing, my dog snuck up behind me and stuck a toy on my head. 
At Atlassian, we believe that focusing on the customer is essential to building great products. Normally, product managers spend a substantial amount of in-person time with a customer to build a relationship, see a customer's working environment, and understand how a product can best meet the customer needs. However, our remote product managers need to communicate, collaborate, and build relationships through video conferencing, rather than face to face. 
Even though Zoom has gone a long way toward making us feel like we're interacting with someone close by, the visual cues through Zoom are entirely different. When you have an in-person conversation, most people tend to look around as they talk. It's focused but not intense. Yet with Zoom, the camera is fixated on your face. Any pause might be taken as a cue for someone else to talk.
Also, since video meetings can blend together throughout the day, you don't get the typical break when walking to the next meeting room in the office to gather your thoughts. Giving a video presentation has its own challenges without in-person feedback. We actually downloaded a Zoom add-on for applause for when people give presentations. 
Tips to be a successful remote product manager
Set work/life boundaries
Personally, I found that clear boundaries are important when working remotely. I created a Confluence page that clearly states when I work, when I'm available (and in what time zone), and what my priorities are for the week. While Slack is a useful tool for remote work, it can also distract from focused work, which is why I state that I will not check it on Mondays (as well as email).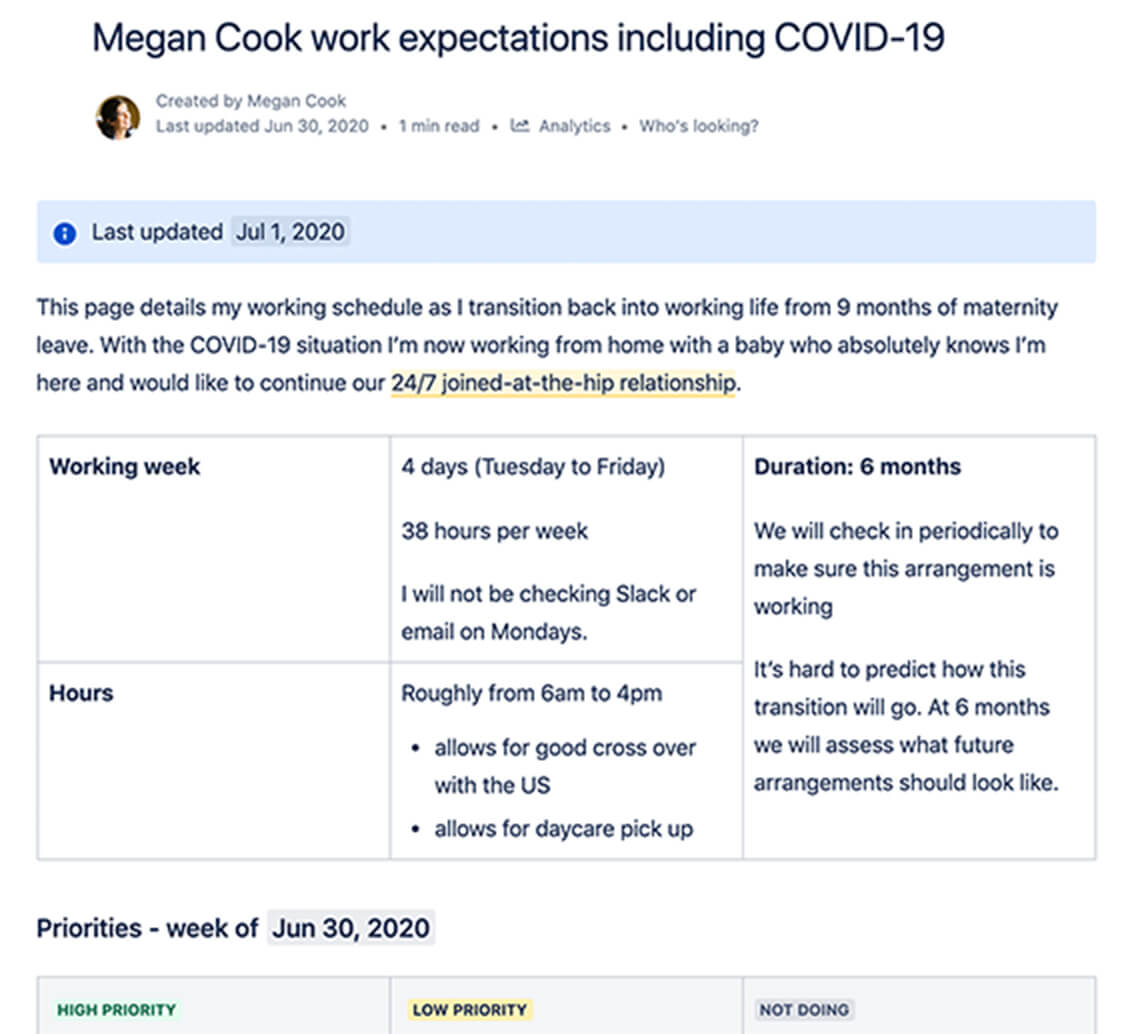 Over communicate
One way to overcome the communication challenges of remote working is to be sure to over communicate, as my colleague Dan Radigan noted. When a decision is made, each team member should understand the decision and ideally why it was made. This can be done using a content management system like a wiki where team members can easily browse for updates across the team. They can then be notified via a Slack group chat.
Remote product research
Product management requires close contact with customers and is especially important when working remotely. Even before COVID-19, much of the research work we did at Atlassian was performed remotely. By using Zoom our customers can share their workspaces and demonstrate how things really work for them.
Now that we're fully remote, we gave extra thought to how we manage team members for remote product research. While it is a fantastic team experience for us to watch a research session, it can be intimidating for the customer if many team members participate. So we now limit the number of observers and participants from our team for each call. For those not present on the call, we often hold "watch parties" together after sessions so the whole team can observe videos of the research and discuss together. We use tools like Trello and Mural to capture what we learn from these sessions, which helps with remote, collaborative analysis.
Presenting to a remote audience
It's important to have a clear product vision outlined with documentation that is concise, clear, compelling, and visually engaging (with diagrams, charts, etc.). A product manager should give a presentation that clearly articulates the product value, product elements, expectations, and a clear path to achieve success. This helps to cut down on the amount of length of meetings. 
During a presentation, we keep a close eye on the chat and respond to a discussion or questions. This gives a feel for the audience's reaction and helps make Zoom presentations more interactive. We also now share presentations internally with Q&A pages, which allows our team members to watch when it's convenient and still provide feedback or get clarification. 
Information sharing and accountability
Each Friday, the entire product marketing team meets via video conference and shares accomplishments, challenges, concerns, and more. We also have a product marketing meeting each week where customer-facing workers meet, including someone from the support team and technical account managers team. In this meeting everyone shares the top five things customers care about. You get a really quick, rich digest of what's happening in each team and understand if patterns cross different areas as well. 
We're really rigorous about documenting how committed everyone on our teams are to different dependencies. Rather than holding a meeting to discuss these dependencies, we document them up front and then have a meeting to discuss them later, which helps to cut down on meeting times. 
We are also very rigorous about setting the right goals individually and for our teams. When we have our town halls, we first identify the mission of the team, goals of the company, and our progress toward each goal. Having a shared understanding of goals helps everyone work together in the right direction, even though we can't all be together and have those incidental catch-ups in the office.
Tools that rock my remote working
Fortunately Atlassian creates tools that help teams work better together. So, in a sense, we were well equipped to manage suddenly moving our entire workforce to remote work. We now use a blend of our own tools and third-party tools. Here are the tools we use currently: 
Digital communication tools
Zoom
Zoom has helped the world connect through one of the best video conferencing tools available. It's great for one-on-one meetings, customer calls, breakouts, team meetings, etc. I suggest using a timer on Zoom meetings so they don't extend past cut-off times.  
Slack
When we need answers to simple questions, Slack is the way to go. With the ability to create channels, Slack also allows teams to share and brainstorm. Many of us install Giphy to make communicating more fun and personal. It can help build empathy and team comradery as well. We had people on our teams post songs for how they were feeling on a given day and entire music playlists. We also build an integration on Slack that sent out a survey to the team to identify if they understood the purpose of the team, goals, values, etc.   
Collaboration and productivity
The workforce of today needs intuitive and reliable online tools to share, collaborate, and review content. This is especially important for remote teams. Here is what we use: 
G Suite
Google Drive and Docs provide a single source of truth for our content sharing endeavors, allowing us to create, share, and collaborate on documents. All team members can access content, comment, and check on files easily. 
Confluence
Without trying to sound overly biased, I believe Confluence is one of the best collaboration apps out there. It allows our remote teams to monitor and update specific details of projects. Our product team members can embed product roadmaps into Confluence pages, link to supplementary documents including Jira tickets, and much more. It helps keep everyone updated on product strategies and progress.  
Confluence is a great source of truth for decisions that are made. While remote working this is especially important as decisions get made when some people aren't available. Yet by using confluence we are up to date and provide quick feedback if needed. It also works as a wiki for our teams. For example, we made a page for common questions that kept arising. We also created Confluence templates for team retros that we share with the entire team. 
Project and task management
A distributed project management team can't easily walk over to a developer's desk to get an update. Online project management tools help teams track progress, get updates, see milestones, and more. 
Jira
Jira is an excellent work management tool for any team to organize, assign, track, and update responsibilities assigned to each team member. 
Trello
Trello helps us to organize our flow of ideas into a concrete plan of work. Our Trello boards provide transparency into the work in progress, status of the work, and allows for collaboration. 
Bitbucket
Our software development team uses Bitbucket to track code and issues. It's helpful for a remote product management team to notify development of bugs and other issues. 
Atlas
Atlas helps solve the challenges of team-to-team communication via a shared, asynchronous communication practice.
Additional tools
Clockwise
Focus time is essential for remote working, especially when video conferencing takes up so much time. Clockwise is a handy calendar integration tool that can automatically move certain meetings to create more focus time. 
MURAL
Mural is an online whiteboard tool that allows our remote teams to brainstorm, create diagrams and presentations, and more. 
In conclusion…
While we have certainly been disrupted over the past year and forced to reimagine and change the way we work, I believe disruption is a key element of innovation. I also believe that working remotely has helped me and our teams develop better, more refined communication skills. Having the right tools has helped make this transition easier. 
Project managers need to adapt in order to maintain effective communication with customers and key stakeholders. By working remotely, it has challenged us to learn new ways of communication. Communication challenges will occur, as they always do. Yet I encourage us all to use challenges as a catalyst to grow. 
To learn more about how to successfully establish remote work, check out how our teams work remotely through Team Anywhere.