ITSM for high-velocity teams
6 ways to customize your service desk experience in Jira Service Management
One of the most important capabilities in the service world is flexibility. Response teams need flexible processes to go above and beyond for customers. Help-seeking customers want to get service fast in ways that are convenient to them. When responding teams are empowered with the right technology, they have the freedom to customize the customer journey to the optimal experience.
Jira Service Management can be tailored to help all types of teams, from IT to HR, from legal to marketing, and more. Built with flexibility, it has the potential to meet the varying needs of different organizations.
Here are six ways to customizeJira Service Management to meet your customers' needs and curate a more positive experience, even when people encounter issues with your products or services.
1. Configure request types
Jira Service Management provides a set of default request types that are configured for basic IT service scenarios. You can configure the default request types or add new ones to suit the needs of your customers and team.
Each request type maps to a workflow that can be customized by a drag-and-drop editor to help your teams streamline service.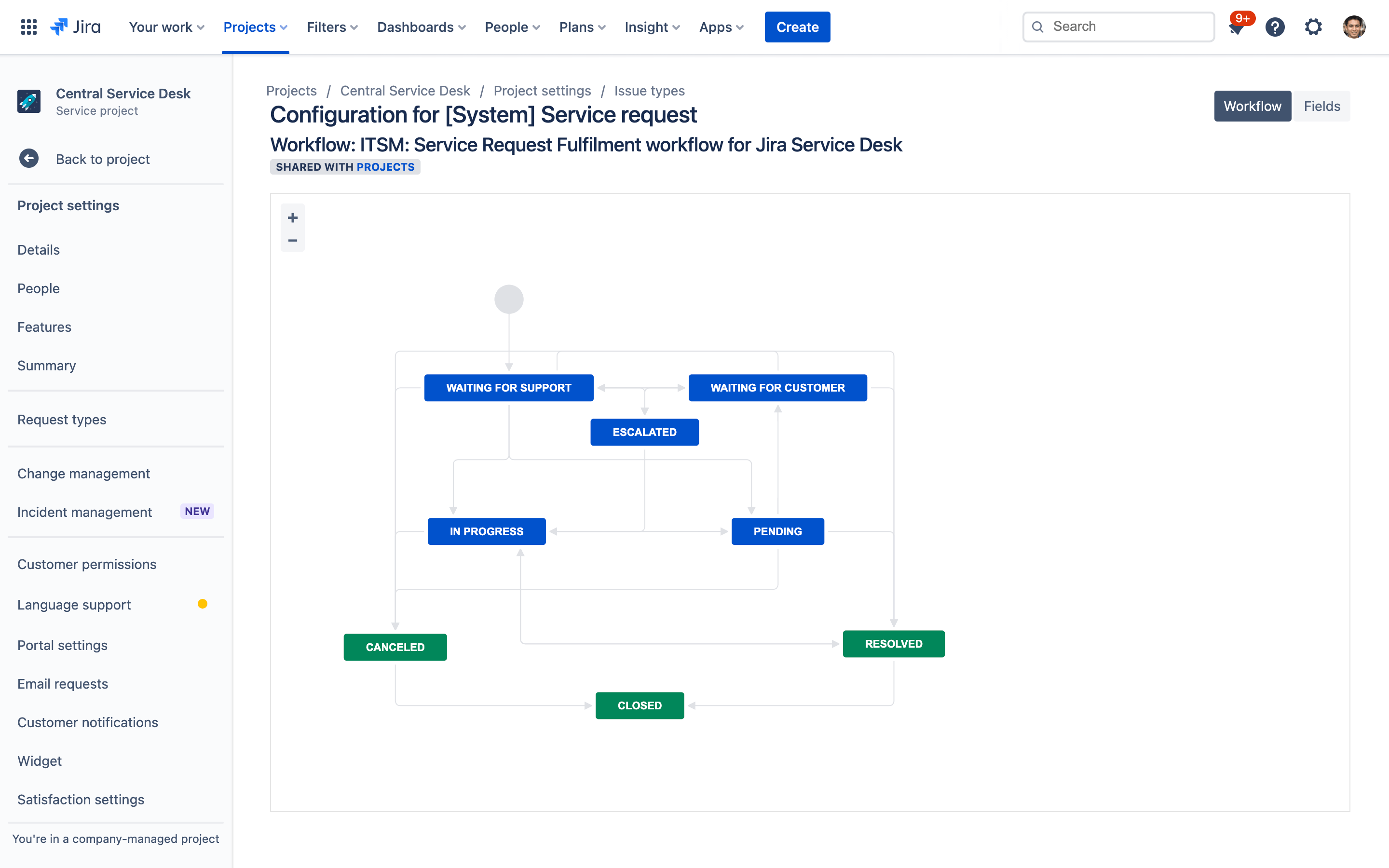 2. Organize request types
Once you have seven or more request types, you can group them to make request types easier to find on the customer portal. Administrators can create new groups and drag and drop request types in groups in project settings. You can also set icons for each type, and edit their descriptions to make navigation easier.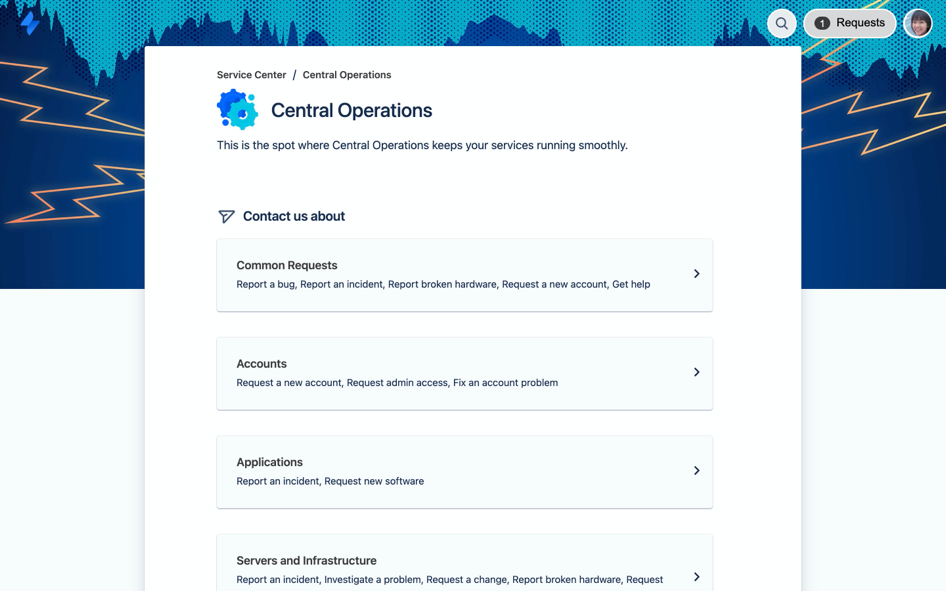 While some customers will scroll the Help Center and click through the path from the relevant service desk to request submission, many others will look to the search bar to find the help they need. It's a best practice to use the keywords or phrases your employees would use to describe their issue to maximize the effectiveness of search.
If you're an IT manager, what you call "asset maintenance" is most likely a "hardware issue" for your customers. If you're a marketer, try switching "SEM and GDN campaigns" to "Text and banner ads."
3. Build dynamic request forms
Once an employee gets there, turns out the request form can be a daunting place. With lots of fields to fill out, it can be hard to discern what information is important to submit. There is something reassuring about a form that moves with the requestor, validates input, and adapts according to their needs. This capability also benefits the responding team, who can customize the back end to harvest the information they need to rapidly resolve the request.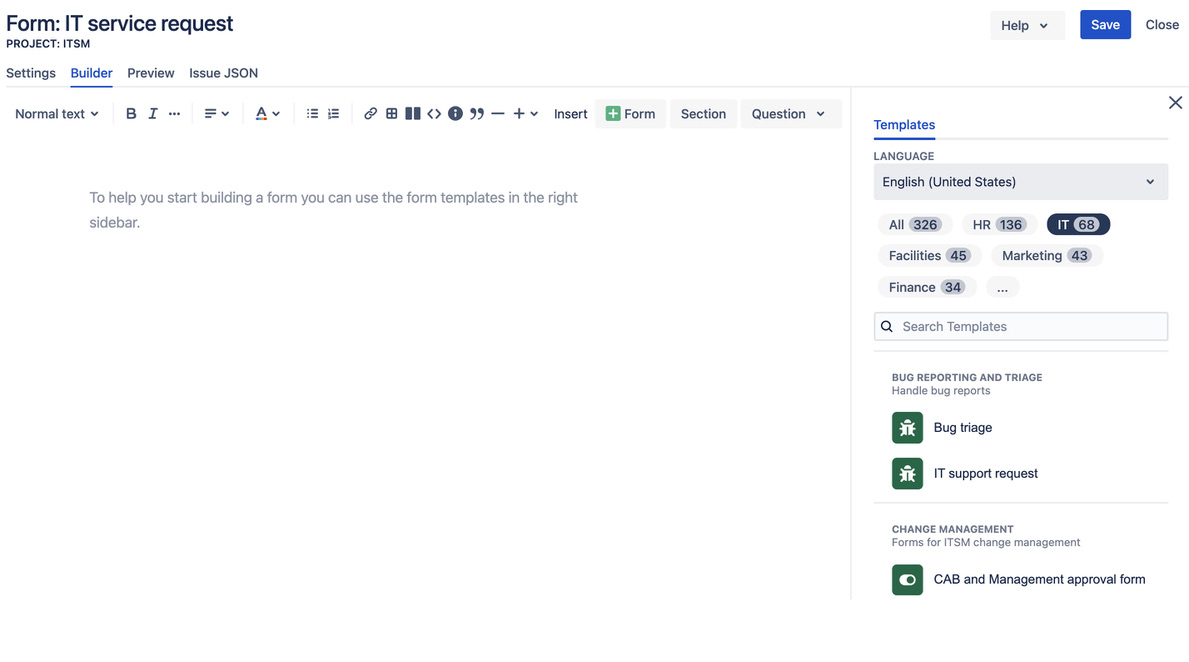 With Jira Service Management and ProForma, you can easily build smart forms or checklists that use conditional logic to dynamically show or hide fields, ensuring teams get the information they need. This allows customers to update requests after they're created, to add multiple forms to requests, and make forms accessible in the portal post-submission.
These forms can always be customized on the agent end, too. While a customer sees a straightforward, dynamic flow of fields, the agent can create conditions that harvest the necessary information to quickly address the request with the least amount of back-and-forth.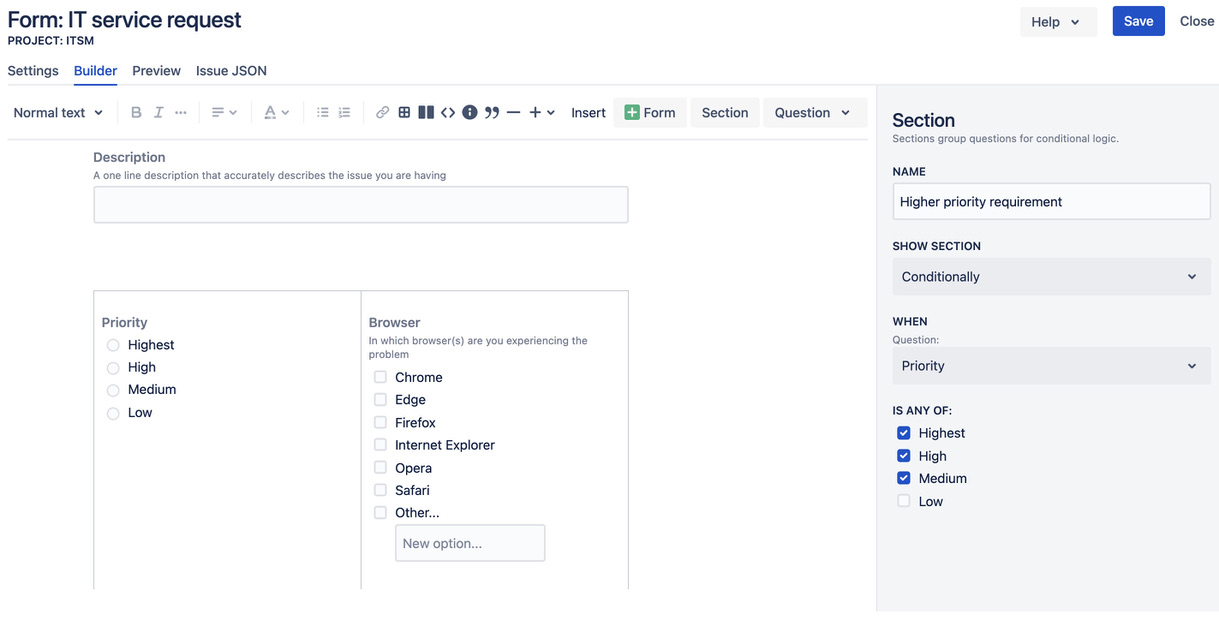 4. Bring your brand to the Help Center
The Help Center is like the display window in a storefront: it showcases what your team has to offer and welcomes visitors. The first thing customers will encounter here is a list of service desks. This can include the IT service desk, as well as service desks set up by other teams like HR, finance, and legal. In some cases, a well organized help center can act as a self-service portal to direct customers and/or employees to self-help resources. In others, it can lead them to take the best next steps.
In Jira Service Management you can customize the login message, announcements, look and feel, and language of your Help Center. Each service team can also customize their service desk with names, logos, and announcements.
For more advanced branding, the Refined app for Jira Service Management allows teams to design themed help, support, ITSM and issue-tracking sites fit for internal or external users. Teams can apply brand colors, imagery, iconography, and more. Refined also makes it easy to control who sees what so the right users get the right support, and also anticipates user needs with promoted searches and quick links. These customizable smart features create an intuitive, effortless experience for employees and front-end users.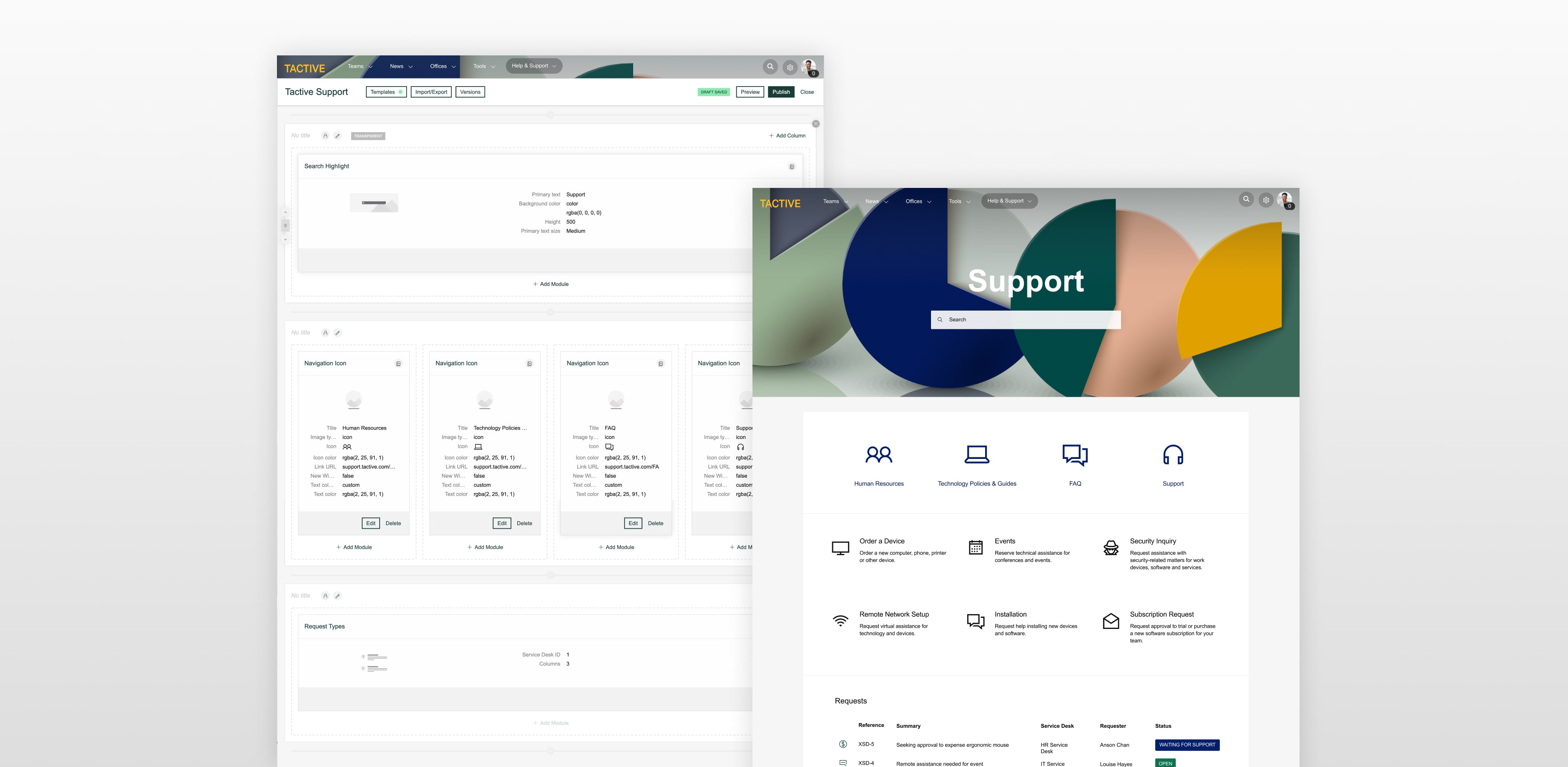 5. Link a knowledge base to amp up self-service
Self-service is one of the most sought-after capabilities for modern ITSM platforms. Jira Service Management's Confluence integration makes it easy for customers to search and access useful articles, documents, and templates without submitting a request. Meanwhile, you're saving the service team valuable time, so it's a win-win.
The Confluence integration comes with robust features that enhance the self-service experience. Smart search capabilities make searching for knowledge articles faster and easier for employees and customers. When a user searches for a keyword, the search query pulls from several sources, including multiple service desks, different request types, and knowledge base articles. Knowledge reports and scoring allow employees to rate whether articles are helpful and run reports to see which articles deflect the most requests.
6. Add a request widget
Pop-up widgets are a great tool that offer a higher level of customer service, allowing responding teams to meet users where they are. Help-seekers can request assistance from anywhere, rather than stopping and pivoting in the middle of their journey on your website.
Rather than rerouting to a request portal or help center, employees can send requests anytime, anywhere with Jira Service Management's embeddable widget feature. Teams can customize the widget's appearance with custom text and colors, as well as available fields. Requests from these widgets arrive in teams' request queues just like service desk and email requests, and follow your teams' workflows and custom processes.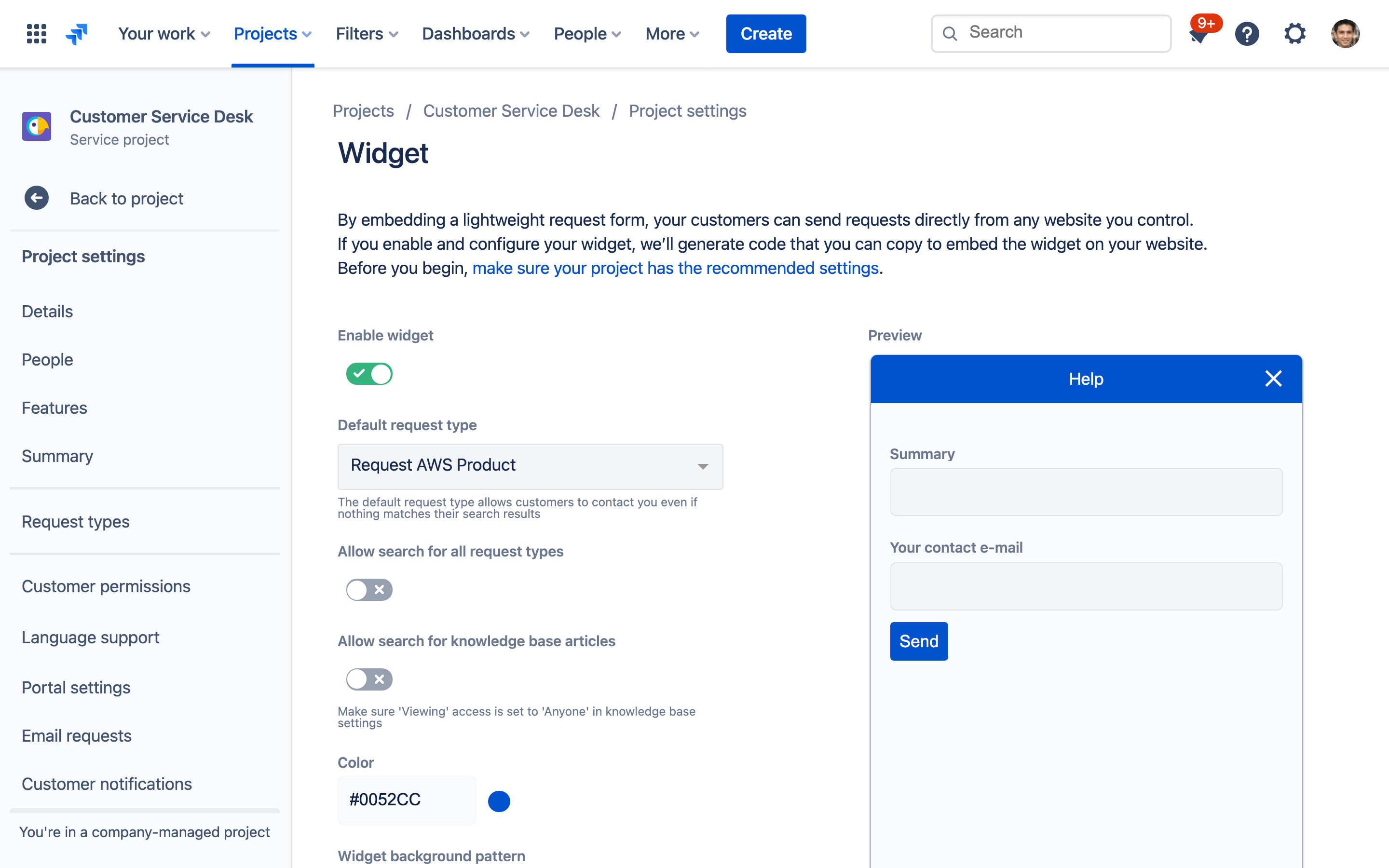 To learn more about the ins and outs of the Jira Service Management request portal, check out the video below.
High-velocity teams need a service management tool that enables them to deliver great service experiences through flexible processes. Discover how Jira Service Management can unlock your team's potential.
Whitepaper
The Total Economic Impact™ Of Atlassian For ITSM
The Total Economic Impact™ of Atlassian Jira Service Management. The report includes cost savings and business benefits enabled by Jira Service Management.
Read the whitepaper
Whitepaper
Atlassian's guide to agile ways of working with ITIL 4
ITIL 4 is here—and it's more agile than ever. Learn tips to bring agility and collaboration into ITSM with Atlassian.
Read the whitepaper