Roadmaps in Jira Software
In Jira, roadmaps offer quick and easy planning that helps teams better manage their dependencies and track progress on the big picture in real-time.
In this guide, we'll explain key concepts of roadmaps in Jira Software and outline best practices to help get you started. 
---
What is a roadmap?
Roadmaps in Jira Software are team-level roadmaps useful for planning large pieces of work several months in advance at the Epic level within a single project. Simple planning and dependency management features help your teams visualize and manage work better together. Learn more about what your roadmap shows.
If you are looking to plan and track work across multiple teams, check out Advanced Roadmaps. Learn more.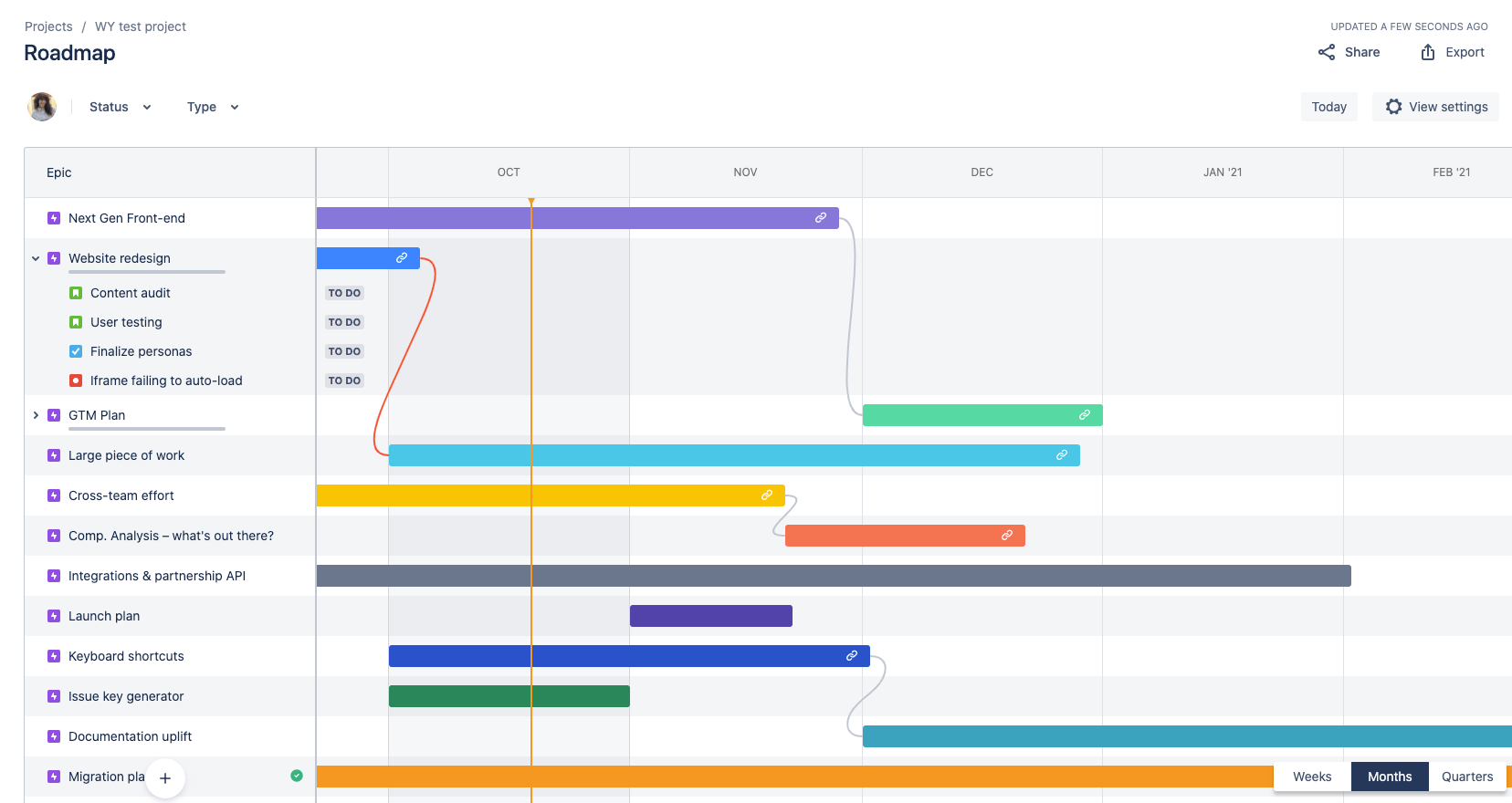 ---
Key Concepts
Epics
An epic is a large body of work that can be broken down into individual tasks required to ship a feature. This work becomes a child issue of the epic (sometimes known as the "parent issue"). Epics are displayed as colored bars on the roadmap.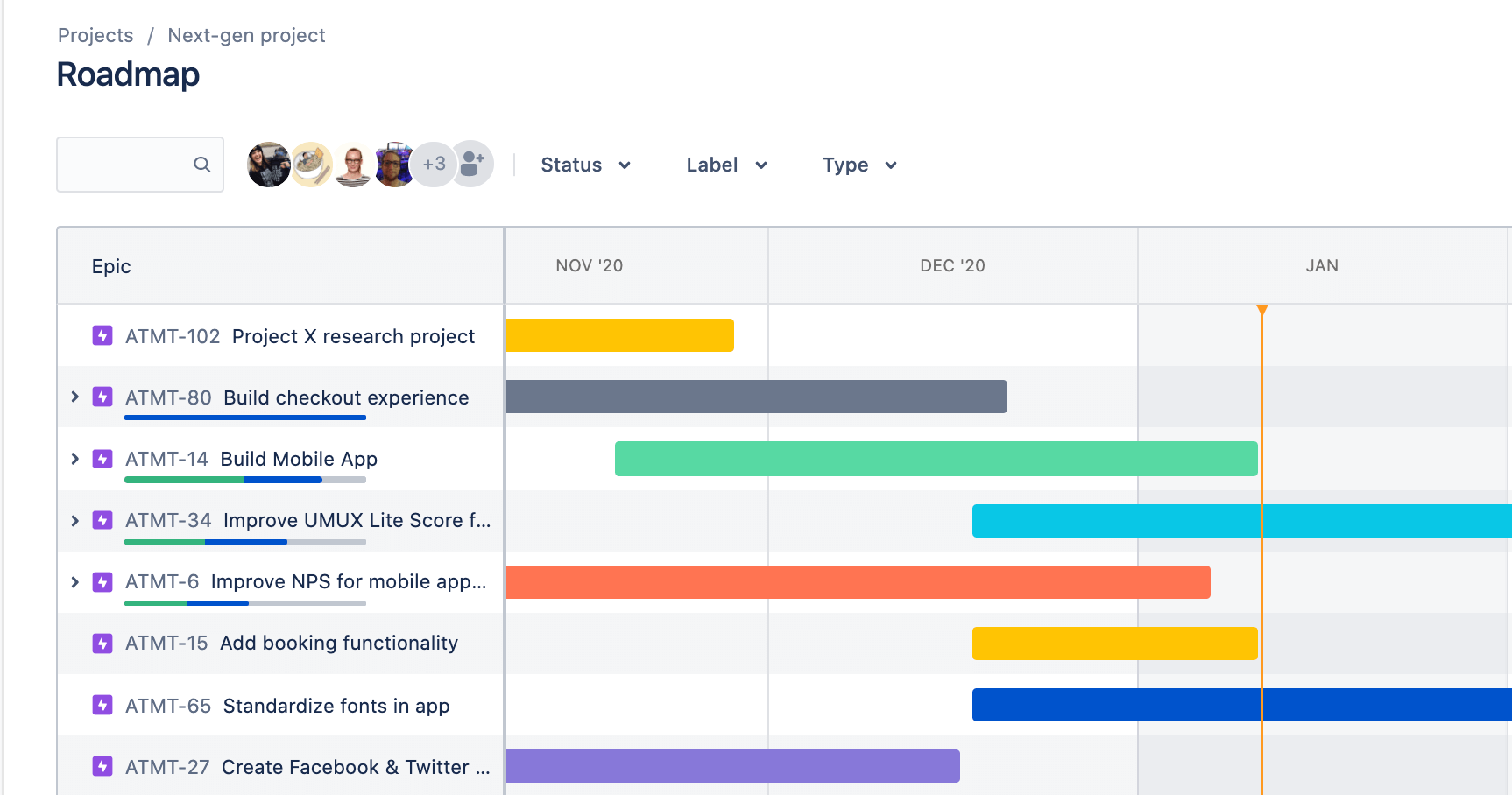 Child Issues
Child issues can be created directly from the roadmap and are nested within the epic they belong to. The most common child issues are stories, tasks, and bugs, but you can create new issue types to represent different pieces of work for your teams.
Quickly move issues to other epic and reorder issues or epics by dragging and dropping them directly from your roadmap.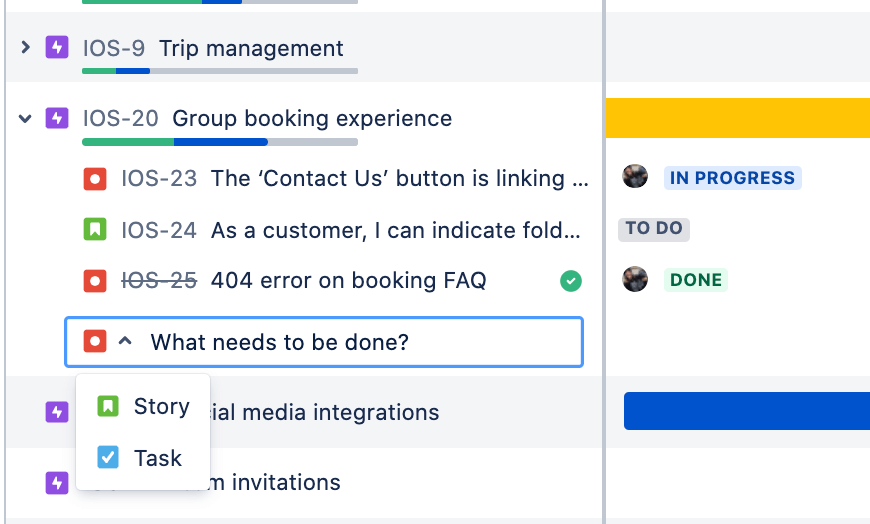 Start and due dates
The length of the bar on the roadmap correlates with the start and due date set for your epic. Setting dates for your epic helps to: 
Communicate plans with the team and provide visibility to external stakeholders 
Inform dependency mapping and help with resource management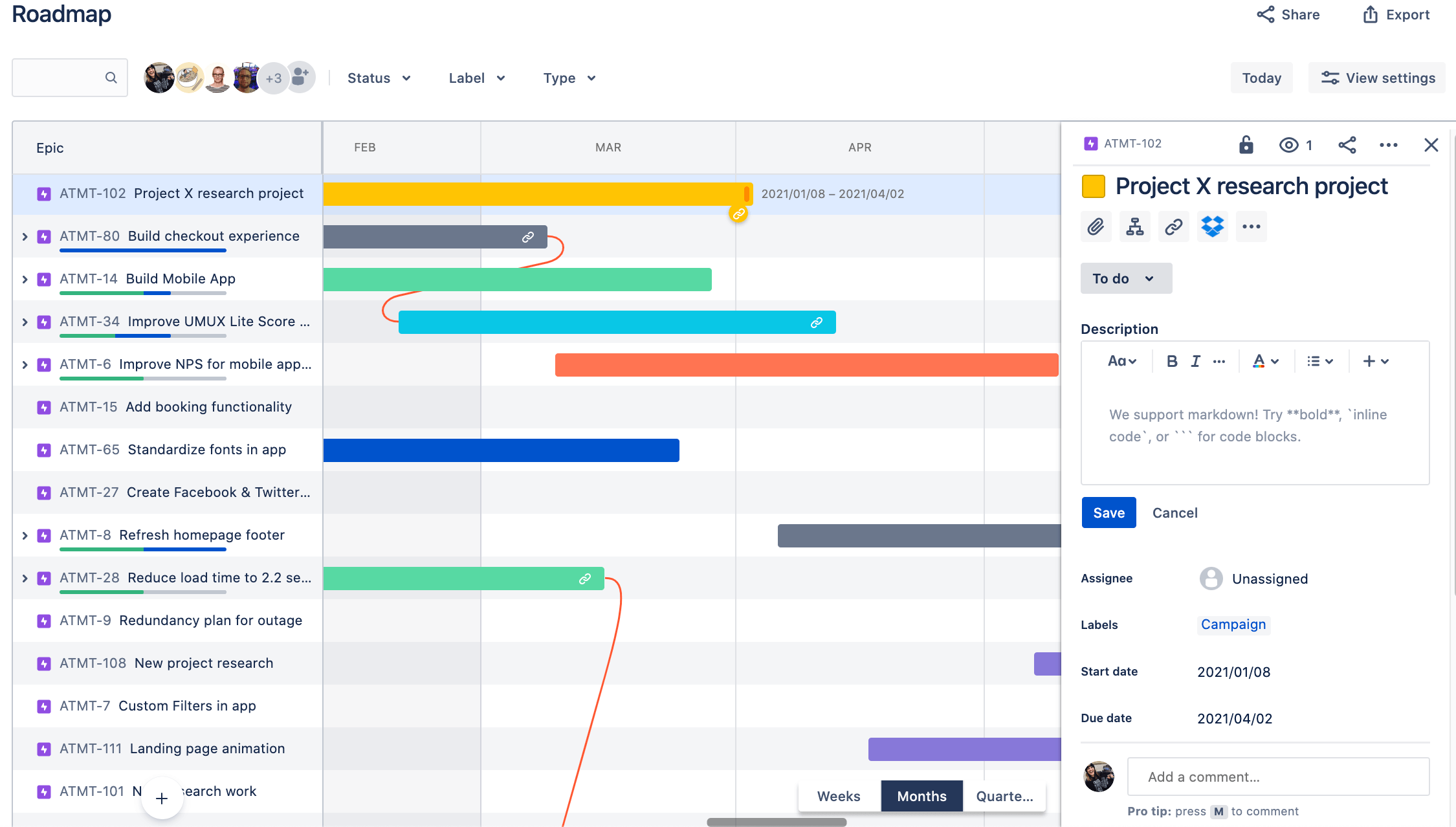 Filters and view settings
Your Jira Software roadmap has built-in filters that make viewing and managing work simple.
Find and refine your roadmap by searching for keywords and filter by assignee, status, label, or issue type.

Adjust view settings on your roadmap to change what is displaced. Add or remove dependencies and progress views and filter epics by status.

Toggle to a specific timeframe, on the fly. Easily view your roadmap by weeks, months, or quarters.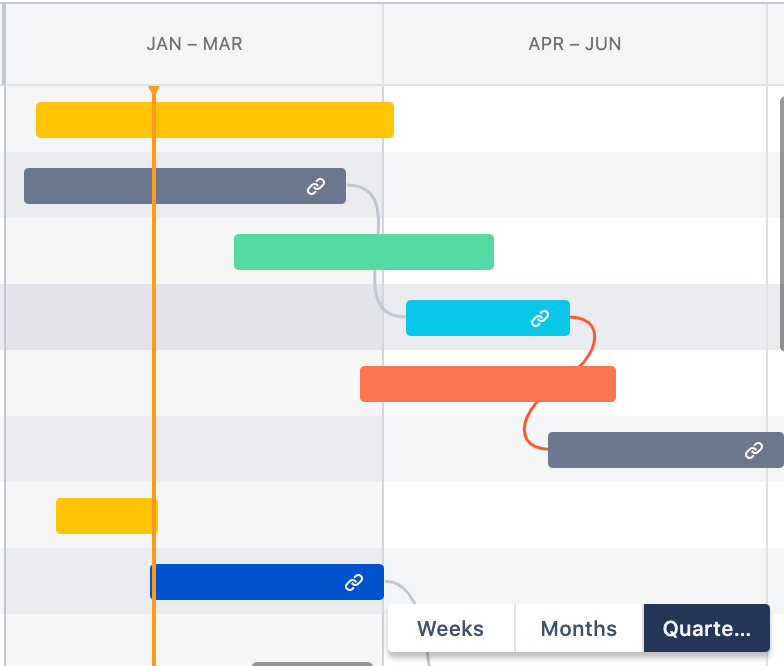 Dependencies
Dependency management is critical for teams. When dependencies are visualized and well-mapped, a team can adapt and plan for alternative paths. In Jira Software, you can easily show the relationship between epics by mapping dependencies directly from the roadmap.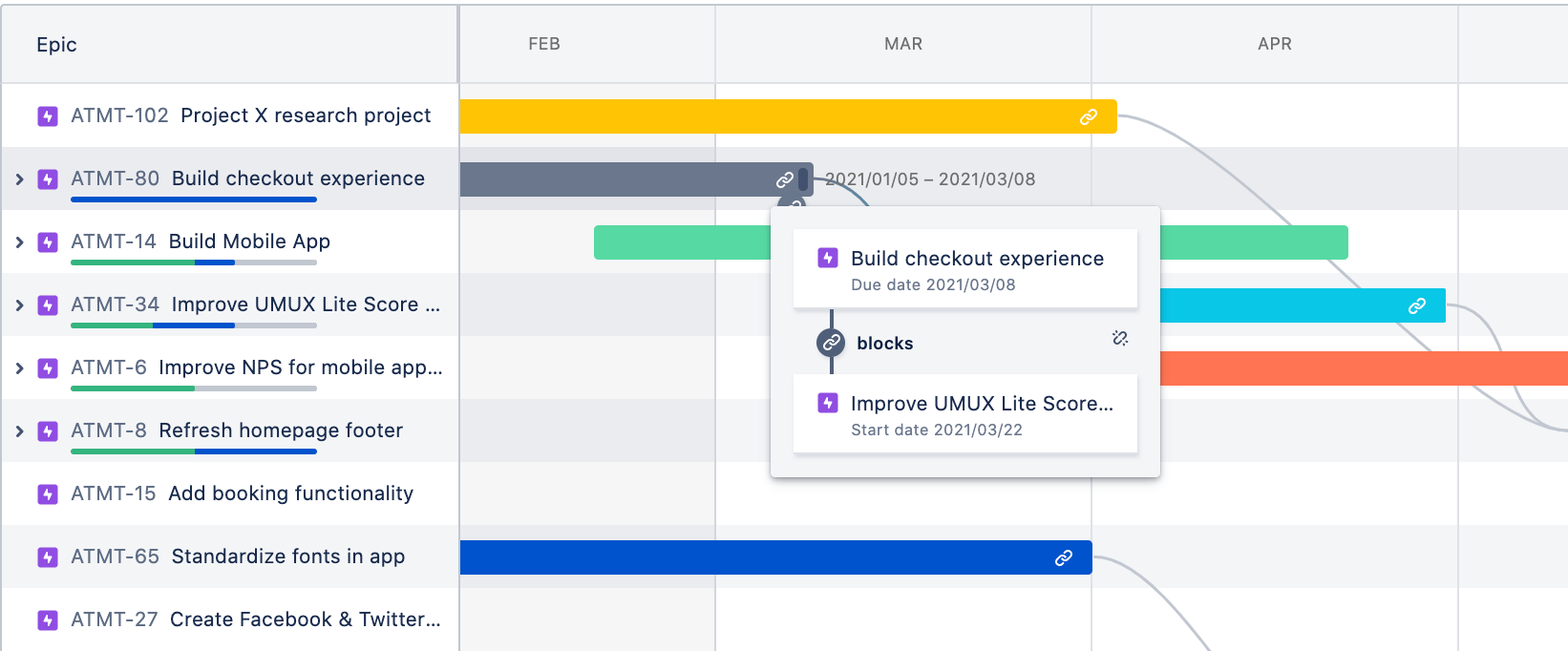 Share and export
Share and export features allow you to easily share your project roadmap with stakeholders, add it to a presentation, attach it to project documentation, print it out, or add it to a Confluence Cloud page. 
Share your roadmap
Send your roadmap directly from Jira Software by typing in user names or emails or click copy to grab the roadmap URL.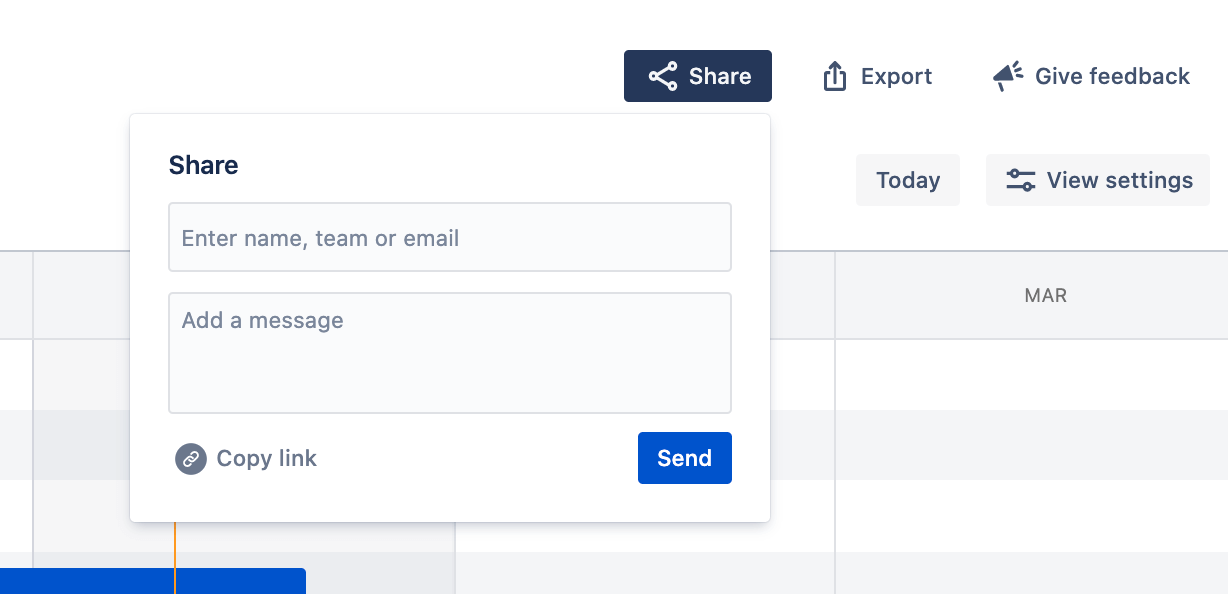 Export your roadmap 
Adjust the timeline view, start date, and end dates before exporting it as an image.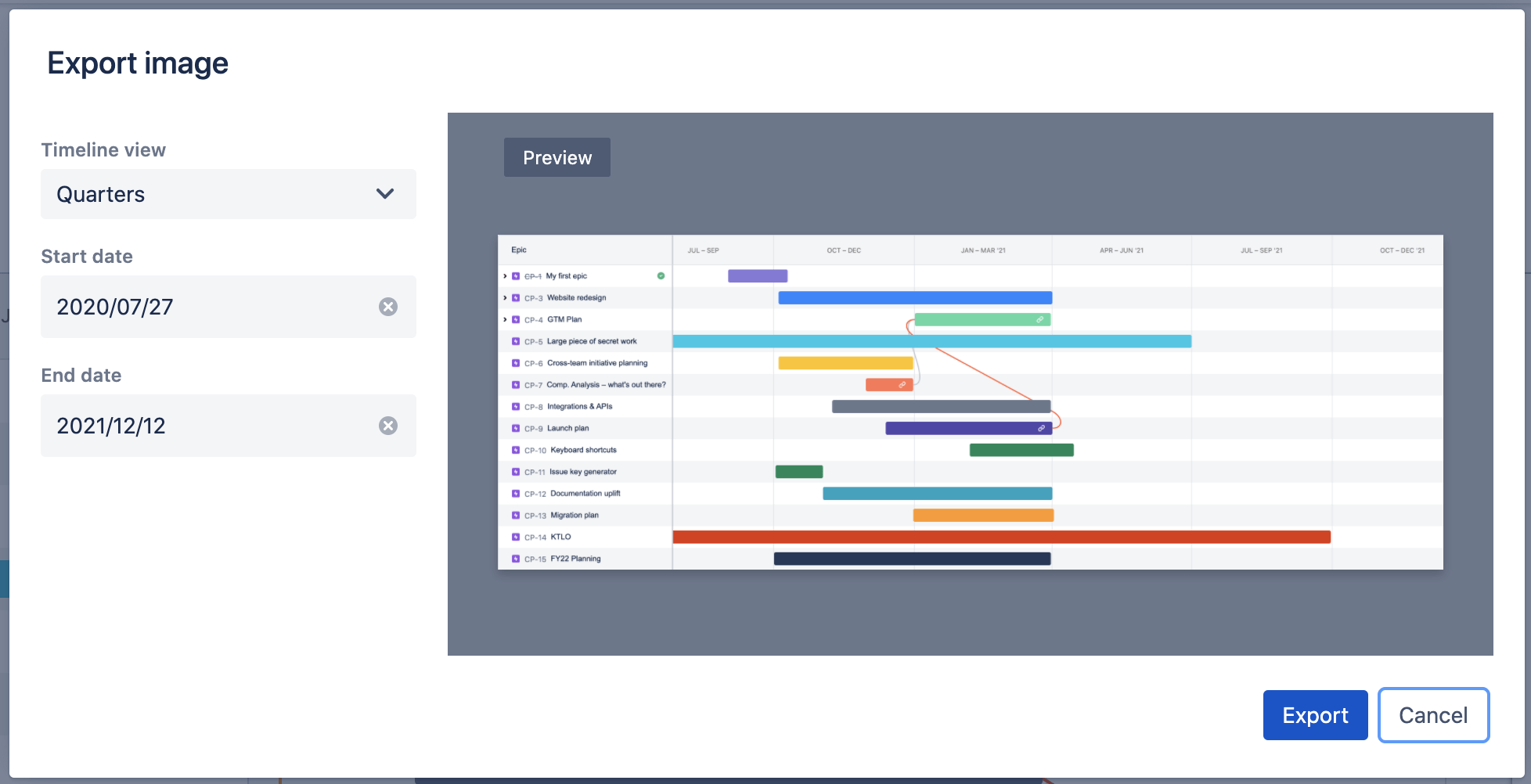 ---
Create a roadmap in Jira Software
Now that we know the key terms and concepts, let's dive into how you can create a roadmap for you and your team in Jira Software Cloud. 
1. Create a new Jira Software project or go to an existing project and then navigate to the sidebar and click Roadmap.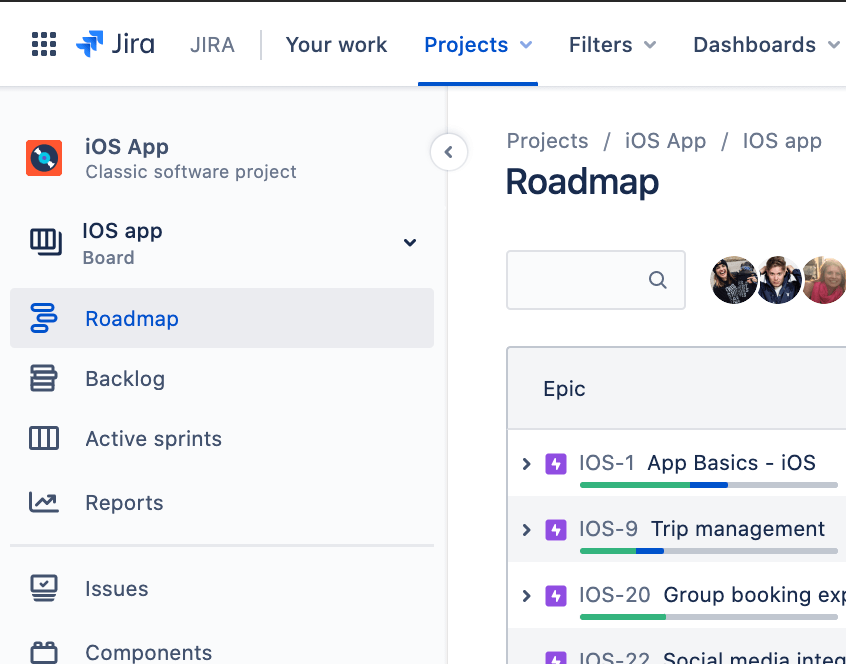 Note: If you are not seeing your roadmap tab, enable the roadmap in the board setting.
2. Click + create epic on the roadmap to create epics directly on your roadmap. If your roadmap is empty, simply start typing to create.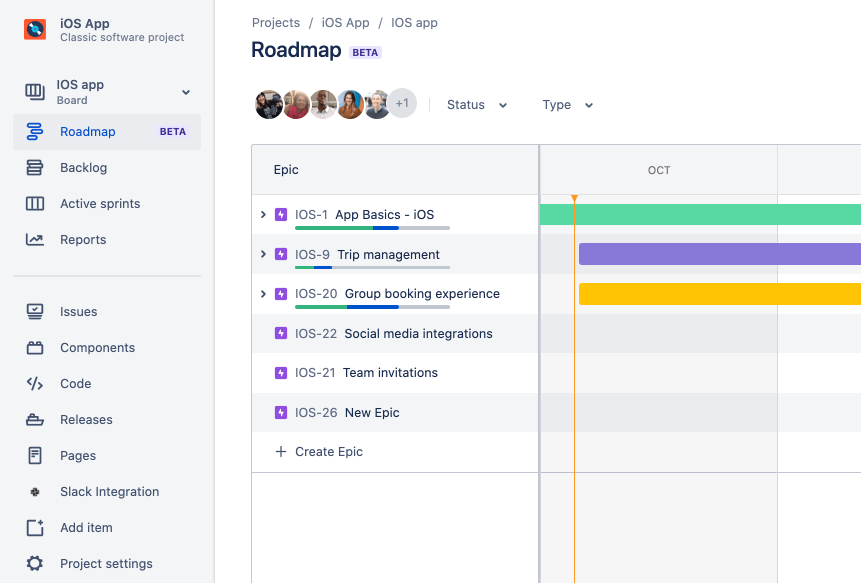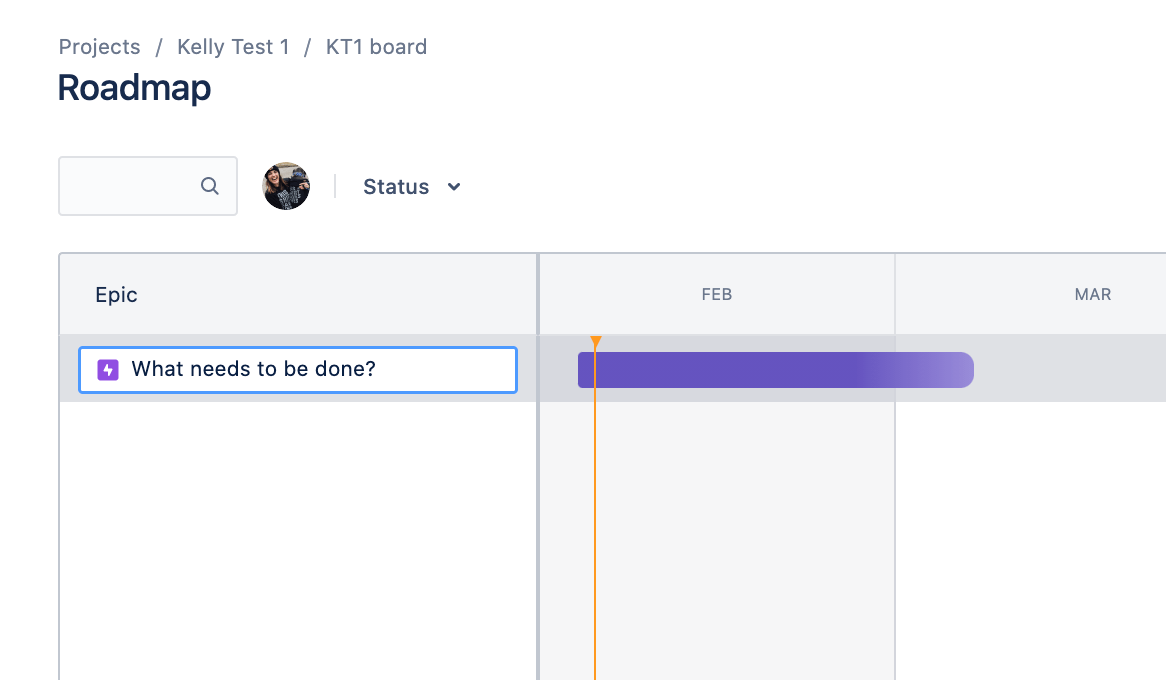 3. Name your epic and hit enter. You can double click into epics at any time from your roadmap to add information such as start and end date, assignee, attachments, and more.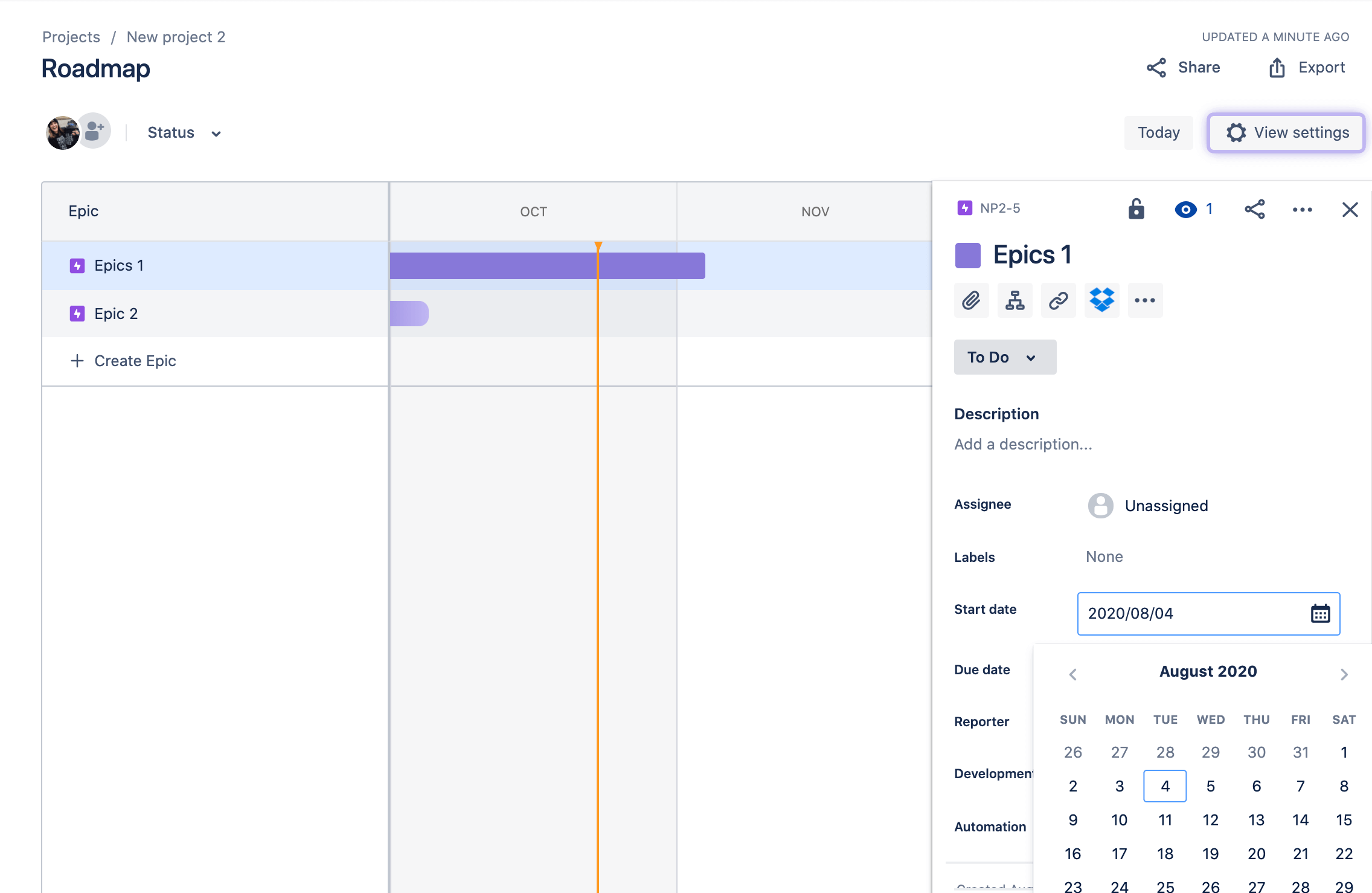 4. Add child-issues to your epic from the roadmap by clicking  + next to the epic name. Select the type of child issue using the drop-down and then name the issue.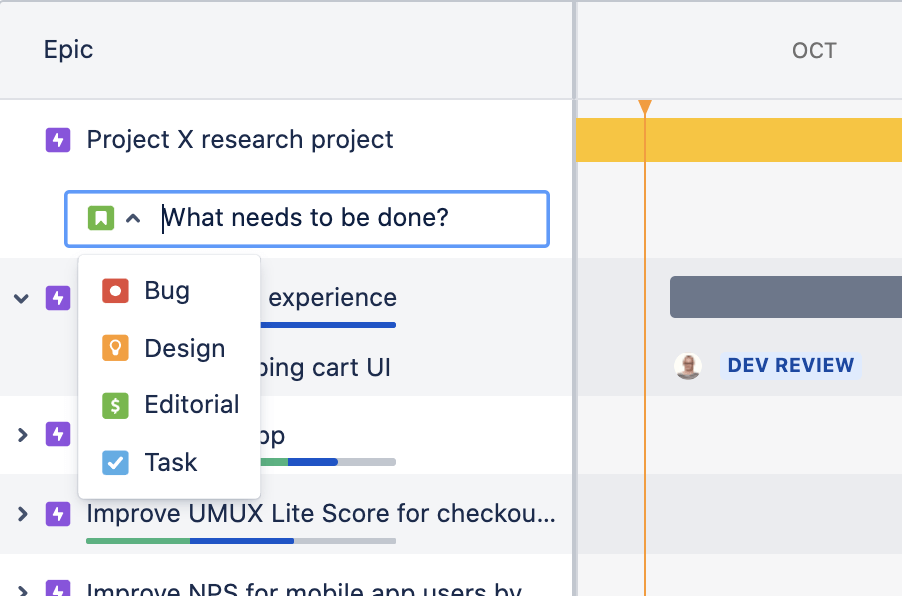 Continue to build out your team roadmap and don't forget these tips along the way
Visualize dependencies between epics by creating (or removing) dependency links directly on your roadmap.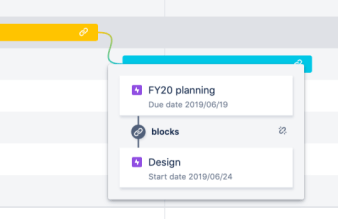 Keep your roadmap up to date by adjusting the length of the epic or slide the epic to change the start and due dates.

When work is assigned to team members in Jira, they can easily see how their work ladders up to epics. Roadmaps helps your team track progress towards big picture goals in a single view.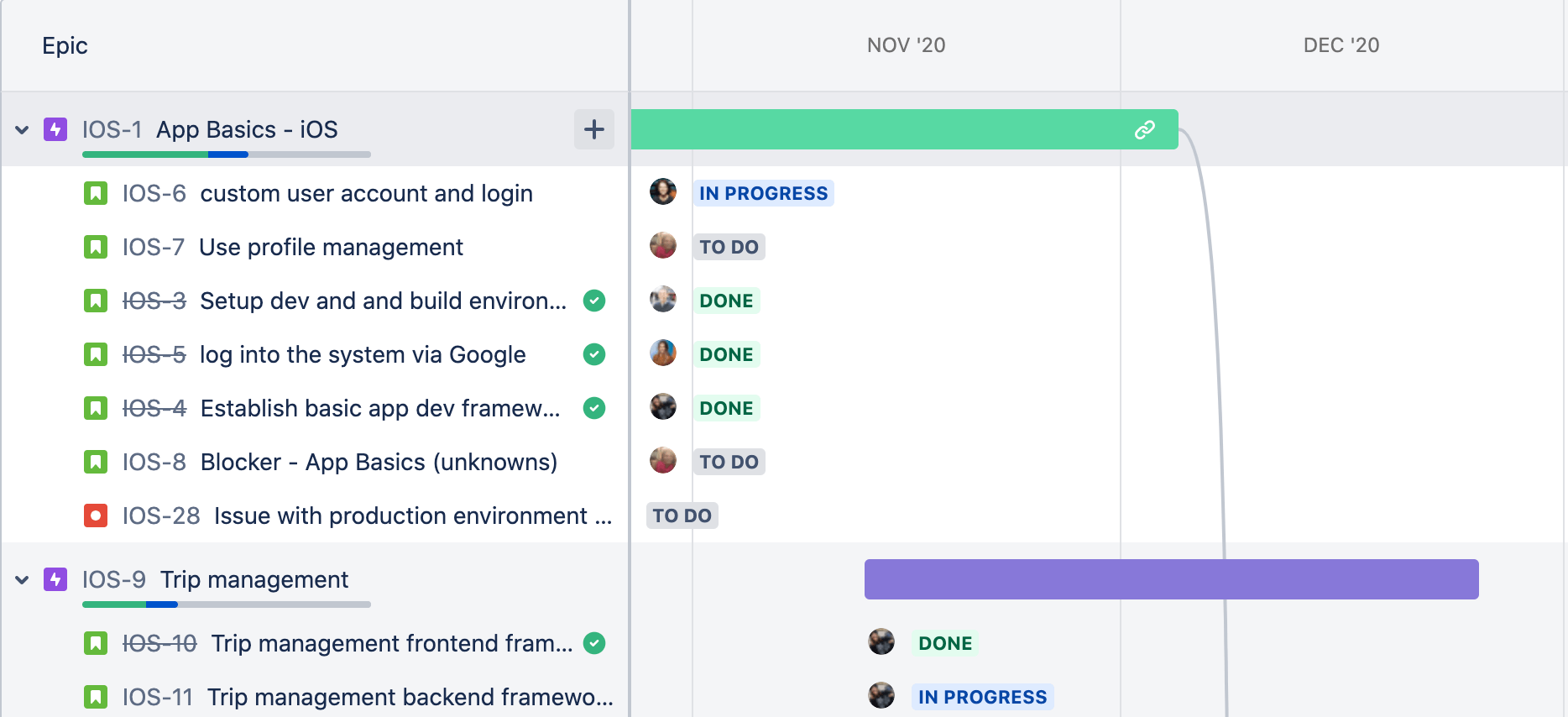 Make your roadmaps shine by changing the color of your epics directly on the roadmap, simply right-click the epic and pick your color.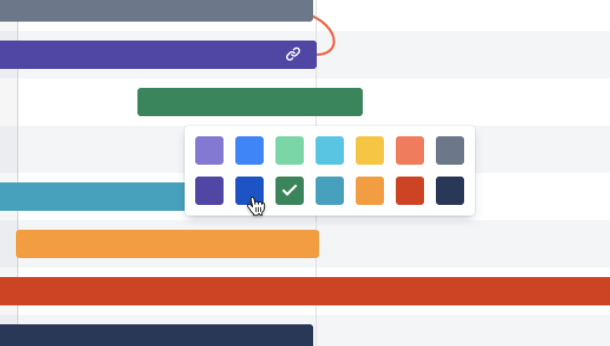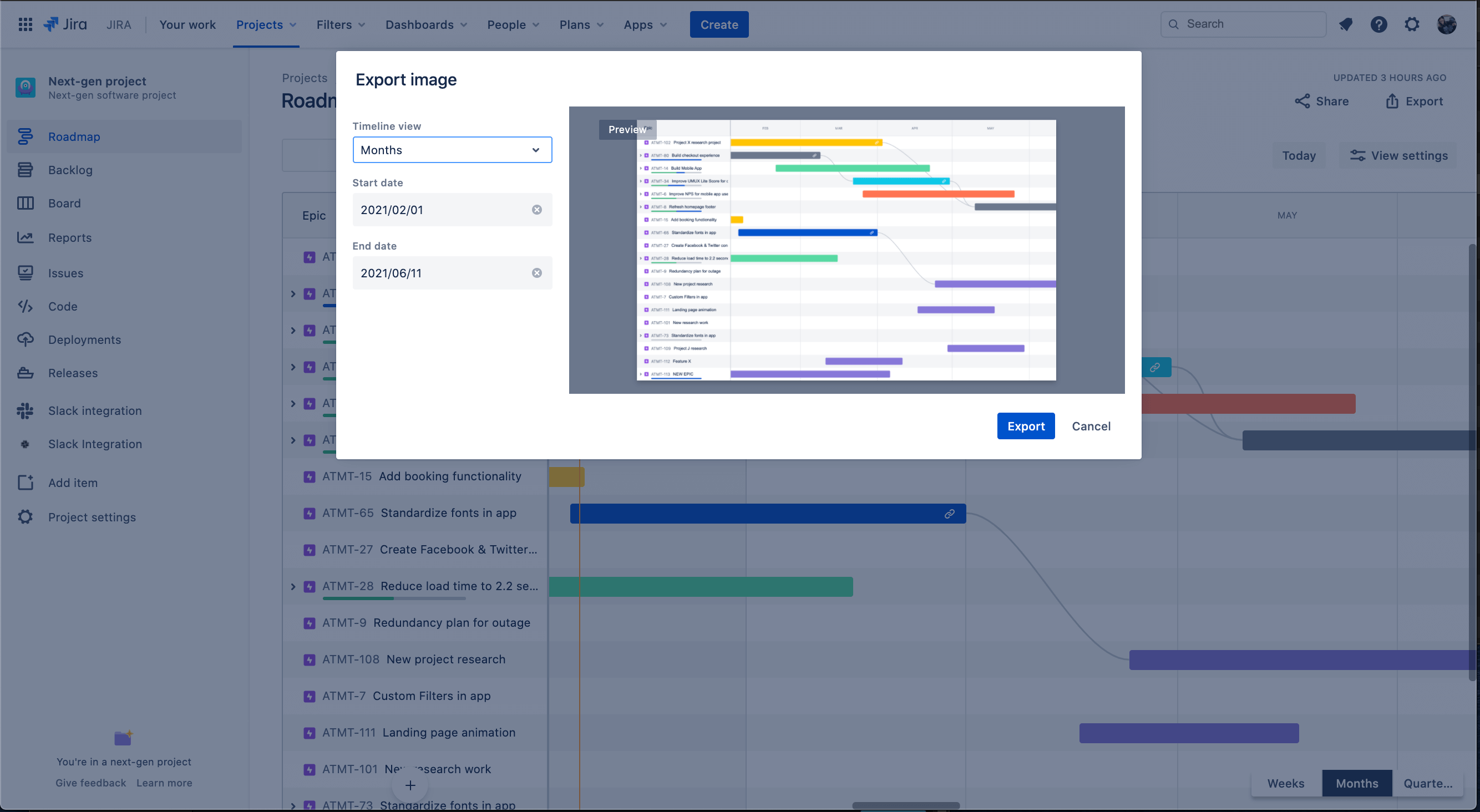 Pro Tip: Add your Jira roadmap to a Confluence page.
Create a single source of truth for your team or stakeholders with real-time updates by adding your roadmap to a Confluence Cloud page. Save time on the back and forth and interact with your Jira roadmap directly Confluence.