Jira Software features
How agile teams build and support world class software
Plan Ahead, Pivot Quickly
Use the interactive timeline to try adding epics, mapping work items, dependencies, and releases on a timeline. Timelines keep your teams and stakeholders in sync.
Scrum boards
Scrum boards help agile teams break large, complex projects into manageable pieces of work so focused teams, working in sprints, ship faster.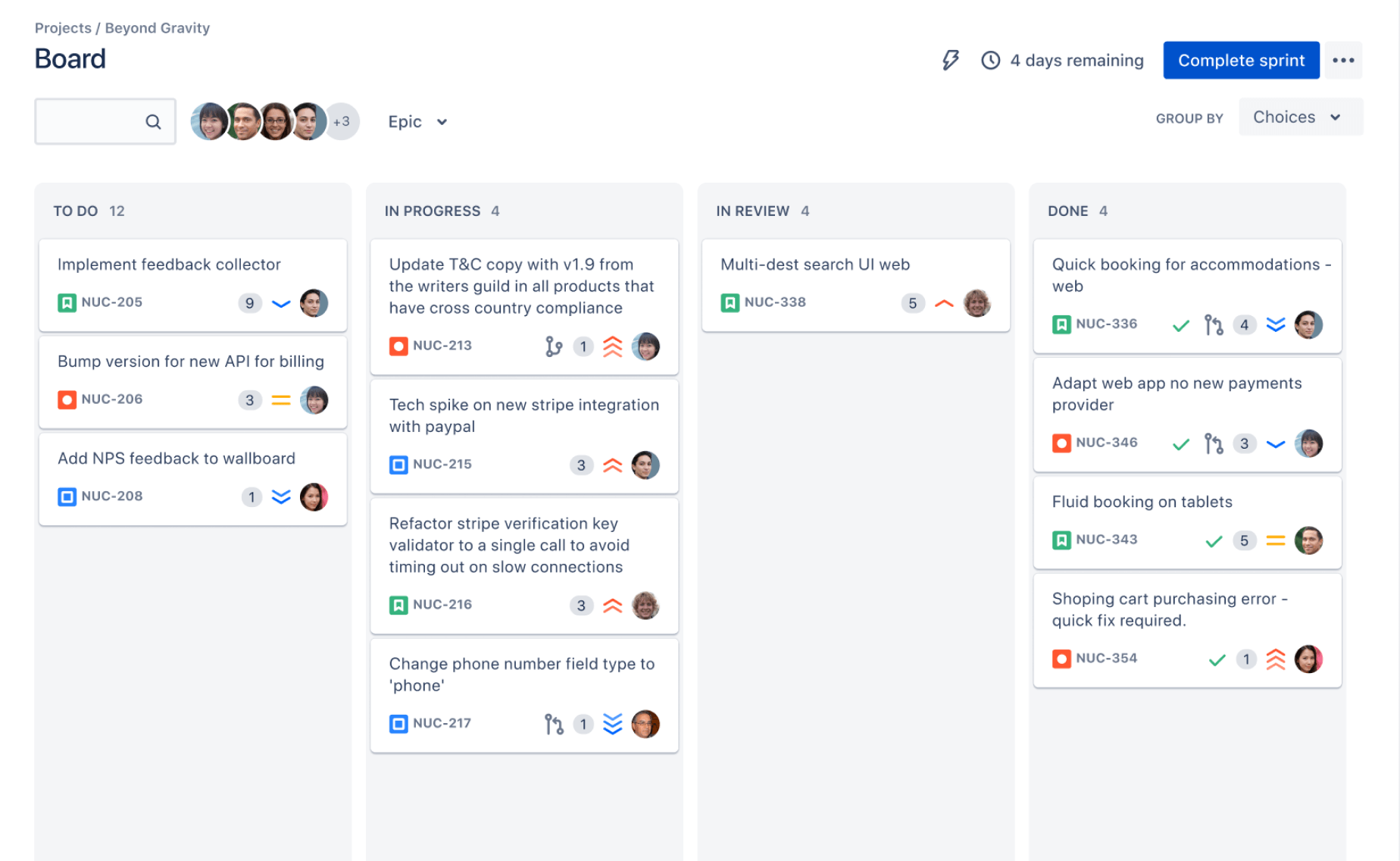 Kanban boards
Flexible kanban boards help teams visualize their workflow, limit work-in-progress, and maximize efficiency as a team. Commonly used by agile and DevOps teams to drive continuous delivery and improvement, get started quickly with a template and customize as you go.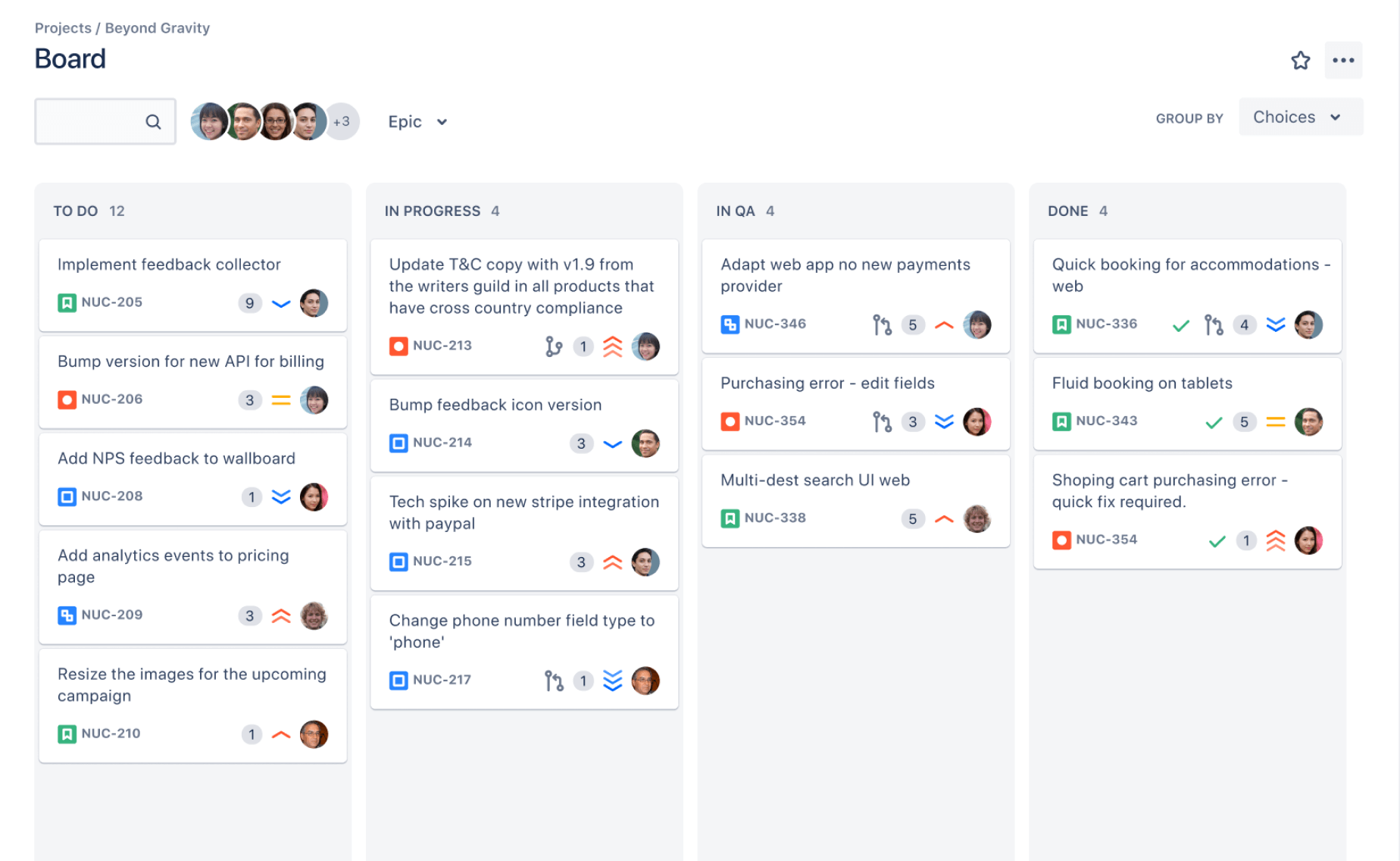 Learn and improve
Reports and insights
Out-of-the-box reports and dashboards in Jira Software offer critical insights within the context of your work to ensure your teams are always up to date and set up for success.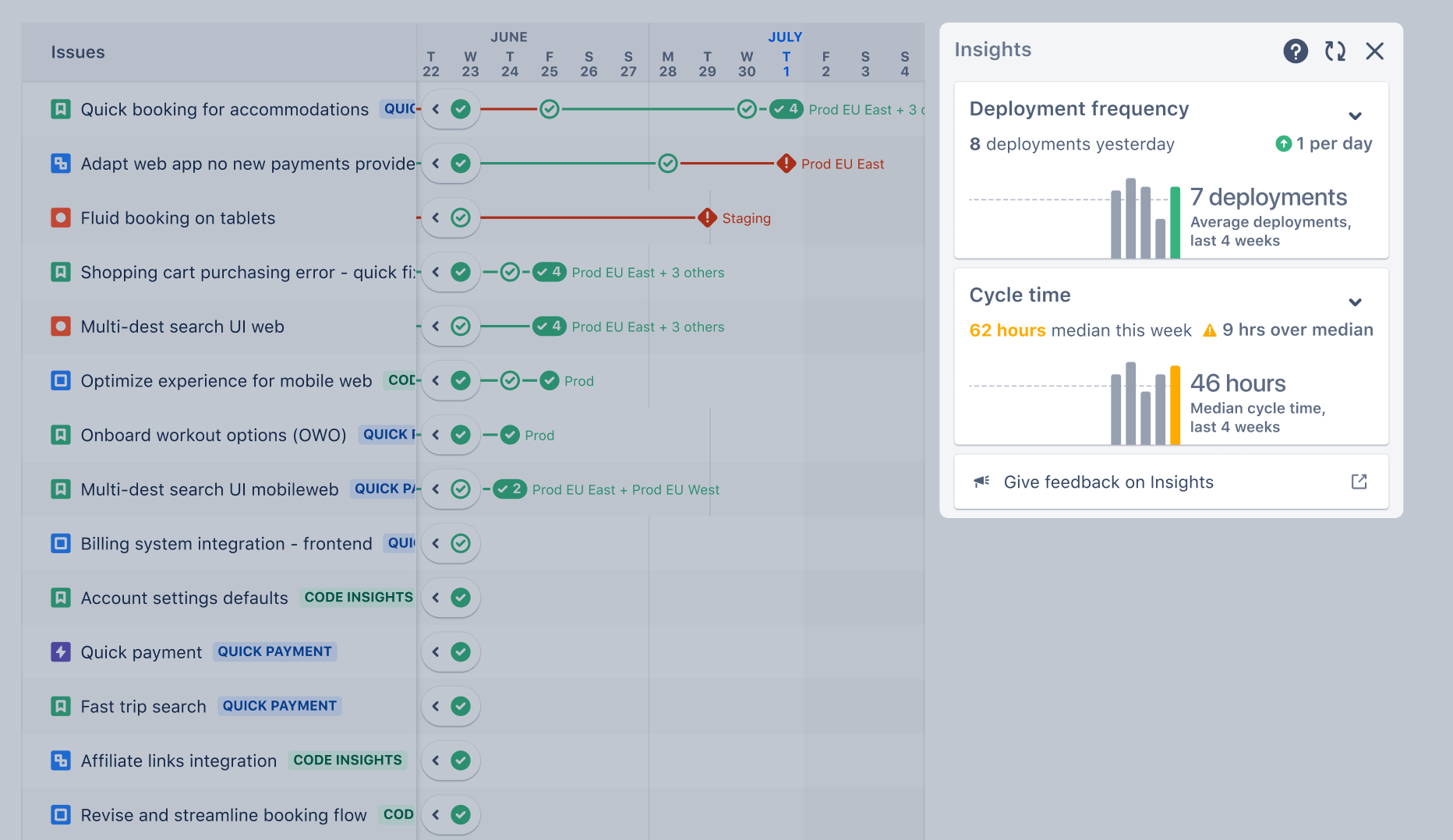 Autonomy and structure
Choose from team or company-managed projects. Jira fits around your workflows.
Customizable workflows
Create customizable workflows that map to any style of work.
Extend with apps and integrations
Extend the power of Jira Software. 3000+ apps and integrations available. Learn more
Drag and drop automation
Focus on the important things. Let automation do the rest. Powerful, yet simple - Jira automation is actually fun to use.
You have self-hosted and cloud options
In the cloud, on your own infrastructure, or at massive scale, Jira Software has your platform covered.
| Feature comparison | Cloud | Server | Data Center |
| --- | --- | --- | --- |
| Project and issue tracking | Yes | Yes | Yes |
| Scrum and kanban support | Yes | Yes | Yes |
| Backlog prioritization and sprint planning | Yes | Yes | Yes |
| Flexible workflow | Yes | Yes | Yes |
| Developer tool integrations | Yes | Yes | Yes |
| Out-of-the-box agile reporting | Yes | Yes | Yes |
| Rich APIs | Yes | Yes | Yes |
| Plug-and-play add-ons | Yes | Yes | Yes |
| Mobile | Yes | Coming Soon | Coming Soon |
| Active active-clustering | No | No | Yes |
| Disaster recovery | Yes | No | Yes |
| Zero downtime upgrades | Cloud customers are automatically upgraded to the latest release | No | Yes |
| SAML single sign-on | Available with Atlassian Access | No | Yes |
| Enforced two-step verification | Available with Atlassian Access | No | Yes |
| Password Policies | Available with Atlassian Access | No | Yes |
Let developers focus on code
See code and deployment status at a glance in Jira
View repositories
Include an issue key in a commit, branch name, or PR and it will automatically update in Jira.
See development status
View and create branches, pull requests and view commits right inside the Jira issue development panel.
Get DevOps visibility
Visualize and measure progress from idea through to production across all tools.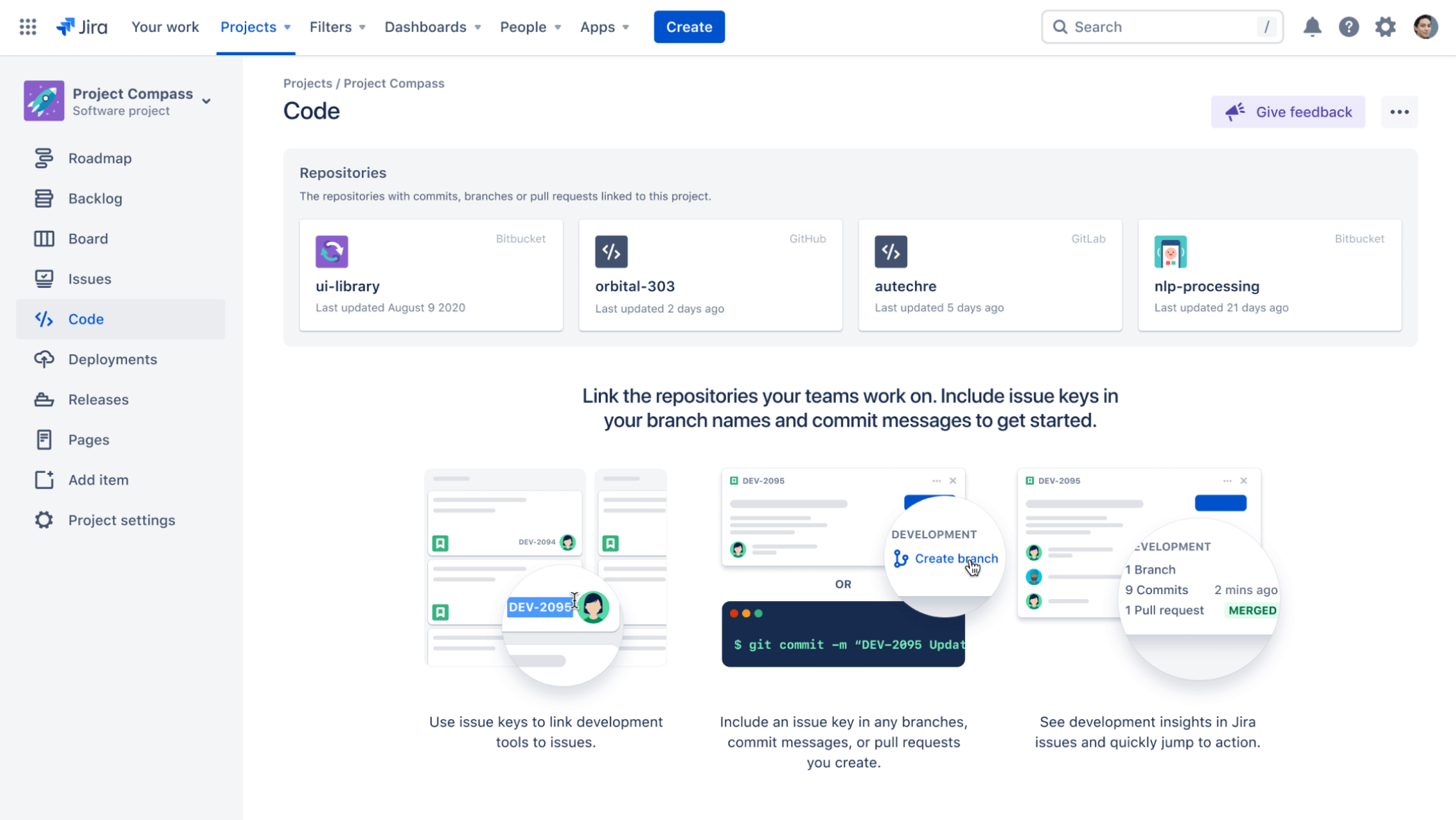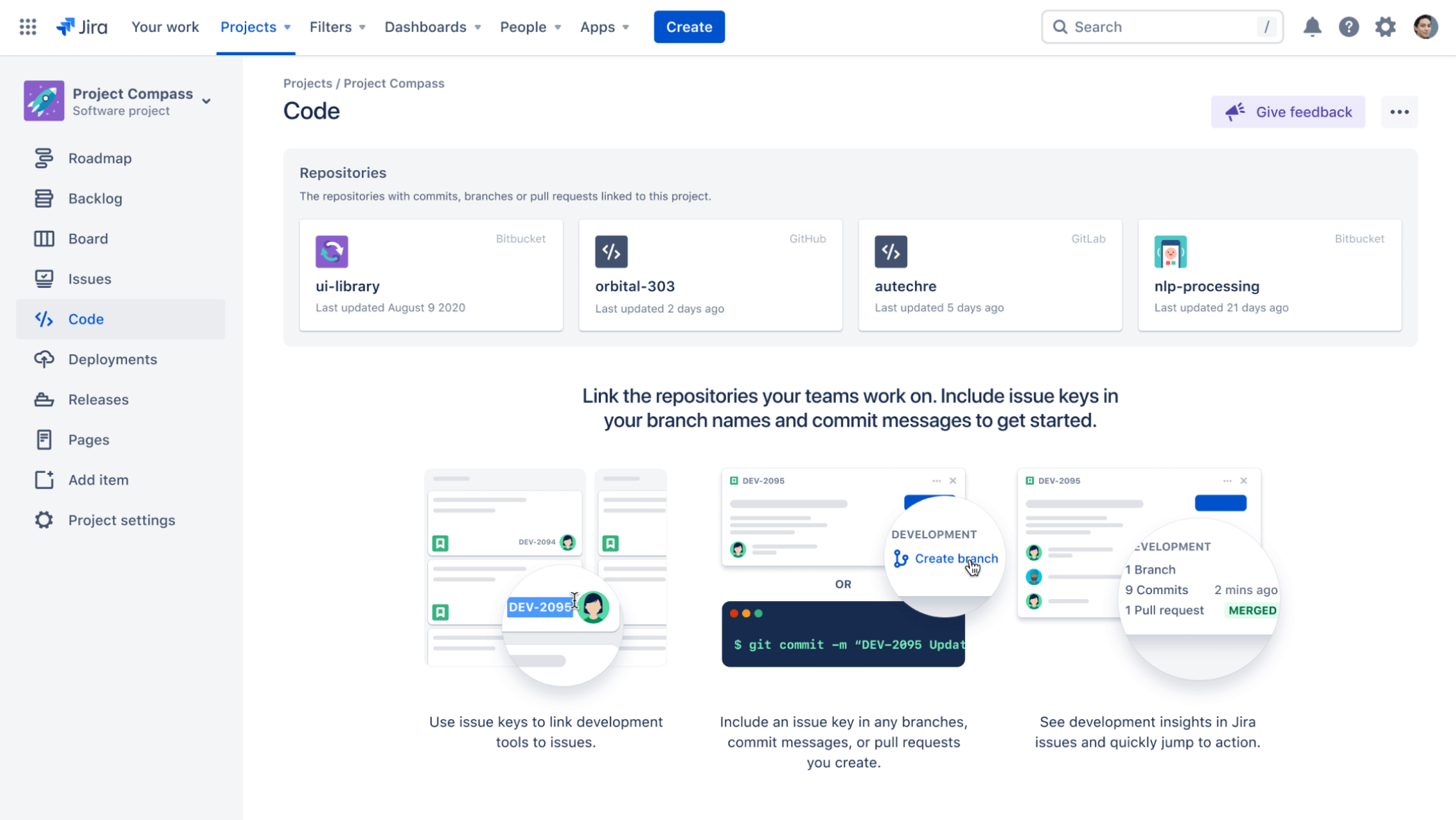 Open DevOps
No single vendor can deliver everything your team needs to do DevOps. But using multiple tools can be messy. With Atlassian Open DevOps - you don't need to choose. 
Using Jira as the central source of truth for your DevOps practices, unlock the extensibility of an open, diverse toolchain while keeping the ease and coordination of an all-in-one.
Designed for security and scale
Atlassian Access
Sleep soundly with enhanced administration and security backed by SAML SSO, enforced 2-step verification, automated user provisioning, and more.
Jira Software Premium
Ensure your team and organization are ready to scale with 99.9% uptime SLAs, unlimited storage, 24x7 Premium Support, and more.
Trusted by over 100,000 customers worldwide
Get started with Jira Software