Atlassian Human Rights Statement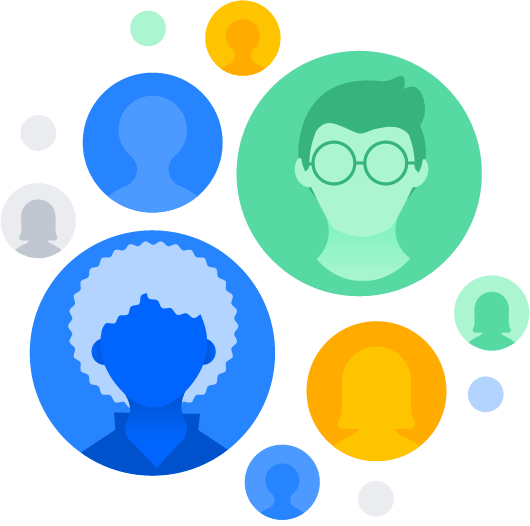 Atlassian is a global software company helping teams around the world unleash their potential. We build tools – like Jira, Confluence, and Trello – that help software developers, project managers, and teams of all shapes and sizes collaborate, build, and create together.
We know that every decision we make has a real impact on our employees, customers, business partners, and community, and we want that impact to be an empowering one for those who cross our paths. Transparency and accountability live at the core of our business and form the foundation of our human rights approach.
This Human Rights Statement is an explicit pledge to uphold our human rights commitments, meant to guide our decision-making and hold us accountable to the public. Every Atlassian has a responsibility to hold each other to these promises by staying vigilant, reporting violations, and doing our part to champion the rights of every human being in our corporate ecosystem.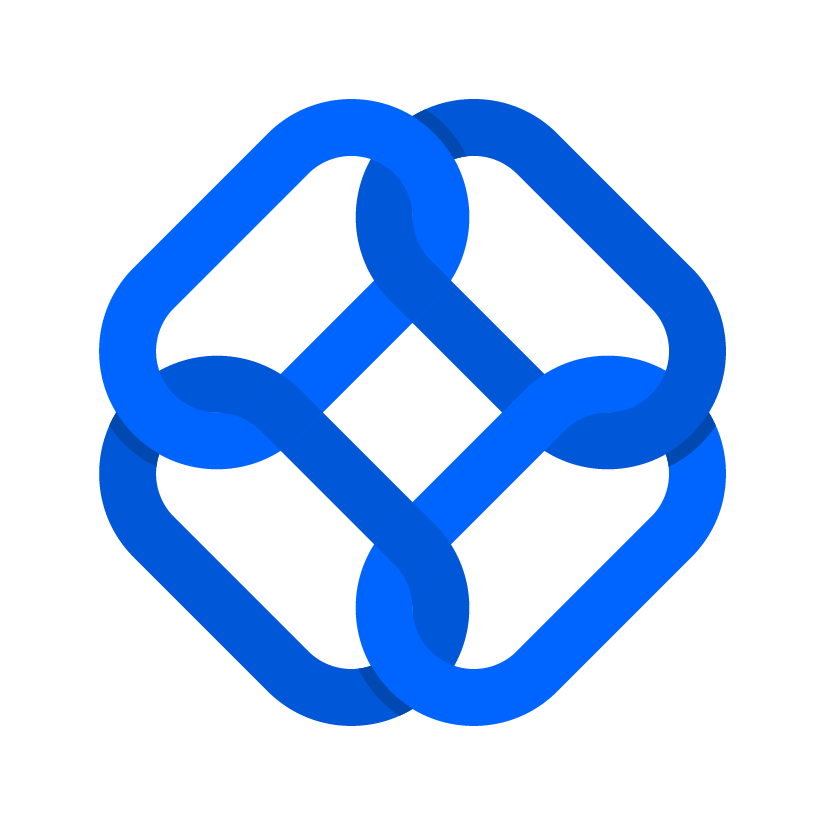 Our Commitment
Businesses have a responsibility to respect human rights. This means avoiding infringement on the human rights of others and addressing adverse human rights impacts they're involved in. As a software company, Atlassian recognizes that we can have positive or adverse impacts on human rights, including the rights to privacy; non-discrimination; and a clean, healthy, and sustainable environment.
To understand and address our human rights impacts, Atlassian is guided by our values, mission, and the UN Guiding Principles on Business and Human Rights, a set of guidelines for companies and states to prevent, address, and remedy human rights abuses. Beyond respecting human rights, we seek to promote and advance positive human rights impacts through our products and services, and our role as an employer.
This Human Rights Statement applies to all countries and regions in which we operate. We comply with all applicable laws and regulations.
Our Approach
Governance & Due Diligence
This statement is approved by our Co-founders/Co-CEOs and implementation is led by our Sustainability team, in collaboration with teams across Atlassian. We will review this statement annually and continuously improve our ability to fulfill our commitments. We have a Human Rights Working Group with representatives from the Sustainability, Public Policy, Privacy, Commercial Legal, Risk, and Trust teams that focuses on integrating a human rights approach across Atlassian. As part of that, we've included the findings of an internal human rights assessment into Atlassian's enterprise risk management process to prioritize the most salient risks, assign responsibility, and track progress.
Reporting
We recognize that transparency and accountability are central to earning the trust of our employees, partners, and customers. In the spirit of one of our values, "open company, no bullshit," we report publicly on our sustainability, DEI, and human rights commitments through an annual Sustainability Report – details on all of the above can be found there. We take a progress-over-perfection approach to sustainability, and we are committed to disclosing what's working and what's not.
We publish a regular Transparency Report, disclosing law enforcement requests to access customer information (where permitted), including whether and how we complied. As stated in our Guidelines for Law Enforcement Requests, we carefully review requests to ensure they comply with the law and are within the powers of the requesting authority or law enforcement official.
Stakeholder Engagement
Atlassian believes it is important to engage in consultation with diverse stakeholders to ensure a full understanding of how our company's actions and decisions can affect individuals and groups. Potentially affected stakeholders include internal stakeholders (employees and contingent workers), and external stakeholders (suppliers, partners, customers, and end users of products). They also include civil society groups that focus on human rights, shareholders, and responsible investors.
Atlassian welcomes the opportunity to engage with organizations and other stakeholders to better understand human rights issues related to our company, our value chain, and the community and planet at large. We will proactively engage these groups and conduct proper due diligence, and we can be reached via email at any time: sustainability@atlassian.com.
Raising Concerns & Grievances
Atlassian offers multiple channels to our employees, consultants, suppliers, and business partners to report concerns. In the event that you cannot raise a concern to your supervisor or Atlassian point of contact, you may communicate with the Compliance Officer through the following channels:
The above methods are preferred, but you may also send an anonymous message by mail, addressed to:
Compliance Officer, Atlassian Corporation
350 Bush Street, 13th Floor
San Francisco, California 94104 USA
We promote awareness of these reporting channels through policies and communications. We prohibit retaliation against anyone who, in good faith, raises a grievance or concern.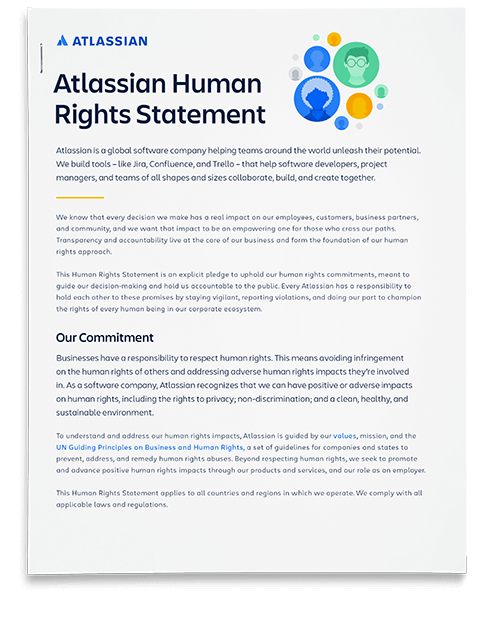 Download a PDF of our Human Rights Statement