Confluence 101: organize your work in spaces
Or, where to put all your work stuff (to use the technical term)
Chances are, the information you need to do your job lives in multiple places. Word docs, Evernote files, email, PDFs, even Post-it notes. It's scattered among different systems. And to make matters worse, the stuff your teammates need is equally siloed. If information had feelings, it would be lonely.
But with Confluence, you can bring all that information into one place.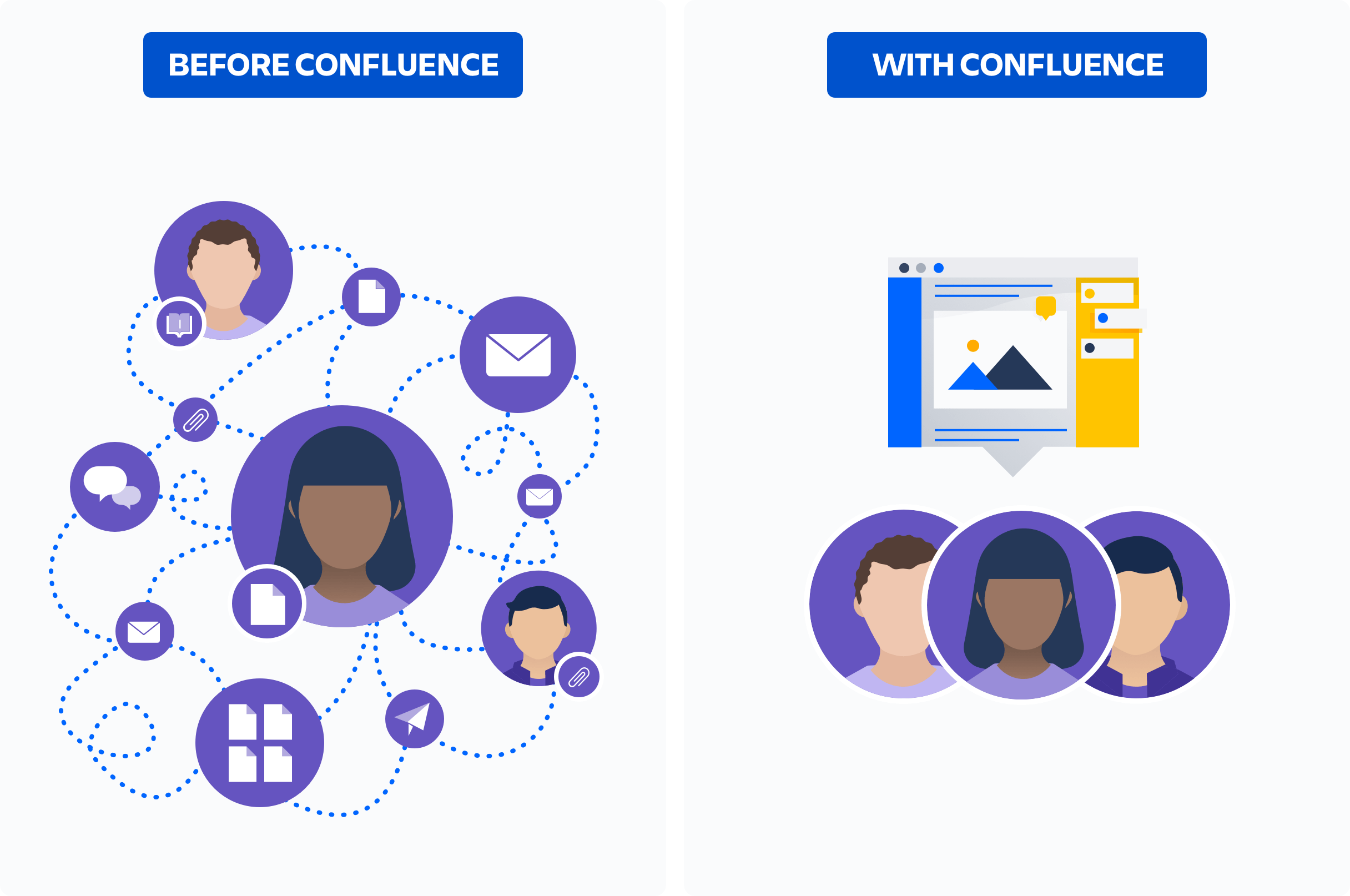 Confluence is a new way for teams to work together. If you take the time to master the basics (and it won't take much time – promise!), the ways you can use it are practically limitless. We hope Confluence will quickly become indispensable to your workflow as your go-to tool for organizing, discussing, and doing work.
Core concepts of Confluence
What is Confluence? An online application built to help teams organize, discuss, and do their work
Where do I put my stuff? Everything in Confluence is organized in spaces, which are a collection of related pages
How are spaces organized? Spaces are made up of pages. Pages are the documents in which your team will create, edit, and discuss work
Get familiar with spaces
Know your spaces - Everything your team is working on—meeting notes and agendas, project plans and timelines, technical documentation and more—is located in a space. This is the portal for your team. A small team should plan to have a space for the team, as well as for big projects.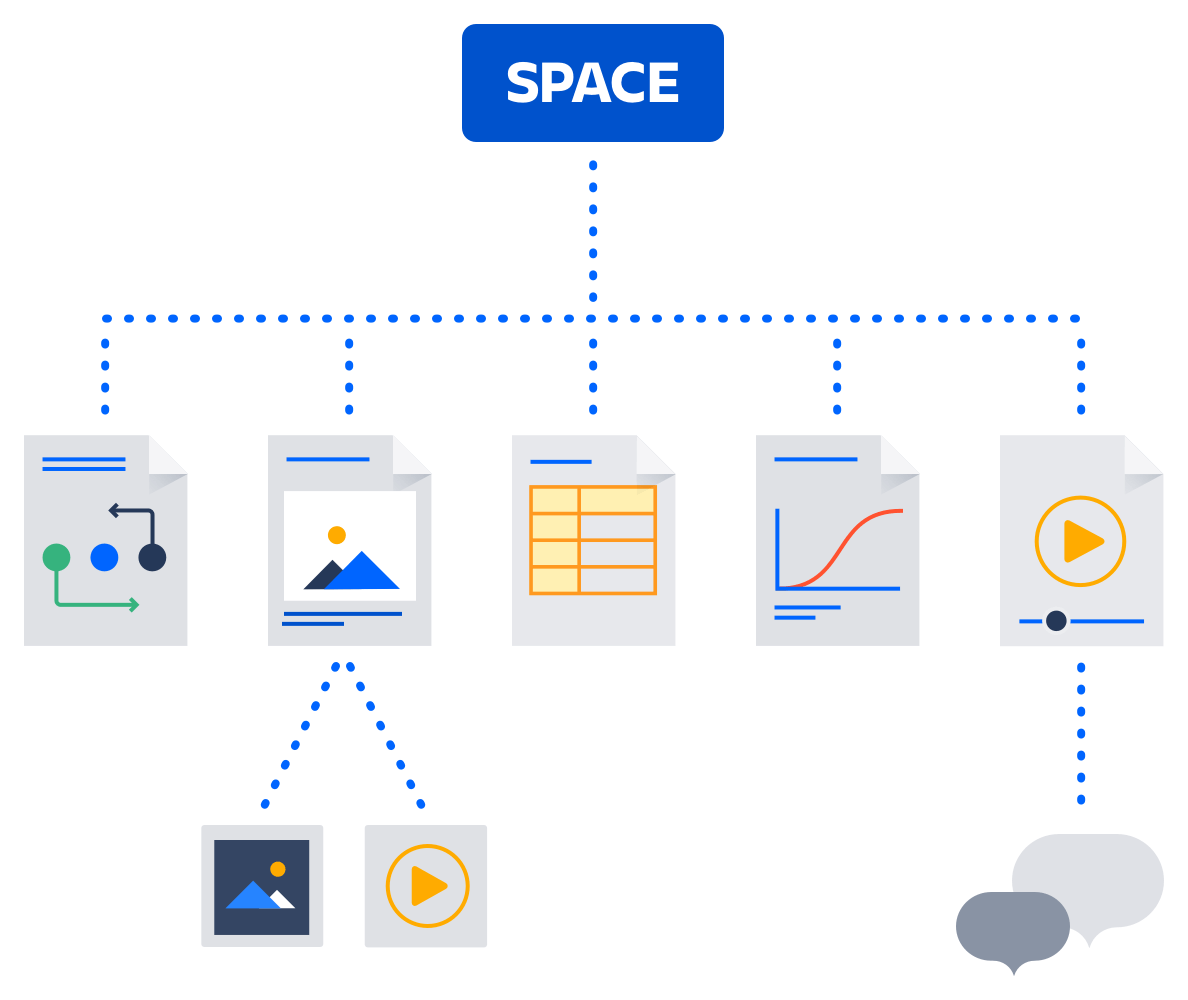 If you'll be working in Confluence with several other teams and departments, we recommend a space for each team, as well as a space for each major cross-team project. The key is to think of a space as the container that holds all the important stuff a team, group, or project needs to work.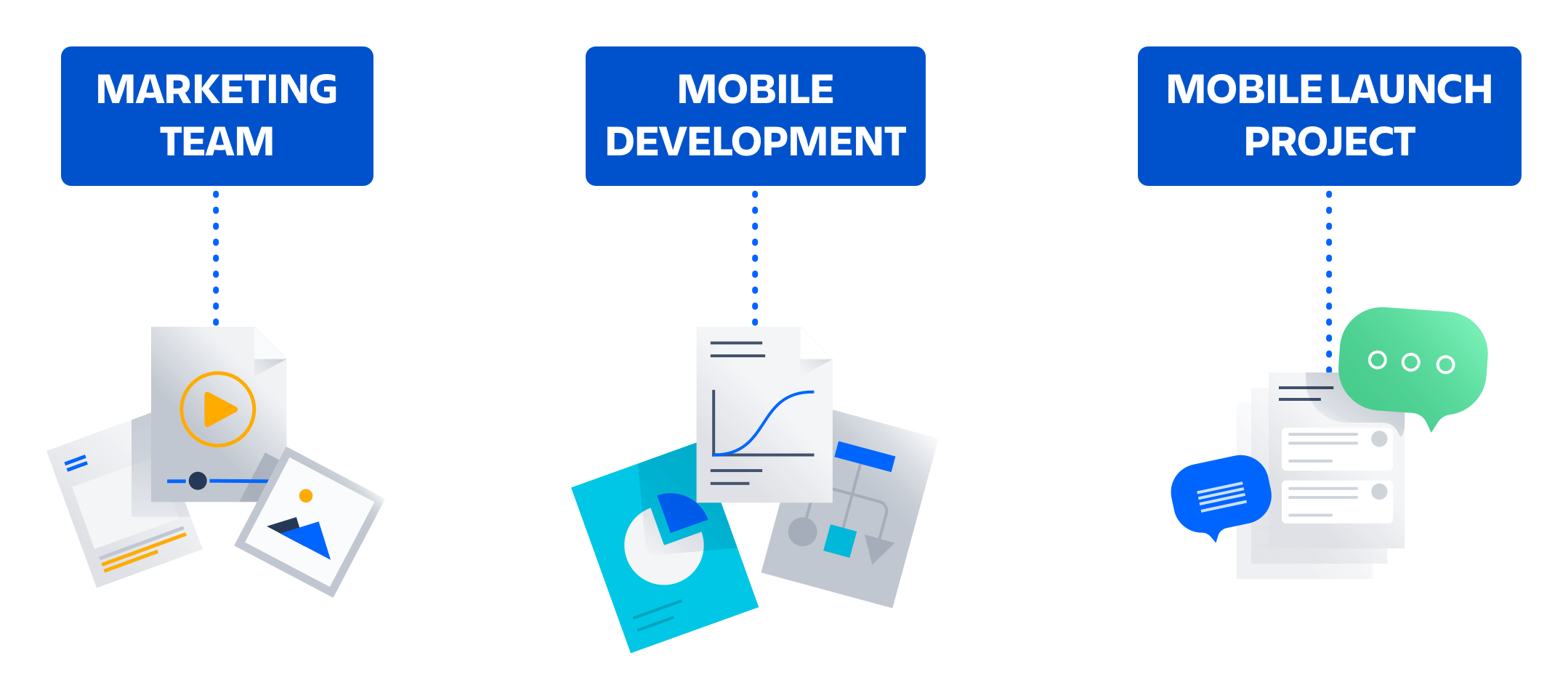 Pro Tip
If you're a new user who has been invited to Confluence by a teammate, start by checking out what spaces already exist. Navigate to Spaces (top nav) > Look at the Space directory in the dropdown menu
Action step: Create a personal space
Where to find it: From the user profile dropdown (bottom left corner), select "Add personal space"
Your personal space is where to store the content you care about. It's a place to draft ideas, share your bio and contact information, and store stuff for personal projects. You control the permissions (more below), so feel free to draft pages that no one else can see.
Best Practices: Personal Spaces
What lives inside a personal space?
(Remember, spaces are made up of pages. Here are some of the pages that should be included in your personal space.)
The homepage: This is the first page you land on when you create your space, and what others will see when they visit. Include information about yourself and what you're working on here.

Pages not ready to be viewed by others: Create drafts of project plans, or mockups that you can later move to a team or project space.

Pages for personal work: Create pages to track your personal goals for the quarter, or to record notes from a conference you attended.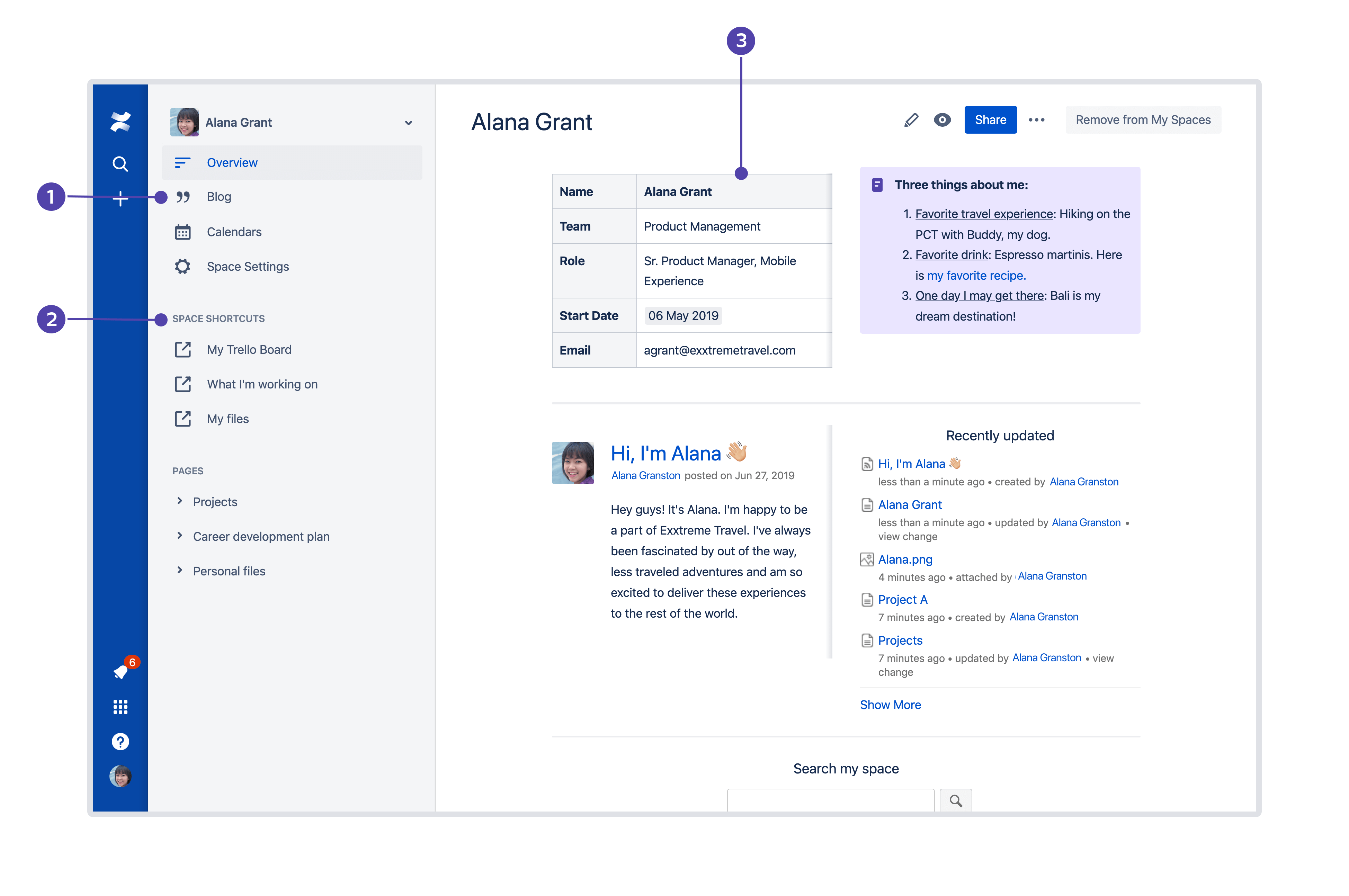 ACTION STEP: CREATE A TEAM SPACE
Where to find it: From the Spaces dropdown, select "Create space"> select "Team space"
Next, create a space for your team. Since Confluence is ideal for teamwork, you'll want to make this space inviting and useful for your teammates.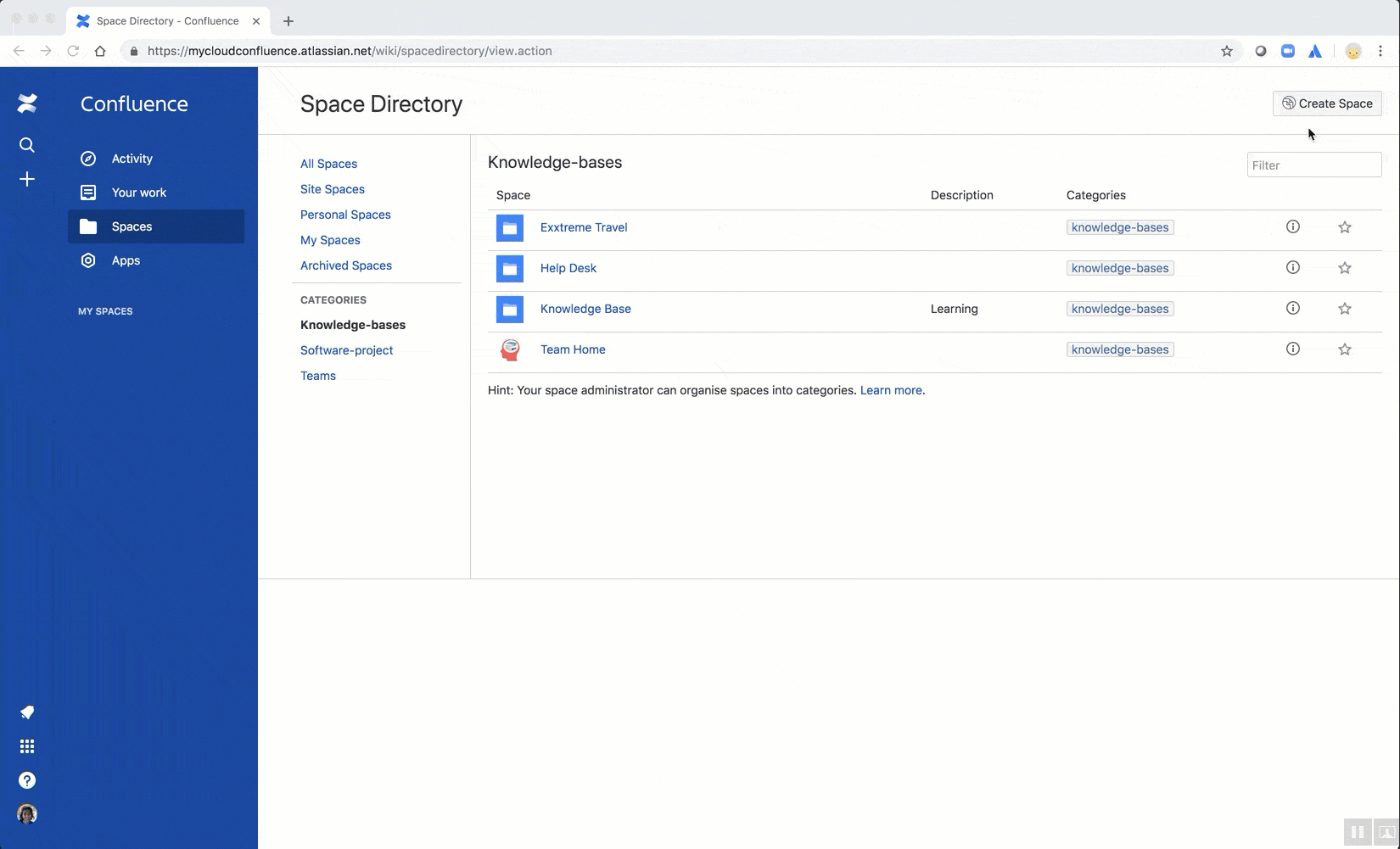 BEST PRACTICES: TEAM/PROJECT SPACES
What goes inside a team/project space?
Team homepage: Use this page to show off your team, what they do, and any recent work.

Space Shortcuts: Use the Space Shortcuts in the sidebar to link to important pages your team needs regular access to, like your roadmap or Jira boards.

Pages from templates: Confluence automatically collects the pages you create using templates in the sidebar. So anytime you create a new meeting notes page, file list, or decision page, it will be collected there.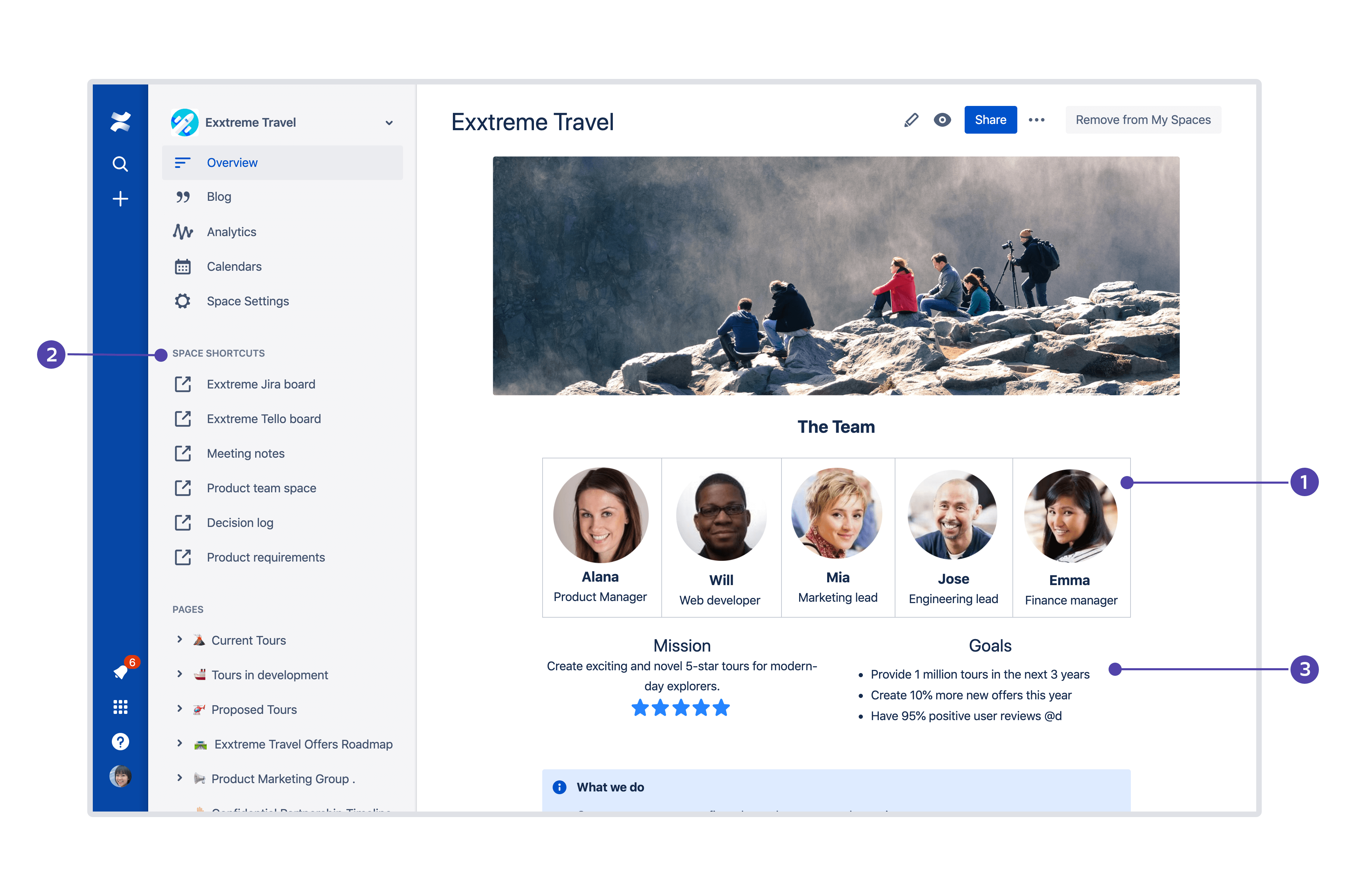 Get familiar with pages
Know your pages - If you're working on something related to your team—project plans, product requirements, blog posts, internal communications, you name it—create and store it in a Confluence page. Confluence pages offer a lot of flexibility for what you can create. Several page templates are included to get you started, like the meeting notes template. Your spaces should be filled with pages that document your business processes, outline your plans, contain your files, and report on your progress. The more you learn to do in Confluence (adding tables and graphs or embedding video and links are great places to start), the more engaging and helpful your pages will become.
ACTION STEP: CREATE A PAGE
Where to find it: Click the "Create" button > Select a space for the page > Select the "Meeting Notes" template
Getting comfortable creating pages in Confluence is essential to your success. You may not have anything to publish at the moment, but you can get started by trying out the meeting notes template. Create a meeting notes page for an upcoming meeting, and practice using it.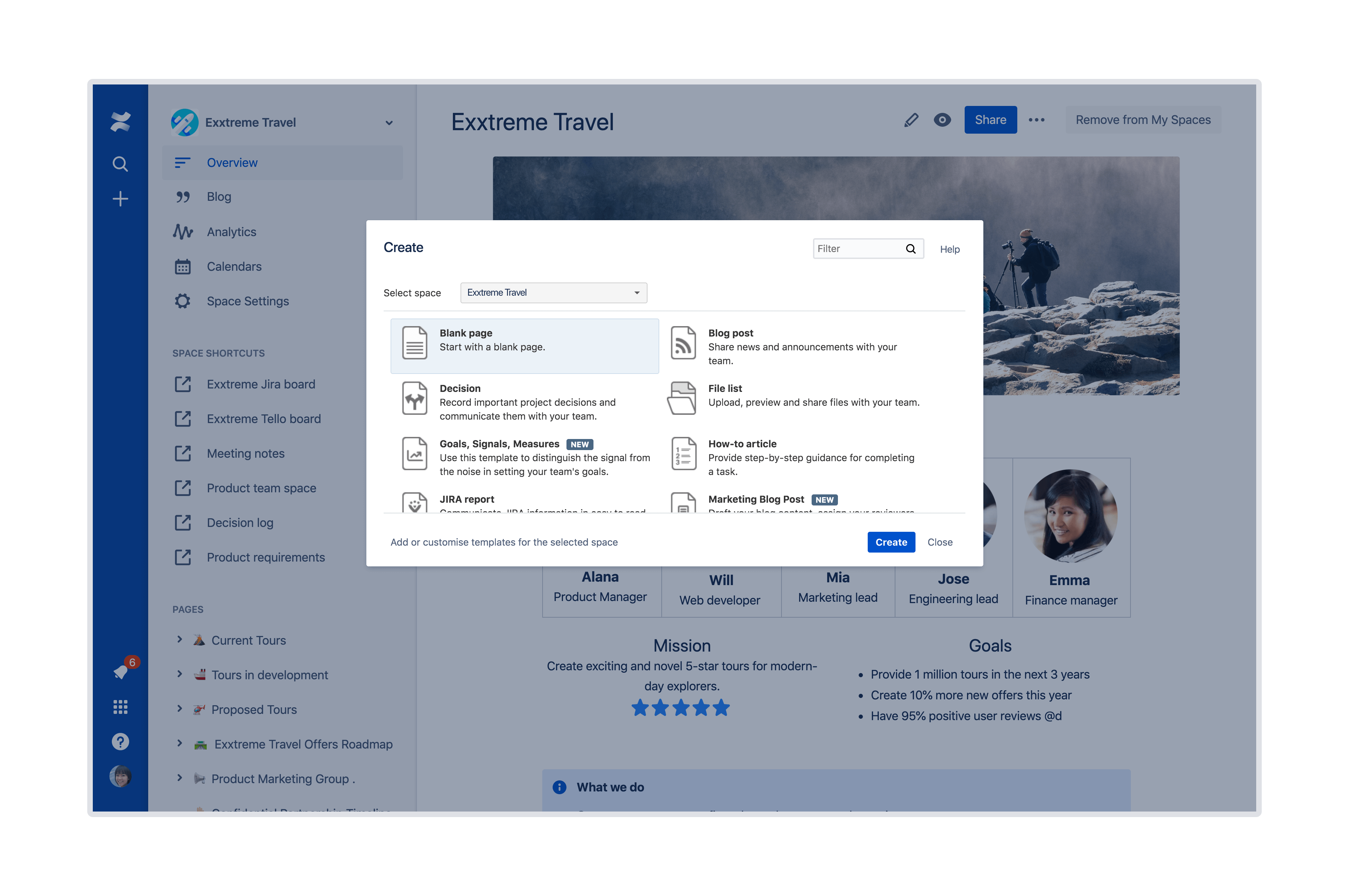 BEST PRACTICES: PAGES
Where should I create my pages?
If you're creating a page from the navigation bar at the top of the screen (i.e. the blue Create button), make sure to select the appropriate space

If you're new to Confluence, start with a preconfigured template page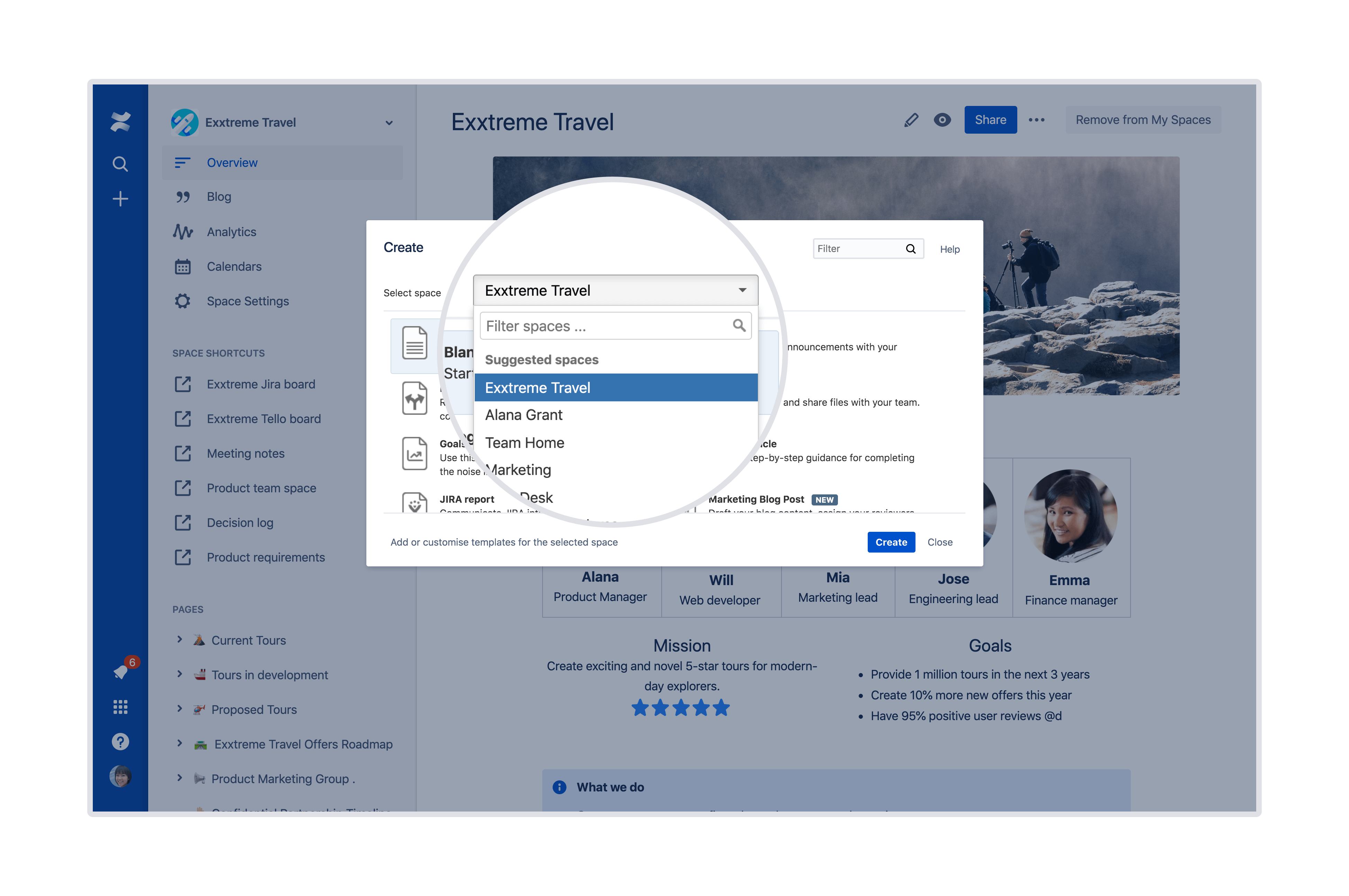 Get familiar with permissions
Know your permissions - Along with organizing your work in spaces, and creating pages in your spaces, think about your content's accessibility. In Confluence, permissions allow you to control who can view and edit the content you're working on. This is important, because there are always documents you don't want everyone to see or edit. Keep pages private by adding and updating permissions, and restrict access to yourself, your team, or your company.
Pro tip
Pages inherit the permissions of the Space they are in. Space admins (whoever created the Space) have the power to control what content is accessible in that Space. See more here.
ACTION STEP: LOOK AT YOUR SPACE PERMISSIONS
Where to find it: From anywhere in your space click "Space Tools" > "Permissions"
Permissions are really important in Confluence. They allow you to control who has access to what. If you've created a space for your team, make sure that everyone on the team has the proper permissions to view and add content in your space.
Pro tip
You can add permissions to a specific page you're working on by clicking on the three dots on the top right of a page.
BEST PRACTICES: PERMISSIONS
How should I set up permissions in my team spaces?
Give everyone in the company or Confluence site the ability to view and add content to the space but not delete

Give your team full access (both the ability to add and delete content)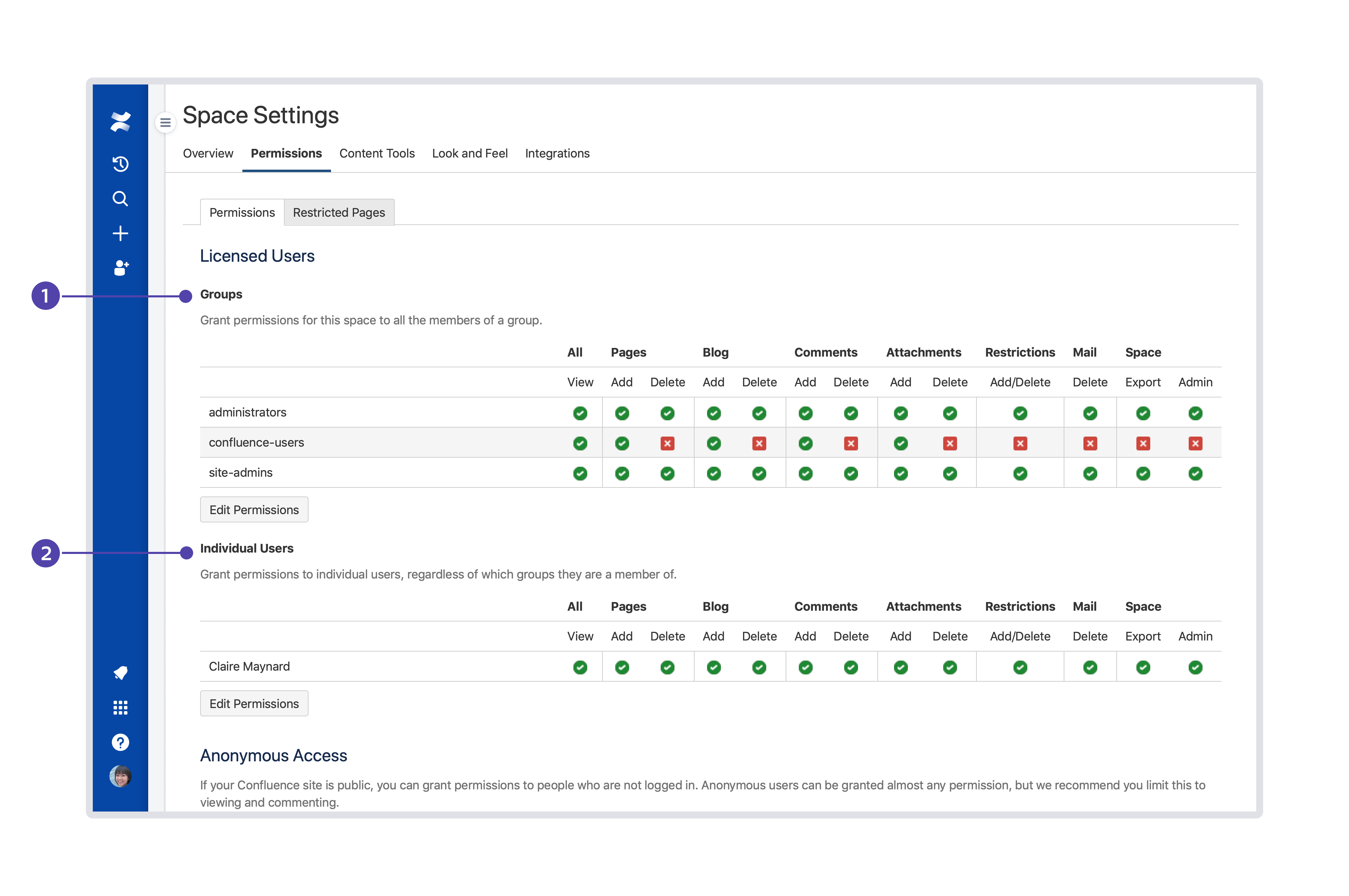 Alright! Now you've got the basics, go ahead and start organizing your work in Confluence. Once you're all organized, come back here for more. Next, we'll talk about creating the pages that your team will need to get work done.
Confluence 101: Create content with pages
Learn core concepts, tips and tricks, and best practices for creating content with Confluence pages
Read more
Confluence 101: Discussing Work
Learn about discussing work in Confluence using comments. Collaborating with your team makes your projects, your pages, and your final products better.
Read more