---
Create an informative team homepage
Determine your North Star
Forty-five percent of organizations that struggle with collaboration blame mismatched goals, according to our survey of over 750 IT and engineering leaders.
Pinpoint a North Star goal at the outset. It will keep your team focused as obstacles and opportunities appear along the way.
Use the Goals, Signals, and Measures exercise from the Atlassian Playbook to identify your North Star. Once you have it, add it to your team homepage to keep it in plain sight for the entire team for the duration of the project.
Choose a homepage format
Many Atlassian customers use spaces for both departments (i.e., marketing or HR) and projects (i.e., January product launch). Sometimes, departments have many projects running in tandem. And, sometimes, those projects will involve multiple departments.
There are two ways to set up your project's homepage: create a new team space or create a new page in an existing team space. Your choice will come down to whether your project involves multiple departments or falls neatly into one.
Team spaces for cross-department projects
Members from different departments can join a team space, and you can create sub-pages within it for relevant documentation, like meeting notes, brainstorming, and timelines.
Learn more: Watch this step-by-step tutorial on how to create a team space in Confluence →
Here you can add your North Star, introduce people on the team, describe goals and objectives, and share the latest news and updates. 
Pages for single-department projects
If the project involves members of a single department (i.e., marketing or HR) that already have their own team space in Confluence, you can simply create a new page for the project within the existing team space.
Template: Use the custom-built Team homepage template to quickly layout your project's homepage.
Page tree
If you're creating pages for multiple projects, keep them organized with the page tree. With a page tree, anyone can get the gist of what the team is working on and choose to dig deeper.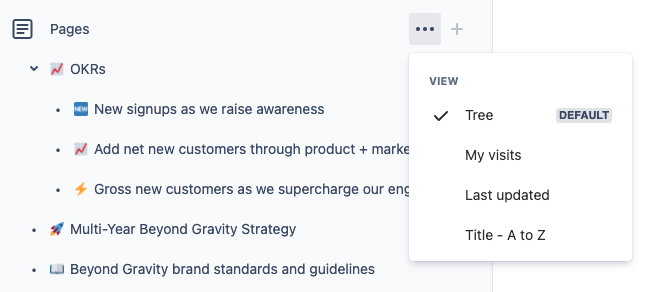 Manage and set permissions
Confluence is an open collaboration tool, so every team member can access all pages and spaces by default. However, we understand there are times when you need tighter control.
If you're a space administrator on a Standard or Premium plan, you can set permission levels for users and groups in both spaces and pages. Note: Space permissions are not customizable on the Free plan.
Learn more: What are Confluence Cloud permissions and restrictions?
Add space shortcuts
Use space shortcuts to spotlight content team members will need to visit often.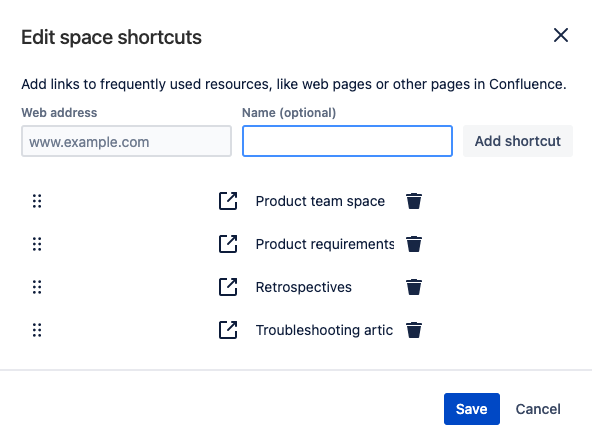 As a space administrator, you can link to pages or spaces within Confluence or external websites.
Go live and invite your team and stakeholders
Now that you've got the essentials for your homepage in place, it's time to bring in the team.
Follow these steps:
Click "Publish."
Invite individuals via email addresses or send a shareable link.
Write a note to the team about what they can expect to find on the homepage.
Remind your collaborators that they can:

Star any page or space to easily find it without searching or bookmarking within your browser.
Watch any page or space to receive notification emails when changes are made.
Pro Tip
Keep it simple, keep it beautiful! You may think that when it comes to your Confluence pages, the design is not a big deal. I'll reveal the secret: the design is a big deal. Give users a clean, easy-to-navigate view and they will embrace it right away. At Botron, we stick with one homepage for all apps with not much but enough information to display, as well as clean navigation. -Teodora V, Atlassian Community Leader