Meeting notes template
by Atlassian
Set meeting agendas, take notes, and share action items with your team
Use template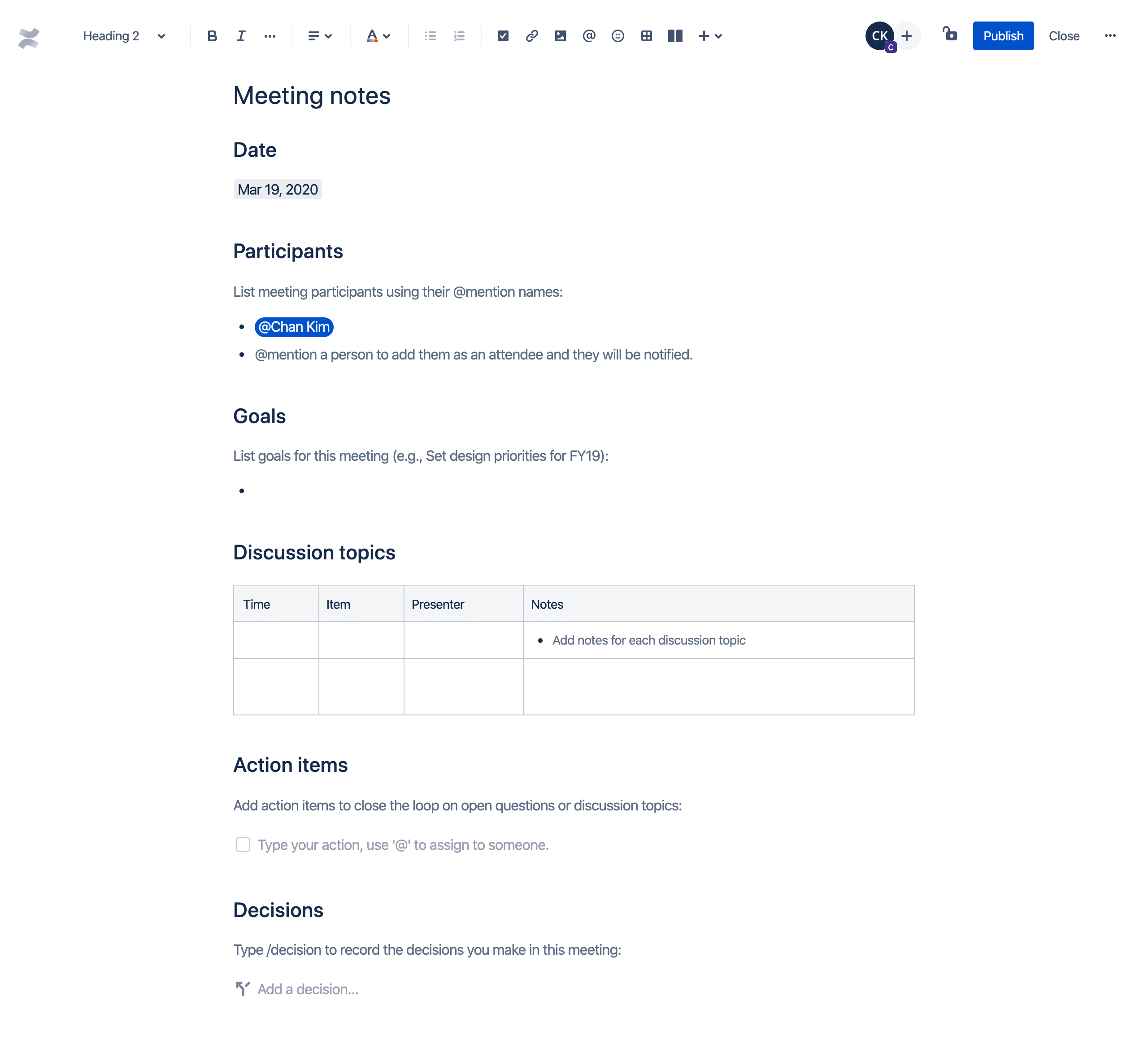 We've all left meetings thinking "there go X minutes of my life I can never get back." Usually, it's because the meeting didn't have a clear goal or agenda, or you weren't a necessary participant in the meeting. To help you and your meeting attendees better prepare for a meeting, we've put together a template that includes the most necessary elements for an effective meeting: attendees, goals of the meeting, agenda, and action items. Use this template to prepare for the meeting, stay on track, take notes, and add action items and any decisions made.
How to use the meeting notes template
Step 1. First, know the meeting is really necessary
Step 2. Put some prep in your step before the meeting
Before you hit send on that invite, create the meeting agenda to make sure you have everything you need to make the meeting successful for you and your attendees. Add the meeting date, tag participants, and add goals and discussion topics with owners in the table.  Include any other links to information that attendees may need prior to or during the meeting. As with contracts, instruction pages, and anything longer than a tweet, notify attendees if there is mandatory pre-reading.
Step 3. Share meeting minutes now, save countless minutes later
Once someone is tagged on the meeting minutes page, they will be notified in Confluence and/or via email so they can review your notes. Avoid search-induced headaches by adding the minutes page to the meeting invite. If data's your lifeline in this crazy world, you can view the analytics for a page, which will show you everyone who has viewed it. If someone still has it on their to-do list and it's mandatory, you can send them a friendly nudge.
Step 4. Time-box discussion items and designate a note-taker
If it isn't going to be yourself, assign someone to take notes during the meeting on discussion items, action items, and any decisions that were made. As the reason everyone is gathered here today, it's your job to keep the discussion on track with time-boxes and don't be afraid to put a pin in non-relevant topics for later. Once you've covered everything, review the main takeaways, decide the next steps, and agree on deadlines for any action items.
Step 5. Organize the way that works for you
Create a page using the meeting minutes template and let Confluence handle the rest. Confluence automatically keeps an index of all meeting notes in the sidebar for easy access. You can start a parent page in the page tree and drag and drop relevant meetings pages in whatever order suits your fancy. Don't forget to notify your attendees the page exists so they can refer to it in the future.
---
Atlassian is an enterprise software company that develops products for software developers, project managers, and content management.
1-on-1 meeting

Run 1-on-1 meetings and maintain productive working relationships.

4Ls retrospective

Use this template to conduct a 4Ls retrospective with your team.

5 whys analysis

Use this template to conduct a 5 whys analysis and discover the sources of team problems.