5 whys analysis template
by Atlassian
Work as a team to identify the root causes of a problem
Use template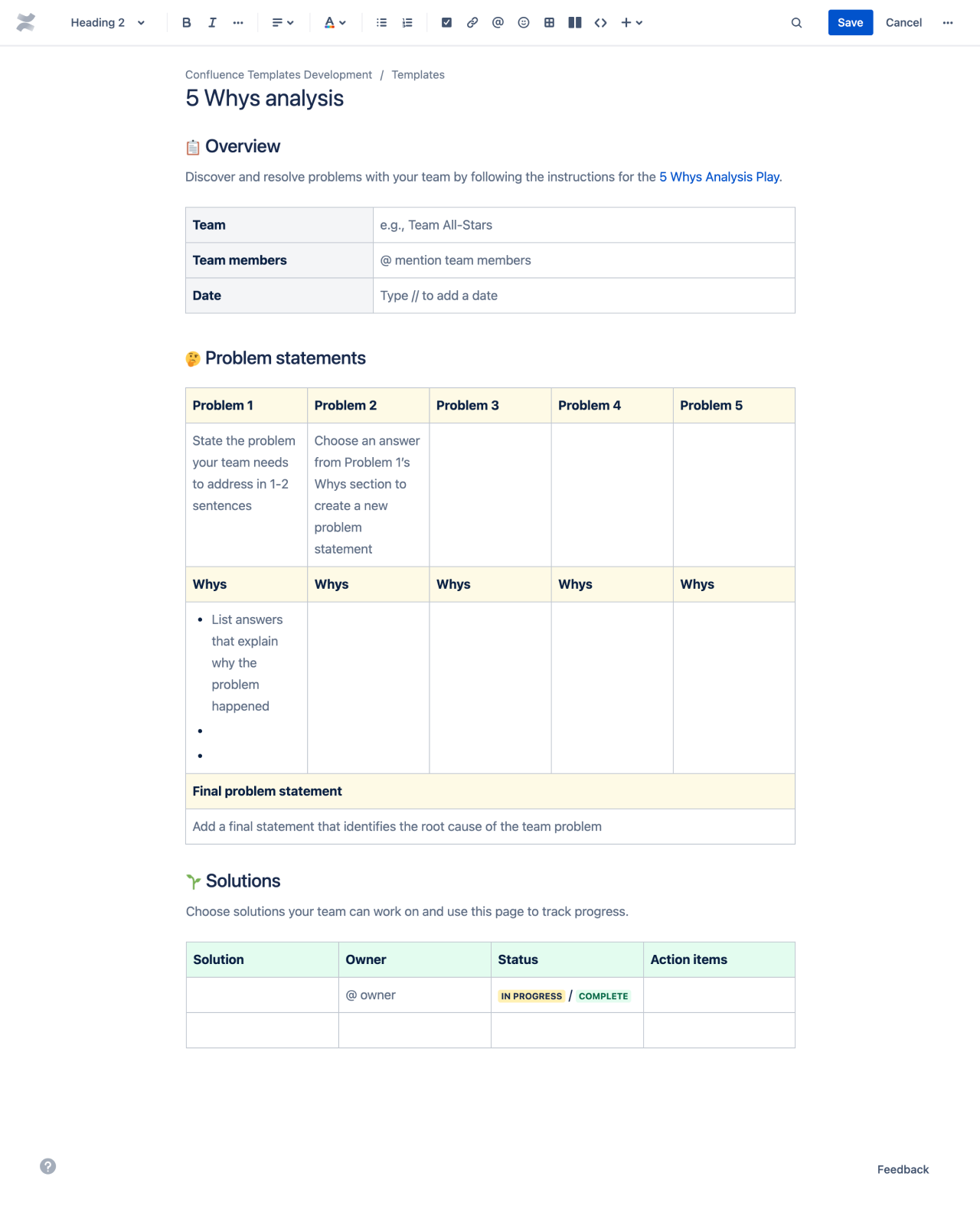 Your team did everything right, but things still went wrong. Now you have to take a step back and figure out why the project fell short. Use the 5 whys analysis template to run the 5 Whys Analysis Play. Created by Atlassian Team Playbook coaches, the 5 Whys Analysis Play is a group exercise that helps teams analyze problems and encourages open, constructive feedback.
How to use the 5 whys analysis template
Step 1. Create a problem statement
Before you discuss what went wrong with your team, start by creating a problem statement. The problem statement should explain the issue your team needs to address in 1-2 sentences. Add the problem statement to the template and type // to add the date of the workshop. Share the page with your team before you meet.
Step 2. Discuss the problem's causes
When you meet with your team, use the template to give structure to your brainstorming discussions. Start by asking the group to think about the problem statement and what contributed to it. Add answers that explain why the problem happened and work as a team to come up with an updated problem statement. After 5 rounds of analysis, or 5 whys, add your final problem statement to the template.
Step 3. Propose solutions
As you discover insights and create ideas with your team, use the template to note potential solutions. For each solution the group proposes, @ mention owners and add action items and follow up questions that need to be addressed. After the workshop, check off action items as you complete them and type /decision to track decisions.
---
Atlassian is an enterprise software company that develops products for software developers, project managers, and content management.
More business strategy templates View all
4Ls retrospective

Use this template to conduct a 4Ls retrospective with your team.

All hands meeting

Share business updates, victories, employee spotlights, and more with your larger team.

Mike Cannon-Brookes

Co-founder & CEO
Atlassian

Annual plan one-pager

Share your company's annual plans and priorities across your entire organization.