Collaboration, your way
See what makes Confluence a powerful tool for teamwork
Powerful editor
Confluence gives you the power to create anything - meeting notes, project plans, product requirements, etc. – thanks to a simple, but powerful editor.
Feedback in context
Leave your feedback on the work itself with inline comments on any Confluence page. No more wasted time trying to match feedback in email or chat with your work done elsewhere.
File collaboration
You work with files every day – images, PDFs, spreadsheets, and presentations. You can give feedback directly on your files in Confluence, and it keeps tracks of versions automatically, so you're always working on the right one.
Synced between mobile & desktop
Track team activity, give feedback, and stay in sync between mobile and desktop. Introducing working from anywhere.
Learn more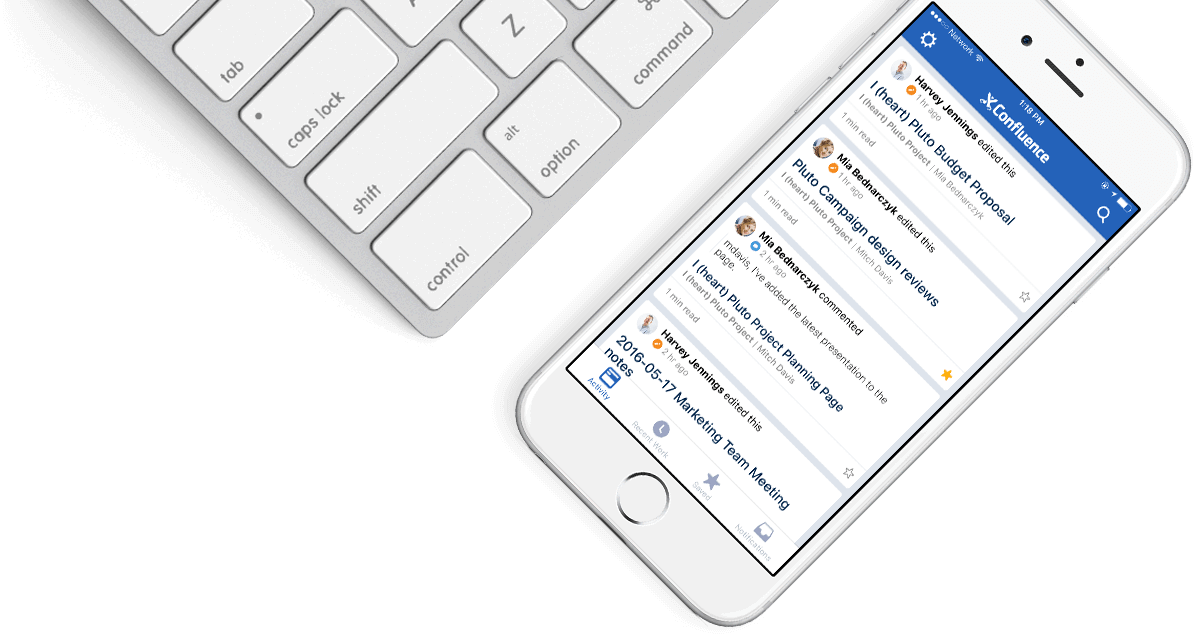 But wait, there's a whole lot more
Organized workspaces
Create a space for every team, department, or major project to share information and keep work organized.
Best practice templates
We include best practice templates to help you get started with popular pages, so you don't have to fuss with formatting.
Blogs and discussions
Share news and announcements across your company, and have active discussions with comments, @mentions and likes.
User and content permissions
Keep your site and your content secure with granular permissions that give you complete control.
Page and file versioning
Track every version and change that you make to a page. Files are automatically versioned as well!
JIRA integration
Connect to JIRA to provide insight into your development work with automatic linking, quick issue creation and reports in Confluence.
Add-ons add power
Confluence add-ons make it easy to find answers to common work questions with internal Q&A, track JIRA projects, plan events, and more.
Schedule team leave, travel, and rosters
Plan projects and events
Plan JIRA Software releases, sprints, and issues
Timeline, month and week views
GCal, iCal, and Outlook integration
Learn more ›
Ask, vote on, and answer questions
Type-ahead search integration
Vote on answers and earn points
Leaderboards for topic experts
Notifications for new questions & answers
Learn more ›
Give your team one place to create, share and discuss work
Try it free