Features for knowledge management & project collaboration
Confluence is your organization's single source of truth.
Up to 2GB file storage
Securely store your files on our cloud.
Up to 10 users
Empower your team to share knowledge and collaborate quickly.
Unlimited spaces and pages
Create and organize as much content as your team needs.
Apps and integrations
Third-party apps integrate seamlessly with Confluence.
Macros
Add interactivity to Confluence pages with extra functionality or dynamic content.
Structured content tree
Organize work with a nested content tree that makes finding projects quick and easy.
Best practice templates
Find templates from product requirement documents to marketing plans so you can jump in.
Page versioning
Track and view the history of changes to each page, compare versions, and revert changes.
Get all of these features and more.
250 GB file storage
Securely store large amounts of content on our cloud.
Up to 20,000 users
Scale knowledge-sharing and collaboration across a large team.
Content permissions
Set content permissions for individual users, groups, or anonymous users.
Archive and unarchive pages
File away outdated pages to keep content relevant. Access archived pages anytime.
Page insights
Get engagement analytics on page views and user views.
Anonymous access
Make your Confluence site available to users outside of your organization.
Data residency
Specify where data is hosted to meet corporate policies and compliance requirements.
Local business hours support
Keep your systems running smoothly with access to highly-trained support teams.
Get all of these features and more.
Analytics
Filter site, space, and page-level reports to understand user engagement.
Team calendars
Share team calendars so teams can communicate availability and stay organized.
Automation
Replacing manual, time-consuming work with out-of-the-box rule templates and low-code/no-code custom rules.
Release tracks
Control when and how changes are released to end users.
IP allowlisting
Bolster your team's security by limiting your site access to trusted IP ranges.
Unlimited storage
Securely store an unlimited amount of content on our cloud.
24/7 Premium support
Keep your systems running smoothly with access to 24/7 Premium support.
99.9% uptime SLA
Know that your Confluence site will stay up and running for your team.
Get access to all these features and more.
Unlimited sites
Set up multiple sites (instances) for independent brands and security measures.
Atlassian Access
Centralized security: SSO, SCIM, Active Directory Sync included at no additional cost.
24/7 Enterprise support
Keep your systems running smoothly with access to 24/7 Enterprise support.
99.95% uptime SLA
Know that your Confluence site will stay up and running for your team.
Get all of these features and more.
Intuitive structure makes setup, creation, and discovery easy
Pages
Pages are documents where people create, edit, and discuss their work. 
Whiteboards are canvases where teams can visualize work
Spaces
Spaces are areas that contain pages for individuals, teams, and strategic projects.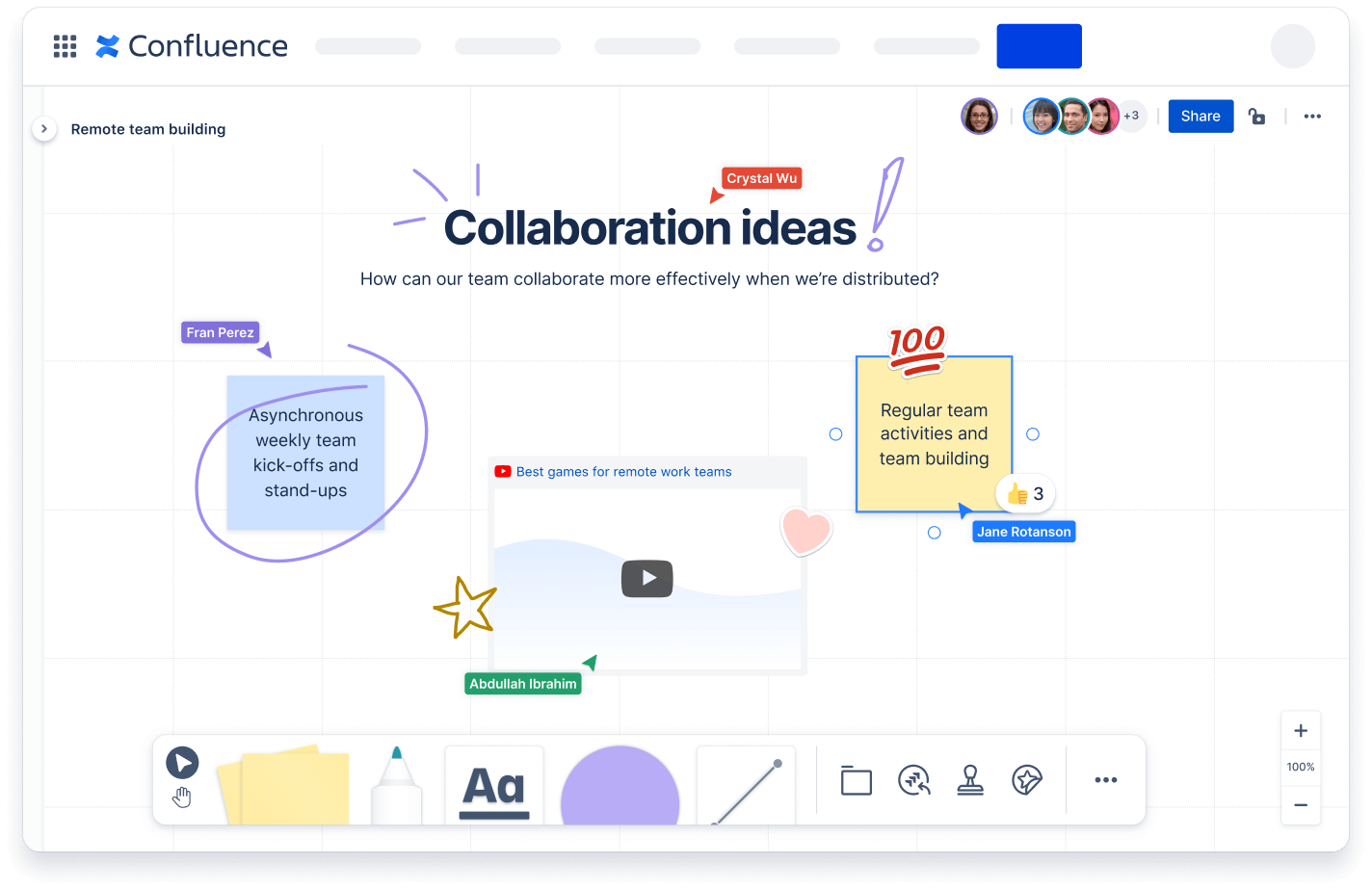 Brainstorm ideas and visualize work with whiteboards
BETA
Sticky notes
Run engaging team meetings with shapes, votes, timers, and more, all within your single source of truth
Convert to Jira
Automatically turn your sticky notes into Jira issues with the click of a button to move work along faster
Smart links
Embed content from other tools to bring all your work together in one view and reduce information silos
Everyone can see how an idea flows from strategy to execution.
Sky Frostenson
Dir. of Technical Product Management, VSCO
Create, collaborate, and comment on pages & project plans
Real-time editing
Co-edit together in real time and publish updates that highlight changes, tracked with version history.
Commenting
Make it a team effort with in-line and page comments, likes, and visual elements such as images, GIFs, and emojis
Notifications
Alert your teammates when you tag them or assign a task so everyone stays on top of progress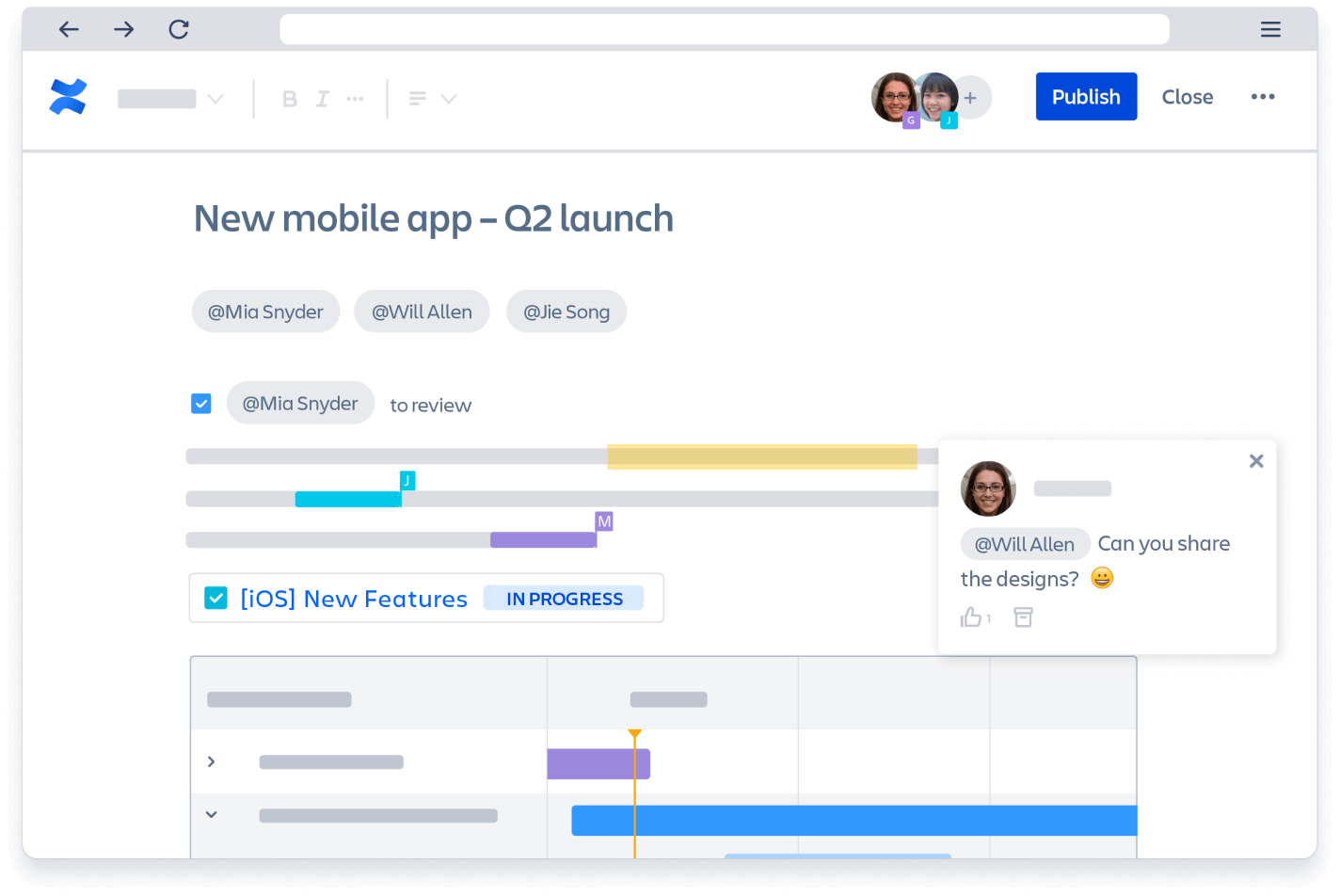 Confluence is a daily tool for our company. I trust that any notes, documentation…that go into Confluence will be visible to everyone on our team.
Brooke Purvis
Product Manager, Crema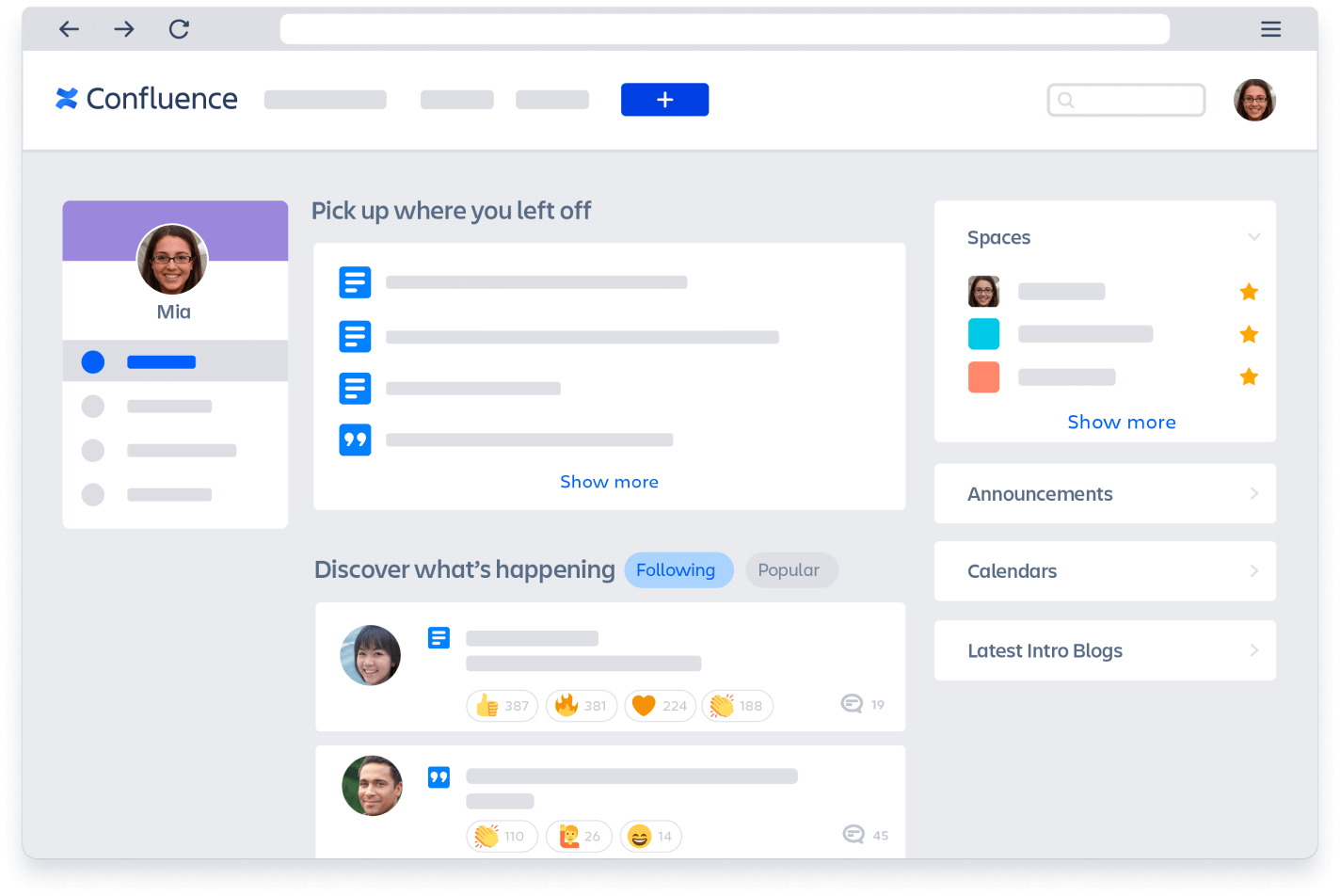 Share information between teams and the entire company
Permissions
Keep employees informed with open access to information they need, but share and protect sensitive content with permission settings
Home & personalized feed
Get back to recent spaces, in-progress work, and drafts and stay updated with activity and popular feeds on your personal homepage
Announcements and blogs
Spread the latest news and bring everyone together with blogs that encourage transparency and inclusion
If there's something you need to know or want others to know, it goes on Confluence.
Katie Burke
Chief People Officer, HubSpot
Build a knowledge base for documentation & product requirements
Advanced search & content tree
Organize and find pages easily with advanced search, labels, and an intuitive content hierarchy
Best practice templates
Start with a blank page or choose from over 75 customizable templates for every team–from strategy and planning docs to reports
Jira integration
Connect plans to development work with powerful Jira integrations including issue-tracking and dynamically updating roadmaps
Solve a documentation mess...Confluence is our linchpin for everything.
Evan Lerer
Dir. of Engineering, Redfin
Streamline your work with integrations
Integrate seamlessly across the Atlassian suite so you can work wherever your team is.
Jira Software
Connect your project tracking in Jira Software to plan documentation in Confluence and join the 76% of customers who ship projects faster.
Jira Service Management
Power a customer knowledge base with intelligent recommendations and resources.
Trello
Build your vision in Confluence. Then segment and organize it into bite-sized tasks in Trello. 
Customize Confluence with apps
Custom-fit Confluence to your team's needs with hundreds of apps including theming, diagramming, and workflow management solutions.
Scale with confidence and security
Get peace of mind with enterprise-grade solutions for scaling Confluence across your entire organization.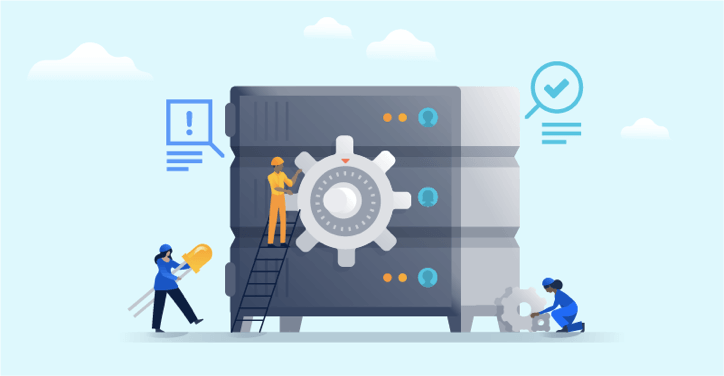 Privacy, Encryption & Compliance
GDPR and Privacy Shield compliant using encryption in transit and at rest to protect your team's data. Verify security with SOC2, SOC3, ISO 27001, ISO 27018, PCI DSS, and more.
Atlassian Access
Get enhanced administration and security across your Atlassian products with SAML SSO, enforced 2-step verification, automated user provisioning, and more.
Confluence Cloud Premium
More powerful Confluence capabilities for your growing team with analytics-driven insights, advanced admin controls, unlimited storage, a 99.9% uptime SLA, 24/7 Premium support and more.
Make quick decisions, gain alignment, and transform how your team works together.