Your workspace, your way
See what makes Confluence a powerful tool for teamwork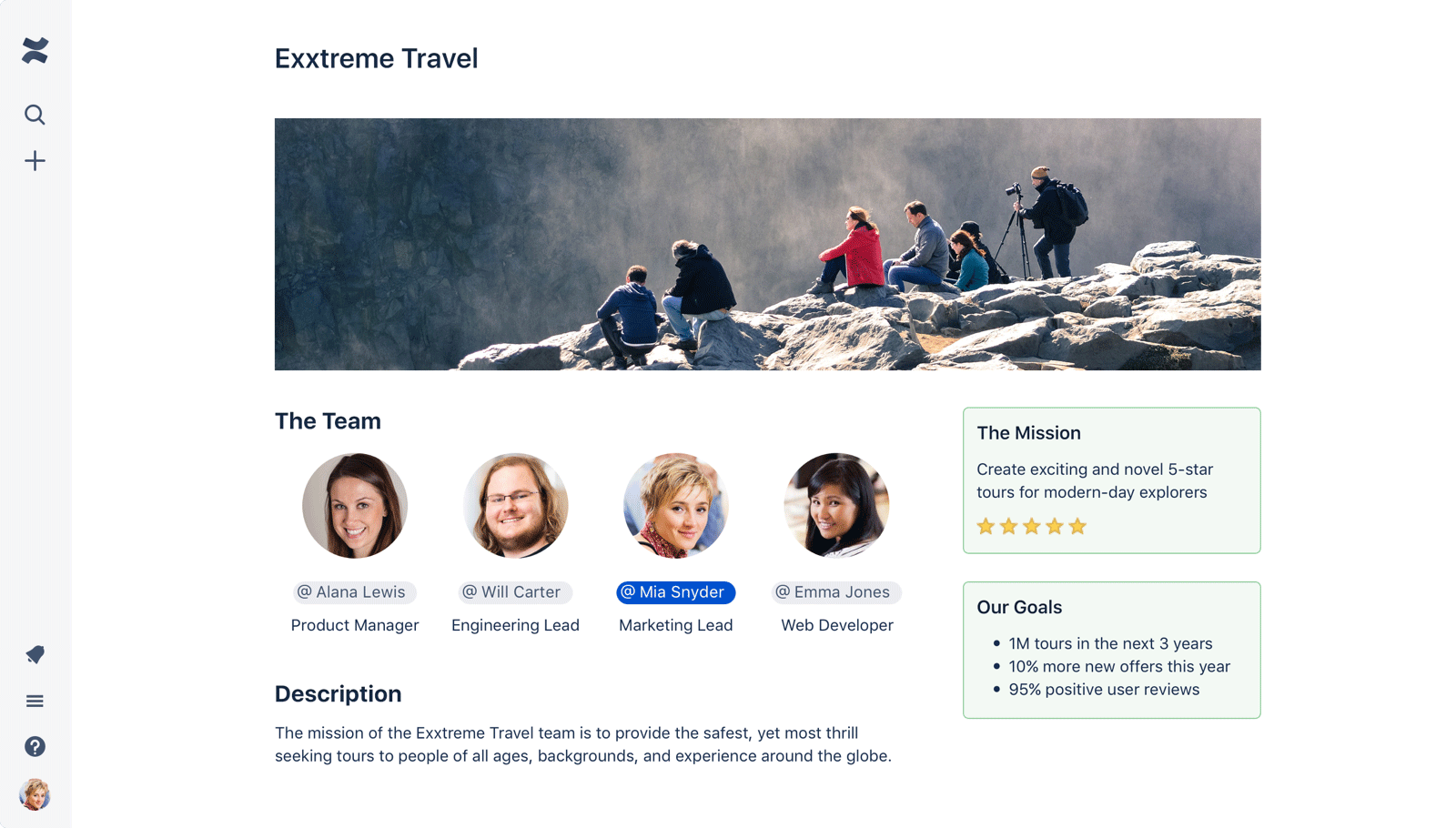 More than just text
Create anything from meeting notes and product requirements to marketing plans and HR policies. Start with a blank page or a customizable template and add some personality with images, videos, and gifs to make your work come to life.
Keep work organized
Wasting time searching for your most up to date version of a doc? Stay organized by grouping related pages together in a dedicated space that can be accessed by just you or by everyone. Powerful search and structured page trees make sure content is always easy to find and within reach.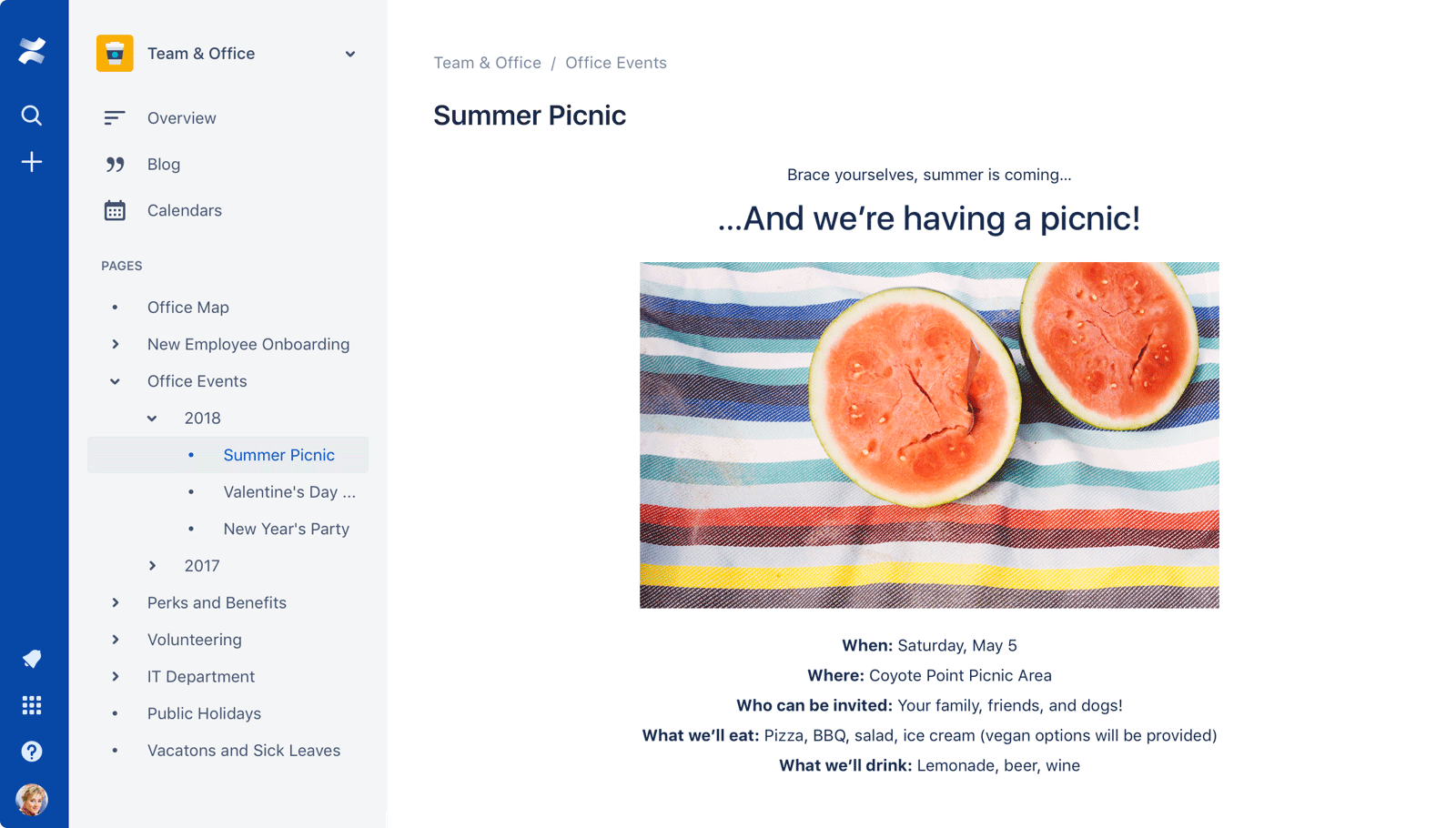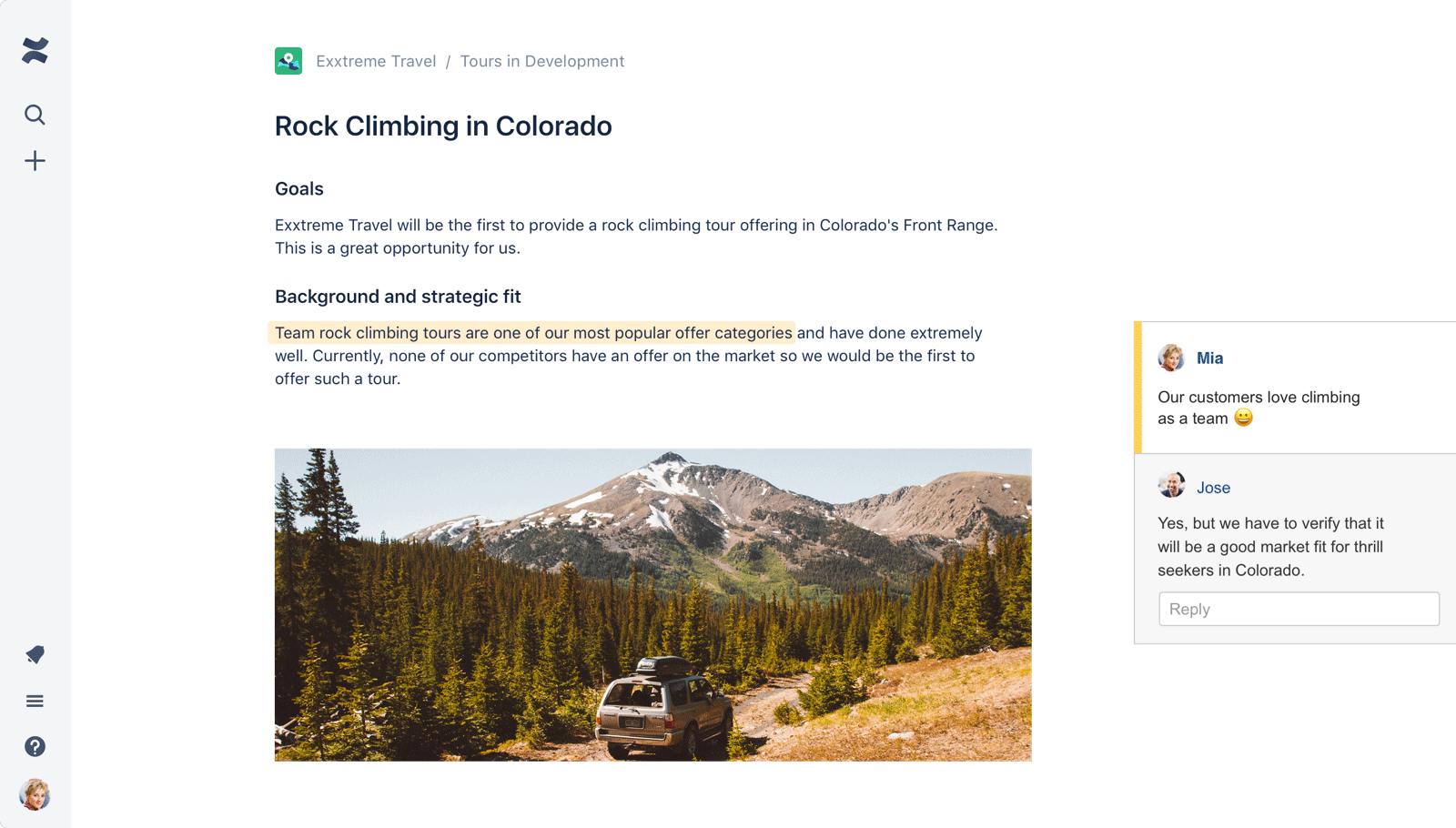 Feedback in context
Speed up the review process and move work forward. Jointly edit pages, give and get feedback via inline and page comments, @mention a team member you need help from, and get more visibility into the decisions your team makes.
Get a jumpstart with templates
Need some inspiration? Check out our templates to help you get those creative juices flowin'
Power your pages with integrations and apps
Integrate seamlessly across the Atlassian suite so you can work wherever your team is.
Jira
Plan, track and manage projects in Jira Software and document all your requirements and specs in Confluence.
Trello
Build your vision in Confluence. Then, break it up and organize it into bite-sized tasks in Trello.
Team Calendars for Confluence
Stay organized and communicate availability with a schedule that links to personal calendars and Confluence pages.
Questions for Confluence
Give people a way to share knowledge and ask questions within teams or an entire organization.
Customize Confluence with apps
Custom-fit Confluence to your team's needs with hundreds of apps in the Atlassian Marketplace including theming, diagramming, and workflow management solutions.
You have self-hosted and cloud options
In the cloud, on your own infrastructure, or at massive scale, Confluence has your platform covered.
| Feature comparison | Cloud | On Premise | Data Center |
| --- | --- | --- | --- |
| Content creation | Yes | Yes | Yes |
| Collaborative Editing | Yes | Yes | Yes |
| Templates and blueprints | Yes | Yes | Yes |
| Team, project, and personal spaces | Yes | Yes | Yes |
| Inline, page and file commenting | Yes | Yes | Yes |
| Multimedia, dynamic content | Yes | Yes | Yes |
| Document management | Yes | Yes | Yes |
| Space and page permissions | Yes | Yes | Yes |
| Page and file versioning | Yes | Yes | Yes |
| Third party integrations | Yes | Yes | Yes |
| Mobile | Yes | Yes | Yes |
| Admin controls | Yes | Yes | Yes |
| Disaster recovery | Yes | No | Yes |
| Active active-clustering | No | No | Yes |
| SAML single sign-on | Atlassian Access | No | Yes |
| Enforced two-step verification | Atlassian Access | No | Yes |
| Password Policies | Atlassian Access​ | No | Yes |
| Priority Support | Atlassian Access | Learn More | Learn More |
Give your team a shared workspace to create, organize, and do their best work together