Announcing
Confluence Cloud Premium
More visibility, control, and platform support for your growing team
Announcing
Confluence Cloud Premium
Gain peace of mind with premium-grade features for your growing team.
Make better decisions
Apply insights with analytics for views and user engagement across your work spaces.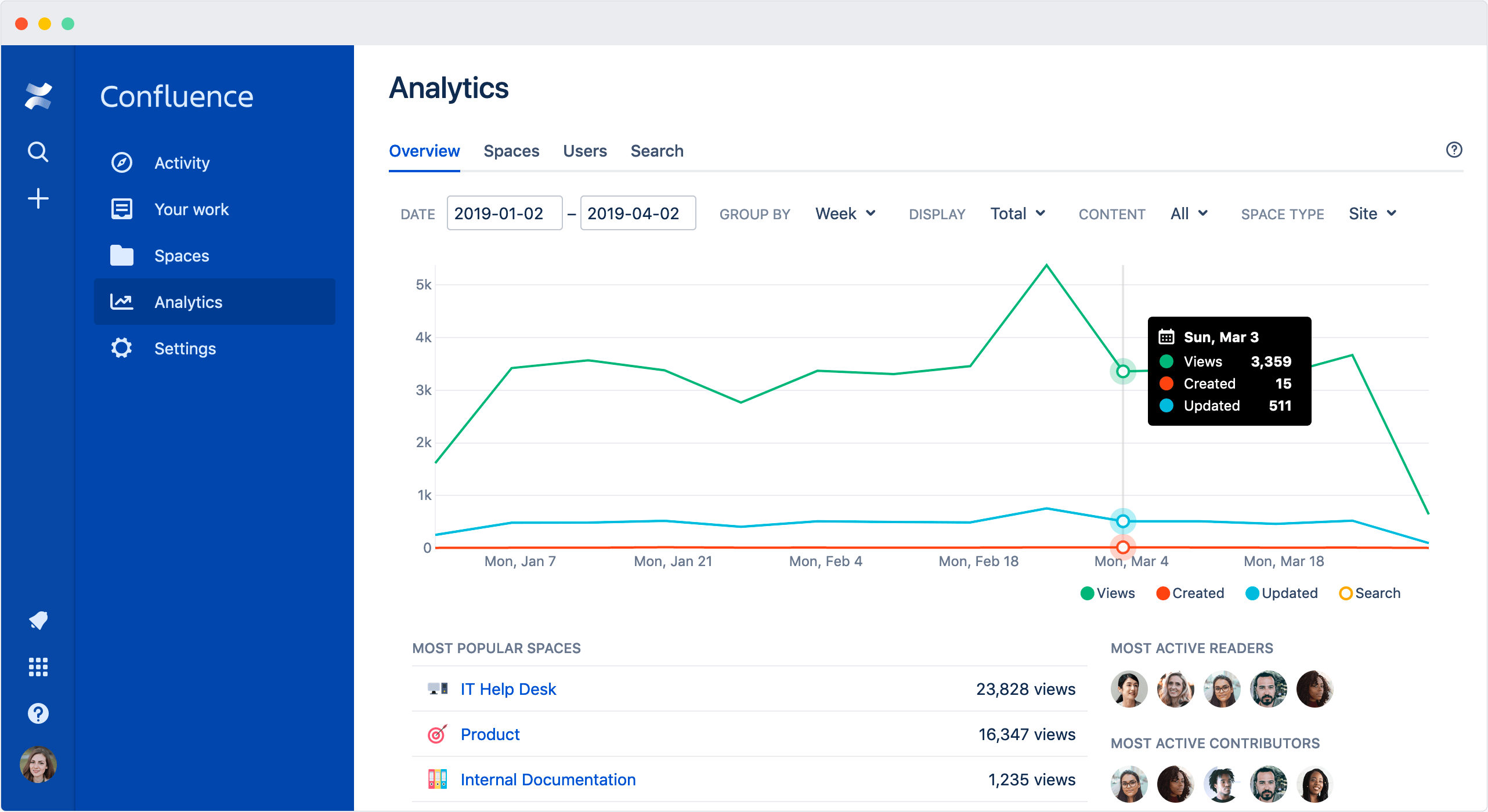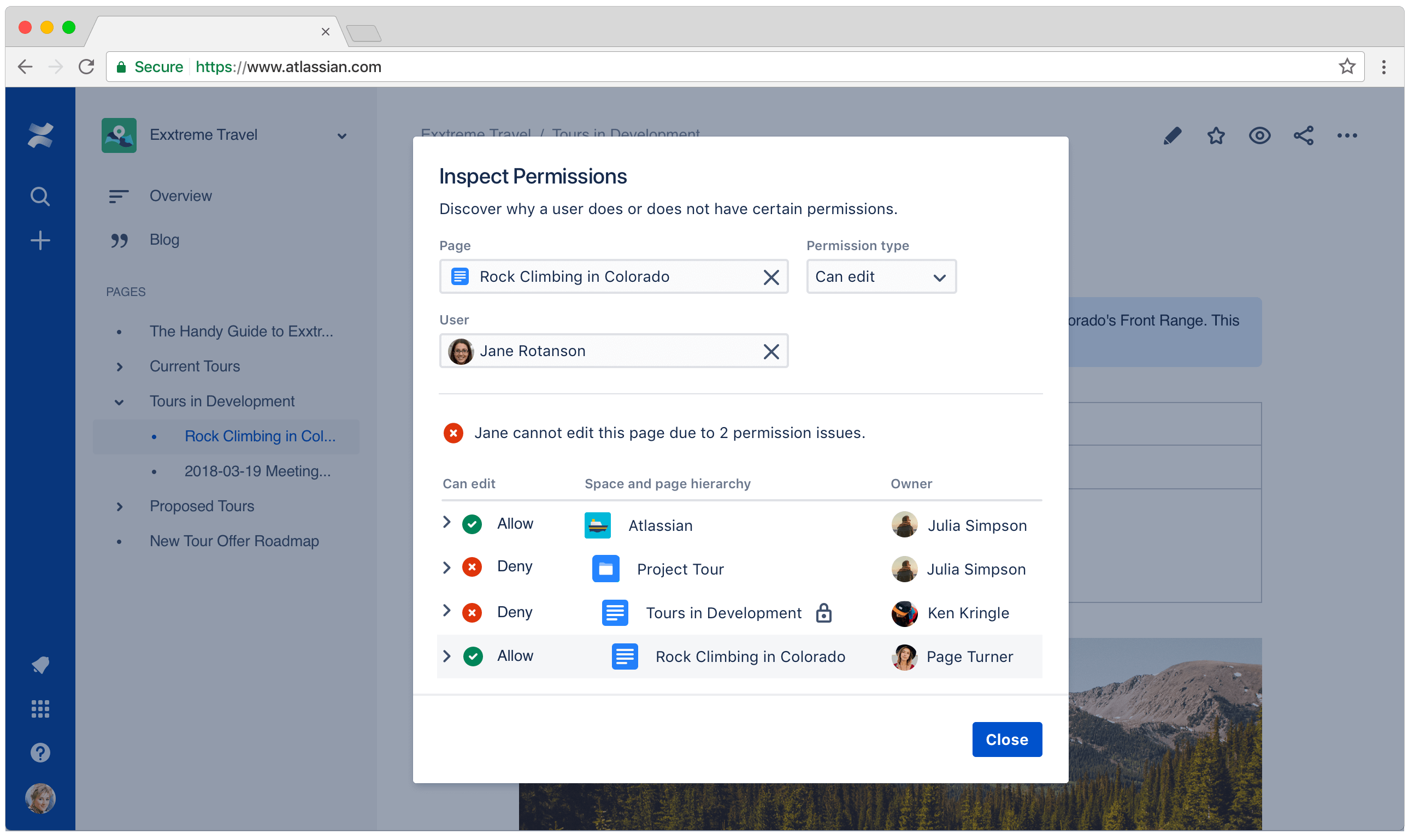 Identify permissions at a glance
See active permissions for specific users on a page and fix permissions issues in a fraction of the time.
Scale with confidence
Our Premium plan ensures you can maintain Atlassian Cloud products at scale reliably and confidently
Unlimited storage
Give your team infinite space for collaboration.
99.9% uptime SLA
Keep global teams productive with guaranteed uptime and financially backed service credits.

Premium Support
Get 24/7 support from a dedicated team with one-hour response times for critical issues.
Feature Comparison

Standard

confluence

Premium

confluence

Unlimited spaces and pages

Apps and integrations

Space and page permissions

Page and file versioning

Best practice template library

Analytics

Admin key (advanced admin control)

Inspect permissions

External collaboration

99.9% uptime SLA

Storage

250 GB

Unlimited

Support

9-5 Standard Support

24/7 Premium Support
Scale team knowledge effortlessly
Frequently asked questions
What is Confluence Cloud Premium?
show +
| | |
| --- | --- |
| | Confluence Cloud Premium helps companies scale effortlessly with features that give site admins more visibility, controls, and platform support. It includes analytics for page and usage insights, admin key for solving permissions issues, a 99.9% uptime SLA, unlimited storage, and 24/7 Premium Support. Over time, we'll continue to add new features to enhance your productivity on Confluence Cloud Standard and Confluence Cloud Premium. |
How can I use insights from Analytics in Confluence Cloud Premium?
show +
| | |
| --- | --- |
| | Analytics gives site, space, and page-level reports with insights on content, views, and users. Admins can report on project progress, team involvement, and popular content. Teams can create better pages, take action when co-workers need reminders about important updates, and archive outdated pages. |
Does Confluence Cloud have a storage limit?
show +
| | |
| --- | --- |
| | Yes. Confluence Cloud Standard (like all Atlassian Cloud products) has a 250 GB limit, while Confluence Cloud Premium has unlimited storage. Soon you'll be able to track how much storage you're using. Read more about storage limits here. |
What support can I expect with Confluence Cloud Premium?
show +
| | |
| --- | --- |
| | With Confluence Cloud Premium, you'll receive one-hour response times for your critical issues. Our dedicated team is reachable, 24 hours a day, seven days a week. |
Why does Confluence Cloud Premium cost more?
show +
| | |
| --- | --- |
| | We've developed key features that will boost the overall productivity of your entire team. Confluence Cloud Premium gives you more insight into work being done across your organization with Analytics. Site admins can solve critical issues faster with admin key. Companies with customer critical operations and/or global employees are covered with a 99.9% uptime SLA and one hour support responses around the clock. They also never need to worry about running out of storage for their Confluence Cloud Premium instance. |
Will the list price change if I have 100+ users?
show +
| | |
| --- | --- |
| | Yes. The current list price is only for instances with 1-100 users. As with our Standard plan, the average cost per user goes down once you add 101 users and gets cheaper as you add more users. For Premium you can expect the price to be about 2X your current average cost per user. This is subject to change. |
Does Confluence Cloud Premium apply to all Confluence Cloud customers?
show +
| | |
| --- | --- |
| | Yes. All Confluence Cloud customers are eligible to upgrade to Confluence Cloud Premium. Confluence Cloud customers who upgrade to Confluence Cloud Premium receive more control and visibility with advanced product features like admin key and analytics. They also get additional platform support with unlimited storage, 24/7 Premium Support with one hour response times for critical issues, and a 99.9% uptime SLA backed by service credits. To upgrade to Confluence Cloud Premium, visit Manage subscriptions in your site. |
How do I get service credits reimbursed for an SLA breach?
show +
| | |
| --- | --- |
| | If you have experienced an SLA breach within a particular calendar month, you must make a request for service credit within fifteen (15) days after the end of the calendar month by filing a support ticket. For more information please visit our SLA Terms and Conditions. |
What is the difference between Premium and Atlassian Access?
show +
| | |
| --- | --- |
| | Atlassian Access and Confluence Cloud Premium serve separate requirements. Atlassian Access gives an organization centralized control and increased security across all Atlassian Cloud products. It is intended for customers who have security needs like company-wide SAML, single sign-on, or enforced 2FA. Learn more about Atlassian Access. Our Confluence Cloud Premium plan helps teams scale reliably and confidently with unlimited storage, 24/7 Premium Support, and a financially backed 99.9% uptime SLA, in addition to product features that give admins and end users more visibility and control. When you layer Access on top of our Premium products, you'll get an enterprise-grade solution that allows you to scale and secure the Atlassian Cloud content and users across your entire organization. |
Can I trial Premium before choosing to pay for it?
show +
| | |
| --- | --- |
| | Yes, new customers will still have a free 7 day trial period. If you're an existing customer you'll enter a free trial period which spans your current billing cycle, plus your next billing cycle. After the evaluation period, the Premium plan will appear on your monthly renewals. If you're on an annual subscription, your evaluation period will be a fixed 30 days. |