Confluence Cloud Premium
More visibility, control, and platform support for your growing team
Confluence Cloud Premium
Gain peace of mind with premium-grade features for your growing team.
Make better decisions
Apply insights with site, space, and page-level reports on views and users.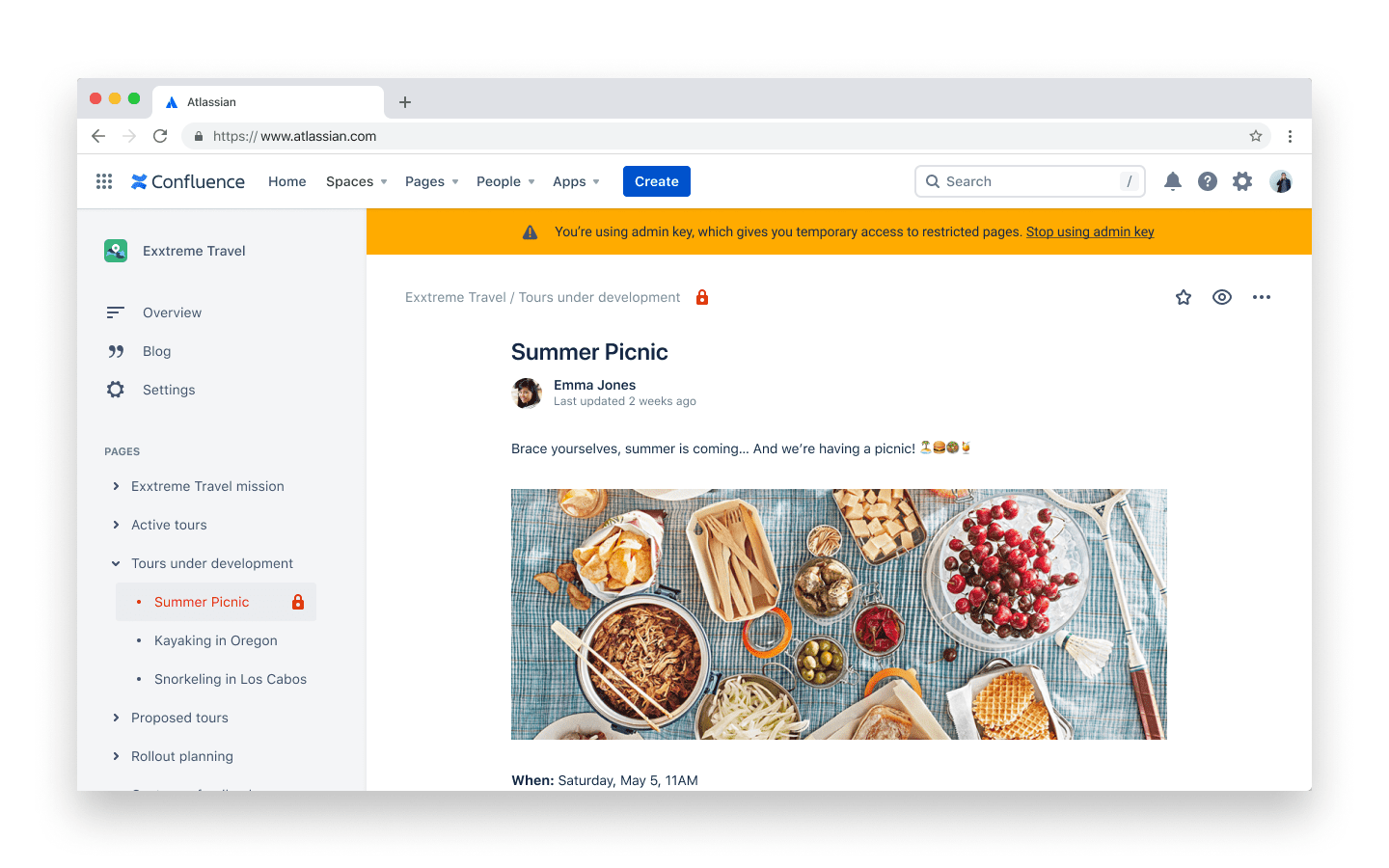 Remove obstacles fast
Site admins can solve permissions problems on restricted content end-to-end with an admin key that gives them temporary access to restricted pages.
See Confluence Premium in action
Learn more about the features
Scale with confidence
Our Premium plan gives you reliability and assurance to scale Atlassian Cloud products across your teams.
Unlimited Storage
Give your team infinite space for collaboration.
99.9% SLA Uptime
Keep global teams productive with guaranteed uptime and financially backed service credits.
24/7 Premium Support
Get support around the clock from a dedicated team with 1-hour response times to critical issues.
Admin insights
Get visibility into security and product usage and activity over time.
IP allowlisting
Improve security by limiting site access to trusted IP ranges.
Test new updates and apps before rolling them out to your team.
Standard

confluence

Premium

confluence

Storage

250 GB

Unlimited

9-5 Standard Support

24/7 Premium Support
See what's coming next on Confluence Cloud Premium's Roadmap
Check out the features we're building to help your growing teams scale.
Frequently asked questions
What is Confluence Cloud Premium?
show +
How can I use insights from Analytics in Confluence Cloud Premium?
show +
Does Confluence Cloud have a storage limit?
show +
What support can I expect with Confluence Cloud Premium?
show +
Why does Confluence Cloud Premium cost more?
show +
Will the list price change if I have 100+ users?
show +
Does Confluence Cloud Premium apply to all Confluence Cloud customers?
show +
How do I get service credits reimbursed for an SLA breach?
show +
What is the difference between Premium and Atlassian Access?
show +
Can I trial Premium before choosing to pay for it?
show +