Confluence 101: create content with pages
It's a Brand. New. Word. World
In Confluence, you create with pages. Think of pages as a New Age "document." If Word docs were rotary phones, Confluence pages would be smart phones. A smart phone still makes calls (like their rotary counterparts), but it can do so much more than that.
Confluence pages can be filled with text, tables, and formatted—just like the documents you've always used. But that's where the similarities stop. Confluence pages aren't files stored locally on your hard drive, like a Word doc. In fact, a Word doc can go inside a Confluence page, along with your project plans, product requirements, documentation, meeting notes, images, video—everything. You can attach spreadsheets and PDFs, and even create automated reports.
Best of all, everything you create lives online. That means it's accessible (if you want it to be) to the people who are in your Confluence site. You no longer have to create a document in one place and share it in another. No more content siloed on your hard drive and shared by attaching a file to an email. (How 1990s!)
In a Confluence page, you can create, collect, and access all your content in one place.
What can you put in a page?
Anything. It all depends on what type of page you want to create, and your imagination! Pages can be filled with:
Rich Content
Images. Just drag and drop.

Videos. Paste a YouTube or Vimeo URL and watch Confluence "magic" happen. (Other formats are easy to embed, too.)

Files. Drop in Office docs to embed them into a page.

Links. Drop in links to other web content—anything within Confluence or across the web.
Tracking Information
Jira issues. Paste the URL of your Jira issue and its summary, key, and status will automatically be displayed on the page. And since the embedded issue is rendered afresh each time you load the page, you'll always see its current status.
Functionality
Macros. Macros let you add more functionality to your pages. Get to know your macros! (We think they're awesome, though we're somewhat biased.) Macros in Confluence are similar to Excel macros or Google widgets. They add functionality, formatting, and the capability to include dynamic content. Confluence has boatloads (technical term) of macros that do different things.
Pro tip
How to insert rich content. While in "edit" mode, click the + in the toolbar (Insert menu) to add content like files, images, macros, even Jira issues. Remember: you can also just drag and drop, or paste links directly into the page.
What kind of pages can you create?
Let's start with some practical examples. Confluence comes with several pre-formatted page templates:
The meeting notes template is an easy way to draft an agenda for an upcoming meeting, capture notes and action items during the meeting, and store the page for attendees to revisit once the meeting is over. You can add follow-up items in a task list, and assign tasks to teammates with an @mention.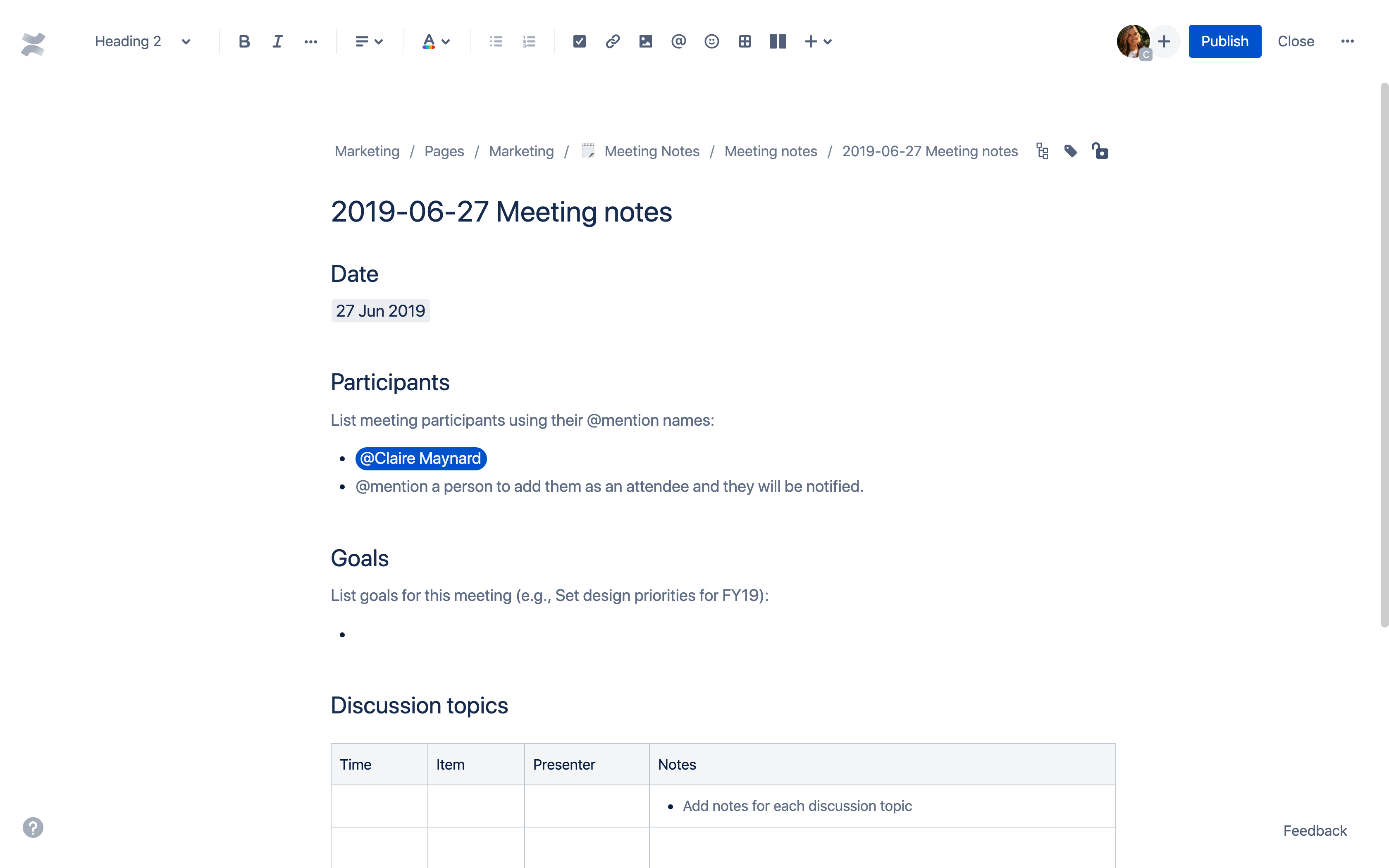 The how-to template is perfect for documenting solutions to common workplace problems. Add images and instructional videos to make sure your page appeals to visual learners.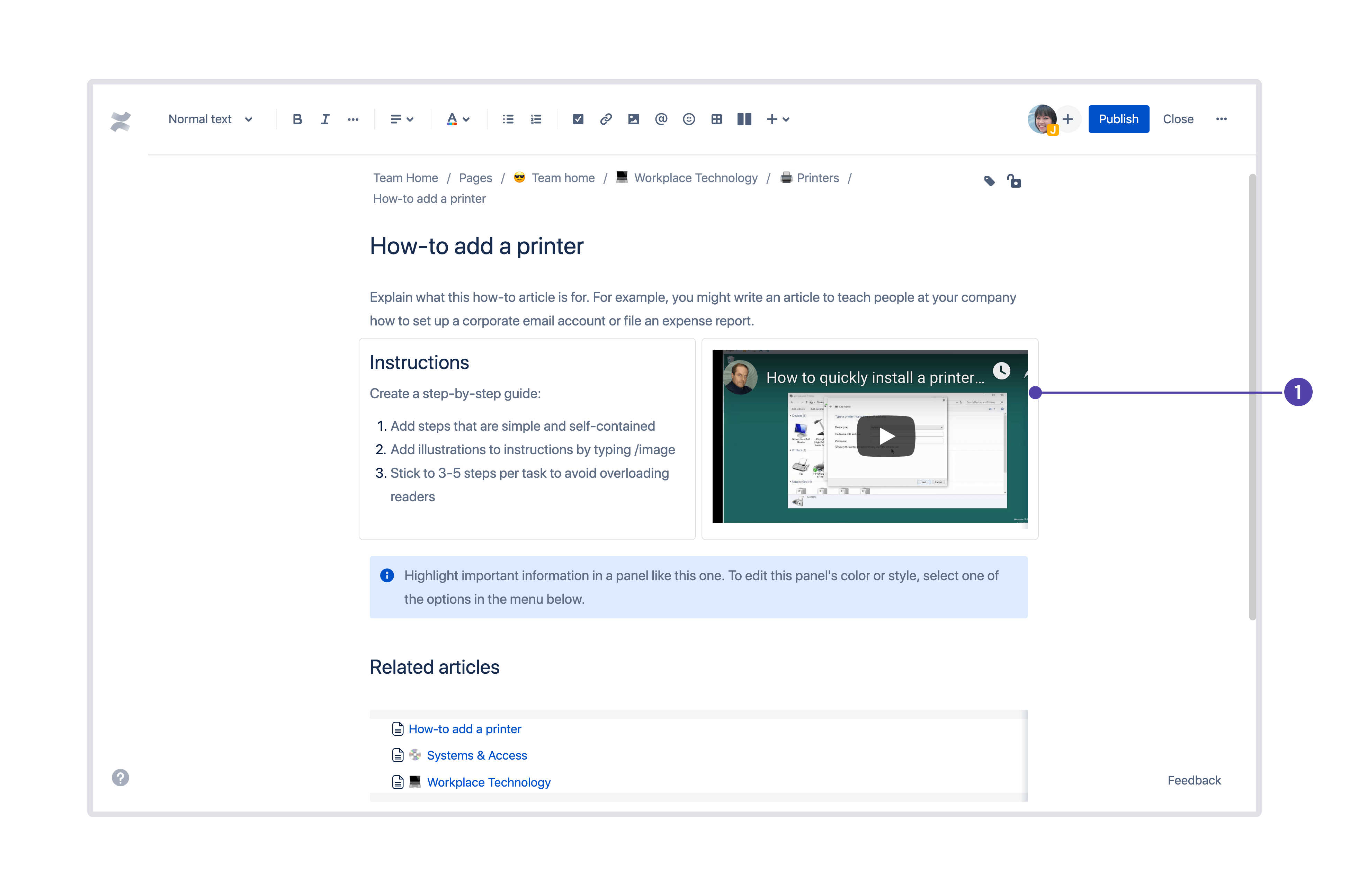 An "official" project planning template isn't included, but it's easy to create a project planning page from scratch in Confluence. A description of your project, plus tables for key details, milestones dates and risks are among the more popular elements to include. If you use Jira to track software projects, you can embed a single Jira epic or a list of related Jira issues in your page as well.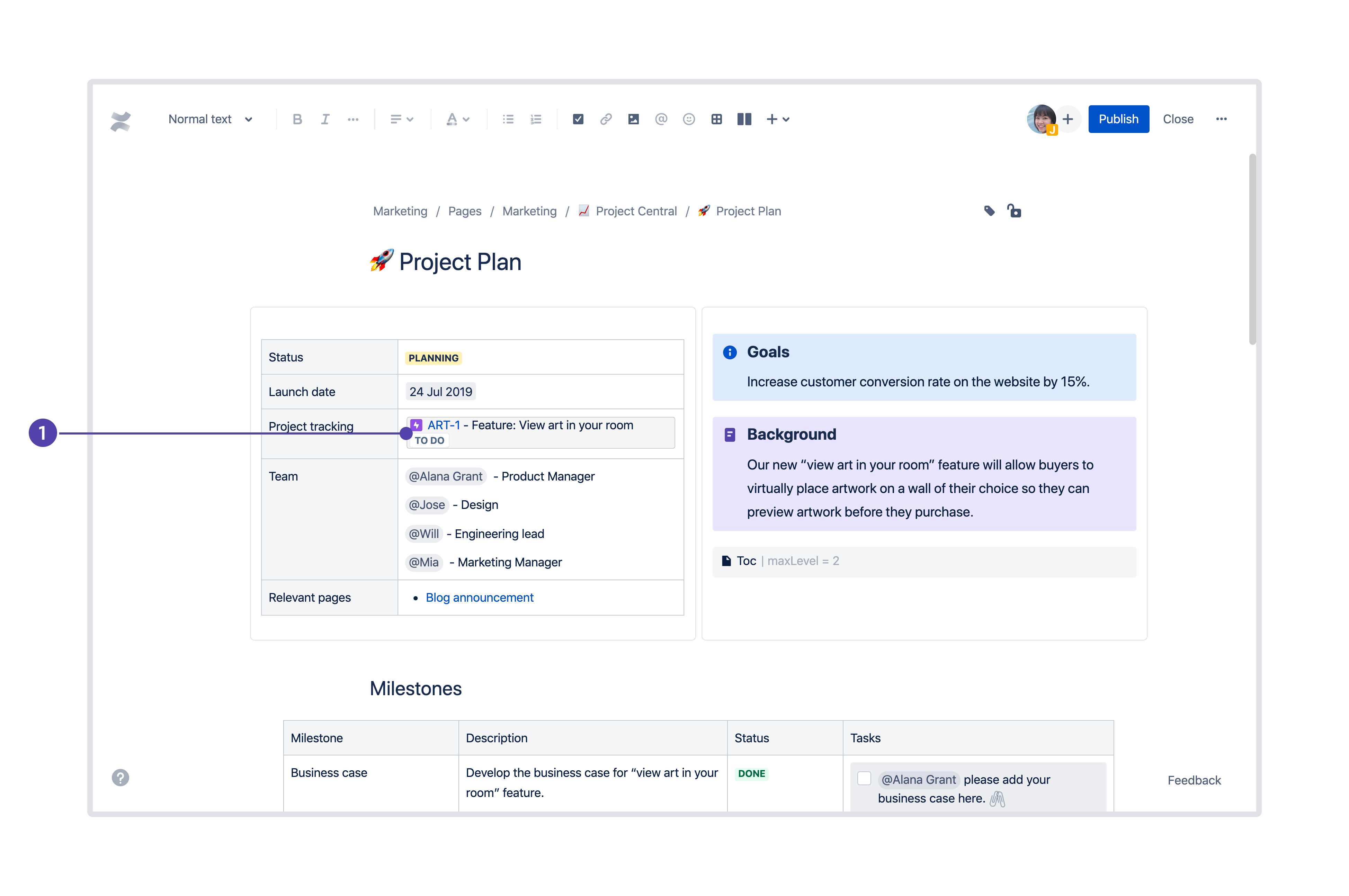 What else do you need to know about pages?
Here are four important things to keep in mind about pages:
They live online. Confluence pages live online. This is very different from word processing apps where you create and store documents offline, and means everything you create is accessible (if you want it to be) to people on your team.

Use page restrictions. You control who has access to the pages you create with page restrictions, which means you can set who can view and/or edit your pages, and update those restrictions at any time.

Pages can be nested. Keeping work organized is a big part of Confluence (see: "Confluence 101: organize your work in spaces"). Every page lives in a space, but you can also nest pages in a hierarchy within each space. From any page in Confluence, when you select the blue Create button in the header the new page automatically becomes a "child" of the original or "parent" page. For example, you might have a page called "Marketing Roadmaps," and child pages under that page could be "Q3 Marketing Roadmap" and "Q4 Marketing Roadmap."

Start with a template. If you don't want to start with a blank page, Confluence comes with a range of templates to give you a head start with best practice examples.
Pro tip
Starting with a blank page can be daunting. That's why we created templates for the most popular and useful types of content people create in Confluence. Try one of our templates like "Meeting Notes," "Product Requirements," "File lists," or "Jira Reports." Templates will help you get familiar with how pages work and, when you've got the hang of it, you can even create your own!
What about some tips and tricks for creating pages?
We thought you'd never ask! Tips and tricks are always fun—especially if they're about creating Confluence pages. There are lots and lots of tricks, but here are a few about macros to get you started.
Quick tips and tricks about macros
One of the great things about Confluence pages is how rich and dynamic you can make them. Macros are the secret sauce that allow you to get creative with your pages. To add any of the following macros to a page, choose + in the toolbar and select Other macros, then search for and select the macro.
A few of the most popular macros:
When creating pages that track the status of milestones, projects, or progress of work, use the status macro. It provides a visual status bar that you can update with color and text. Anyone who's reading your page can quickly see the status of the work.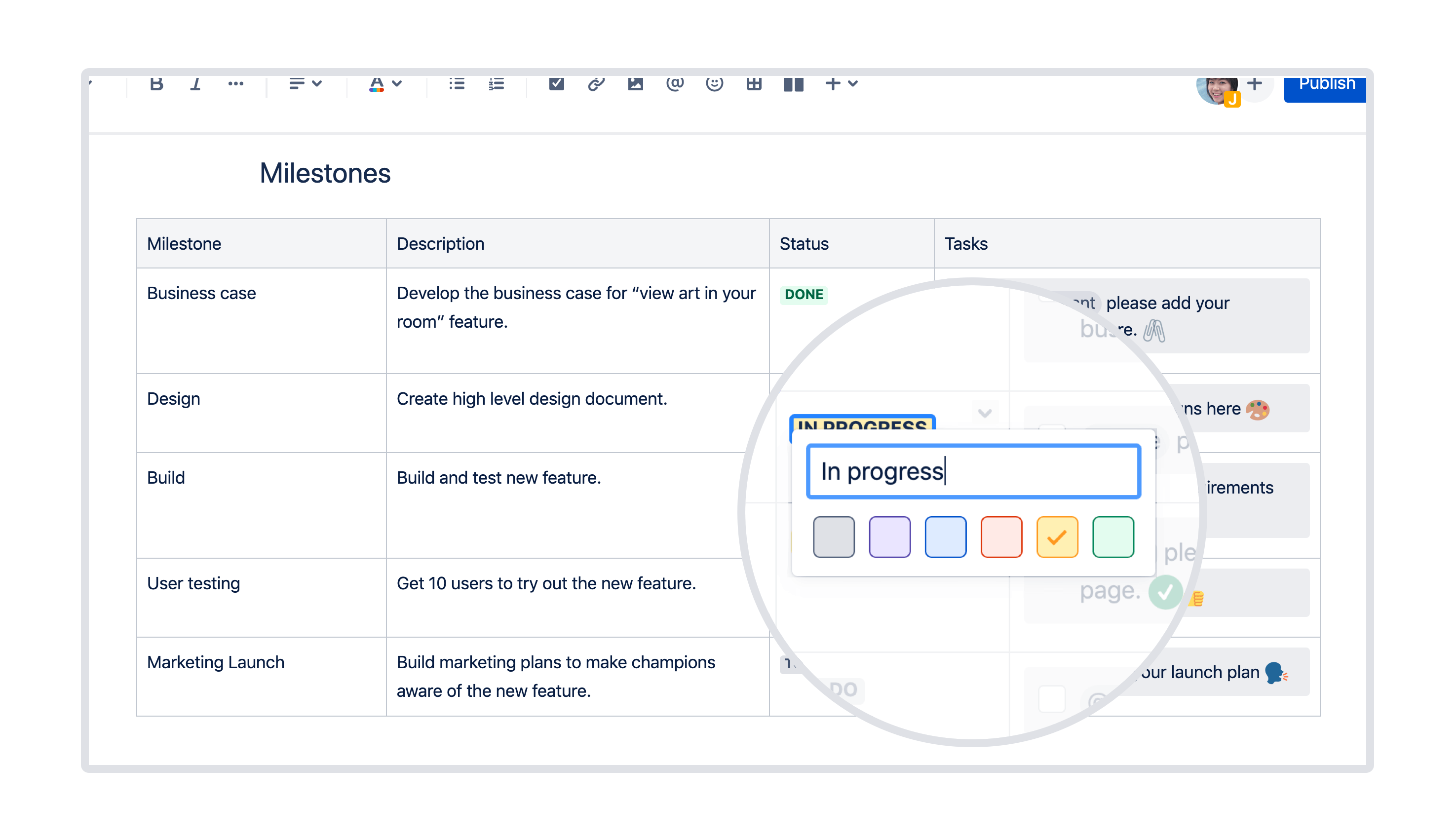 If you're creating a long page, the table of contents macro makes it easy for readers to jump to each section. The macro automatically grabs all the headings in your page and creates a table of contents with links to each heading. (Talk about cool!)
The info macro gives you a visual information box where you can call out useful information. Put an info macro on the top of your page to reference other relevant pages or to give a brief summary.
The expand macro is great for providing extra detail in your page without the page becoming too lengthy or busy. The expand macro creates a collapsible/expandable section where additional content lives.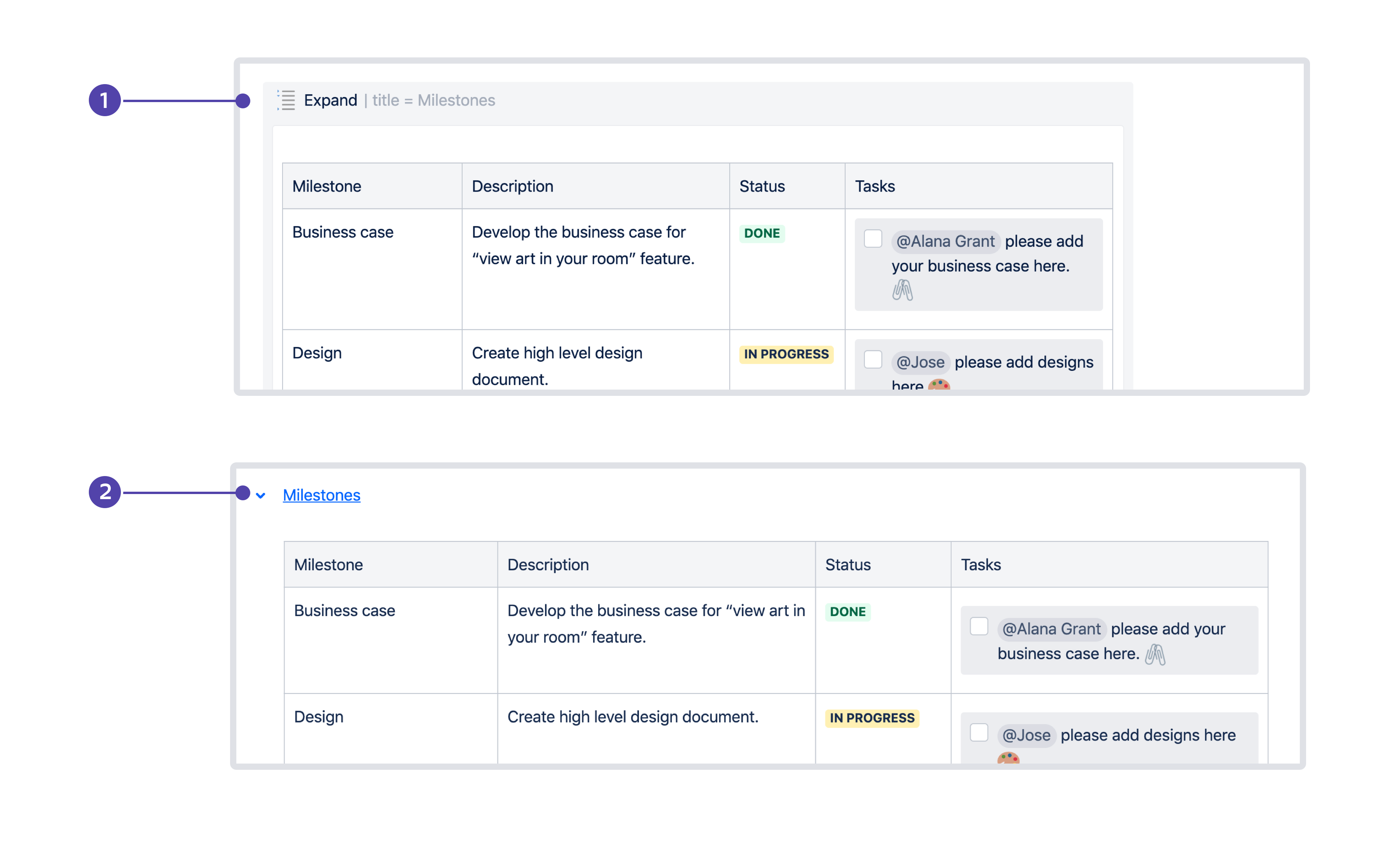 Bonus! Because everybody loves keyboard shortcuts
Here are a few valuable keyboard shortcuts you can use in Confluence to save yourself time and clicks.
Shortcut

Inserts

Description

//
date
@
Mention someone by typing their name
@mention
/
Any macro. Start typing the macro name, then choose the one you want
macro
[
Link suggestions
Link to a page, or other web content
-
Bulleted list
 
If spaces in Confluence are the containers you use to organize your work, pages are the individual items you use to fill up those containers. Try out a template, drop in an image, and use a macro or two. Playing around in Confluence is the best way to test out what it can do.
And now that you understand how to organize your work, and can create pages, the next step is discussing all this work with your team...which we'll talk about in the next article!
Confluence 101: Organize Your Work in Spaces
Learn core concepts, tips and tricks, and best practices for organizing your work in Confluence spaces.
Read more
Confluence 101: Discussing Work
Learn about discussing work in Confluence using comments. Collaborating with your team makes your projects, your pages, and your final products better.
Read more