Guess who's back? Join us for Team '22 in Las Vegas or attend digitally! Event starts April 5th. Sign up now
How knowledge management works in Jira Service Management
Overview
Knowledge management is the process of creating, curating, sharing, using, and managing knowledge across an organization.
A knowledge base is the foundation of a knowledge management practice. It's a self-serve online library of information about a product, service, department, or topic, including FAQs and troubleshooting guides.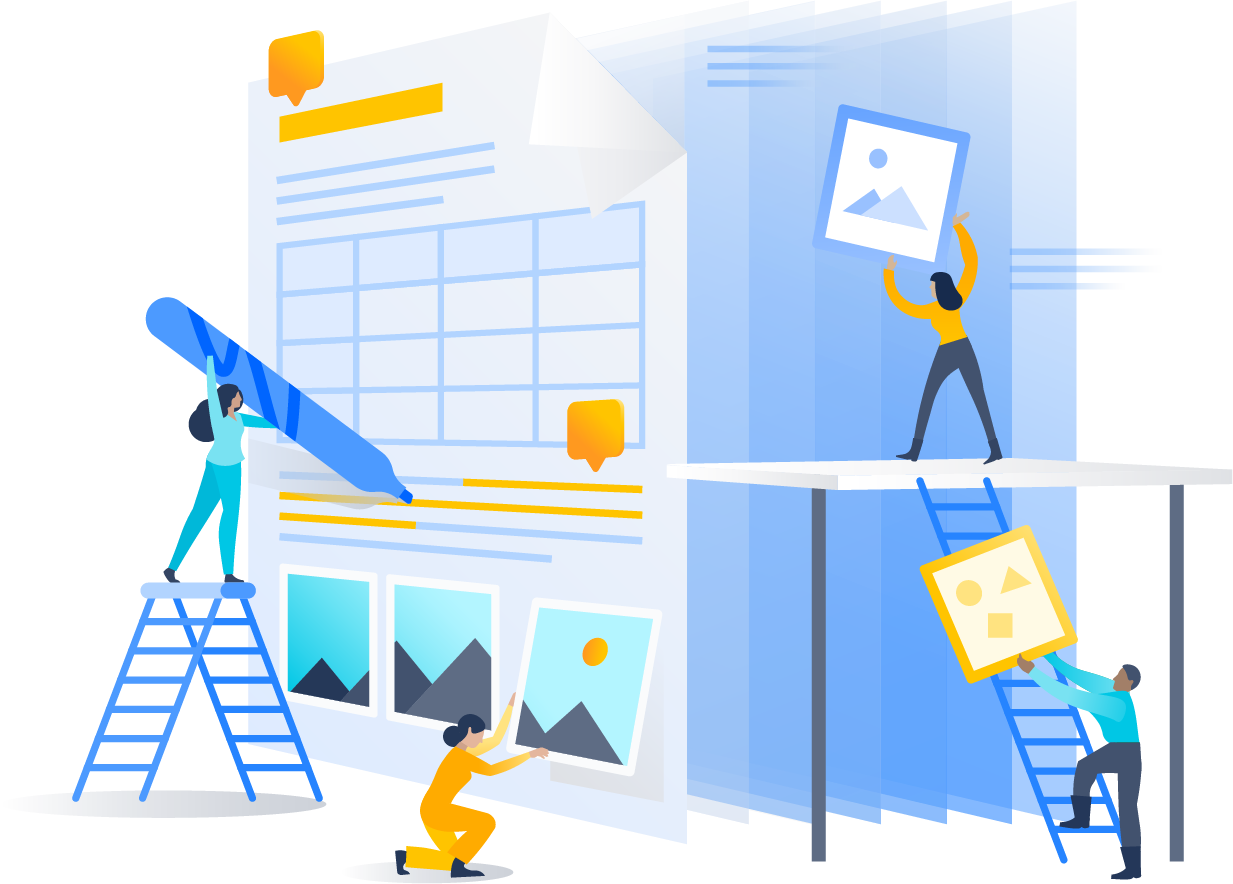 At Atlassian, our teams openly share what they're learning. This includes divulging wins and failures from experiments, sharing data from team research initiatives, and being transparent about both positive and negative results of projects. Open sharing also helps teams to grow as they benefit from the knowledge being gathered.
Confluence is Atlassian's content collaboration tool used by teams to help them create and share knowledge efficiently. Paired with Jira Service Management, Confluence gives teams a workspace where knowledge and collaboration meet to accomplish great things. IT, dev ops, and business teams embrace Confluence with Jira Service Management as their knowledge management platform to:
Empower teams to structure information in ways that best fit the way they work.
Create a source of truth for their organization's collective knowledge and make it easy to find answers.
Help cross-functional teams tackle complex work and create actionable plans by linking work in Jira.
Move work forward and speed up the review process through real-time collaborative editing, providing feedback through inline comments, and tagging a team member for help.
Gain visibility into their team's decision-making by documenting context and key decision levers.
 
The knowledge management process: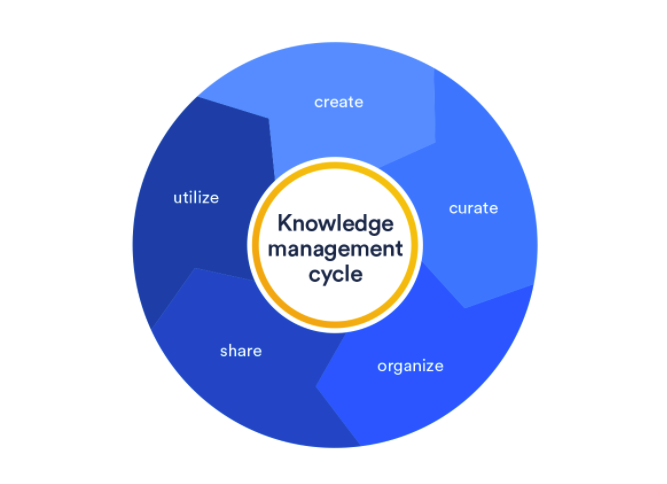 Knowledge management is an ongoing responsibility. Even after you've implemented a system, there's a constant cycle of adding new material and eliminating items that are outdated, as well as the discovery of hidden knowledge.
Here are the key steps to building a successful knowledge management strategy for your organization.
Identify your business situation and develop objectives and goals - Conduct an internal analysis of your organization so you can align the knowledge management system with your goals.
Prepare your organization for implementation - Acknowledge that this is a big deal and it's going to require cultural changes. 
Form a knowledge management team - Might seem like a no-brainer, but you'd be surprised how often organizations forget this. The first step in implementing any new process is putting someone in charge.
Conduct a knowledge audit - Find out what's missing, and begin to set the stage for what you want to do. For tacit knowledge, this process requires observation, interviews, or surveying the experts.
Determine your technology needs and prioritize those needs - Figure out what tools you'll need to implement knowledge management and plan for the costs in advance.
Determine the key attributes and features of your knowledge management system - Figure out what you want your system to look like. Then make a list. Make sure everything lines up internally––that the technology and scope will lead to the results and happy stakeholders you need.
Put everything you know in one place - Aggregate your knowledge with a solution provider that provides a single repository, one that's simple to use and easy to access.
Measure and improve your program - Remember to take time to step back and review. Measure what's working and what isn't. Adjust accordingly and update constantly. This will be an ongoing effort. 
---
How to get started with knowledge base reports
Use Jira Service Management's native knowledge base reporting to find out which articles received the most views and positive feedback. Recognize the authors with rewards to encourage team members to contribute to the knowledge base. There are two key knowledge base reports:
1. Requests deflected
This report shows how often customers found your knowledge base articles helpful. This includes the number of requests deflected in the portal and the number of article views in the portal. When a customer goes to a request form and starts writing the summary, knowledge base articles are suggested to them based on the labels specified in the article. If the customer selects an article from a request form and votes it as helpful, it is considered as a request that was deflected in the portal.
2. Requests resolved
This report shows how many requests have been resolved with an article, without an article, and which requests were deflected in the portal. If a resolved request has one or more links to knowledge base articles in its comments, it is considered as a request resolved with an article. If no article links are used to answer a request, it is considered a request resolved without an article.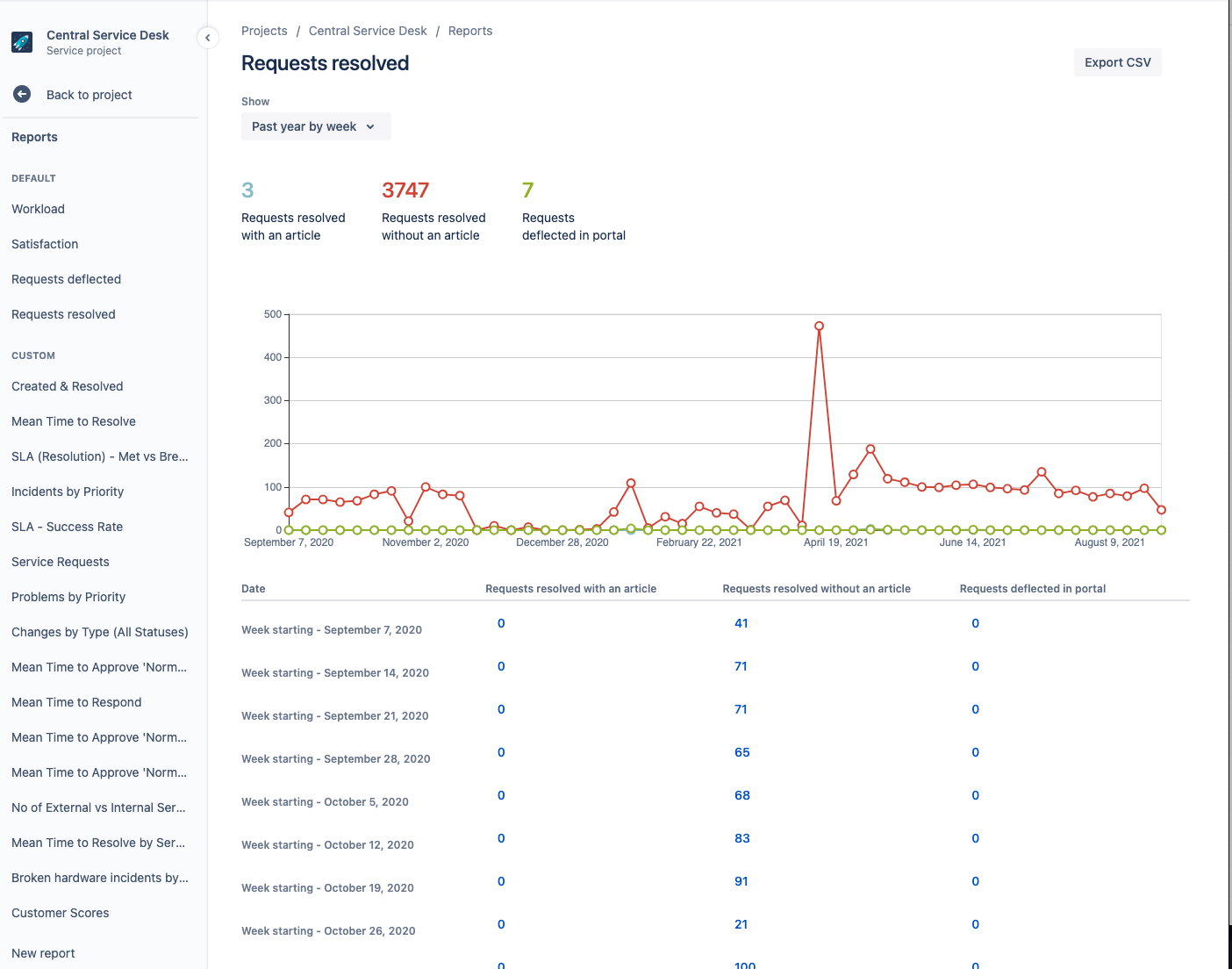 Knowledge base reports can be accessed from Jira Service Management project settings:
Navigate to your Jira Service Management project.
Select Reports in the left-hand menu.
Select Requests deflected or Requests resolved to view the reports.
Use the "show" filter to change your report date range.
---
Knowledge management best practices and tips
Recommended knowledge management features that can be leveraged in Confluence paired with Jira Service Management
Create a culture focused on knowledge sharing
Knowledge should be easy for your entire organization to search, find, and create. Encourage team members to collaboratively edit pages, give feedback through inline comments, or at-mention teammates for peer review. Recognize the authors with rewards to encourage team members to contribute to the knowledge base. Your leadership team can set a positive example by regularly contributing updates and blogs in Confluence. Go a step further, and encourage employees to interact directly with leadership by giving feedback and adding comments on Confluence pages.
Start building your knowledge base with data from Jira Service Management
In Jira Service Management, teams can use the powerful search engine and native reports to understand the most common support requests. Use the data to identify new knowledge base articles that can be published to reduce ticket volume and improve your customer experience. Once you have a better understanding of the most common requests, start building FAQs that you can integrate with Jira Service Management.
Focus on brief articles or answers
Shared documentation does not always mean shared understanding. Rather than creating long, expansive documents, tailor your content to your team. Your entire team and customers can learn and absorb information faster when it's quick to consume, uses easy-to-understand language, and is published in a timely matter.
Utilize templates in Confluence to standardize knowledge delivery
Confluence offers over 70 templates that allow you to predefine and standardize content for your internal and external users. Use the how-to and troubleshooting article templates to standardize the look and feel of your articles and make the process of creating new knowledge base articles super simple for your service desk agents. If that's not enough, you can even create your own templates. The more guidance and structure you can put in your template, the faster your team can create great articles.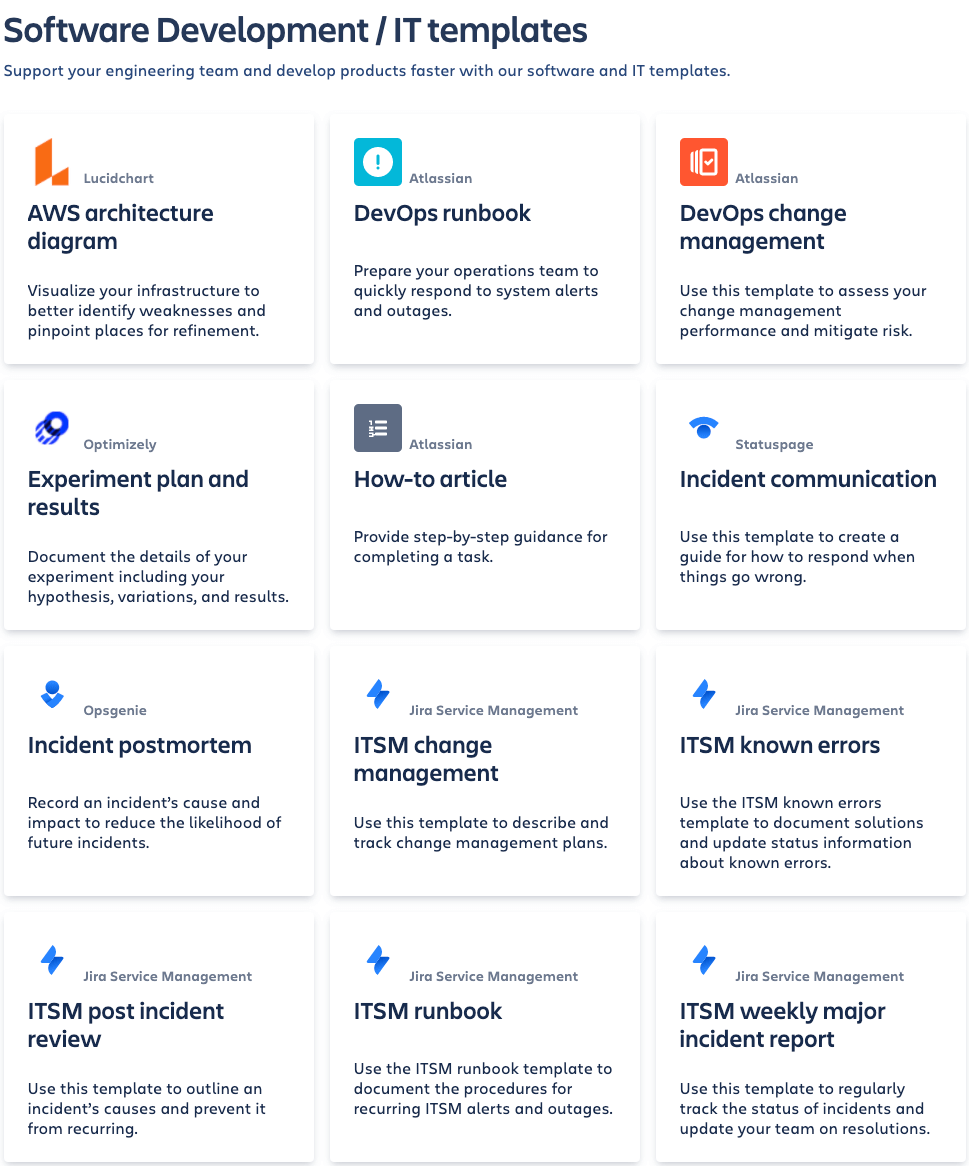 Make work visible with cross-functional team collaboration
For every major initiative, create a DACI (decision-making framework) or a project poster to share your goals and progress with the rest of the team and stakeholders. This is a living, accessible document that can help you explore your problem space, define your scope, and get feedback.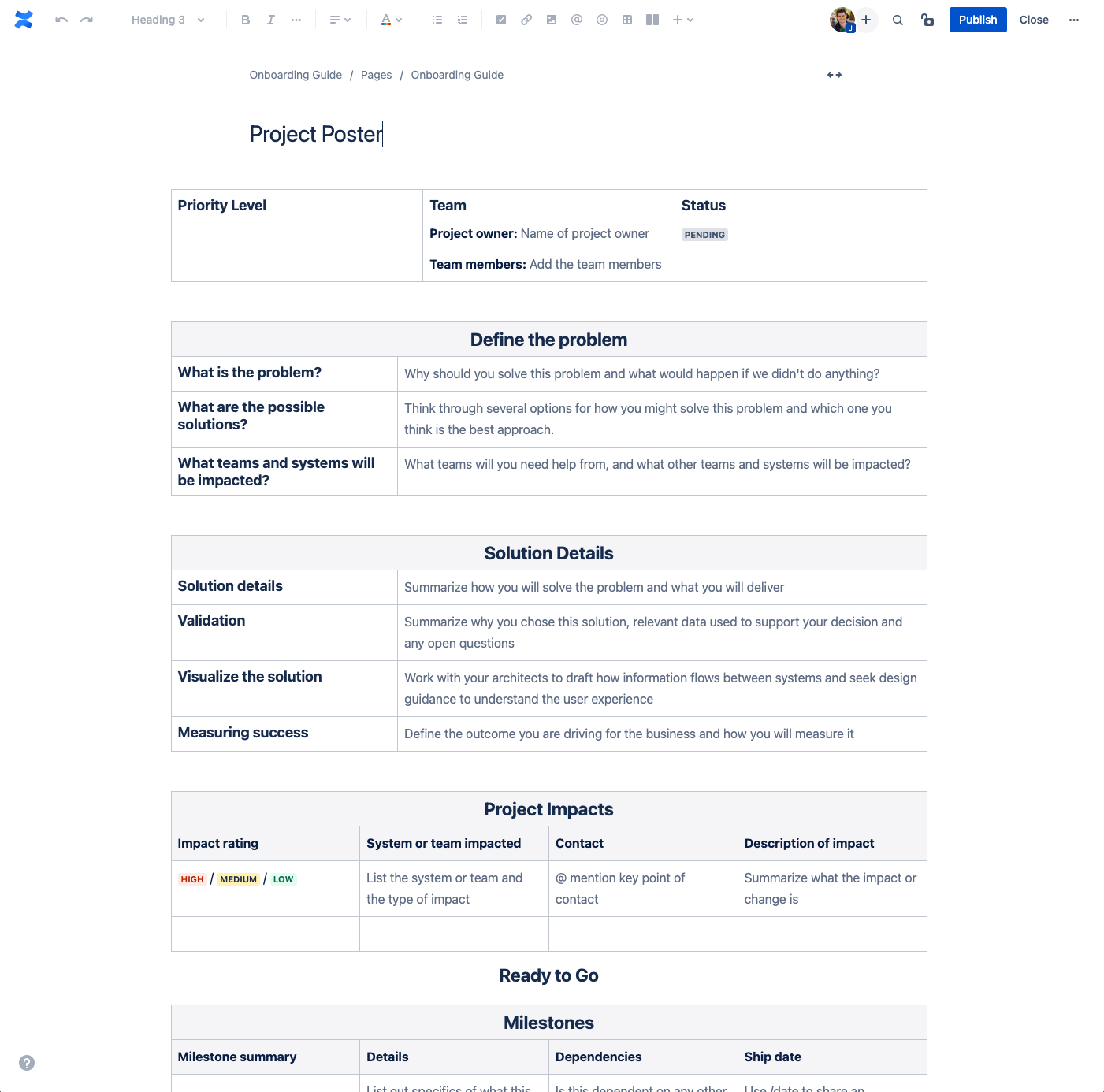 ---
Getting Started
Enterprise Service Management
Getting Started
Asset and Configuration Management