How Enterprise Service Management works in Jira Service Management
Overview
Enterprise Service Management (ESM) extends IT Service Management (ITSM) processes and tools across an organization to all teams. It defines operational best practices for both internal teams and their customers while removing organizational silos. Common non-technical teams that embrace ESM include HR, facilities, legal, marketing, and customer service.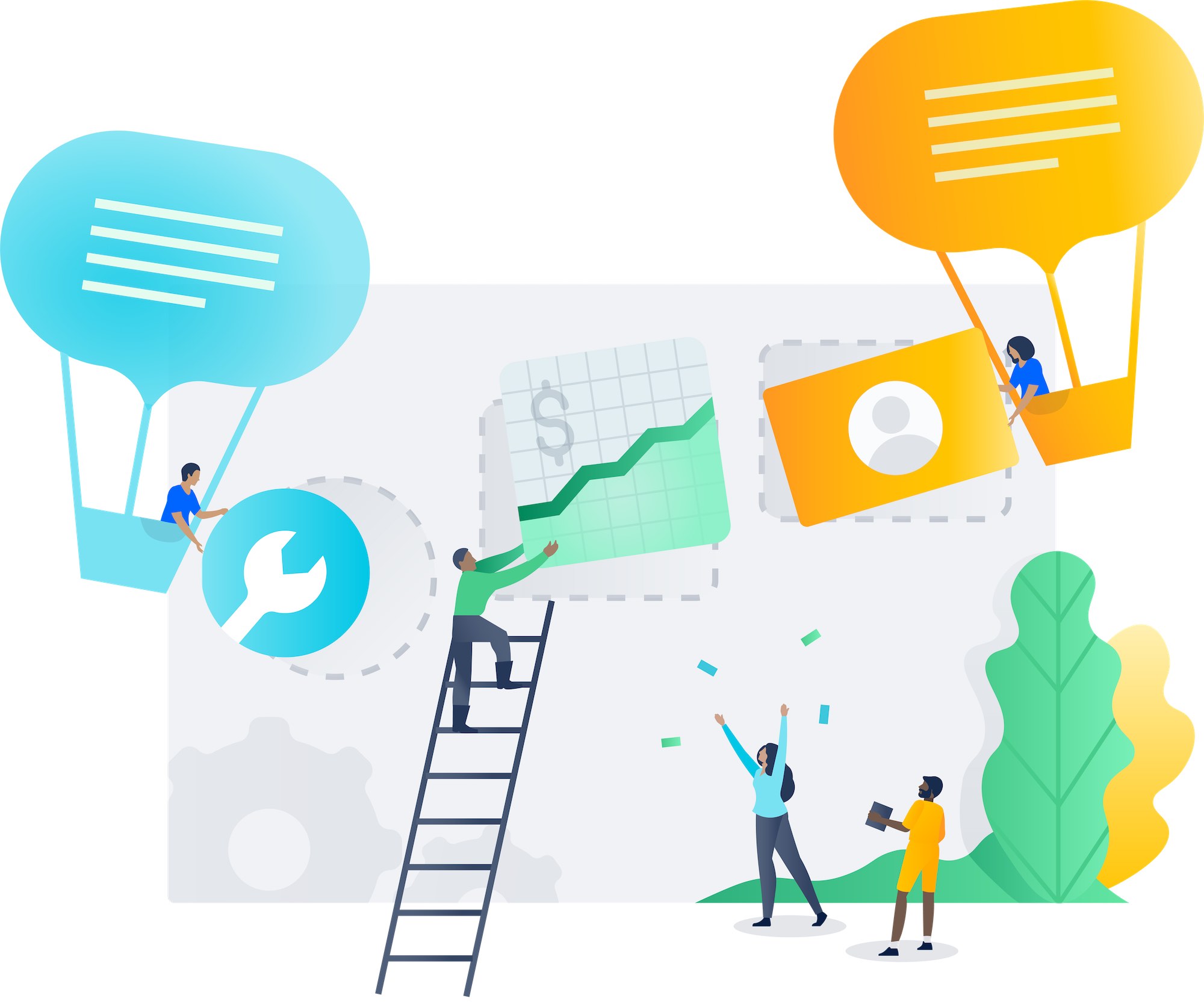 Our approach to service management puts development, IT operations, and business teams in a unified platform for better collaboration, so any team can respond to business changes and deliver great customer and employee experiences fast.
Jira Service Management offers an intuitive, cost-effective service management solution that's quickly scalable and easily maintained by non-technical teams such as HR, finance, legal, marketing, and facilities. With codeless setup and configuration, teams can spin up new services, a customer portal, and related request forms, workflow rules, and reports almost instantaneously. Instead of purchasing dedicated modules for each team, Jira Service Management customers enjoy a single adaptable solution that's flexible enough to solve a wide variety of business problems.
Plus, integrations across the Atlassian platform connect requests across a comprehensive digital pipeline, from planning, collaboration, task and product development (Jira Software and Trello) to continuous delivery (Bitbucket), knowledge management (Confluence), operations (Jira Service Management and Statuspage) and asset tracking and inventory management (Jira Service Management's Insight).
The use of Jira Service Management tends to spread organically across companies. Most often, IT is the first team to leverage Jira Service Management for service management. As business teams interact with the service desk as end-users, they quickly understand the value and begin to request service desks for their teams. Eventually, Jira Service Management will expand even further to other departments and use cases, from event planning to procurement to security.

Recommended Enterprise Service Management features that can be leveraged in Jira Service Management
Service request management
Create a simple, customizable portal so your employees can get help quickly, and your teams can streamline incoming work. Now every team can easily spin up a service desk.
Knowledge management
Empower employees to find answers to common questions using a self-service portal. Leverage a knowledge base that surfaces relevant articles to deflect requests.
Customizable form builder
Leverage a no-code/low-code form builder and provide dynamic forms that only surface the relevant fields to your employees. Draw on 300+ pre-built form templates to quickly collect and validate all the information you need about a request.
Delegated administration permissions
Democratize service management by delegating administration permissions to project owners. Increase autonomy while maintaining visibility and control.
Conversational ticketing
Users can create a two-way sync between conversations in Jira Service Management and Slack or Microsoft Teams (coming soon). Employees never have to leave chat tools to get the help they need, and agents get all the information they need right in Jira Service Management.
Asset and configuration management
A flexible and open data structure allows teams to manage assets and resources important to their practices--everything from servers to fleets, fish, insurance, and pianos.
---
How to get started with Enterprise Service Management
Get started quickly with purpose-built templates
Any team can leverage templates and workflows in Jira Service Management that are purpose-built for business teams in HR, Legal, Facilities, and general customer service. These out-of-the-box capabilities give business teams autonomy to create, update, and maintain their own service desk with minimal IT involvement.
For example, HR and Facilities teams can use Jira Service Management to efficiently manage tasks such as employee onboarding and fielding maintenance requests. Legal teams can shift from manually chasing down signatures to working collaboratively with an automated digital workflow.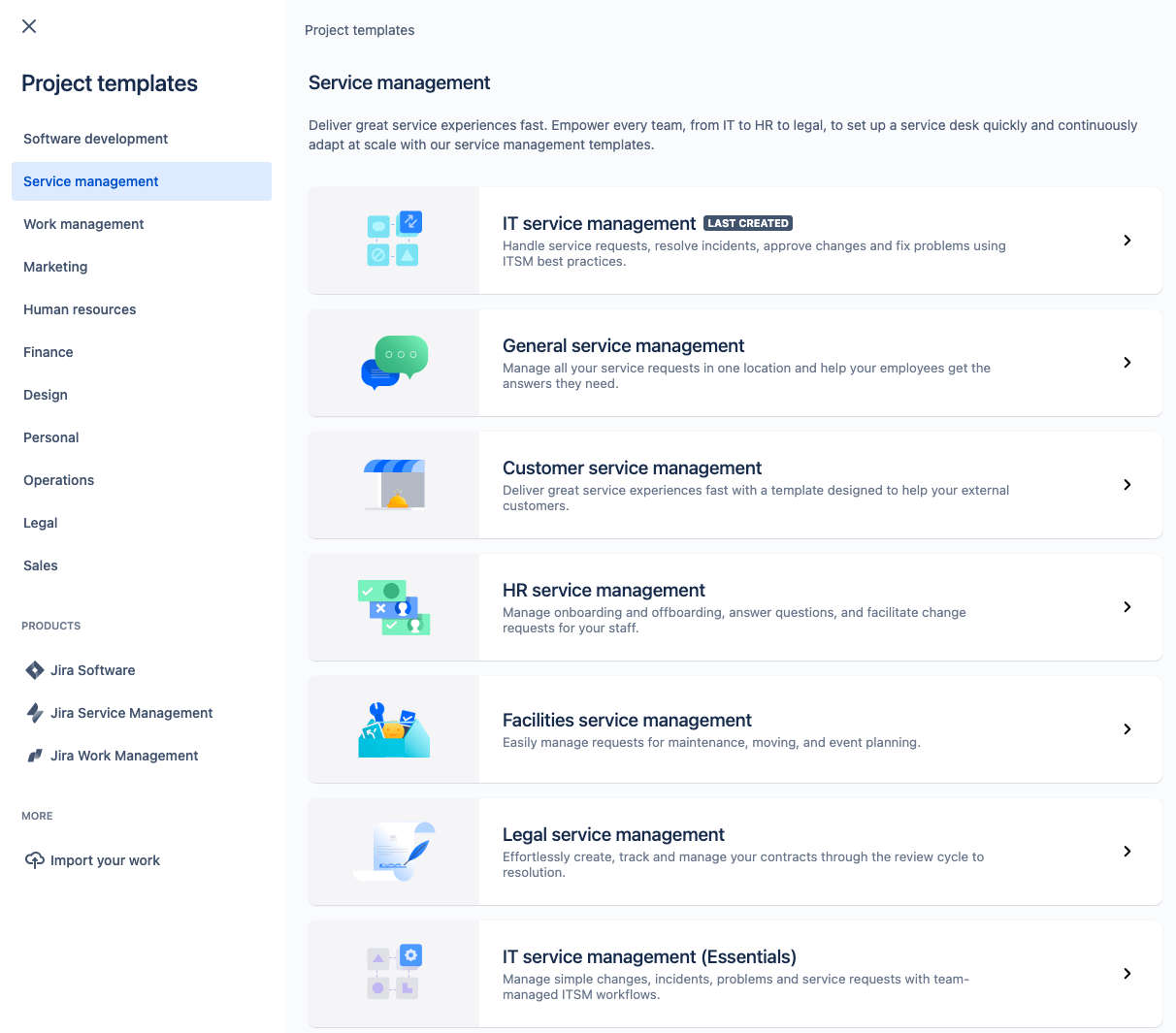 To create a project using a project template:
Select Projects > Create project.
Choose a service management template > Select Use template.
Name your project.
Create a project key or use the generated key.
Choose if you would want to share settings with an existing project. If yes, specify the name of the existing project.
Select Create project.
Utilize forms to create brilliant service experiences
Jira Service Management's customizable form builder allows teams to deliver exceptional service experiences even faster. Dynamic, cascading forms surface only the relevant fields to employees and customers. Advanced form validation capabilities allow teams to quickly collect and validate all the information they need about a request before it's automatically fast-tracked to the right teams for resolution. Plus, with a no-code/low-code editor, support for 24 languages, and 300-plus pre-built form templates that encapsulate customer best practices, any team can quickly spin up great service experiences.
To build a form using a template:
From the navigation on the left, select Project settings or Service project settings > Forms.
Select Create form.
Replace the automatically generated form name with your desired form name.
Select Templates.
Find and select the template you want to use. This will open a preview of the template.
Select Insert template.
You can use the template as is, or make changes to it by adding or removing elements.
To see what your form looks like, select Preview.
When you're finished building your form, select Save changes.
To go back to the forms page, select Back to forms.
To take your forms to the next level, check out the Better form design in Jira Service Management guide.
Enterprise Service Management best practices and tips
Build a single place to find and ask for help
Enterprise Service Management opens up the opportunity for businesses to have one unifying portal that displays all available services as a catalog. Regardless of whether an employee needs to order a new laptop, notify HR about a new starter, or request a statement from the finance team, everything is displayed in one place. Each team will have its own service project, with workflows behind it working hard to speed up service delivery.
Additionally, for your internal customers, first impressions happen in your customer portal. It's where employees go to troubleshoot, submit requests, and view a list of services offered. In Jira Service Management, match your brand by customizing the look and feel of the portal with a banner, logo, and color combinations among other options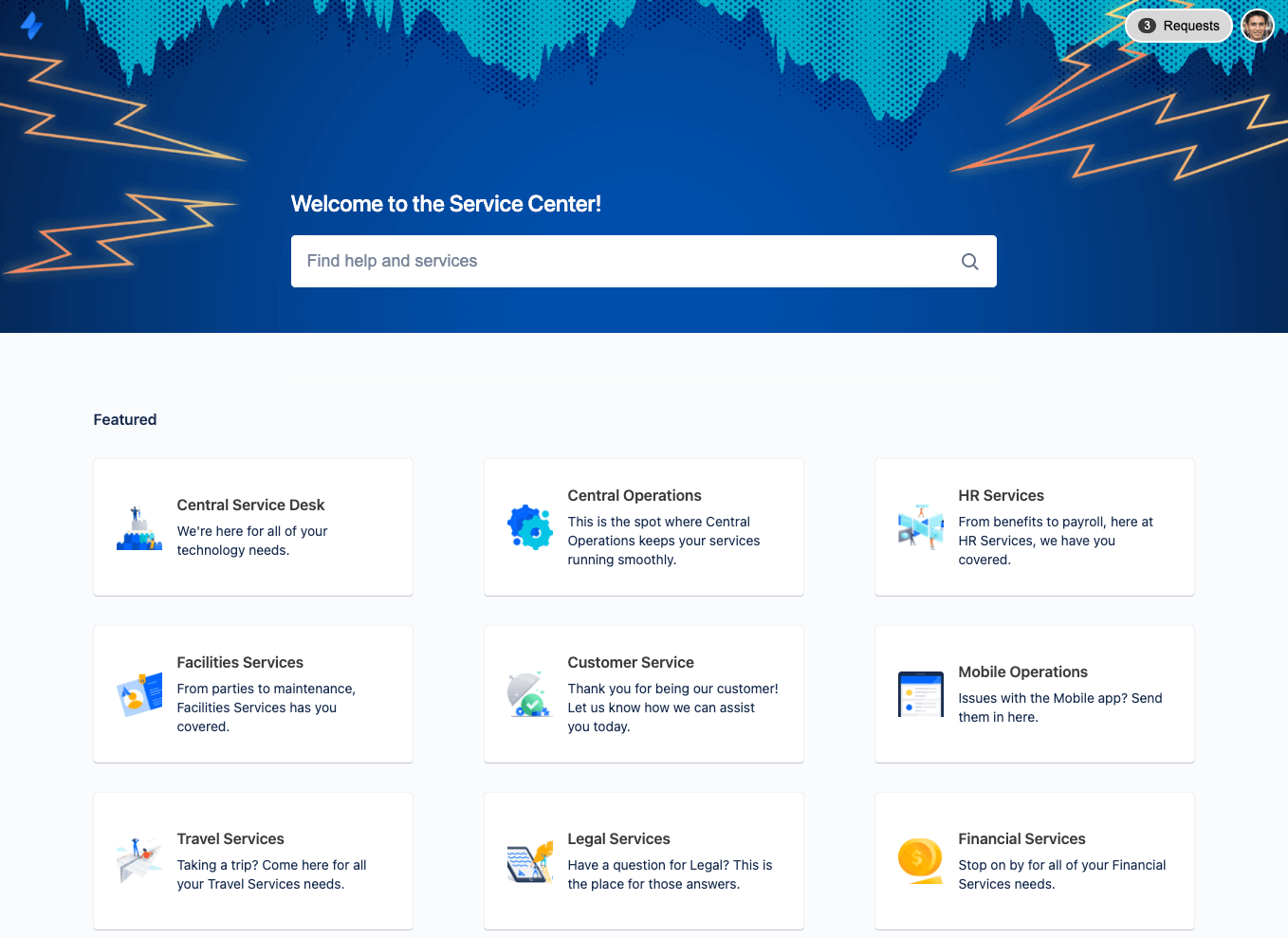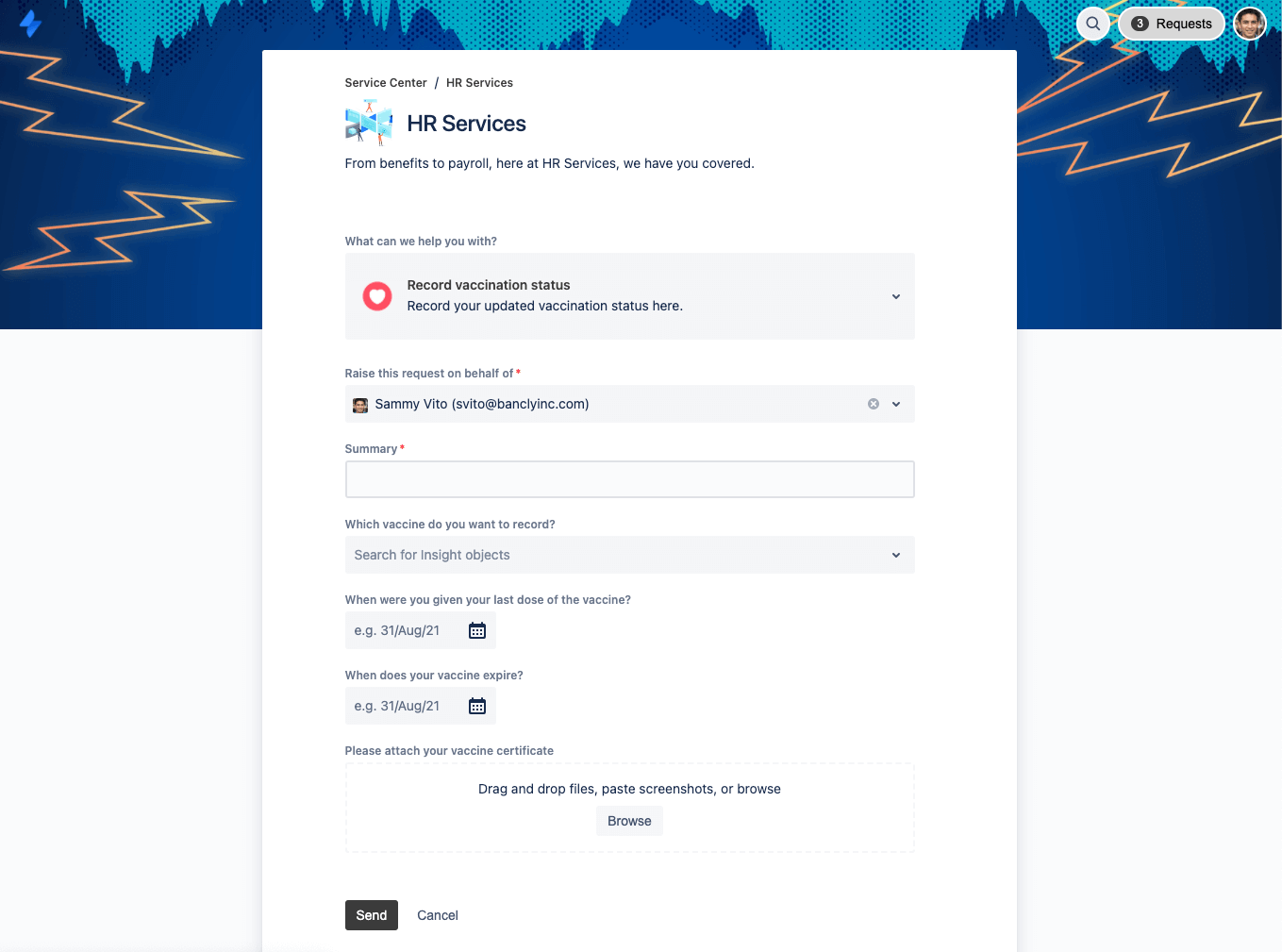 Create knowledge base FAQ articles for each business team to improve service delivery
Compiling frequently asked questions (FAQs) in Confluence and building a knowledge base is a quick win for many teams. For example, an HR FAQ can be created to address and detail common HR requests, ensuring tasks like employee onboarding are completed quickly and efficiently. A well-designed knowledge base will enable your customers or employees to self-serve the most common issues and questions based on your team's documentation and potentially deflect some incoming requests.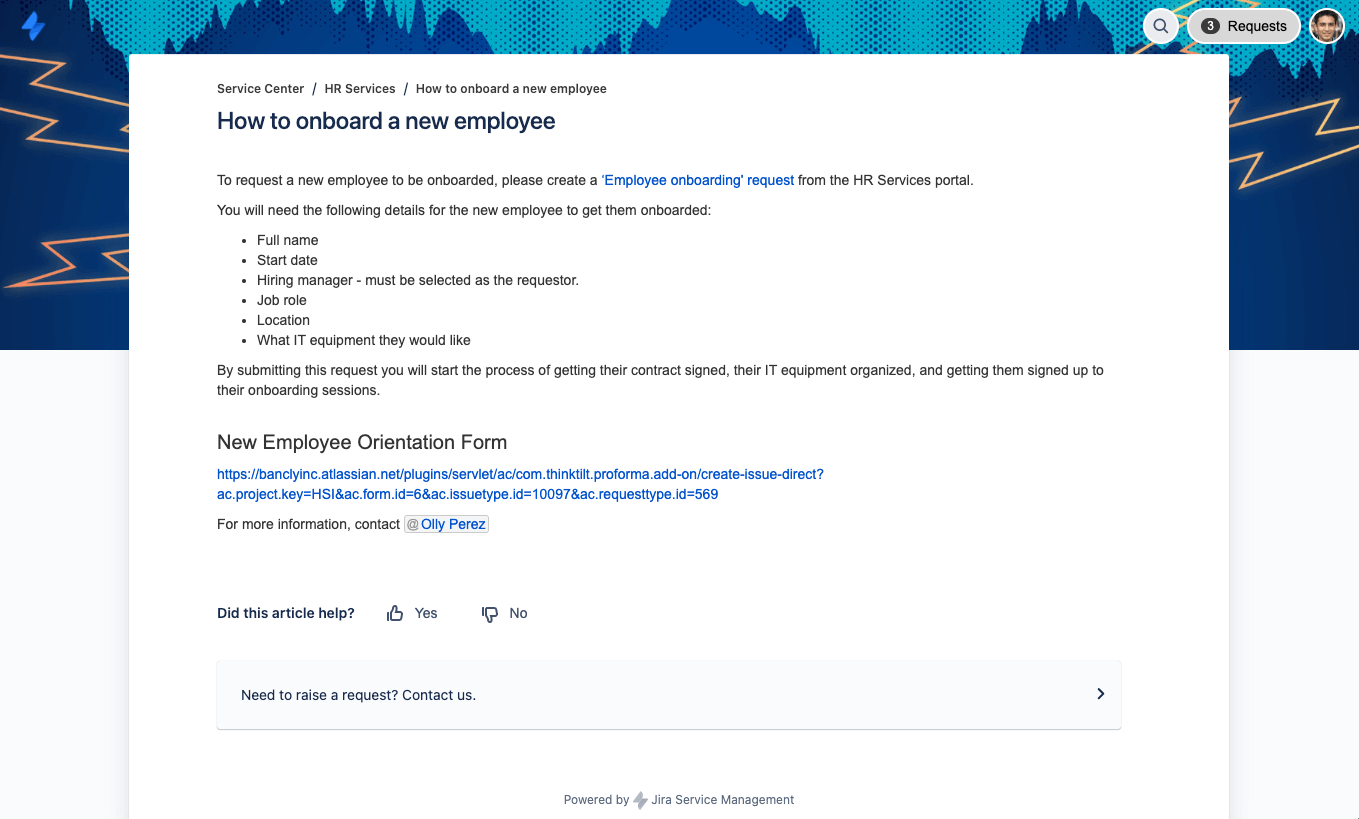 Integrate your chat services with Jira Service Management for effective conversational ticketing
Many business teams have become accustomed to conducting their most critical business operations and communication through apps like Slack or Microsoft Teams. 
The one downside of so much business-critical communication happening via messaging apps? With all these requests flooding channels and DMs, it's tricky to keep track and bring things through to a resolution.
In light of this challenge, Jira Service Management customers have seen the incredible value of conversational ticketing expand beyond traditional service desk users. What started as a way for IT teams to capture and track tickets via messaging has become a critical operational solution for departments across the entire business, from People Ops and Legal to Sales Ops and Finance. Rather than context switching between support portals and daily tools, Jira Service Management's lightweight ticketing solution has allowed operations professionals to meet their teams where they already work and make sense of their cluttered inboxes.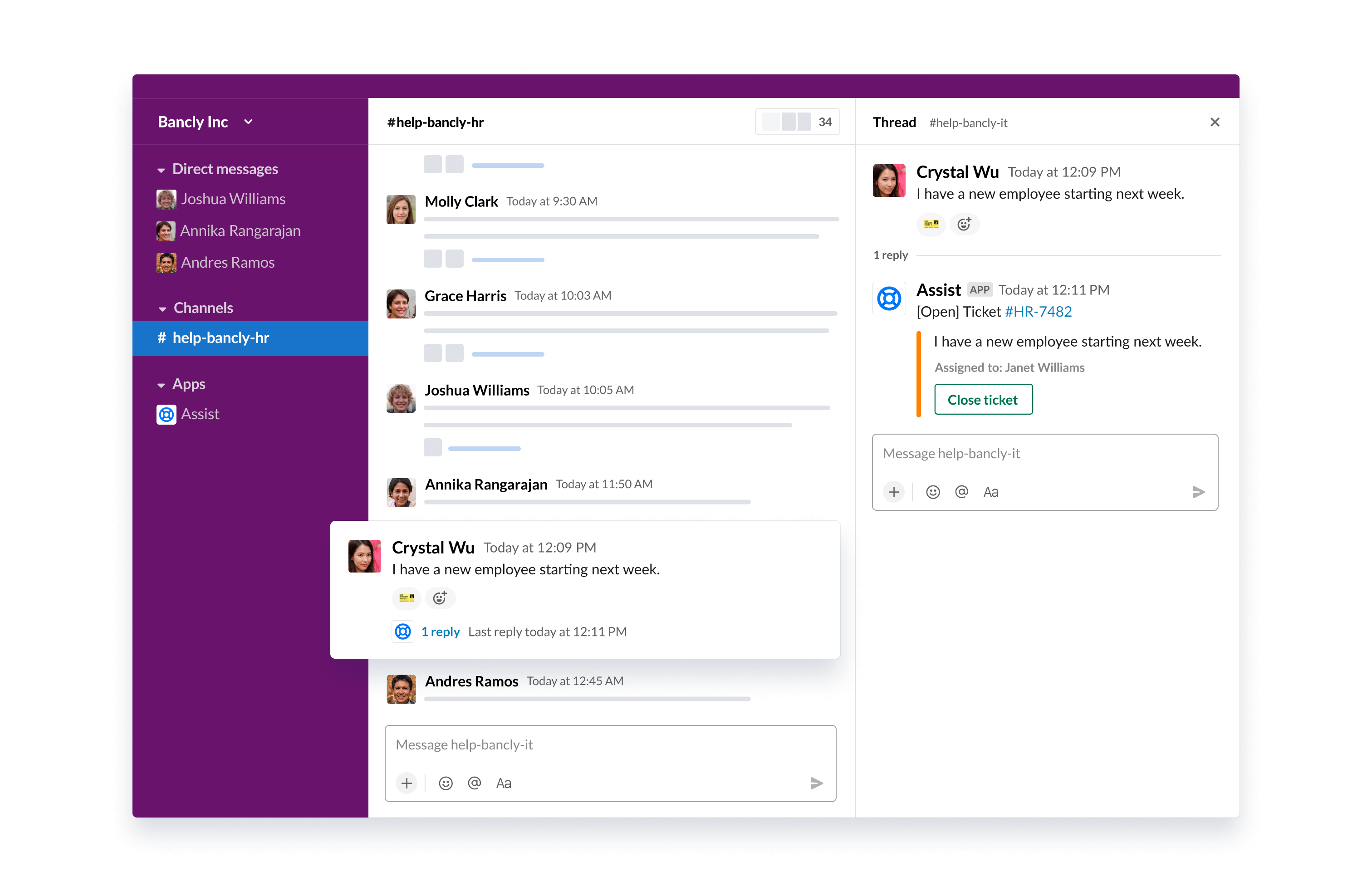 ---
Getting Started
Change Management
Getting Started
Knowledge Management