Atlassian Analytics in Jira Service Management
Overview
Atlassian Analytics is a simple, flexible way of visualizing data across Atlassian products and other data sources. Out-of-the-box dashboards measure request management, incidents, changes, and service performance. Combined with the capability to create your own reports with the interactive visualSQL builder, your teams get richer insights, better visibility, and speedier decision-making.
Atlassian Analytics is powered by the Atlassian Data Lake, which houses all the data from your Atlassian tools in one place. This includes data from both your development and operations tools, giving your team the full picture of work happening between development, IT, and the business.
---
How to add Atlassian Analytics to your instance
Customers with Cloud Enterprise plans for Jira Software, Jira Service Management, or Confluence can add Atlassian Analytics. You must be an organization admin to set it up on a site. You can follow the directions here to add Atlassian Analytics to your existing site.
How to use Atlassian Analytics in Jira Service Management
Whether you're in IT Operations or Support, Atlassian Analytics can help you proactively spot and fix bottlenecks slowing down your team's work, make better decisions around resource allocation, staffing, and investments, and keep tabs on the state of the business. You can customize dashboards to meet your stakeholders' needs and embed them into Confluence pages, Atlas tickets, and Trello cards making it easy to report out. You can learn more about the full capabilities of Atlassian Analytics across the Atlassian platform by reading our overview page.
Several dashboards are available out-of-the-box for common ITSM use cases. Once you connect your data from the Data Lake, the dashboard automatically populates the charts with your near-live data. Here's a quick look at what you can do with these reports.
Request management
With the request management dashboard, your team can keep pushing to provide excellent service experiences to customers and employees. The requests created vs. resolved chart shows how often your team is closing out tickets and getting customers help, while the time to resolution chart measures how long that takes. You can also look at agent workload to see how the work is distributed among agents, CSAT to see whether customers are happy with the help provided by your team, and performance against SLAs (service-level agreements).
Change management
The dashboard for change management helps teams determine how well they're able to minimize risk while continuing to make improvements and innovate at the pace of the business. You can use charts that show your changes by type and risk, how long it takes changes to deploy, change lead time, and change failure rate showing the types of changes that are failing. Armed with this data, you can continue improving your change management practices so you can deploy with confidence.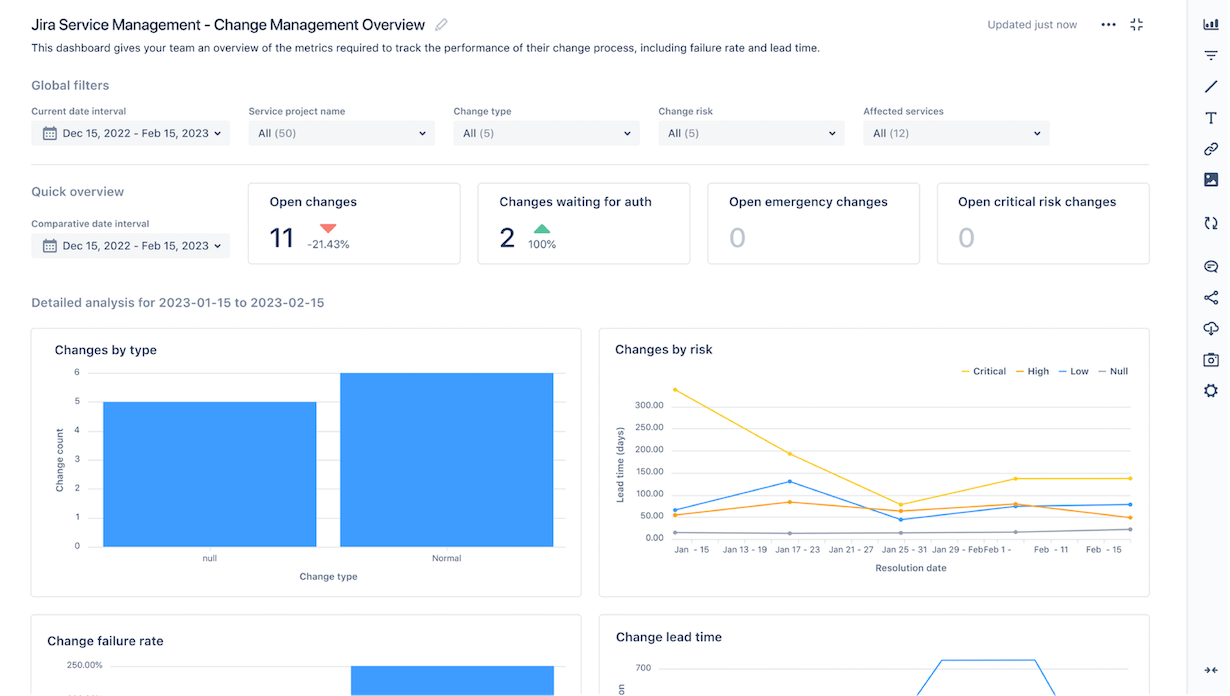 Incident management
When an incident occurs that takes your services offline, your main concern is getting service restored to customers as quickly as possible. When you're ready to do your post-incident review (PIR), the incident management dashboard can provide data that will help you learn from incidents and improve for next time. You can review the volume of incidents over time, your team's mean time to resolve or respond, and how often incidents have caused you to breach SLAs.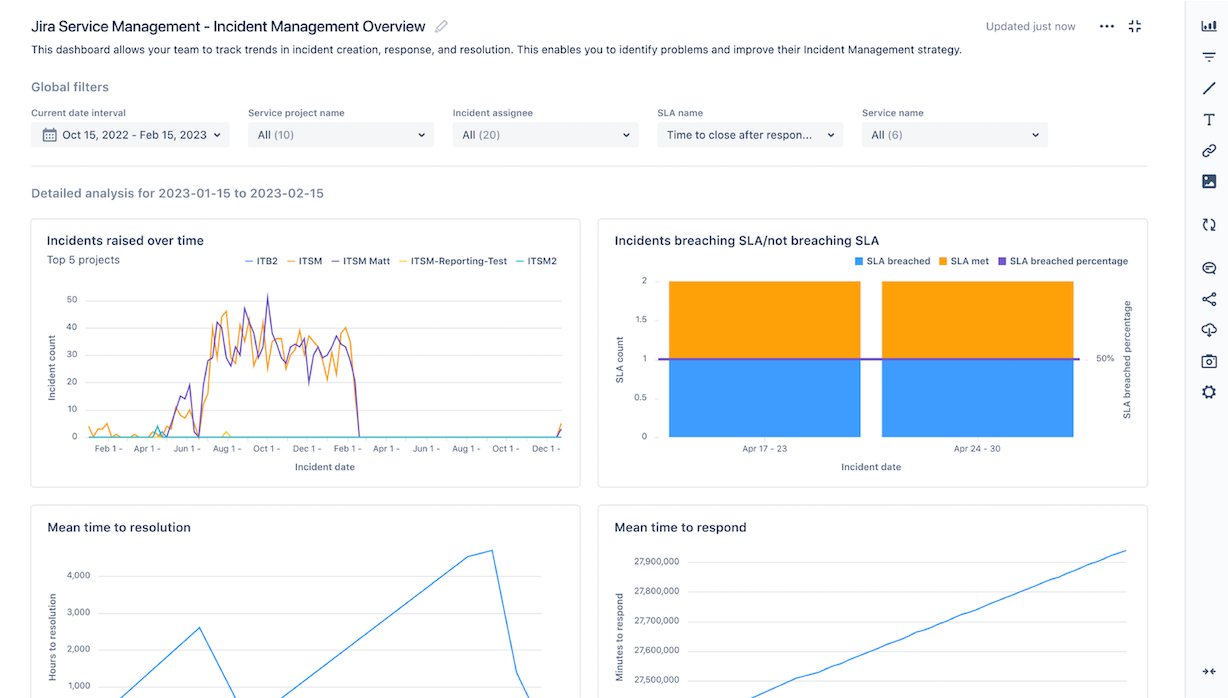 Asset management
The Assets overview dashboard gives teams a way to make sense of their objects stored in Assets. This includes objects, their related issues and projects, and the time spent on them. With the data provided in this dashboard, you can make informed decisions on objects like software licenses, hardware, and office equipment.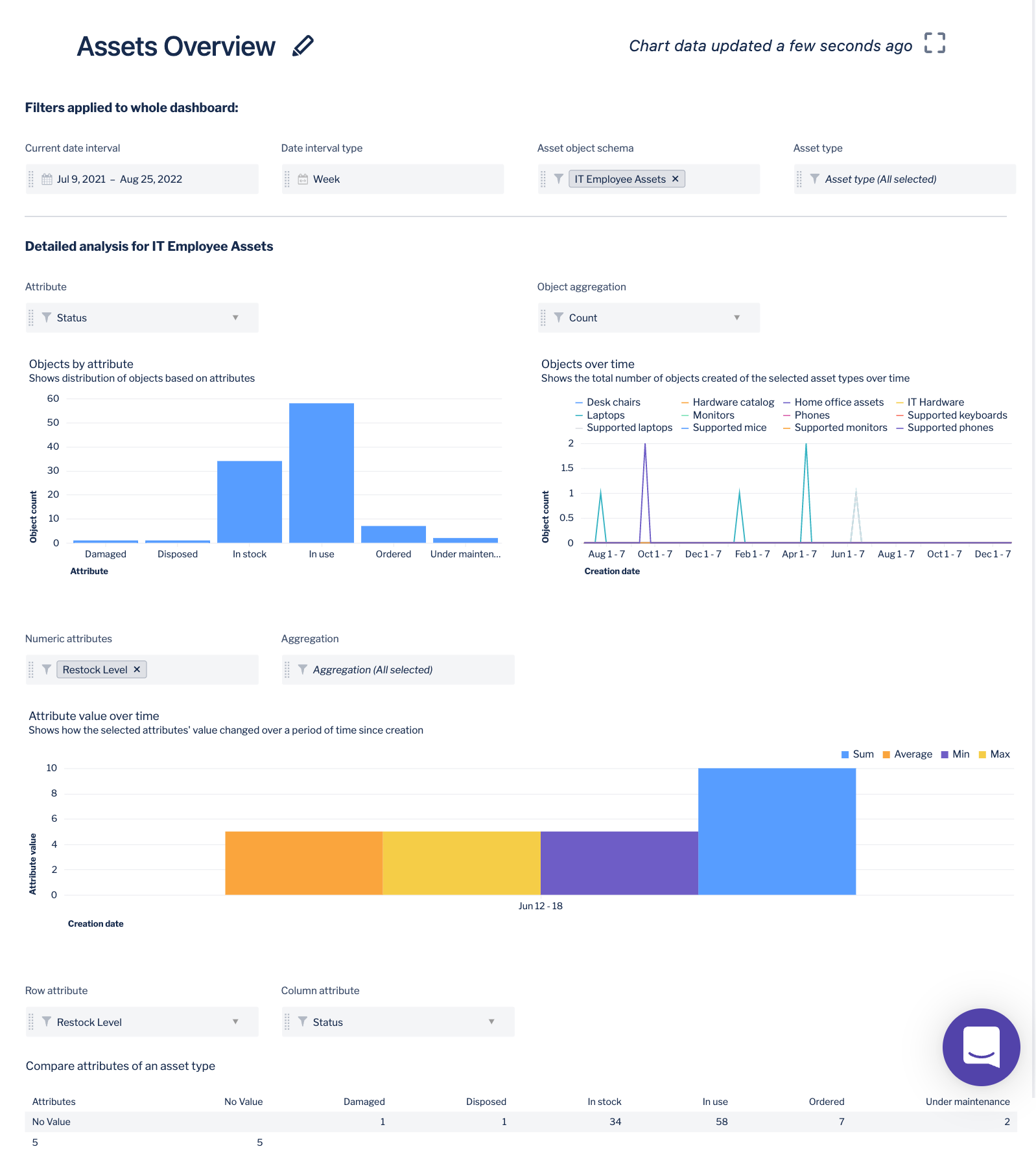 Custom reporting
In addition to the out-of-the-box dashboards, you can also create your own. Getting started is easy with the visualSQL builder that allows you to create individual charts or entire dashboards using the criteria and data of your choice. With the Atlassian Data Lake, you can pull in data from other Atlassian tools, or even third-party tools like Snowflake, Amazon Redshift, Microsoft SQL Server, and more.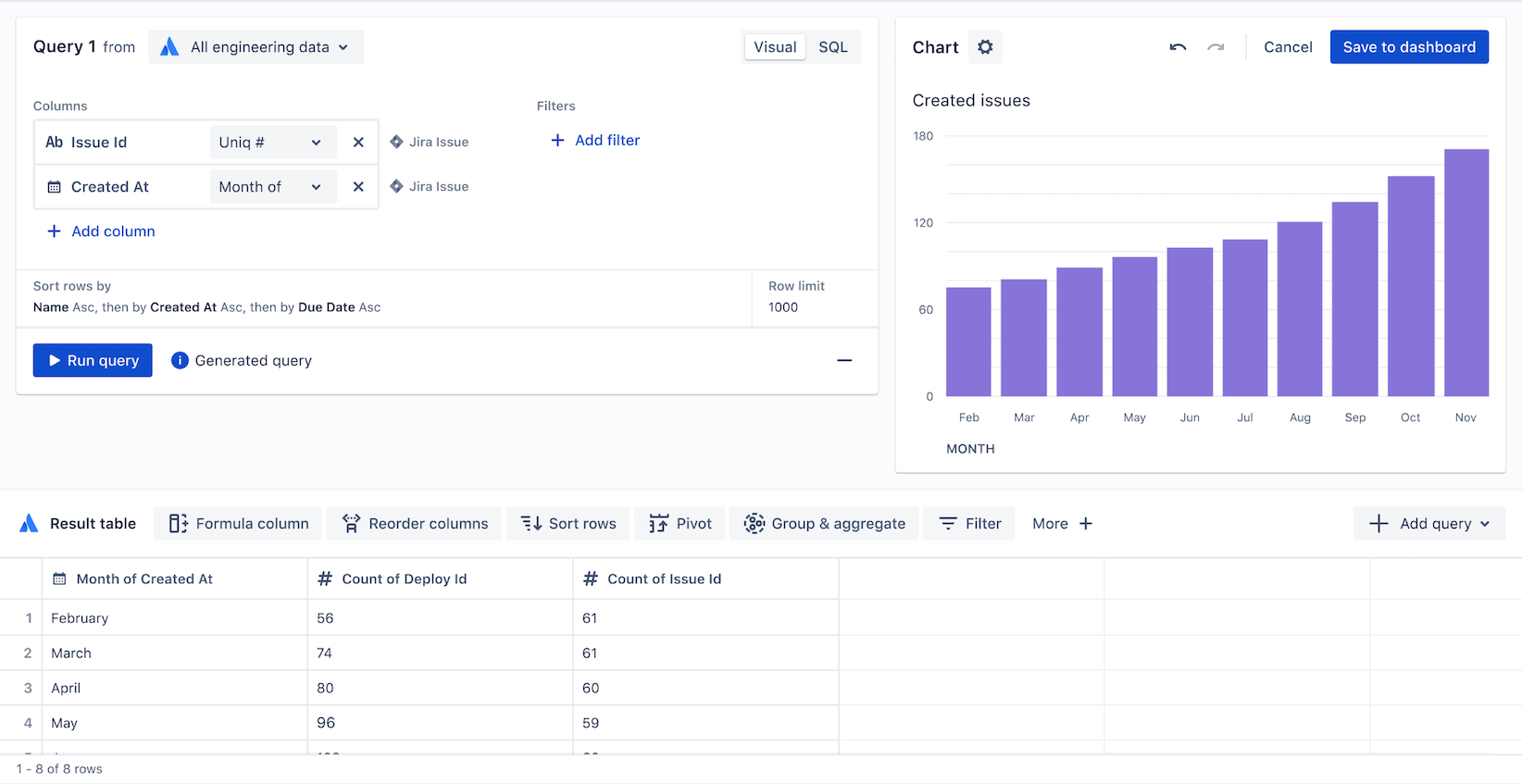 ---
Additional Atlassian Analytics resources for Jira Service Management
For more information check out these resources.
Atlassian Data Lake
Learn more about including data from your Atlassian products in a single, queryable system - enriched and ready for analysis.
Atlassian Analytics overview
See the full platform capabilities of Atlassian Analytics across our portfolio of products.
Atlassian Cloud Enterprise
See why so many Atlassian customers are scaling with confidence.
---