Get started with Advanced Search and JQL
Advanced Search
Search issues across all projects using the Jira Query Language (JQL). Query results can be saved and used as filters and views across Jira (including boards).
1. In the top navigation bar, select Filters.
2. Select Advanced issue search. (shortcut g + i)
3. Use quick filters for basic search or switch to JQL for advanced search.
4. (Optional) Switch between list and detail view by clicking the Change Views button on the top right of the screen. (shortcut t) List view allows you to scan a large number of issues and customize the number of columns displayed.

---
Learn JQL syntax
A simple query in JQL (also known as a "clause") consists of a field, followed by an operator, followed by one or more values or functions. For example:
Watch this video tutorial to see it in action:
Find the full list of available fields and operators here:
---
Developer use cases
Advanced search using JQL can offer tremendous insight into your daily tasks as a developer.
For example you can set up queries that answer common questions such as:
Which of my issues have changed since the last login?


updated > lastlogin() AND assignee = currentUser()

If you connect your developer tools you can also search for across Git information. For example:
Which of my issues have an open pull request?


development[pullrequests].open AND assignee = currentUser()

The same is possible if you connect your CI / CD or feature flagging tools:
Show me all my issues that have more than two failed build events.


development[builds].failing > 2 AND assignee = currentUser()
---
Visualize results on your dashboard
You easily add saved searches to your dashboard. This helps create a personal view of the most important Jira issues and changes that might relate to your daily tasks.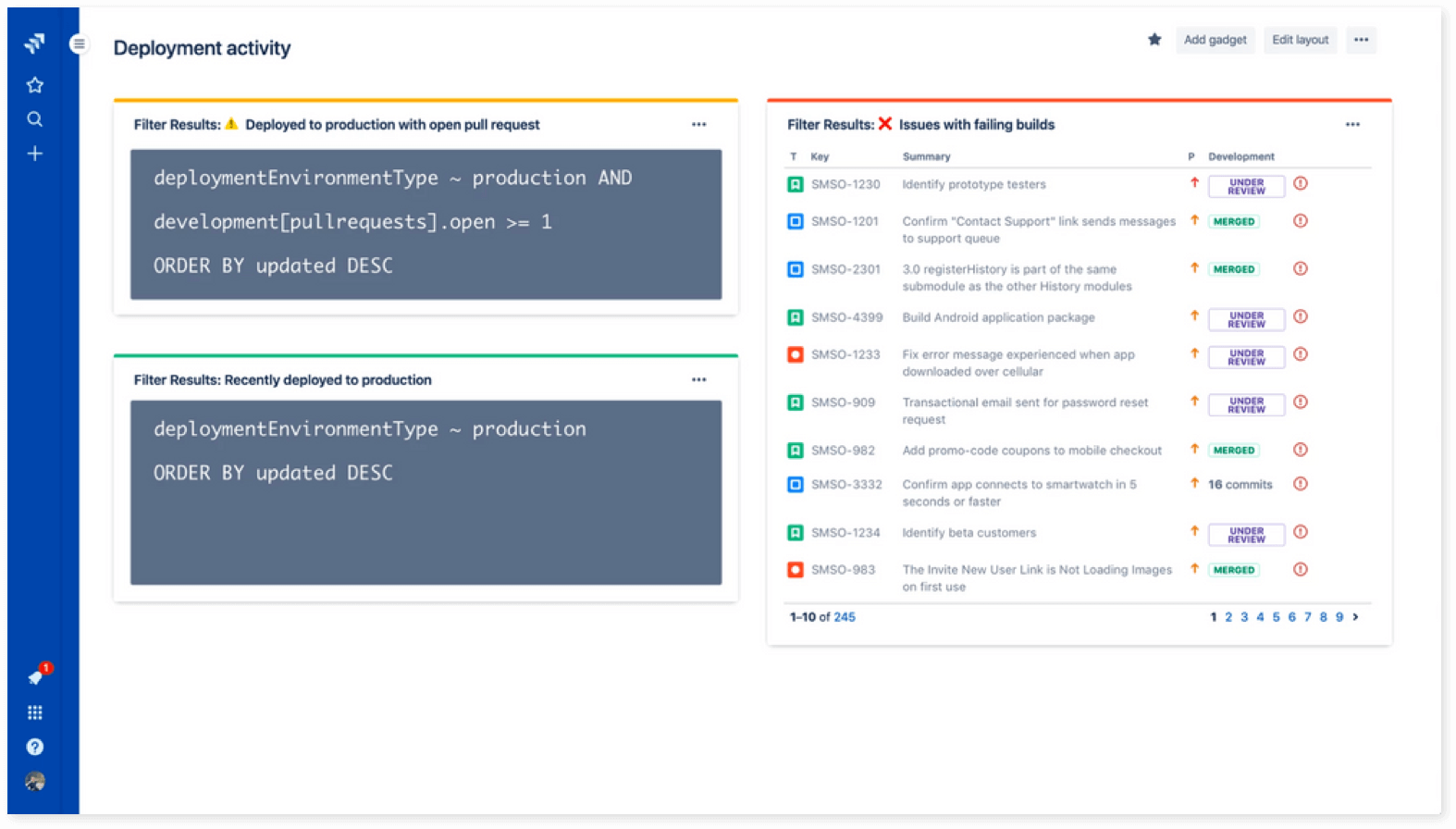 1. From the Advanced Search screen, click Export
2. Choose Create Dashboard Gadget
3. Select Filter Results (or another visualization option)
4. Select Save to Dashboard to add the Gadget (it will default to your personal dashboard)
Get started as a developer
Learn the 6 steps to get started in Jira as a developer.
Developer tool integrations
Learn how Jira works helps manage your Git workflows.
Get started with Jira Software free today