Jira Service Management for Enterprise Service Management
IT isn't the only part of your business that can benefit from a service mindset. With Jira Service Management, teams across the enterprise can deliver great service, fast.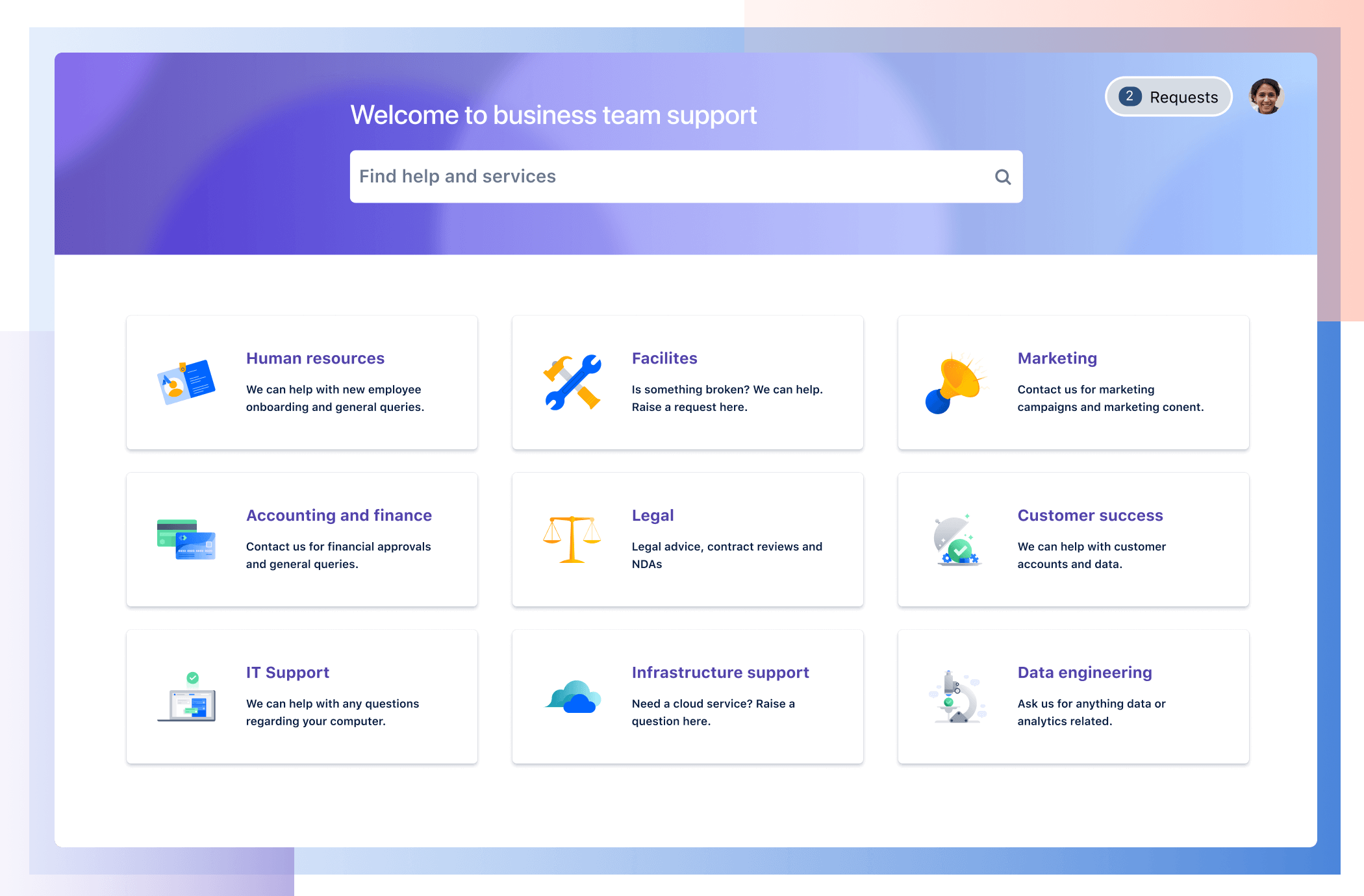 Ensure anyone can get help quickly
Allow teams such as human resources, marketing, legal, finance, facilities, and more to create their own service portal to manage requests. Enable every team to shape workflows to fit their needs while unlocking collaboration and maintaining alignment across the enterprise.
Get started fast
With templates and automations for every use case, teams can easily spin up service desks that fit their unique requirements. Set up workflows with a drag-and-drop editor. Customize forms to collect the information you need without the back and forth.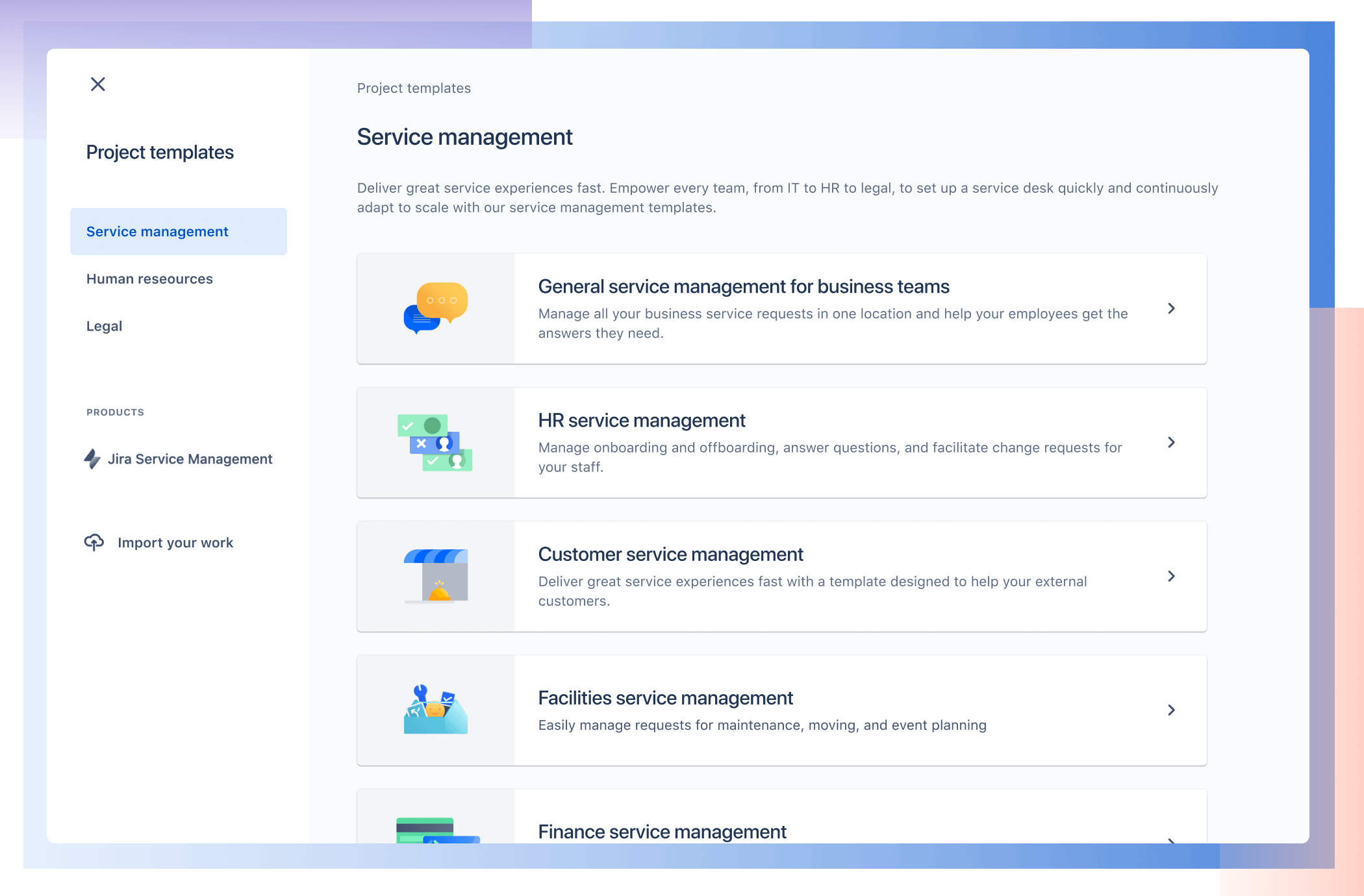 A secure, unified data platform
Create a secure, virtual environment where each team can operate independently. Data is shared securely, without exposing it to other teams or losing transparency.
Human resources
Drive a culture of service excellence. A well-designed HR request solution can make you more efficient—and more competitive. Automate repetitive tasks, reduce errors, and improve HIPAA compliance.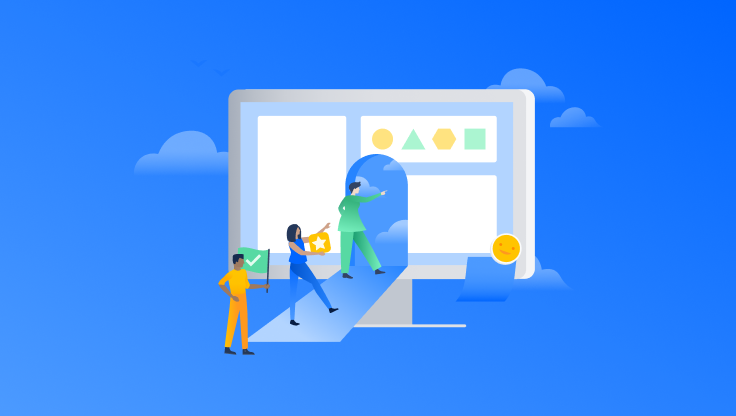 Guide to HR service management
Learn how HR teams can get started with Jira Service Management and optimize it to meet their unique needs.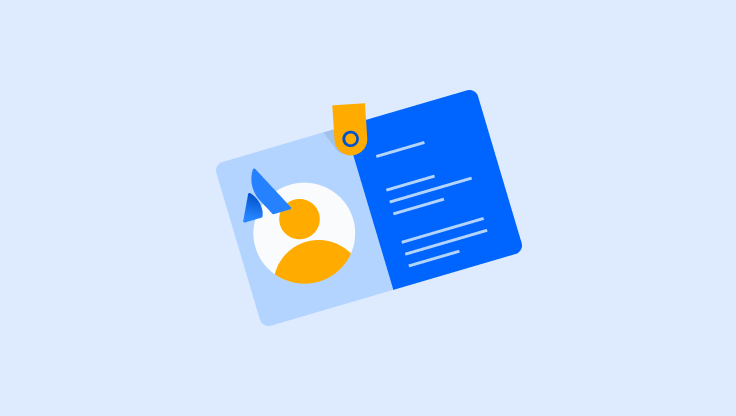 HR service management template
Manage onboarding, offboarding, and respond to staff requests.
Legal
Turn your request experience for legal intake into an organized process. From tracking and routing approvals, to sharing and storing legal documents, Jira Service Management can help you reduce the risk of litigation and stay compliant.
Flo customer story
Flo's legal team turns to Jira Service Management for guidance on upcoming tasks for the employee experience.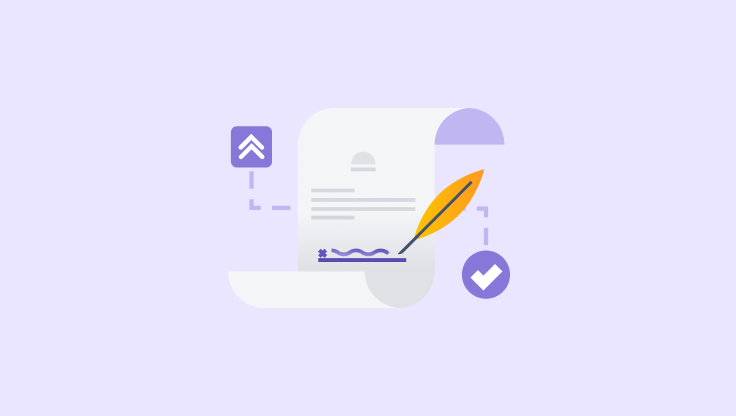 Legal service management template
Manage your legal contracts through the review cycle.
Finance
Stay compliant, track financial transactions, and manage performance. Centralize all critical financial and operational information making it easier to organize requests, plan financial tasks, and create governance across departments.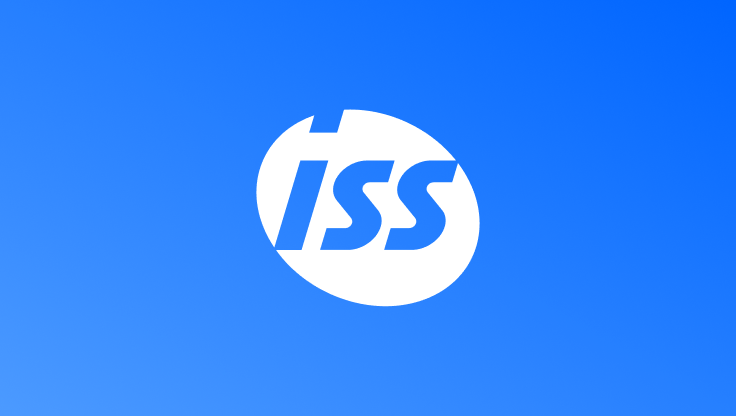 ISS World customer story
ISS World's finance team redesigned and restructured their process with Jira Service Management.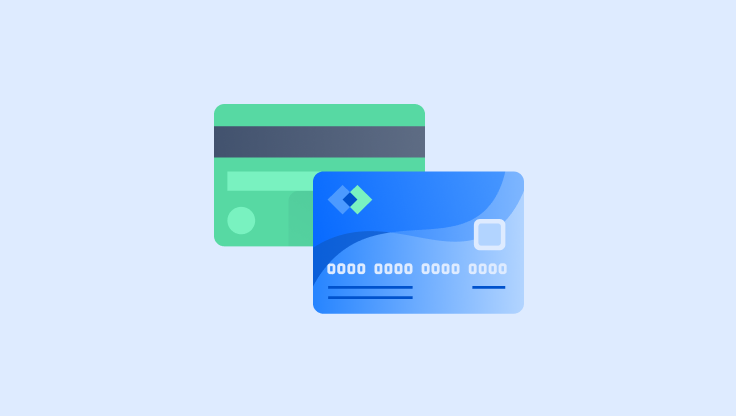 Finance service management template
Manage budget, spending, and other finance requests.
Marketing
Capture, track, and manage incoming requests in one place, from campaigns to maintenance. Quickly assign tasks to the right people and know who's working on what. Review completed requests and measure your team's performance.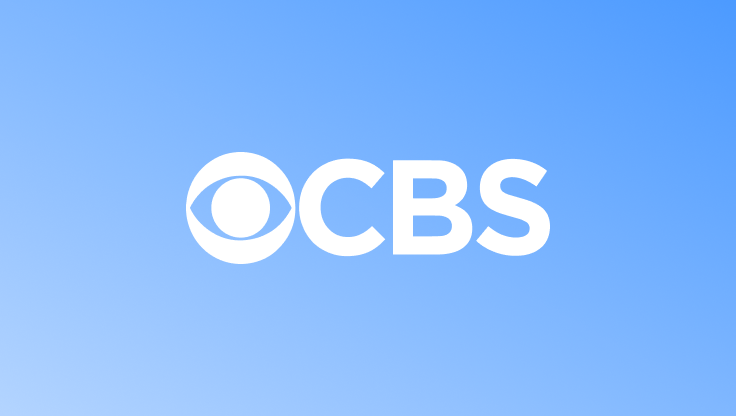 CBS customer story
Learn how CBS marketing adopted enterprise service management to streamline complex business processes.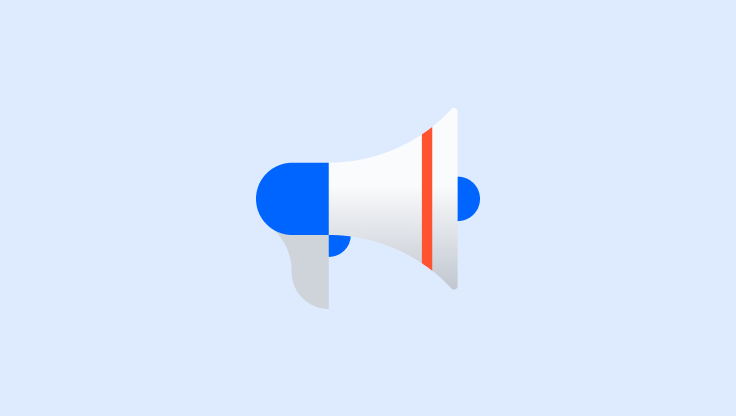 Marketing service management template
Manage and track all your marketing requests.
Facilities
Manage all aspects of your facility with a single platform, from work orders to safety compliance. Improve employee experience with real-time task tracking and notifications. Streamline your workflow with digitized work orders, maintenance requests and more.
ISS World customer story
ISS World upgraded its legacy facility management software systems to modernize their processes.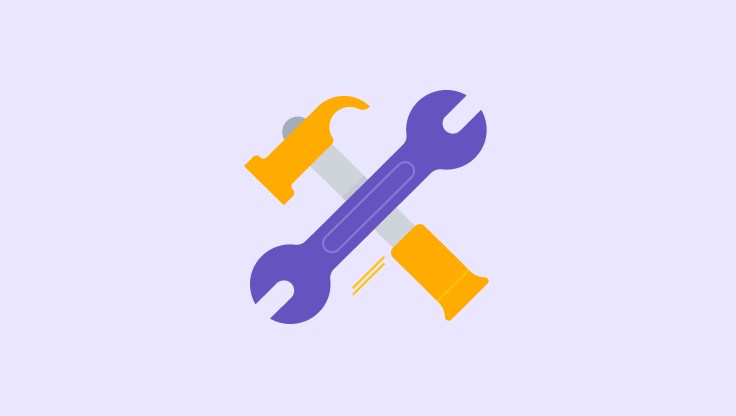 Facilities service management template
Manage requests for maintenance, moving, and event planning.
Customer Service
Deliver exceptional customer service by uniting support, development, and operations on the same platform. Make critical context visible for all teams and provide customers with fast and personalized support.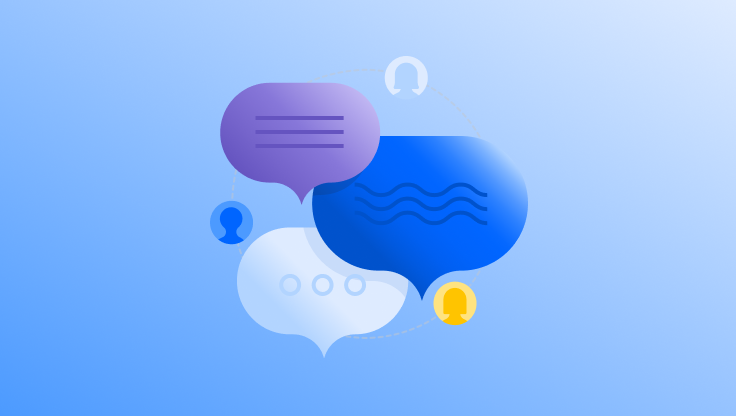 Guide to customer service management
Learn how support teams use Jira Service Management for customer service.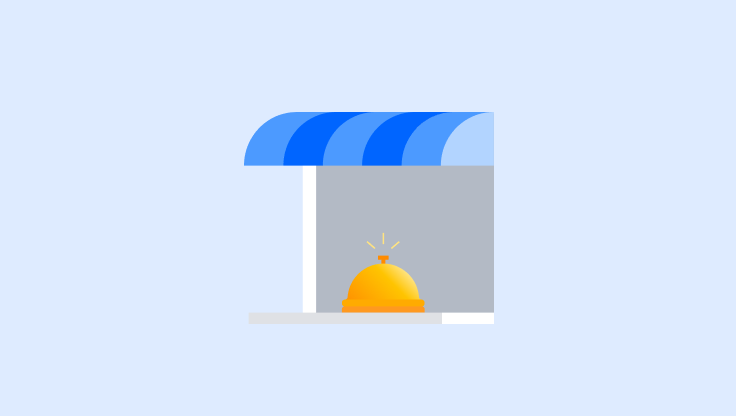 Customer service management template
Deliver great service to external customers, fast.
Jira Service Management for Business Teams
400+ forms and templates
Use pre-designed forms and customizable templates that make it easy to get started and provide service faster.
Automated workflows
Let automation do the work for you by linking related Jira tickets to provide better support, or auto-assigning issues to streamline processes.
Reporting
Full visibility across the whole organization enables business teams to make better judgement.
Knowledge management
Empower employees to find answers to common questions using a self-service portal. Leverage a knowledge base that surfaces relevant articles to deflect requests.
Delegated permissions
Democratize service management by delegating administration permissions to project owners. Increase autonomy while maintaining visibility and control.
Integrate your chat service
Capture and track tickets in Slack or Microsoft Teams, a critical operational solution across all business teams.
Learn about Atlassian's approach to business teams using Jira Service Management
Business team templates to help you get started
Give the right people the context they need to take action. Manage requests, incidents, and changes to deliver great service, fast.
All your favorite apps in one place
Neatly integrate Jira Service Management with leading third-party tools. Connect your favorites with the 5,000+ apps in our marketplace, or build your own custom apps with Atlassian's Forge.
Over 45,000 companies count on Jira Service Management
"Jira Service Management is helping to make digital transformation tangible for us. Before, people were looking at shared drives, spreadsheets, and emails. Now they see a form, a queue, and a workflow. It's tangible and easier for them to understand and see the value."
Jeff Pittman, Director of IT Operations / Jira Solution Architect at SMP, Sony Music Publishing
←
→
See what industry analysts and customers say about us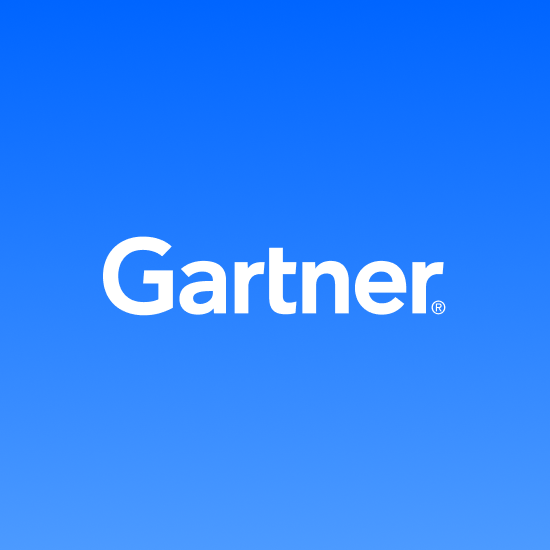 Get improved enterprise service management
Choose Jira Service Management to deliver exceptional service experiences and accelerate the flow of work.