Integrate Jira Software Cloud and Slack
Take the work out of teamwork by connecting your Jira Software cloud projects to your Slack channels to streamline conversations. It can be challenging, juggling multiple projects and information across distributed team members. Integrating Slack and Jira Software Cloud cuts down on constant hunting through documents and emails to get what you need when you need it. With Jira Cloud for Slack, it's easy to stay in sync, focus on the task, and get the right people on the job.
---
Benefits of integrating Jira and Slack
The Jira + Slack Integration is easy to set up with the Jira bot to get up and running fast. Rich notifications in your Slack channel with key information you need to act and slash commands to connect and subscribe to Jira events, manage your Jira connections and subscriptions, or get information about a specific issue.
Stay in sync and on top of work Jira notifications in Slack
Sick of having to provide constant status updates? Let Jira automatically send updates to team Slack channels, so you don't have to keep your teammates posted about every little thing you're doing. Get notified when issues get created, updated, transitioned, commented on, and more. Filter by issue type and priority so your team only sees what actually matters in your channel. Let Jira and Slack help you stay on top of your own work with personal notifications in a DM with @Jira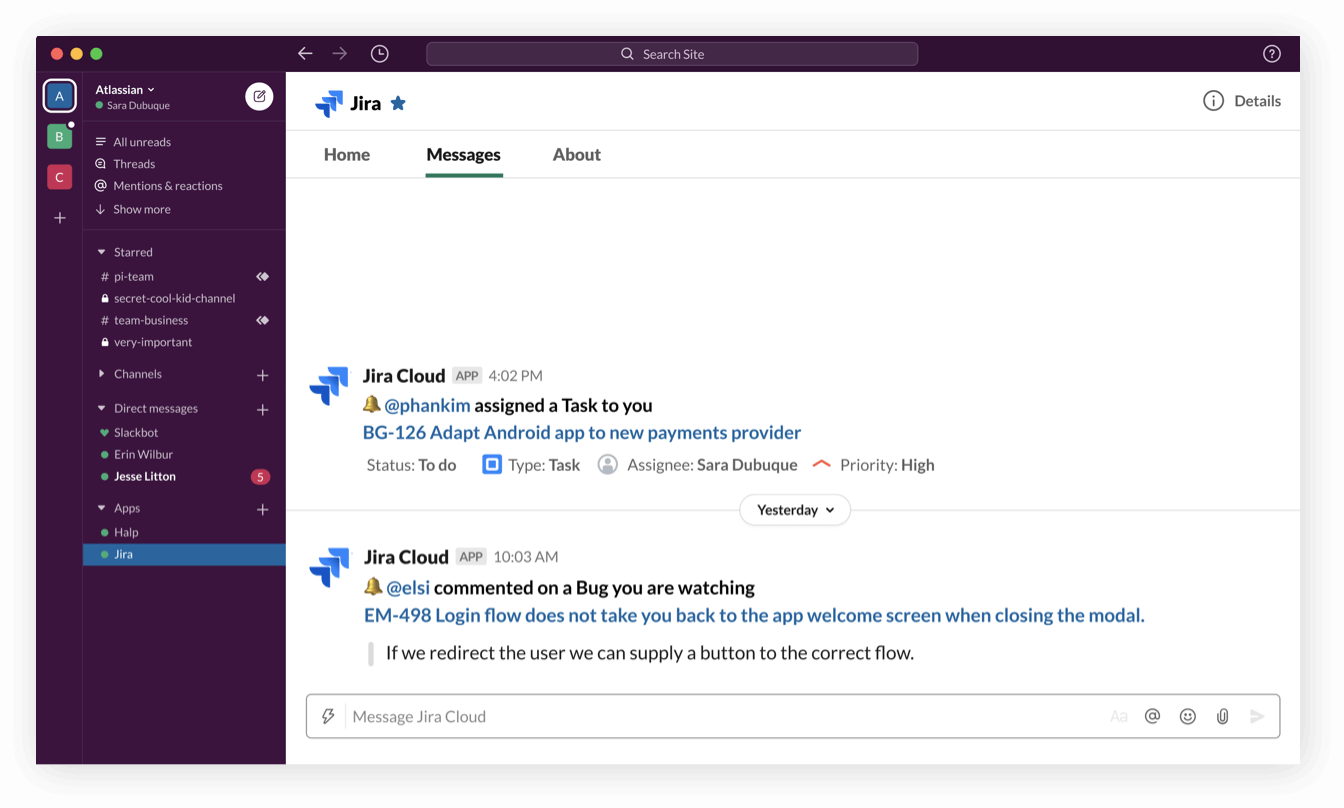 Jira issue previews in Slack
Send a link to a Jira issue or mention an issue key and @Jira will automatically show the key details to keep you focused on the conversation.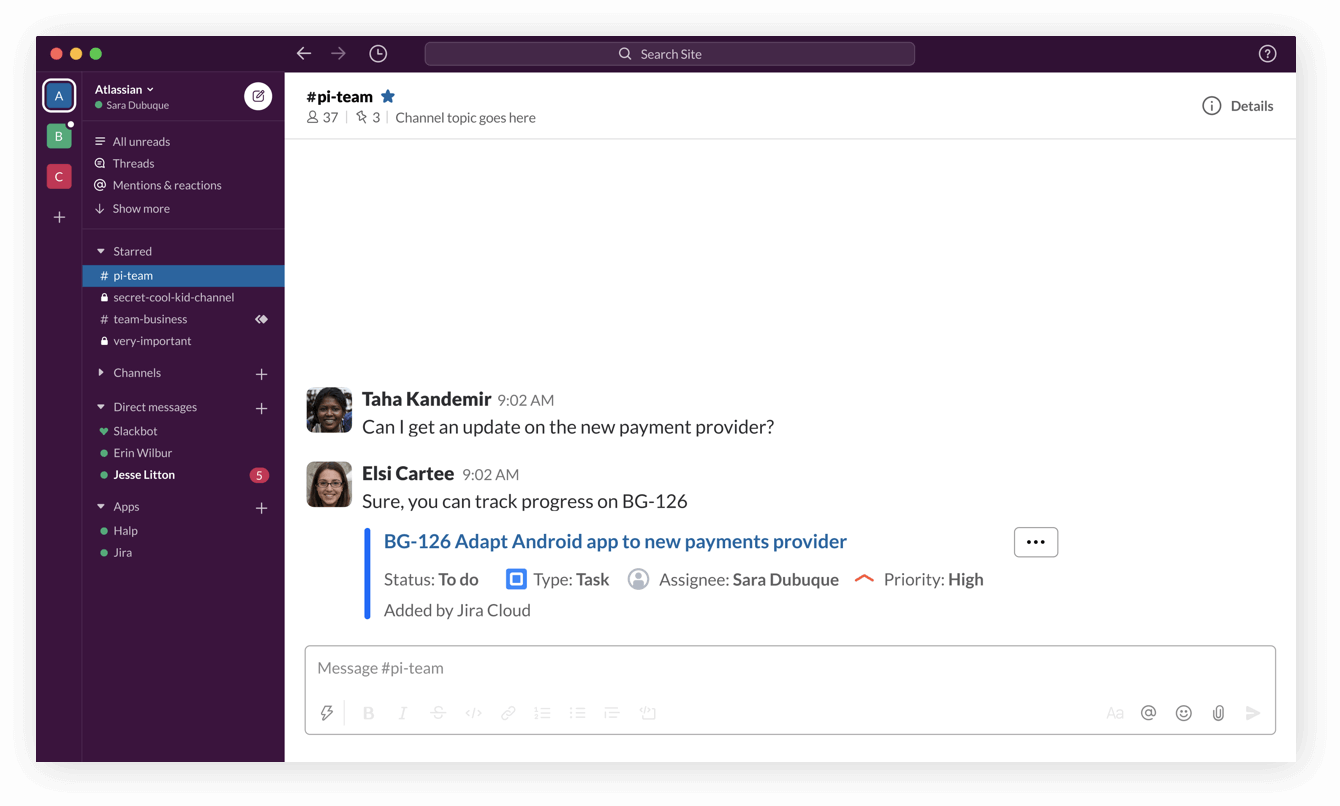 Create Jira issues right from Slack
Create Jira tickets, change ticket status, assign teammates, and more - all directly from Slack.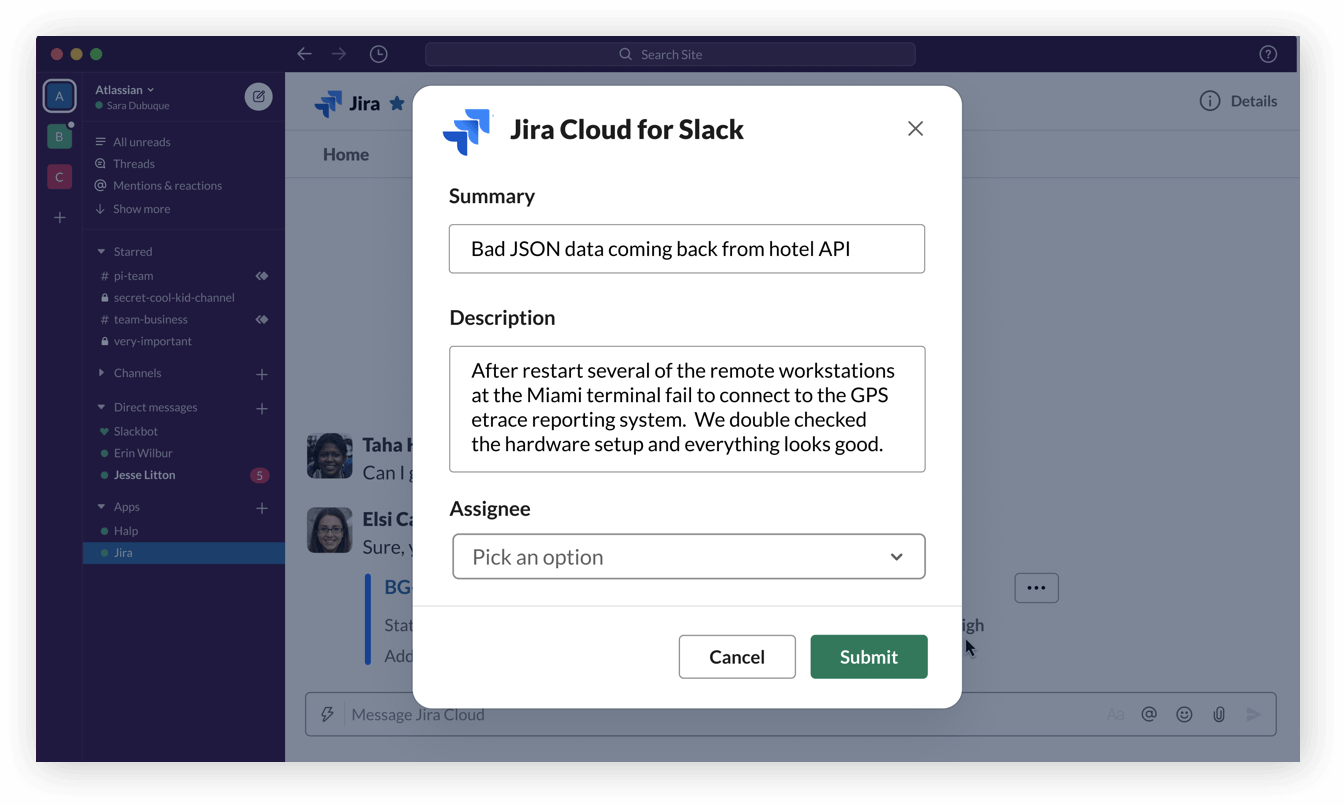 ---
Getting started: How to integrate Jira Software Cloud and Slack
Install the Jira Cloud for Slack app onto your Slack workspace. 
Log into your Jira Software account to link Slack and Jira
Once logged in, you will receive a direct message from the Jira Cloud app in Slack and will be able to connect your first Jira project to a Slack channel.
Check out the step-by-step documentation to integrate Jira Software Cloud and Slack.
Once the integration is set up, you and your team will be able to:
Personal Jira notifications in Slack - Get personal Jira notifications in Slack via a DM with @Jira to help cut down on email notifications.
Connect Jira projects to Slack - Get updates for a specific project in Slack via a DM with @Jira or in the channel of your choice.
Issue previews - Automatically send helpful issue previews whenever a Jira issue link/issue key is sent in a conversation
Create issues from Slack - Create issues in Jira directly from Slack, in the context of a conversation
Interact with issues from Slack - Transition, assign, comment on, and watch issues right from Slack.
Atlassian and Slack are committed to building deep and powerful integrations that enable teams to collaborate and iterate quickly.
See how your team can get the most out of Slack and Atlassian with 7 steps to more effective teamwork. Get the guide 
Reduce the noise with Jira automation templates for Slack
Learn how to deliver value to your customers faster by leveraging the Jira and Slack integration