How to pay
Download this information in PDF.
If you require your license urgently, please pay by credit card.
As an Australian company, Atlassian is exempt from withholding taxes in some countries like the United States. For compliance reasons, U.S. customers may wish to obtain a copy of the W-8BEN-E form; or for non-U.S. customers, the Australian Taxation Office Certificate of Residency for Atlassian.
Credit Card
Payment can be made via http://www.atlassian.com/payment.
We accept American Express (AMEX), MasterCard and Visa.
Bank Transfer
Please see your invoice for bank transfer details.
Payment is to be made in US Dollars and the full amount remitted to our bank. Please instruct your Bank or any corresponding Bank - DO NOT CONVERT. Any additional fees are the sole responsibility of your company.
ACH (Automated Clearing House) Transfers (US customers only)
Please see your invoice for ACH transfer details.
Check
COURIER TO:
Atlassian Pty Ltd
32151 Collections Center Dr.
Chicago, IL 60693
USA
REGULAR MAIL TO:
Atlassian Pty Ltd
32151 Collections Center Dr.
Chicago, IL 60693-0321
USA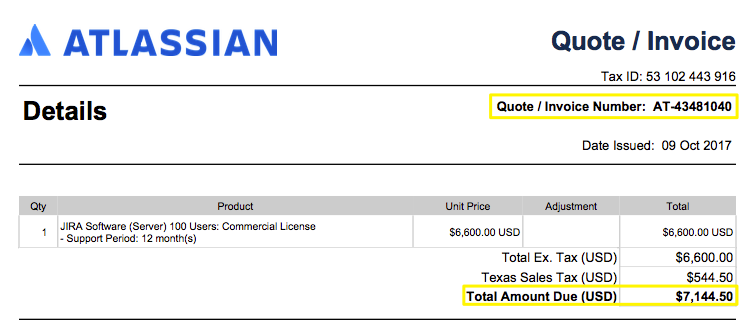 Access to your license key(s) and any applicable source code is provided only after the successful receipt and processing of your payment.
Atlassian operates on 0-Day/Cash payment. Our product license keys are non-retractable and allow source code access; therefore, we can only release the keys once we have received full payment. Once payment is received, a confirmation email will be sent including instructions on accessing the license key and any applicable source code are provided in the confirmation email.
We provide free, fully functional evaluation licenses for at least 30 days before purchase, allowing you to see and use Atlassian software before you proceed with a purchase. Atlassian provides a fully functional version of each Atlassian software product for evaluation. What you'll be using during your evaluation is what you'll be getting when you buy. Once the commercial license key is released they can be copied into your systems and will retain all settings, users, and data.