Project charter vs. project poster: What's the difference?
What is a project charter?
A project charter document is a high-level document that outlines the purpose, goals, and scope statement of a project. It serves as a formal authorization for the project to begin and sets the foundation for project planning and execution. The project charter usually includes key information such as:
Project title: A brief, descriptive name for the project.
Project purpose or justification: The reason why the project is being undertaken and its expected benefits.
Project objective: Specific, measurable goals that the project aims to achieve.
Project scope: A description of project requirements, what is and is not included for the project.
Project deliverable: The tangible products or services that the project will produce.
Project stakeholder: A list of the individuals or groups who have a vested interest in the project, such as customers, sponsors, and team members.
Project timeline: A high-level overview of the project schedule, including major milestones and deadlines.
Project budget: An estimate of the resources needed to complete the project, including costs, staff, and other resources.
Overall, project charters provide a common understanding and agreement among all main stakeholders and sponsors about the project's purpose, scope, and expected outcomes. It also serves as a reference point throughout the project management process to help ensure that the project remains on track and meet your objectives.
What is a project poster?
A Project Poster is a project planning tool that allows your project team to think through the problem you're trying to solve, the possible solutions, and what the ideal end result of your project will be. A project poster isn't something you do all at once. Instead, it's a document that will serve as a project overview, and you'll update it as you and your team make progress in their research and project activity.
Why is a project poster important?
A project poster is where your team's project planning begins. Ultimately, it helps you reach conclusions around which solution to pursue, an idealized project vision of what you'll deliver, and what it'll take to deliver it.
Practically speaking, it answers key questions that include:
What problem are you solving?
Why does it matter that you solve this problem?
What are the goals and objectives of the project?
What do you know and what information are you missing?
What are potential solutions?
What is the difference between a project poster and a project charter?
Unlike project charters, your project poster is a living document. Update it as you explore your problem space, challenge assumptions, validate solutions, gather feedback, and course-correct before you move forward.
The poster is split into 3 parts to support the evolution of your project:
Problem space – This is your project statement. Explain why solving this problem matters to customers and to the business. Get clear on your project goal and possible solutions.
Validate assumptions – Identify knowledge gaps and risks. What do you know and what do you need to find out? 
Get ready to execute – Visualize the solution, and put a project plan into place.
Here's an example of a project poster: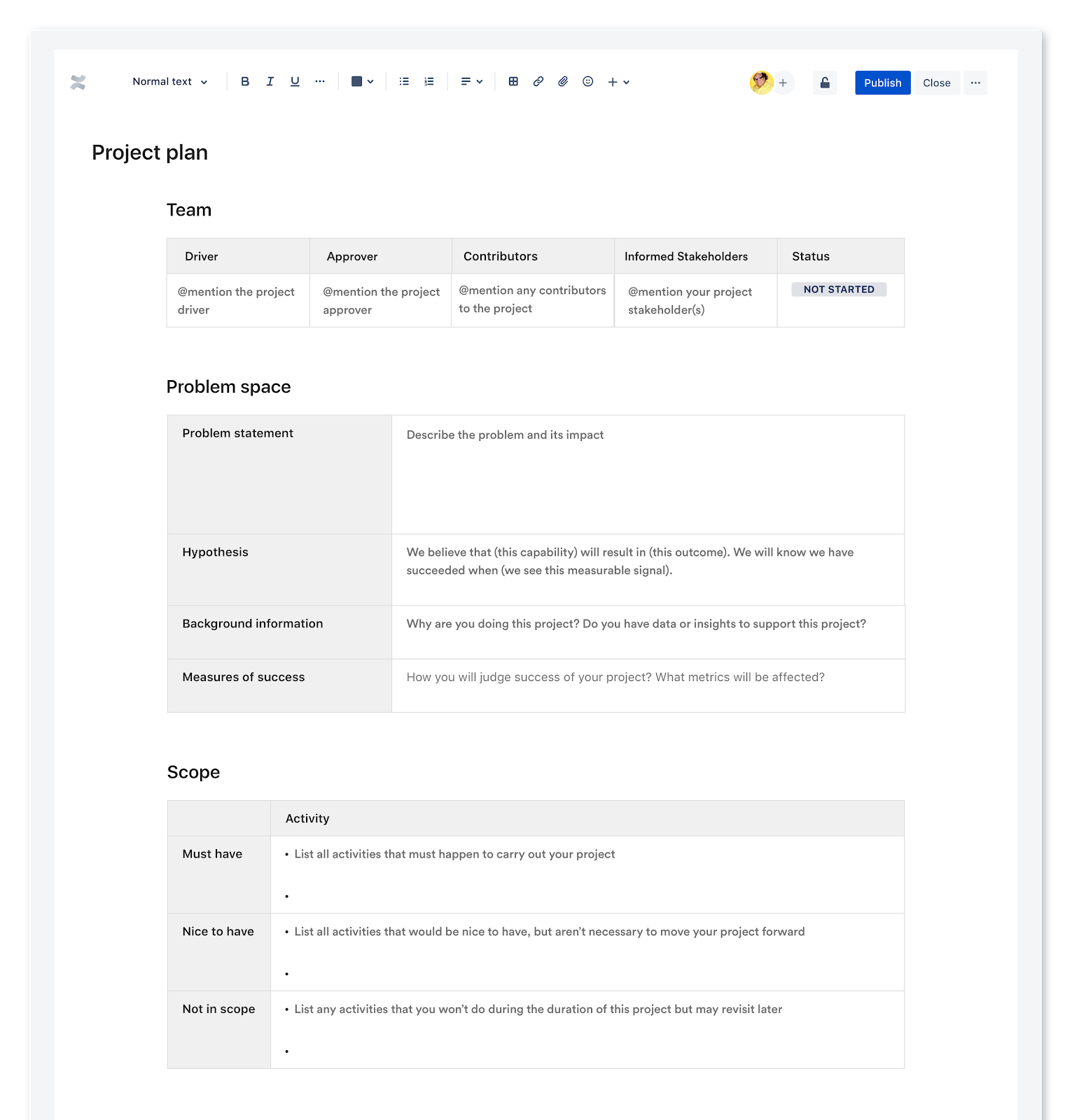 Tips for writing your project poster with Confluence
To set up your entire team for project success, use the project poster template to run the Project Poster Play. The Project Poster helps you validate assumptions and understand the problem you're solving for. When you're done, all the need-to-know details will live in this simple, collaborative document so that everybody can easily understand the context and business case for your project.
In the kick-off session, focus on defining the problem and setting your project goals. Then share it with your project sponsor as early as possible to get their feedback, which you'll incorporate in future sessions as your project develops. 
How to use the project poster template
Step 1. Start with the basics
Let's kick things off with the easy stuff. The top section of the template is a space to fill in information like the project owner, team members, current status, and a brief description of how this project fits into your larger strategy. Typically, as the project initiator, a project manager will complete this portion.
Step 2. Define your problem space
Carefully think through the problem that you're trying to solve before you get into the details of your actual project. This helps you capture the project's reason for being.
What's the problem? How does it affect your customers or your team? How will you know you've solved it? What are some possible solutions that immediately come to mind?
Those are the types of questions you'll think through and record here. Don't rush through this. You'll probably revisit this section several times before moving forward with your project, and you might even need to make some adjustments as you collect more feedback and insights. That's normal and all a part of the learning process.
Step 3. Validate your assumptions and get the creative juices flowing
You likely made a lot of assumptions as you were defining your problem. The next section of the template gives you room to test them against facts and numbers.
There are two sections involved here: one where you'll list what you already know and one where you'll jot down the questions you still need to answer.
For example, imagine that you're planning to redesign your company's blog to be more user-friendly. Perhaps you already know that 56% of visitors leave your blog after reading a single post. That would go in the first slot of the validation section. But you also want to find out what would keep them on your site longer. That goes in the second slot of this section.
Keep in mind that your goal here is to confirm or disprove the solution you brainstormed before you go any further. If you can't confidently do that yet, you might need to head back to your problem space or think through other possible solutions.
Step 4. Get to work
This final section is where you'll kick things into high gear. You've already gone through the hard work of defining your problem and picking a validated solution. Use this final section to explain the solution and summarize why a customer will want this. Add notes and type /image to add screenshots and sketches. There's also space to define your scale and scope, such as the team size you'll need.
Hashing all the details out now will help you stay focused on what really matters and ensure that the project doesn't expand beyond your capabilities or capacity.
Step 5. Include reference materials
You want your project plan to be the one-stop-shop for all of the important information related to that project. Type /link to include any reference material that people might need. Whether it's a creative brief or an example you want people to refer back to, add everything to this page so that it's organized and easily accessible.
You may also like
---
Project poster template
A collaborative one-pager that keeps your project team and stakeholders aligned
Project Management templates collection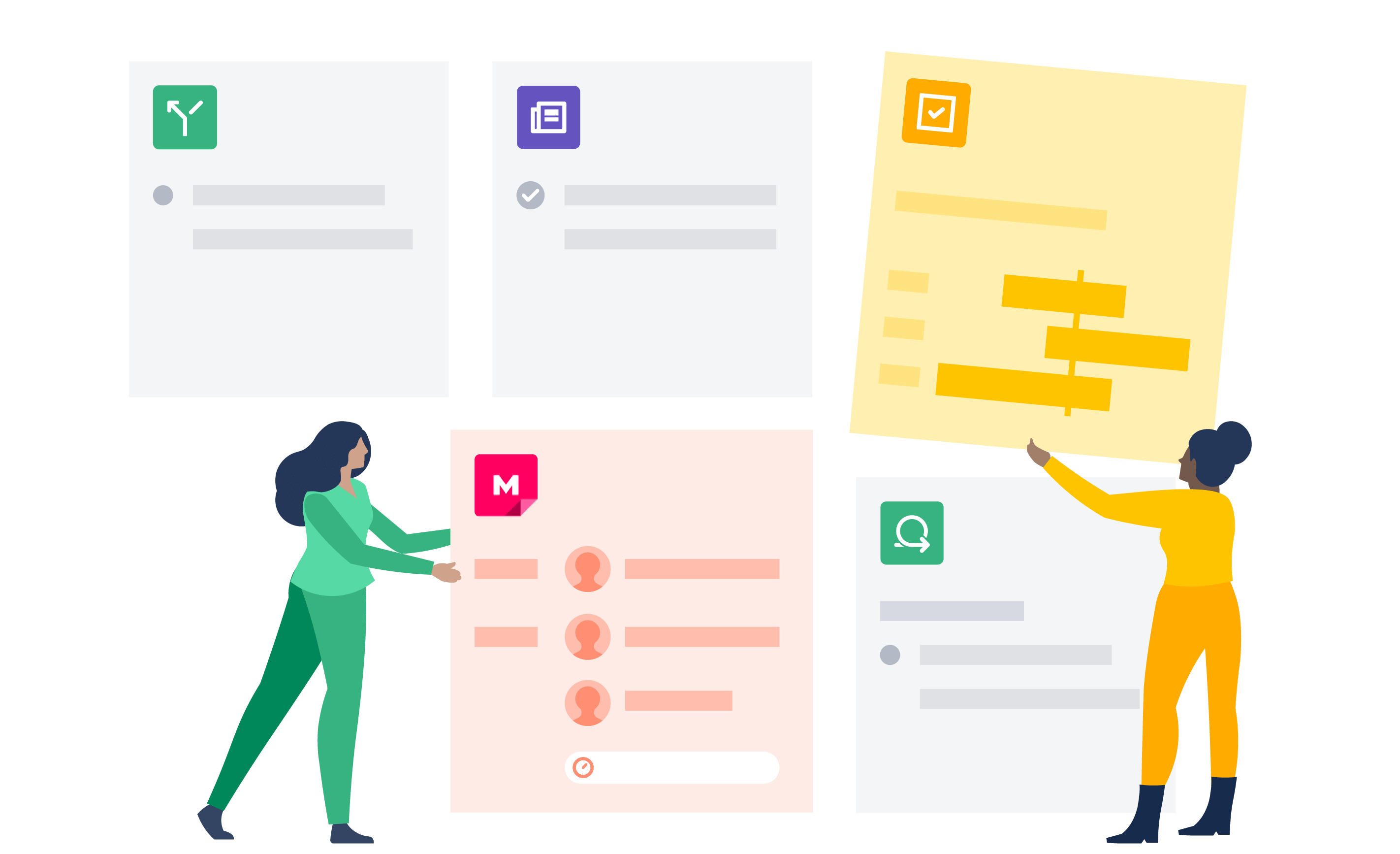 Use this collection of Confluence templates to create and execute a project
Enable faster content collaboration for every team with Confluence