Jira Work Management vs. Jira Software: What's the difference and which should you use?
You've heard of Jira, but did you know there are different Jira products?
Of course! They're all part of Jira Software, right?
Well, not exactly.
Jira products are all designed to help teams collaborate, align, and deliver work in one place. They're part of the Atlassian family and built on Jira, which means they all connect to bring your entire organization together. But different products support different teams and their preferred ways of working.
Take Jira Software and Jira Work Management. These powerful Jira products support collaboration between your software and business teams. Think of it like Jira for software teams and Jira for business teams.
So what's the difference between these two products and how do you choose the right one for your project? We'll explain how to use these products separately and together to connect your teams and turbocharge your project management at scale. Here's what we'll cover:
---
How does Jira Work Management differ from Jira Software?
The comparison chart below shows the shared and unique features of Jira Work Management and Jira Software. Let's break down these differences from project and task creation to collecting information, moving work forward, and reporting.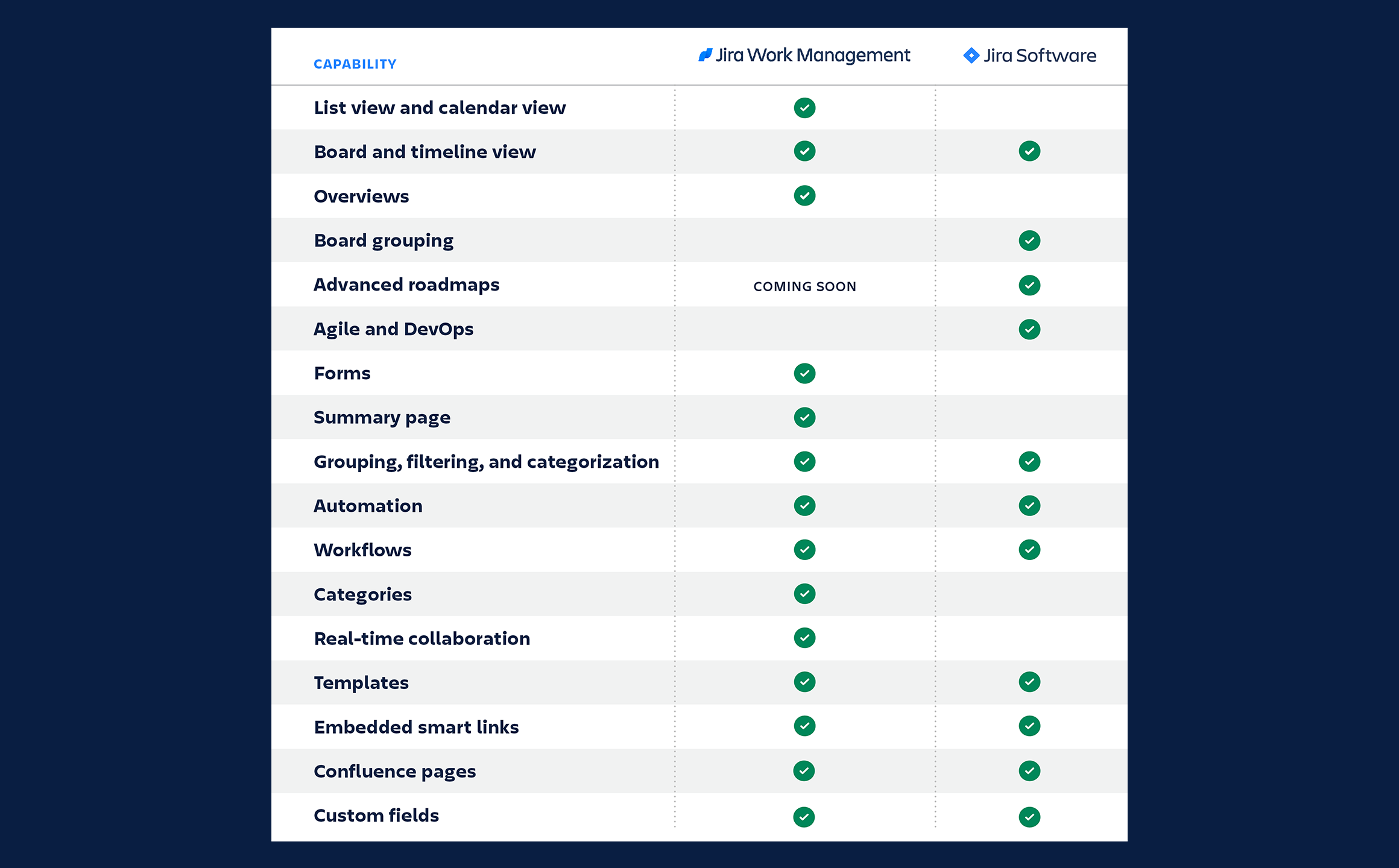 Setting up projects
With Jira Work Management, projects can be populated quickly and easily using one of 20+ business templates with pre-configured workflows. These workflows support common processes for different business teams, from employee onboarding for HR, to GTM for Marketing, and procurement for finance. The steps in the workflow are customizable, so teams have the flexibility to build out their exact process.
Jira Work Management
Project management
Manage activities for completing a business project.
Jira Work Management
Campaign management
Drive a marketing campaign from idea to execution.
Jira Work Management
Web design process
For designers, developers, and marketers to track web design tasks.
Jira Software is also used for project management, but it's purpose-built for software teams, who rely on agile ways of working. Users create software projects, which support agile methodologies like backlog, sprints, and scrum. There are four Jira Software templates with preconfigured workflows to choose from: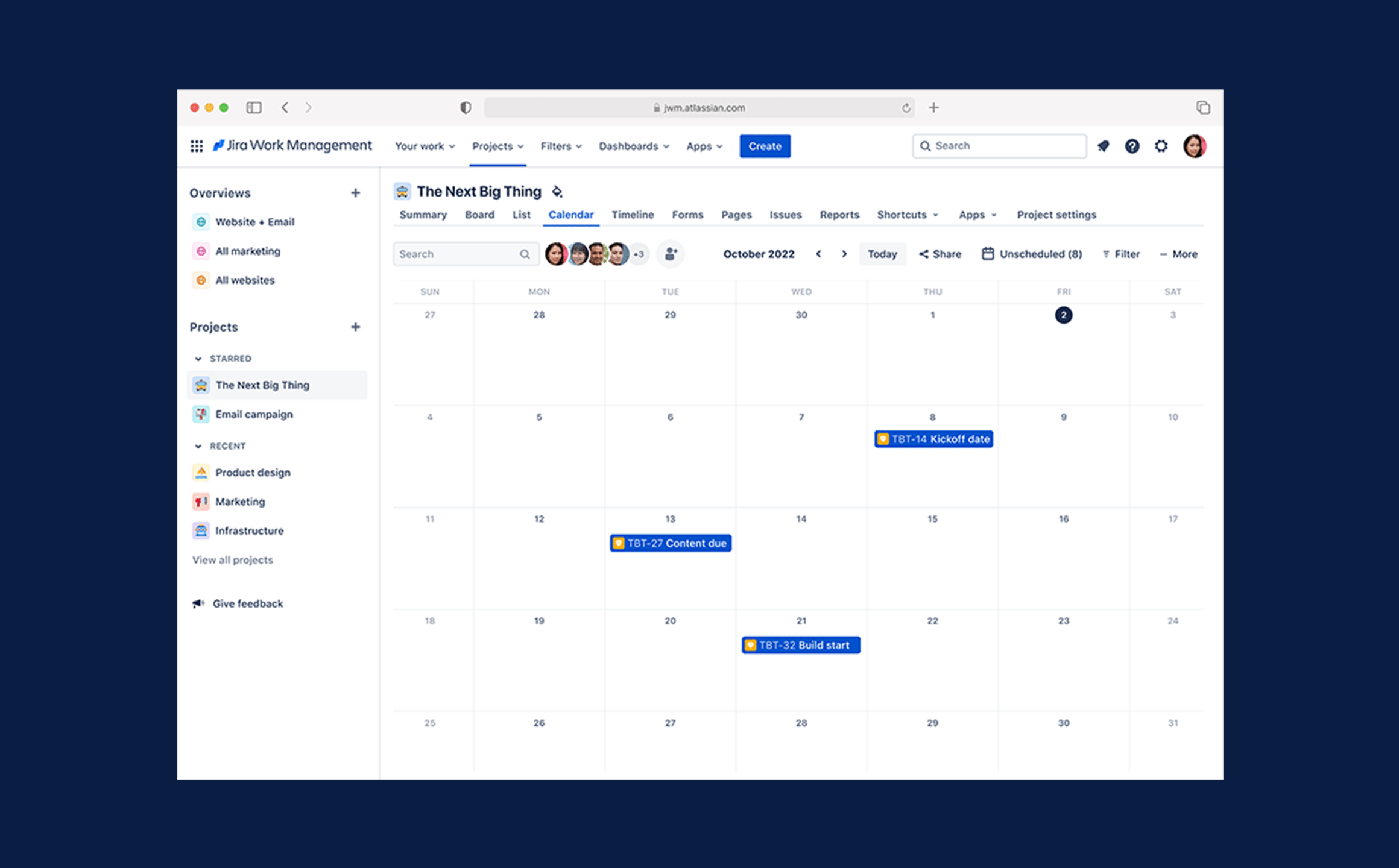 Creating and viewing tasks
Within Jira Work Management projects, users create issues, or items of work. There are different views, so teams can visualize tasks more easily and match their preferred way of working.
Searching for a clear visualization of all the tasks on your plate? The board is a great place to start.
Organizing tasks and deals to make your monthly sales quota? Try the month-by-month calendar view.
Used to tracking and ordering office inventory in a spreadsheet? Check out the familiar list view.
Want to see how your team is making progress on a project? Look at the summary page first.
Need clarity on all the dependencies in your website launch? The timeline view shows this.
On Jira Work Management Premium, you can also see a summary, calendar, and timeline of multiple business projects in one place — with an overview.
Jira Work Management supports business teams tackling projects together. With collaboration mode, team members can see each other's activity in the project in real time. This makes creating tasks, assigning ownership, aligning on due dates, and building dependencies much more efficient.
Jira Software projects, on the other hand, are centered around sprints and users view tasks in either a board or timeline.
Teams that practice scrum use the backlog to house all the team's issues for a project and use the board as a visual display of the team's work process during a single sprint.
Teams that practice kanban use the board to visualize, track, and manage a continuous delivery of work.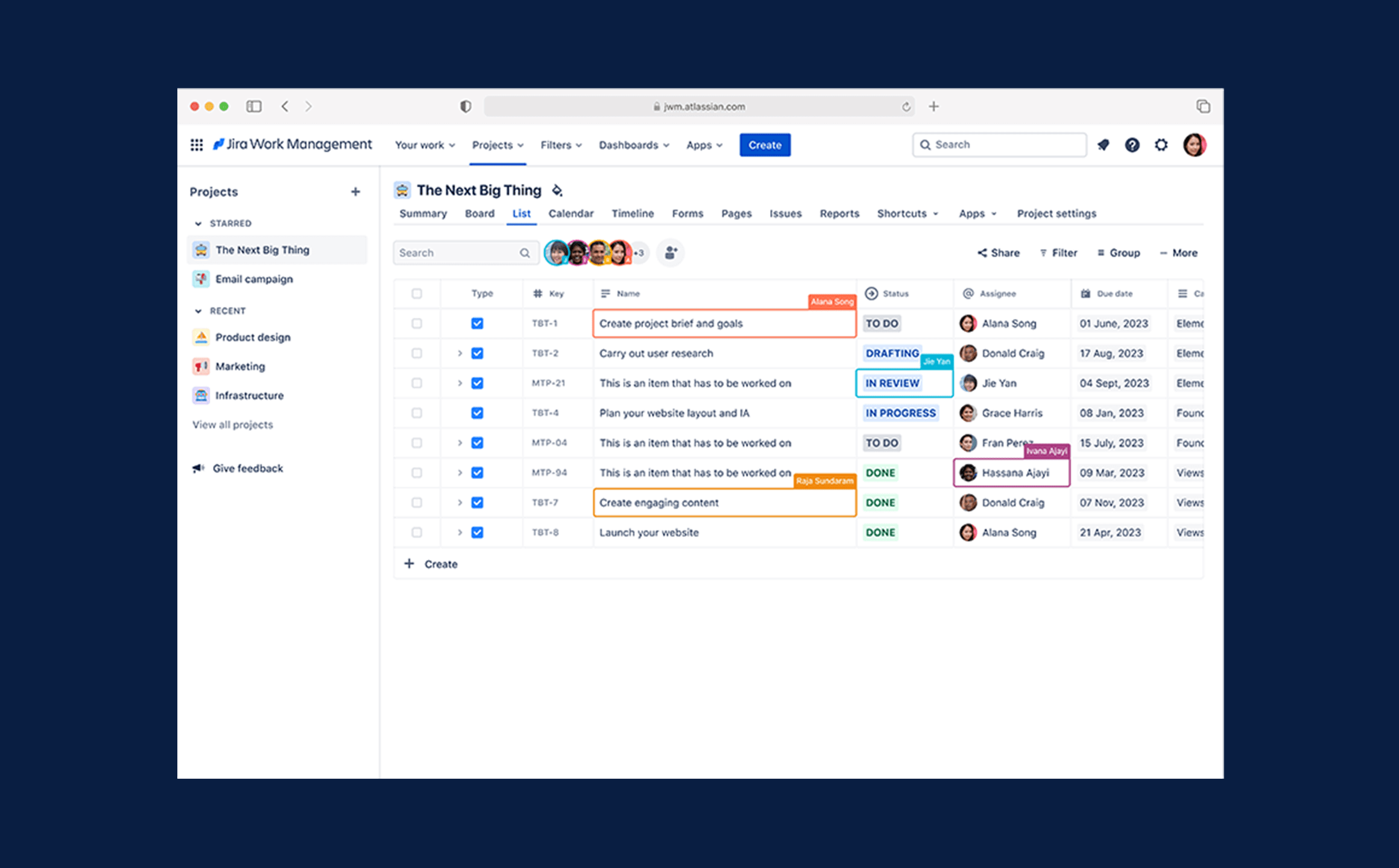 Gathering information for tasks
If teams need to collect information from other departments to do their work, they could be wasting time searching through emails and waiting on all the critical details to get started.
Forms in Jira Work Management help teams collect everything from sales enablement to creative requests. Information is tracked and stored in one place and teams create a repeatable process for future requests.
Moving work forward
With Jira Software, teams can move in an agile way using Jira Software's key features. Components and code repositories help teams stay organized by grouping and tracking dev work. Releases make it easy to check that issues in the version are complete before turning all the hard work into a software release.
Embedded smart links are available in both products, so teams can embed files from tools like Figma, Google Drive, and Miro directly into their tasks. Everyone can see real-time progress and leave feedback in the same space. Need to create more documentation? Both products include Confluence Pages, which allow you to add more context to the project without making anyone leave the workspace to read it.
Jira Work Management and Jira Software also share a powerful automations library that helps teams eliminate tedious manual actions. Automations, like closing out tasks and sending project updates through Slack, make everyone's life easier, no matter what team they sit on.
Reporting
The Summary page in Jira Work Management gives a helpful overview of task completion, upcoming deadlines, and team activity. This helps individuals manage their own workload, while managers can quickly see their team's progress and bandwidth.
Overviews in Jira Work Management let you generate lightweight reports that span across business projects. Have multiple cross-team initiatives laddering up to one goal? Use an overview to report on progress, manage deadlines, and track cross-functional dependencies.
Both Jira Work Management and Jira Software offer a range of reports to analyze issues, track time, and understand workloads within individual projects. Jira Software includes agile reporting, such as sprint reports, burndown charts, velocity charts, and control charts, to optimize sprints.
Advanced Roadmaps will also be available on both products to give users a clear visualization of boards, projects, and filters across multiple teams for more insights. Users can see all the dependencies and due dates that exist to report on progress, plan capacity, and test variations of the critical path.