Unlock the agility of your marketing team
Simplify processes, reduce busywork, and lay out clear goals and plans with Jira Work Management—so you and your teams can create memorable campaigns.
Join the 100,000 customers worldwide who trust Jira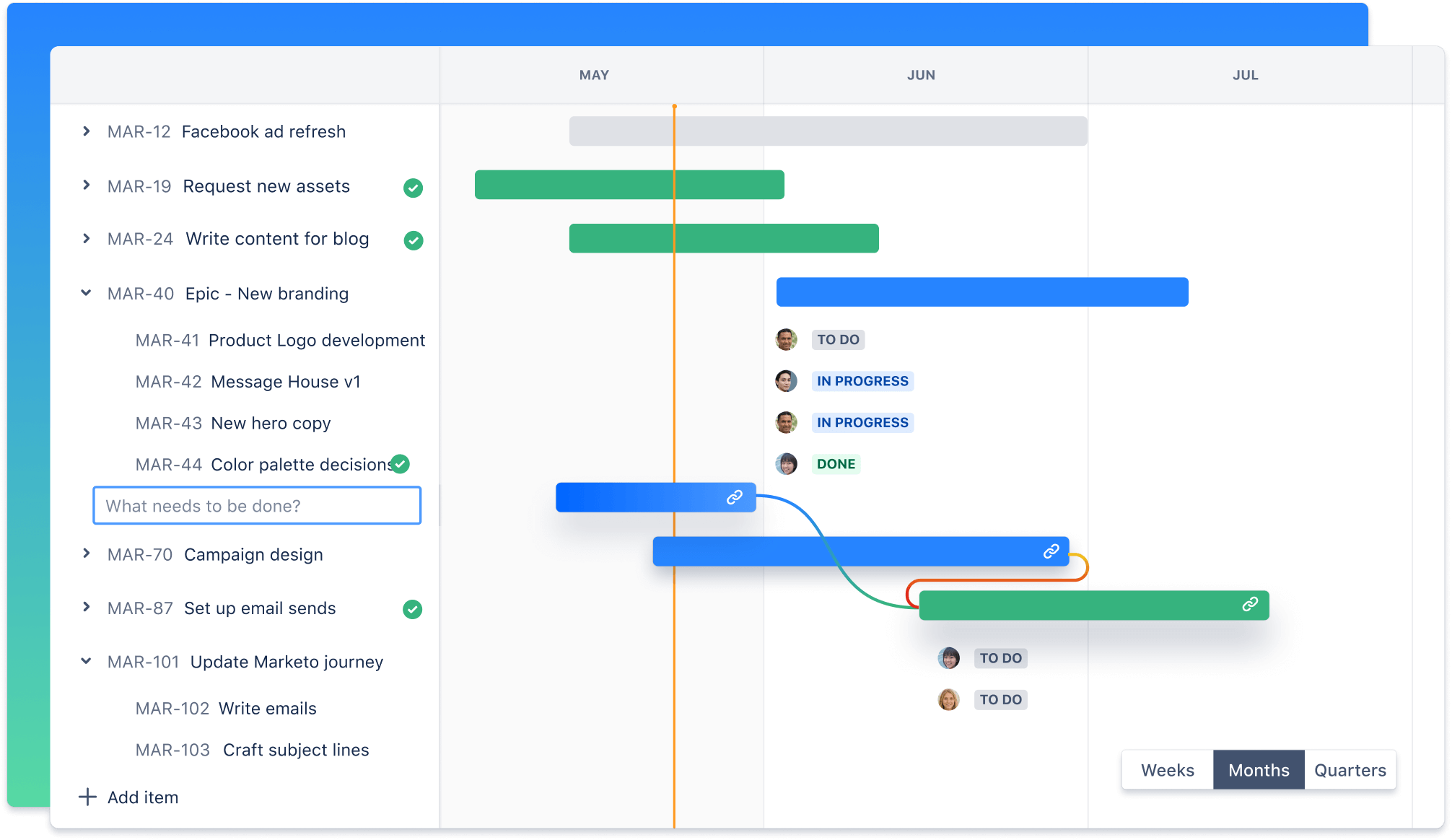 Plan complex campaigns in one place
Map dependencies, track progress, and make decisions quickly with our timeline view. Whether it's stakeholders or team members, now everyone can stay on top of important milestones.
Stay aligned all the way through launch
Keep an eye on deadlines and deliverables with our calendar and board views. It doesn't matter if you're launching next week or next year — get better results than ever before.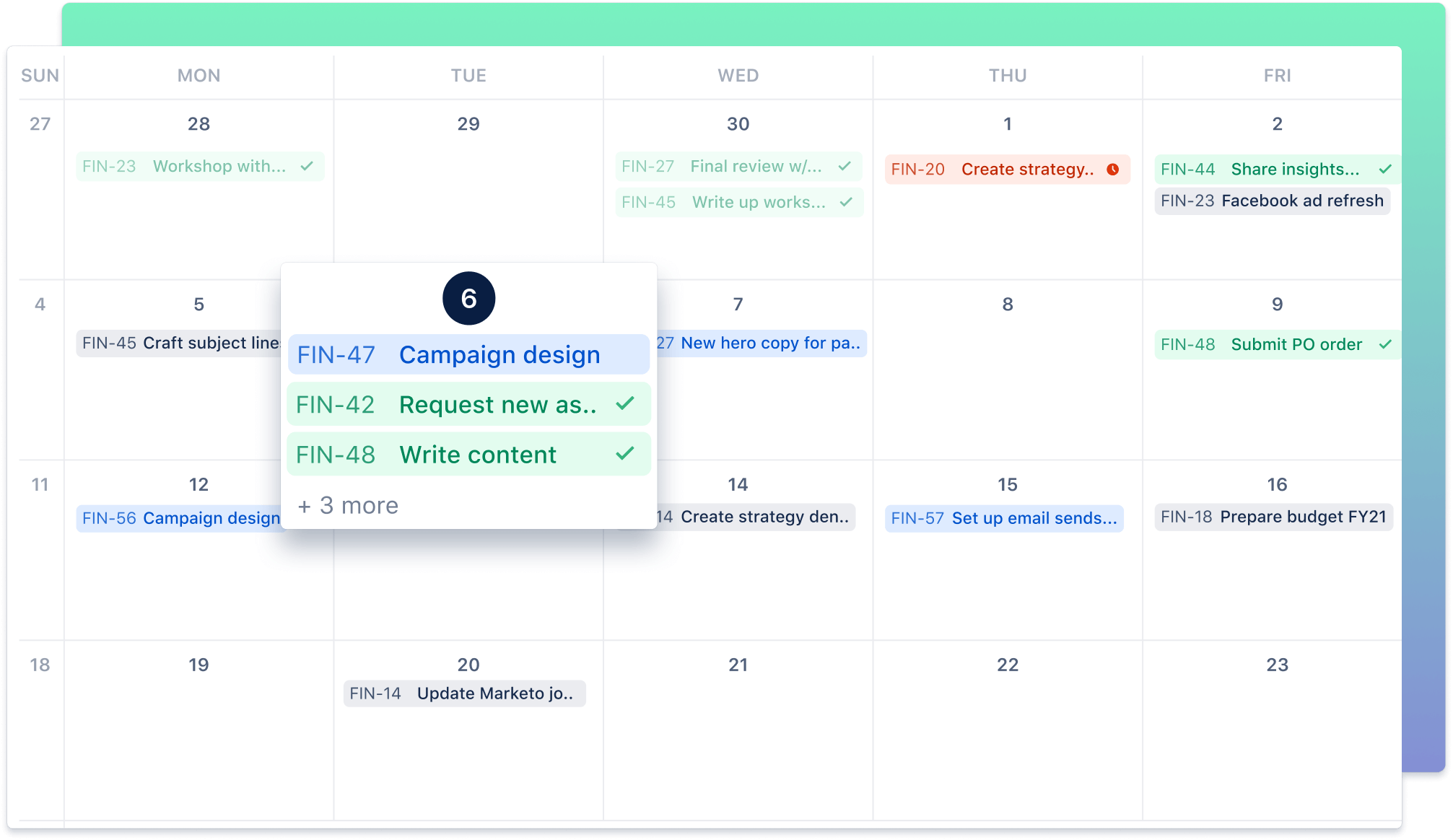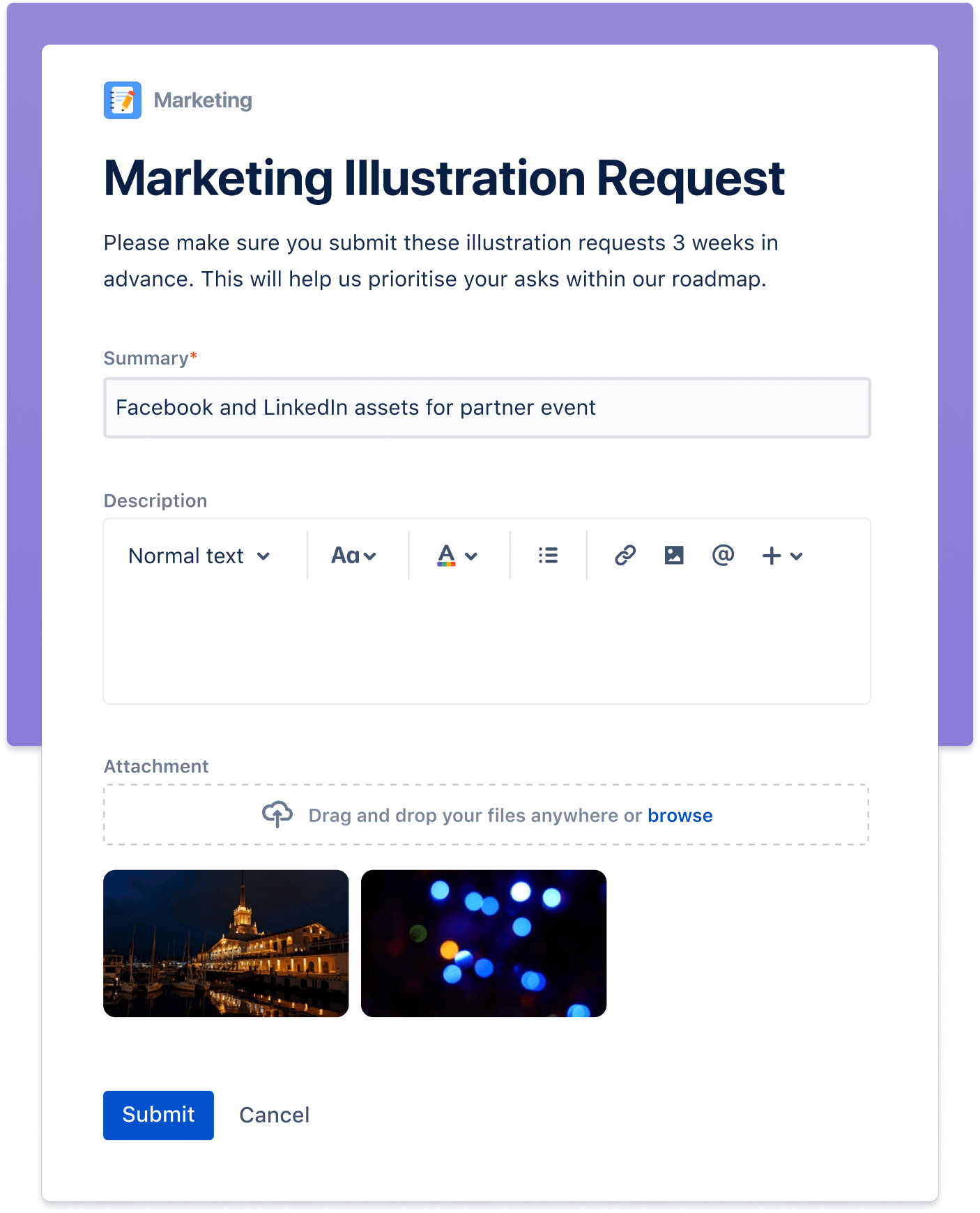 Collect simple work requests
No matter what your big campaign needs, funnel all your requests into one project with our simple drag-and-drop form builder. It's never been easier to collect all your work into a single place.
Use cases
No matter the marketing process, we've got you covered
Launch campaigns, write new copy, and continuously improve performance with Jira Work Management's customizable workflows. It's an all-new way to keep your marketing teams in sync.
Automation
Put your projects on autopilot with automation
Unlimited, free actions within projects mean you're free to focus on what matters. Create your team's custom rules or get started quickly with our pre-made favorites. Focused on privacy? Our audit logs come standard.
INTEGRATIONS
Bring your favorite tools together
Instead of context-switching between platforms, neatly integrate your tools with Jira Work Management. 
Miro
Add sticky notes, docs, images, or videos on your Miro boards directly from any Jira issue with the Miro add-on.
Figma
Embedded Figma files streamline project communication, simplify handoff, and eliminates finding and maintaining the latest design files.
Contentful
In the Contentful Web App, editors can see which Jira issues correspond to the current entry and preview the issues in the sidebar.
The URL is dead, long live the Smart Link
The era of static URLs is over — Smart Links are here and enabled by default. View live Facebook and Google ad data, embed Figma or InVision files, watch Youtube videos, edit Google Sheets, and take actions for 30 other top providers with a single copy/paste.
Craft campaigns quickly
Start fast, learn fast — we help marketing teams work better
Dynamic reports and dashboards
Follow the status of your team's projects via high-level overviews, customized dashboards, or 30+ reports. Discover bottlenecks and continuously improve.

Templates for marketing teams
20+ new project templates make it easy for every team and department to get started instantly, with no set-up required.