Server to cloud migration guide
Use our step-by-step migration guide for resources and best practices to ensure a successful move to cloud
---
Phase 1: Assess
The first phase in our journey is the Assess phase. This is where we take stock of our current landscape, understand the differences between cloud and self-hosted deployments such as features, maintenance, and costs, and evaluate whether cloud is the right fit for your business.
Compare cloud vs server
In this section we'll review the key things to consider when comparing deployments to ensure we're making the right decisions and avoid surprises later on.
---
What sets cloud apart
Cloud isn't just a different deployment. It's a new way of working that includes differences in features, how users and sites are managed, ownership of security and compliance, and costs. Review this deployment comparison table to understand the high-level differences between cloud and self-hosted.
To dive into feature and function differences between cloud and server by product, click into our documentation below:
---
Deployment and administration
Unlike our on-premise products that require your time and attention for maintenance, upgrades, hosting, and more, our cloud products are hosted, setup, secured, maintained, and updated by Atlassian - taking the administrative burden off of your team. You'll always have access to the latest features, improvements, and security updates without the need for manual version upgrades. This frees up time for admins to focus on strategic work such as:
Building strong partnerships with SaaS and third party vendors to execute on IT strategy
Managing and effectively scaling cloud infrastructure
Developing more business focus by supporting the tech stack of different departments throughout the org
Proactively anticipating software needs of teams and company to support larger goals
---
Cloud security and compliance
We take data security, privacy, and compliance very seriously at Atlassian. Instead of the onus being on admins, it's our responsibility to stay on top of the changing regulatory and compliance needs across the globe, so no matter where you're located, your data is safe. The security and compliance benefits we offer out-of-the-box include encryption in transit and at rest, built-in coverage for SOC2, ISO 270001/27018, GDPR, and more. You can also easily enable SAML SSO, SCIM user provisioning, and Active Directory sync through a central hub. To dive deeper into our certifications and how we're keeping your data secure, visit the Atlassian Trust Center.
---
User management and Atlassian Access
When managing users in cloud, creating an organization and verifying your domains give you a centralized view of all users at your company across multiple cloud sites and Atlassian cloud products. This will also give admins more control with the ability to implement security policies across claimed user accounts.
To get additional enterprise-grade security and centralized administration, we've built Atlassian Access, which works across the entirety of your Atlassian cloud products with a single subscription. Some considerations for evaluating whether you need Atlassian Access:
Does your company have security requirements around cloud applications?
Do you need SAML SSO for streamlined access and authentication?
Do you need automated user lifecycle management connected to your internal directory?
Access allows for scalable governance with features like user provisioning, SAML SSO, Active Directory sync, enforced 2FA, API token controls and more. We recommend migrators evaluate whether or not they need Access as early as possible to get a full understanding of their cloud landscape.
---
Cloud plans and pricing
Evaluating cloud pricing requires reframing how you may have thought about software costs in the past. For starters, cloud offers either monthly per-user-pricing or annual subscriptions. Monthly subscriptions are charged based on the exact number of licensed users on the product each month. Annual subscriptions are charged based on the user tier you fall into, and are offered at a reduced rate.
Atlassian also offers a range of pricing plans that were built to meet the needs of all types of teams:
Standard

User limit

< 10 users

up to 20,000 users

up to 20,000 users

up to 20,000 users

Features

Core product features

Full cloud capabilities

Standard +

Unlimited storage

99.9% uptime SLA

Premium Support

IP allowlisting

Sandbox Coming Soon

Bundled releases Coming Soon

Archiving

Automation

Admin features


Premium +

Unlimited instances

99.95% uptime SLA

Data residency

SAML SSO

User provisioning

Org audit log

Enterprise support

Technical advisor

Access
To dive deeper into the features included in each pricing plan by product, visit our pricing pages below:
But what goes into the actual pricing? At first glance, cloud might seem more expensive. But when you think about the hidden maintenance costs of server, and the fact that Atlassian takes on the responsibility of managing your software, your long-term costs turn into savings as your teams reduce IT overhead, maintenance, hardware costs, and more. Hidden maintenance costs can include:
Servers or hosting fees
Server support
Software renewal/licensing (and over-licensing)
Downtime, outage, and failure expenses
Security, compliance, and asset management
Admin resources allocated to maintenance
With all these items off your plate, your cloud bill gets knocked down to just your subscription fee and administration. Use our cloud savings calculator to understand the costs associated with your self-managed license, and estimate how much it would be to transition to cloud. We've also built a personalized calculator to give you a side by side view of costs based on the server products you own.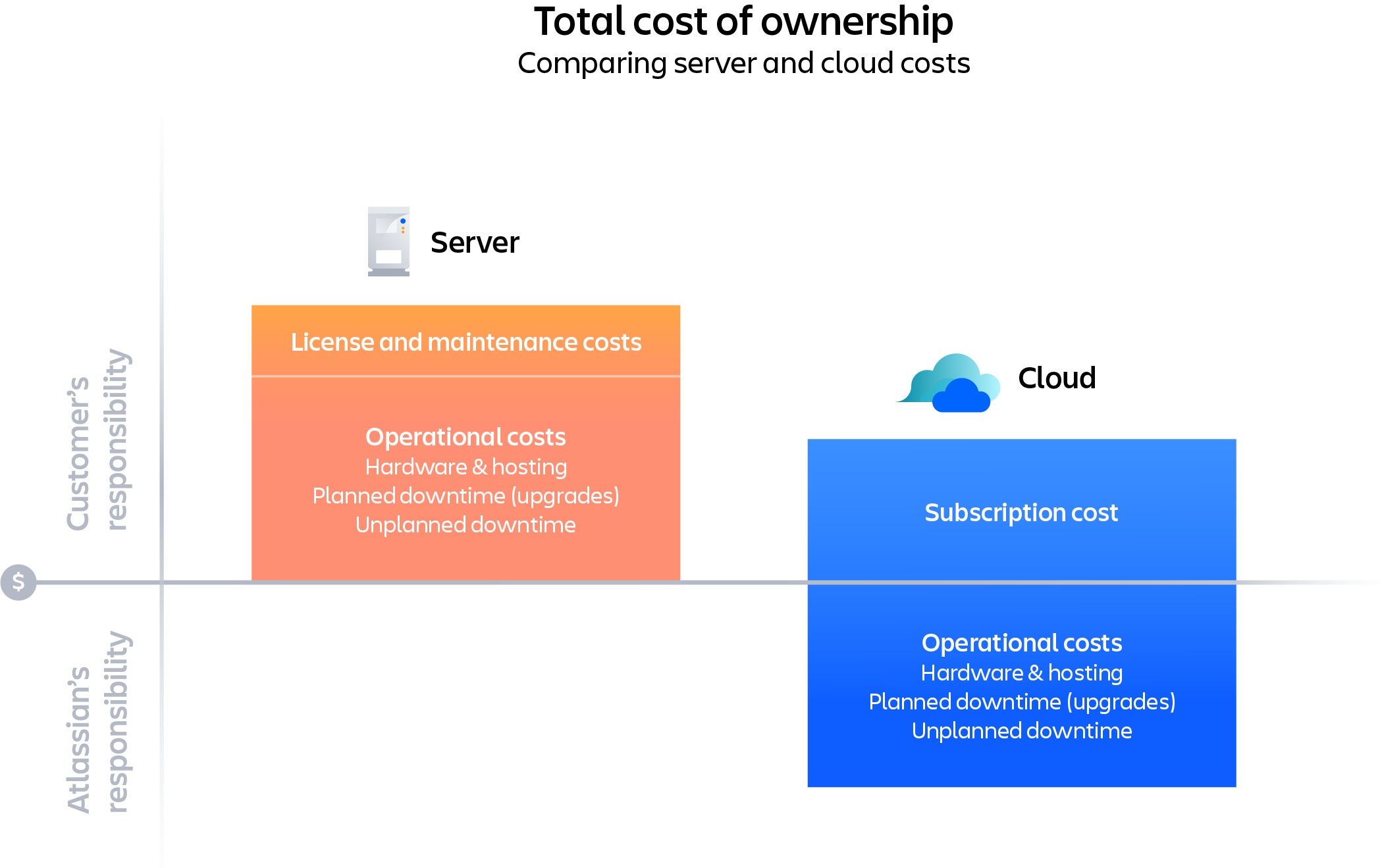 To support teams of all types, we also offer pricing discounts for community, academic, and government institutions:
Cloud academic and community pricing - to help you continue the work that matters most, discounted cloud pricing is available for non-profit and academic organizations. Learn more
Open source subscriptions - teamwork is key to any Open Source initiative, which is why Atlassian's cloud software is free for Open Source projects. Learn more
Government pricing - to keep the mission moving forward, government agencies and program teams have access to special government pricing. Learn more
---
See what's coming
We're continuously innovating and improving upon our cloud solutions. Check out our cloud roadmap to see what's coming soon and to plan for migration capabilities that will ease your move to cloud.