National Australia Bank + Atlassian
Atlassian helps NAB's workforce with tools to power new ways of working
---

Industry
Financial services
Company size:
30,000+ employees
In the 160-plus years National Australia Bank (NAB) has been in business, their industry has changed dramatically. Digital payments have replaced gold coins; smartphones and wearables have replaced wallets; websites and mobile apps have become the most common way of banking. 
One thing that hasn't changed is NAB's commitment to their customers, which is why the bank recently invested more than $4 billion as part of a three-year company-wide transformation to stay competitive and better meet the evolving needs of customers. 
In 2017, NAB began a multi-year journey with the goal of evolving NAB's technology stack and its mindset to be able to better support its people, particularly its bankers, to improve the customer experience. 
One crucial component of this initiative was NAB's initial adoption of Atlassian solutions, and a later upgrade to Data Center on Amazon Web Services (AWS) in collaboration with a Technical Account Manager. As NAB's ways of working evolved, it needed to improve the availability of the Atlassian services that were crucial to enabling employees and Atlassian Data Center has provided NAB with a highly available, resilient, zero downtime platform that runs 24/7.
Standardizing the team's tools on Atlassian assisted NAB's leadership gain visibility into performance and progress across the organization, empowering them to make more informed, proactive, data-driven decisions – for example, their engineering team is shipping smaller releases more often to increase speed to market. With the help of agile practices and Jira Software (which is always on and always reliable, thanks to the Data Center upgrade) the platform engineering team can deliver releases in days instead of months, and without impact to users.
With Jira Data Center we can not only keep the system current and operational with zero downtime, but also deliver new features. That's a key transformational change for enabling our team, and now it's a service standard.
Claire Heasly
Engineering Manager
The results that followed were undeniable. By scaling agile with the help of Atlassian, teams across the company report they're working more efficiently, collaborating more, and delivering quicker results for NAB customers. 
NAB is fully committed to their journey towards a more modern, open way of working and invested in raising the bar for easy, personal, supportive banking experiences – and Atlassian is playing an important role in helping NAB's technology deliver better experiences for its customers.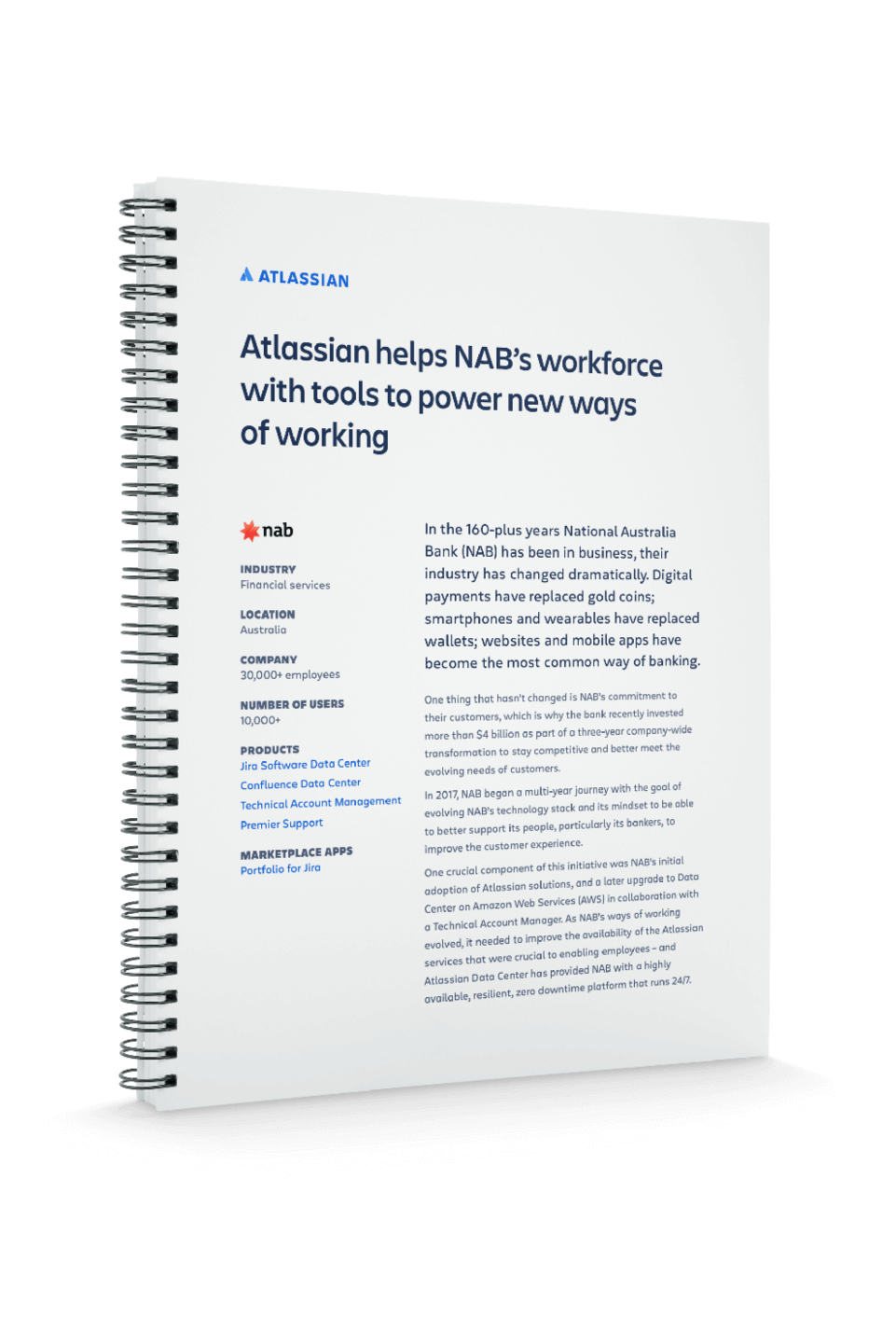 Atlassian helps NAB's workforce with tools to power new ways of working
Download the PDF, so you can read the full case study!
Future-proof your team's success
How standardizing on Data Center led to a more open way of working

ABN AMRO used Portfolio for Jira to restructure its teams for an agile transformation