Lucid Motors + Atlassian
Lucid Motors trusts its new car brand to Atlassian
---

Locations
Newark, California
Number of Atlassian Users:
1,000
Lucid Motors is on a mission to inspire the adoption of sustainable energy by creating the most captivating electric vehicles, centered around the human experience. There's a lot at stake to build a world-class transportation brand from the ground up, so everything the company does – from the team in its headquarters, to the color and trim inside its car, to the software it runs  – is vetted for quality and extraordinary customer experience.The result is a car unlike any other. The Lucid Air is a state-of-the art luxury sedan, featuring a California-inspired design underpinned by race-proven technology. With a luxurious interior space in a mid-size exterior footprint, the Air will be capable of over 400 miles range and 0-60 mph in under 2.5 seconds. 
Lucid chose Atlassian for ease of use, customization, reliability, and scalability. The solution including Jira Software, Confluence, and Jira Service Management will support Lucid's aggressive plans for growth and enable the kind of seamless collaboration needed to innovate in a constantly changing industry. Jira Software helps deliver enhanced in-vehicle experiences, like entertainment and information, to meet the growing demand for luxurious, safe, and smart vehicles. Confluence is the source of truth for documentation and information across all employees, contractors, and vendors. And finally, Jira Service Management serves as the core of the enterprise service management solution used by 15 departments (including IT, HR, and Legal) and growing. Lucid also plans to use Jira Service Management to support critical day-to-day functions like incident management and maintenance of their state-of-the-art automotive software.
We rely on Atlassian to achieve our goal of creating a truly unique car brand.
Laurent Bordier
Atlassian Service Owner
"People tend to associate a car brand with the car specifically, but it's actually the car and every detail related to it – brand identity, aesthetics, driving experience, ownership experience. That's why quality assurance is essential to our success," says Atlassian Service Owner Laurent Bordier. "We rely on Atlassian to achieve our goal of creating a truly unique car brand."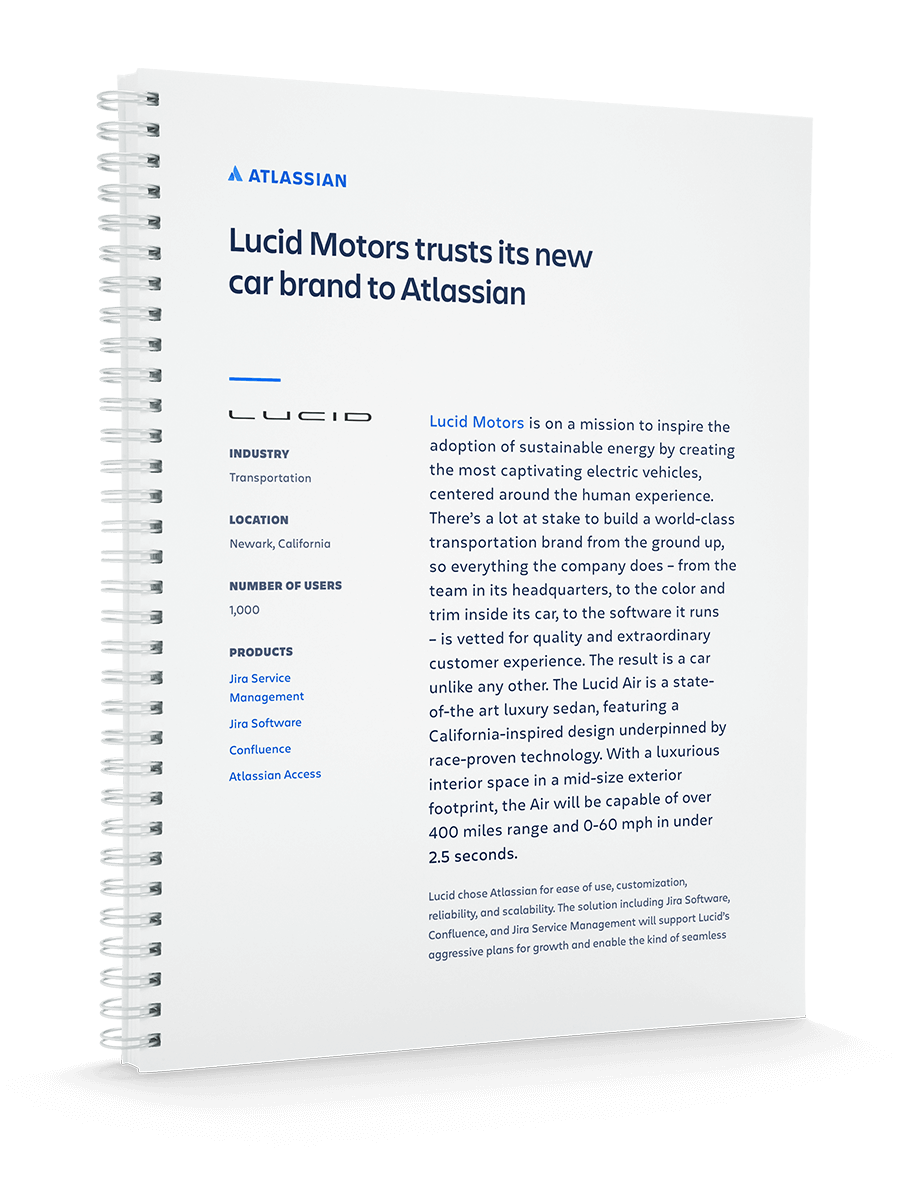 How Lucid Motors builds a new luxury car standard with ITSM from Atlassian
Download the PDF, so you can read the full case study!
Drive innovation with Jira Service Management
How Yale School of Management meets service expectations in higher education with Atlassian

Fugro keeps focus on innovation with Atlassian's cloud products

From a siloed start up to a team of teams, see how AppDynamic's business transformed