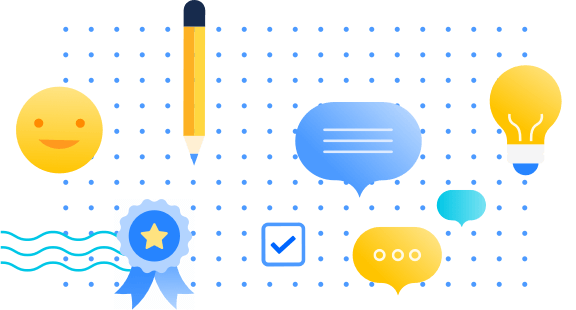 Five tips for improving your CV for your Atlassian application
Seen your dream job on offer at Atlassian? Check out these five tips to help get your CV ready, so you can ensure your application is the best it can be for our recruitment team and systems.
1. Focus on your skills
Like most companies today, Atlassian leverages human review and technologies such as artificial intelligence (AI) to help us process talent data, including your CV. Our recruiters assess your skills and capabilities during the hiring process and make decisions on whether you'd be a good fit for the role. In other words; we don't use technologies such as AI to make automated decisions about you.
Focusing on your skills when creating your CV will help our recruiters by optimising your application for the systems they use.
With the ever-changing and fast-paced nature of the technology industry, we also know that people can bring immense value to the roles they're in, regardless of where they went to school or where they've worked in the past.
Given we use a combination of human review and AI, it's a good idea to make sure your CV focuses on highlighting what you can bring to the table. For example, you may have knowledge of a specific software program or project management methodology that you've studied in your spare time, or have demonstrable soft skills like communication, teamwork and emotional intelligence.
If there are key skills required in the job description that you don't possess today, no worries - just aim to highlight any transferable skills that may match against what we're looking for.
2. Tailor your CV to the role you're applying for
One important step in refining your CV is making sure it 'speaks' to the specific role you're applying for. Be sure to focus on any points that are particularly relevant by prioritising those that match the job description. A succinct CV that focuses on showcasing your most important skills, experience and achievements is best.
For example, if you're applying for a Senior Software Engineering role at Atlassian, make sure your CV highlights the experience and skills that are most important for that role, such as object-oriented programming, large-scale distributed systems or event-driven architectures.
3. Standardise your role title
Job titles across industries and organisations can vary. To improve your application's relevancy for the role you're applying for, consider standardising your role title and making sure you've included clear references to the role you're currently performing.
For example, your previous role as a Lead Engineer or Architect will likely have many similar responsibilities and require many similar skills as a Principal Engineer at Atlassian, so be sure to draw the connection here by referencing 'Principal Engineer' in your CV.
To research Atlassian roles and the corresponding responsibilities, you can browse the open roles on our Careers site. If there's a match to a role you've held previously, you could consider referencing this title in your CV.
4. Showcase your work experience and education
Your CV is your chance to shine a spotlight on the skills you've gained throughout your career so far. Be sure to include all of your relevant career experience and education as it relates to the job you're applying for, so we can see all you've achieved. This will give us an idea of what you may be capable of in the future. Aim to focus on your achievements and impact, rather than listing your general responsibilities.
Although it can be tempting to put everything in your resume, remember that there should be a purpose for every word. We know you have many unique skills and abilities, but be confident that these will show in your interview and don't all need to be listed on your resume. When you're editing, ask yourself, "will this sentence help me get the job I want?" If not, consider tweaking or removing that sentence. Remember, quality is better than quantity!
5. Pay attention to formatting
Like many companies in the technology industry right now, we're experiencing an uptick in applications for our roles. You can make your CV stand out from the pack by making sure it's neatly formatted. A concise resume, centred on your skills and experience, is what we recommend. Be sure to clearly include the years of experience you have, highlighting any positions you've held in industries relevant to the role you're applying for.
Aim to keep things clear and simple (two pages should be sufficient) whilst still giving enough detail about yourself, as well as why this opportunity excites you. Include the information that's most relevant to the role at the top of your CV, and make sure you proofread for errors before submitting.
Also, we'd recommend against including too many buzzwords like 'ambitious', 'driven', or 'hard-working'; try to demonstrate your skills to us through your experience, rather than naming them. For example:
Naming: "I'm a quick learner who can easily pick up using new systems to effectively improve team outputs."
Demonstrating: "In my previous role, I used my understanding of modern frontend ecosystems, including bundling, linting, testing and releasing, to immediately begin debugging problems across my organisation's repositories and designing solutions that spanned the whole stack."
Giving yourself the best shot at Atlassian
By following these five tips, you'll improve your chances of success when applying for our open positions. By crafting a CV that clearly outlines your skills and experience, our recruiters can properly assess if you'd be an excellent fit for the role. Good luck!
You can browse all our currently open opportunities on the Atlassian Careers site.
Join the Atlassian Talent Community
Don't see an exact role match? No problem! Join our Talent Community and stay up-to-date on company and careers updates relevant to your career.