Rules of Engagement
---
Teamwork is hard, but a winning team culture helps a lot. Collaboratively define the social norms that'll become your team's customized secret sauce.
USE THIS PLAY TO...
Codify your team's values and build team culture.
Openly discuss the practices, results, and behaviors you expect from one another.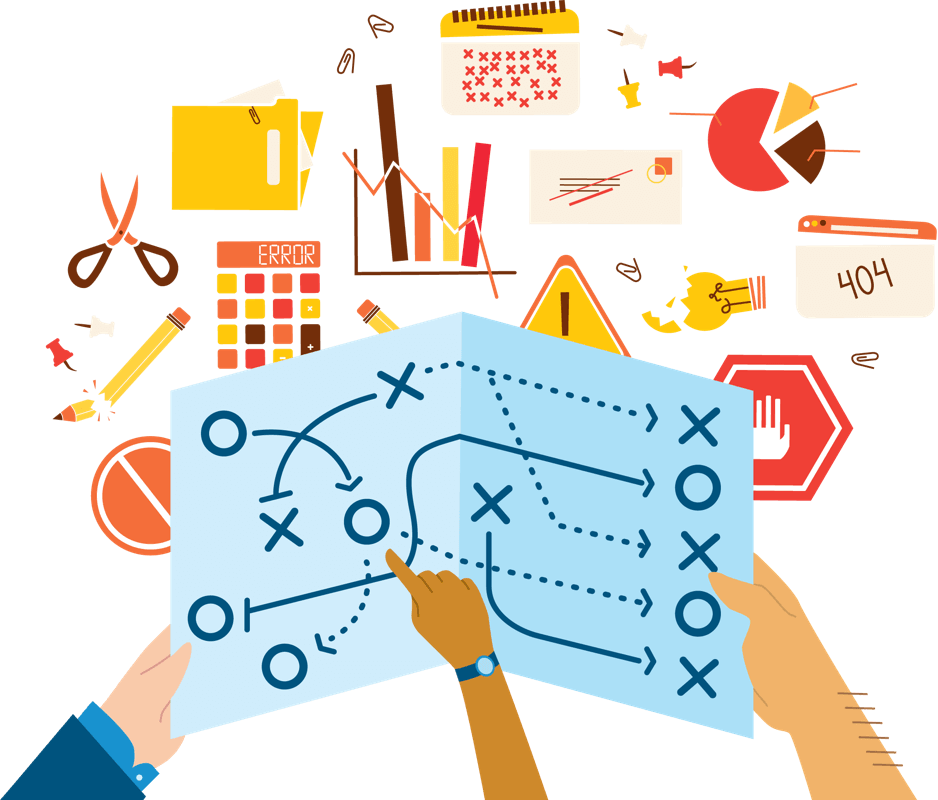 Running the play
Run this play on it's own, or run an abbreviated version as part of a Project Kick-off session. 
Materials
Butcher's paper
Markers
Sticky notes in several colors
Timer
Set the stage (5 min)
Tape a piece of butcher's paper to the wall and write "Rules of engagement" at the top. Don't use a whiteboard – it's important to have this in a detachable, portable format.
Explain that you're going to collectively articulate the kind of behaviour and results the team can expect from each other. In effect, you'll be establishing a sub-culture for your team that fits within the larger culture of the company.
Brainstorm team culture ideas (10 min)
Ask the question: "What are the rules that we want the whole to abide by? And do you as an individual prefer to work a certain way?" All participants then write their responses in the form of rules – one per sticky note – and put them on one main piece of butcher's paper.
As a facilitator, model what you're after by writing and sticking up an easy example (e.g. "Be on time", "Listen to each other", "Use shared docs or group chat instead of email whenever possible", "Thoughtfully challenge", etc)
Expect to see responses along the lines of...
We grow through sharing
Be open to new ideas, even if they run counter to one of your "darlings"
Constantly seek to improve
Honour commitments
If you foul something up, you'll lead the effort to un-foul it (but it's cool to ask for help)
Nerf dart battles only after 4pm
Headphones on = please don't interrupt me
We observe "no-meeting Thursdays" with religious devotion
As people add their stickies, group similar ideas together so it's easier to discuss them later.
For example...
Here are some ideas posted up by one of our teams in San Francisco. 
Talk amongst yourselves (10 min)
Look at the groupings to see where there's already broad agreement, and quickly confirm those points with the team. Most of this time should be spent discussing contentious or confusing (or contradictory) ideas. Don't gloss over this part. It's important to leave this play with agreement and commitment from all team members, so embrace friction and a bit of healthy debate.
Allow each team member time to comment on their sticky notes. Prompt each team member to talk about what is most important to them, and why. However ultimately drive towards consensus.
Bring it to life (5 min)
Spend the final 5 mins of the session to discuss how you'll bring this to life. What actions will this take in reality? How will you accommodate the different workstyle preferences you've just uncovered? Do you have to re-schedule the daily stand-up to a more suitable time? Does the agenda of your weekly project team meeting change? etc.
Boil it down into things you'll do or changes you'll make. Then agree on any next steps to make it real.
Nailed it?
Be sure to run a full Health Monitor session or checkpoint with your team to see if you're improving.
Variations
IGNORE THE ORG CHART
Got a long term cross-team project you're kicking off? Run this play to establish the norms you'll follow. 
It works for temporary situations, too. Run it at the beginning of a multi-day offsite or any time your team is taking a break from your routine way of working. 
Follow-ups
Follow through on your next steps (obviously). Also, hang the butcher's paper in your team's area. If you have remote team members, snap a photo and put it on the front page of your team's space or project page in Confluence.
Have it handy at various pulse-checking points like Health Monitor sessions or retrospectives.
Want even more Playbook?
Drop your email below to be notified when we add new Health Monitors and plays.
Got feedback?
Drop a question or comment on the Atlassian Community site.