What we will be investing in
Collaboration apps with the potential to be the next big hit on the Atlassian Marketplace and beyond
Solution Partners who want to push growth into new cloud initiatives
Best of breed apps that are looking to leverage strong integrations and provide value to our mutual customers
Perks of working with Atlassian Ventures
Amazing mentors
You'll have access to leaders from Atlassian's ecosystem, product, and business teams who are vested in your success.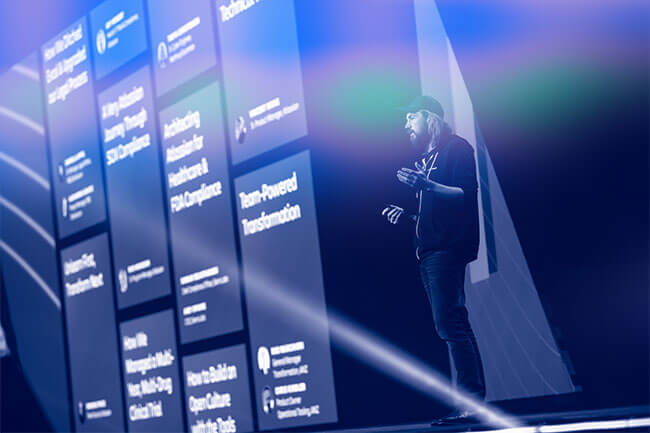 Global exposure
Showcasing your company at events like Atlassian Team and on Atlassian Community will connect you with millions of customers worldwide.
Frequently asked questions
overview
Why has Atlassian decided to start making investments in the developer ecosystem?
Show +
What types of companies will Atlassian invest in?
Show +
Application process
This is only for really early-stage companies focused on building apps for our own cloud products
I / my company has multiple apps and app ideas. How many application forms should I submit?
Show +
What is the application process like? How long will it take to get a response?
Show +
My company has other core activities as well as Atlassian app development, can Atlassian still invest in us?
Show +
Do my app(s) need to be already released on the Atlassian Marketplace or as a Trello Power-Up, or can I submit an idea that is in development?
Show +
Does it matter whether my company is building an integration vs. an app that sits on top of Atlassian products?
Show +
Will my application be assessed differently based on which country I am located in?
Show +
I believe Atlassian has already invested in an app that competes with mine. Should I still submit an application?
Show +
My first application was not successful, can I apply again?
Show +
Investment terms
For Atlassian Marketplace developers only; this doesn't apply to strategic or solution partners
What are Atlassian's investment terms?
Show +
Will Atlassian be taking a board seat?
Show +
My company has already raised funds, can I still apply?
Show +
Do you have standard terms for the other types of investments?
Show +
Support
What non-monetary support can I expect to receive from Atlassian as a part of the investment?
Show +
What is not included in the program?
Show +
Other
If I have further questions, who can I contact?
Show +