Managing product change in Atlassian Cloud
Administer product changes and updates across Jira Software, Confluence, and Jira Service Management with confidence
Deliver critical updates and reduce workflow disruption across your entire organization
When product changes come to your organization, you require a solution to effectively manage these changes with confidence. As a result, we've built two key features for our Cloud Premium and Cloud Enterprise plans - sandbox and release tracks - to successfully manage all product changes and updates coming from Atlassian Cloud products.
Test and control product changes
Sandbox
Test and experiment with products and apps before making changes to the live production environment
Release tracks
Use various options to control when and how changes are released to end users 
Release notes
Stay up-to-date on upcoming cloud product changes by subscribing to Atlassian's weekly cloud release notes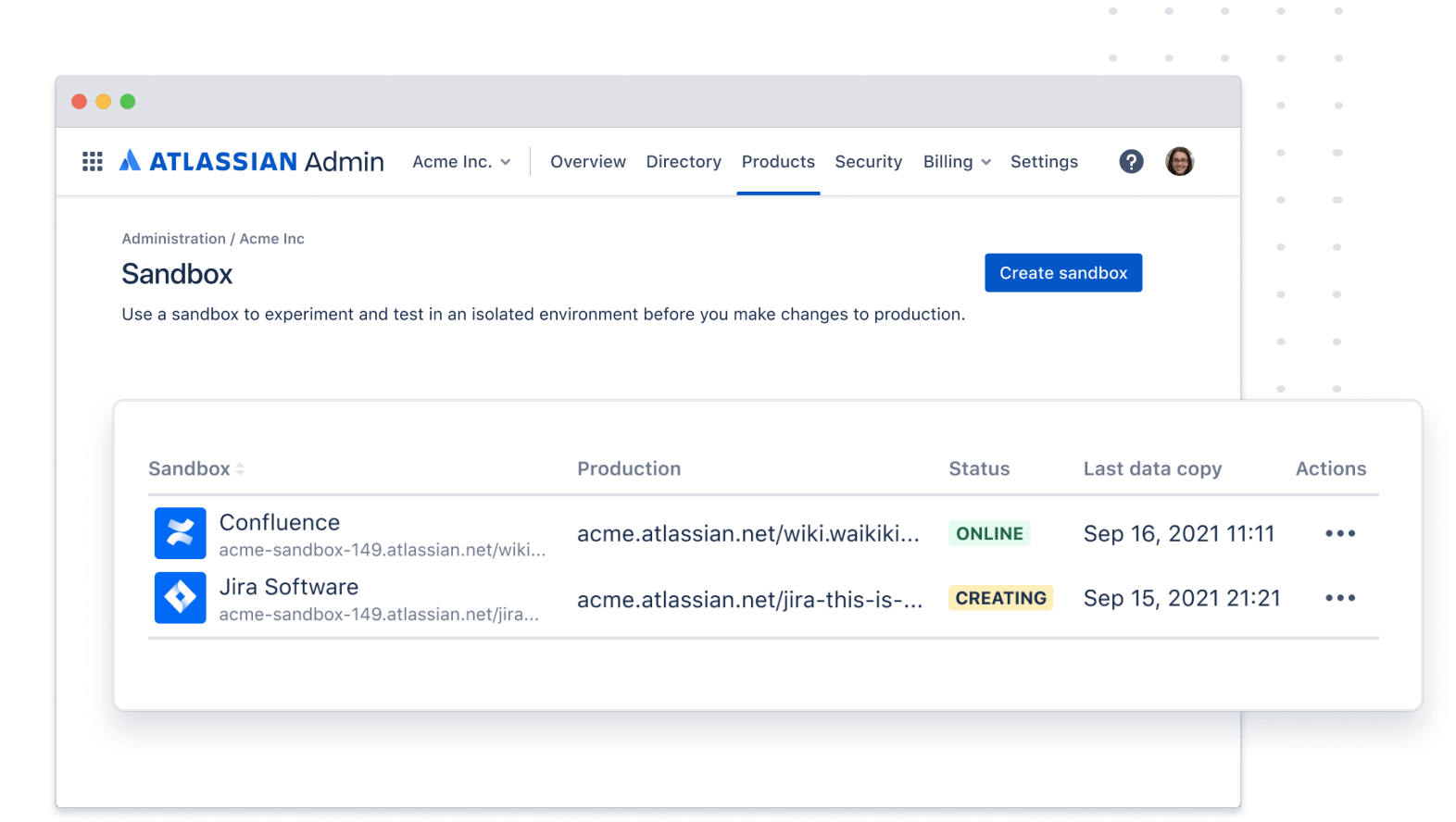 Test changes big or small, in a safe space with sandbox
See how new features will look and work once fully released in the product for your users with a sandbox. 
With the ability to test changes in this safe, isolated environment, you can keep projects moving and potentially catch issues before they're live, preventing mass workflow disruption.
Plan, prepare, and ensure the success of product changes with release tracks
The day-to-day management of our cloud products becomes more predictable when you can choose from various options to control when and how Atlassian cloud changes release to your users. 
Continuous - Updates release immediately.
Bundled - Updates release on a monthly schedule.
Preview - Production and sandbox environments get the same updates using the monthly bundle track.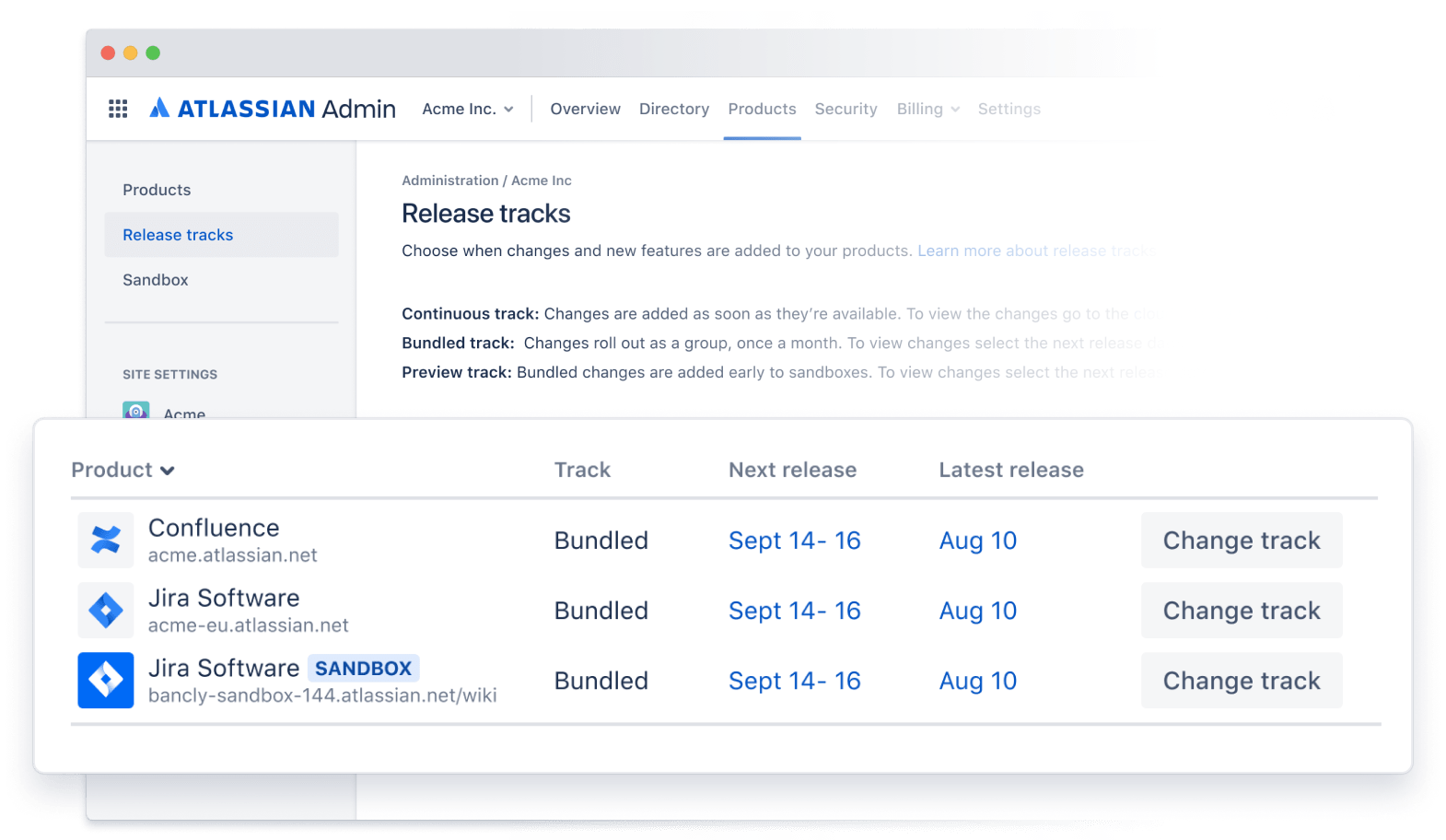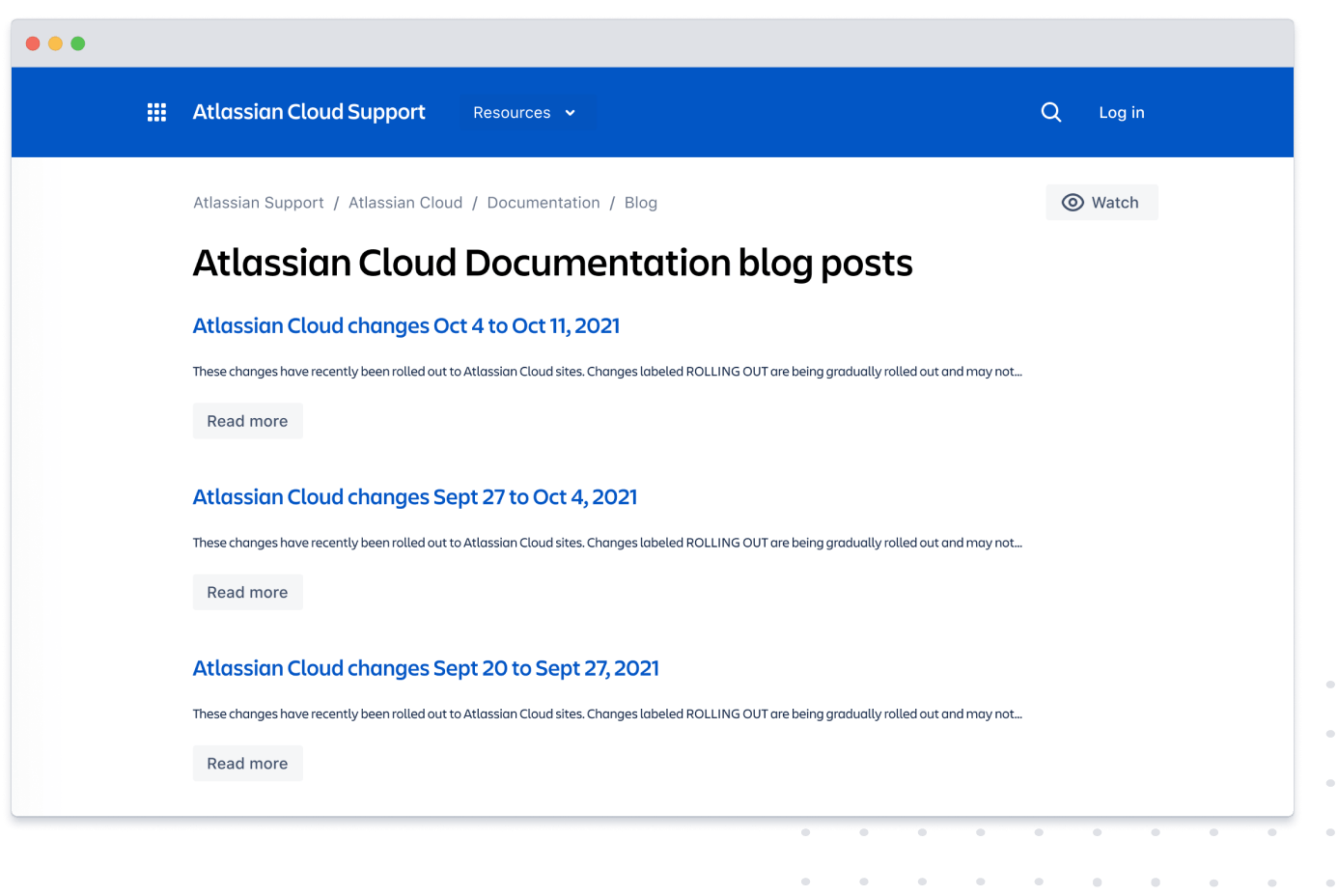 Never miss a change when you sign up for release notes
View, subscribe and get notified of every product change in cloud weekly. By subscribing to our weekly release notes, you'll get every upcoming and released cloud change documented and sent directly to your inbox each week
Start managing change in the cloud today
Sandbox and release tracks features are available in Premium versions of Jira Software, Confluence, and Jira Service Management
Need more to help you scale with confidence? Continue to manage product changes with sandbox and release tracks plus additional functionality to best serve your larger team's goals in our Cloud Enterprise plan. 
Blog
The road to effective change management in cloud
Blog
4 ways to manage change seamlessly in Atlassian cloud
Webinar
Facilitating change management in a rapidly growing organization
Webinar
Demo: Top 5 admin control features
Community
Get help and advice from other Atlassian cloud admins
Blog
Centralize admin control to manage users and change at scale