Get more with Bitbucket Cloud
Build quality software at scale with the Bitbucket you know and love reimagined in the Cloud.
Atlassian Open DevOps
With best-in-class Jira integration and built-in CI/CD, Bitbucket Cloud is the native code tool in Atlassian's Open DevOps solution.
Streamline change and incident management
Integrate Bitbucket with Jira Service Management and OpsGenie to automate change management and resolve incidents faster.
Built-in Snyk integration
Shift-left on security with Snyk, the market leader in developer security. Automatically scan for security vulnerabilities before you deploy.
Enforce code quality
Merge checklists make it easy to ensure that every pull request is fully vetted before it gets merged.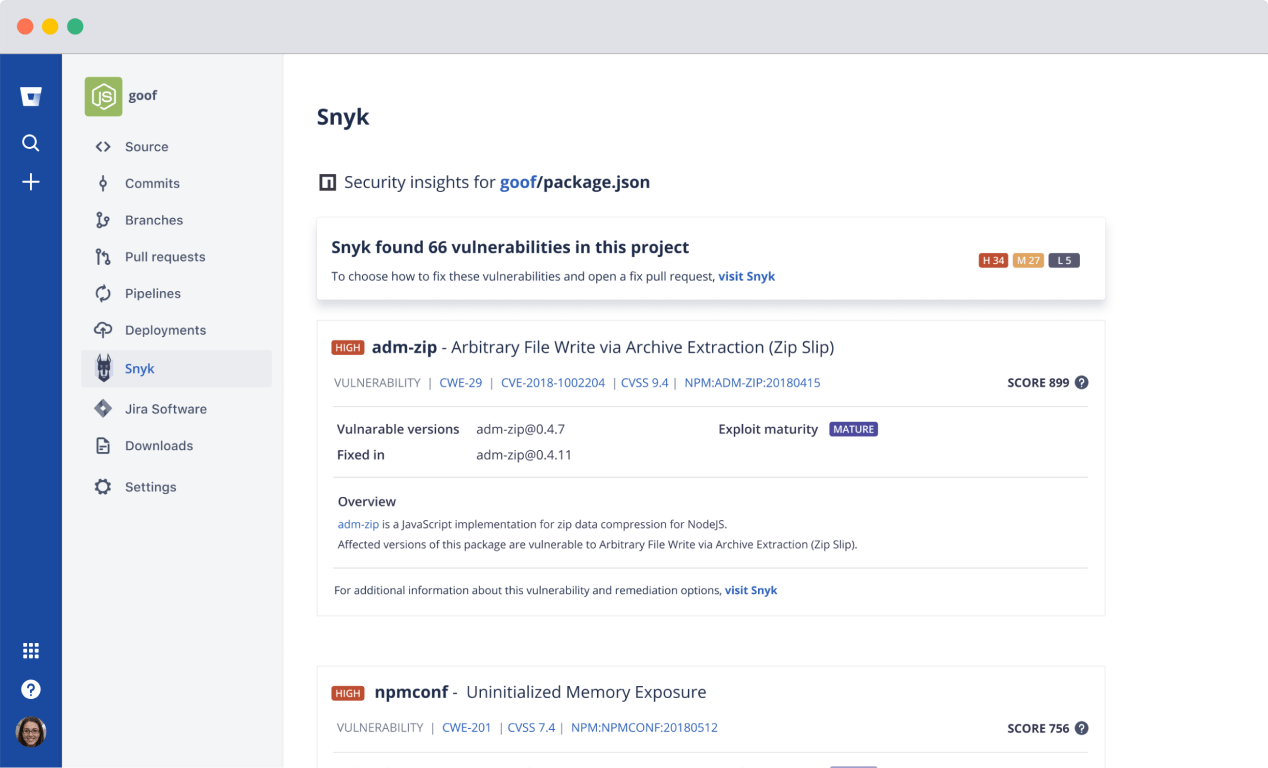 Compare features side by side
Get a high-level comparison for your deployment options, and find out how features vary across Bitbucket Cloud and Data Center.
Atlassian is all-in on a Cloud-first future to help you plan projects, collaborate on code, test, and deploy.
Reduce context switching with best-in-class Bitbucket and Jira integration and built-in CI/CD with Bitbucket Pipelines
Reallocate infrastructure costs and IT resources to strategic business priorities
Get built-in security, privacy, compliance, and reliability
Data Center is for customers who must maintain a self-managed, behind the firewall environment.
Continued investment in the areas of performance & scale, security & compliance, and infrastructure & operations
Flexible deployment options including on-premise, infrastructure as a service, and Kubernetes
Feature

Cloud

Data Center

Productivity

Via Bamboo

Via Bamboo

Via Bamboo

Via Marketplace

Deployment and administration

Security and data management

Via Marketplace

Apps, integrations and customization

Scale, performance and availability

Unlimited private repositories
Bitbucket plans and pricing options
Browse all Bitbucket Cloud plans to see which option is the right fit for your team.
High-performing teams prefer Cloud
Bitbucket Cloud handles over 900 million transactions per day making it mission-critical for our customers to build and deliver quality software at scale.
"Being able to build out workflows in Jira and then see how those issues tie in to what's happening in Bitbucket has been huge."
Kyle Gengler
Senior DevOps Engineer, Nextiva
"Jira and Bitbucket are linked to show details and where the change is in production. It's traceable, so they know what we're doing and when we're deploying."
Scott Carpenter
Global Cloud Architect, Fugro
Cloud plans for every team
Browse all Bitbucket Cloud plans to see which option is the right fit for your team.