Streamline alert and incident management with Opsgenie and Slack
Command, control, and respond to incidents using Opsgenie's Slack App for Incident Management
Launch a dedicated Slack channel for each incident
Push key information from Slack to the Opsgenie Incident Timeline
Capture important chat details for an incident postmortem
Leverage Opsgenie's Slack integration for alerting to:
Notify teams of alerts via Slack
Consolidate alerts and notifications from your systems, ITSM and monitoring tools.
Take rapid action from inside Slack including assigning, snoozing, adding notes, and more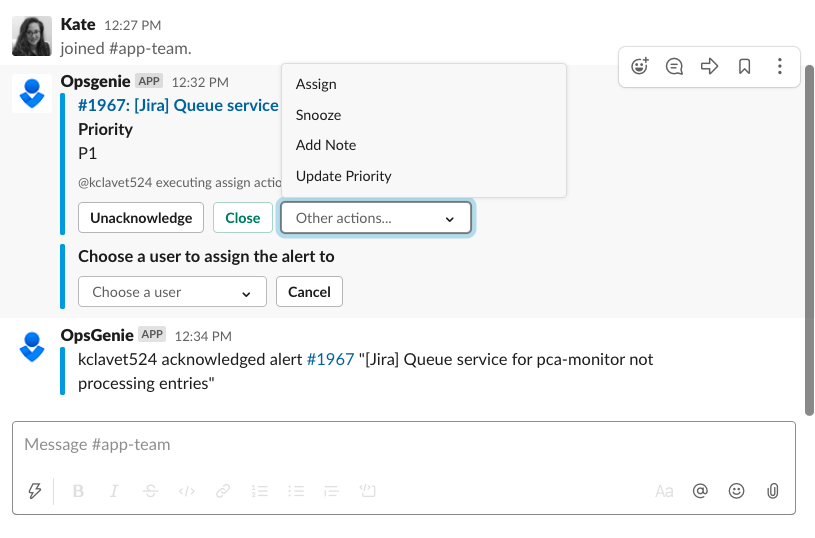 "The mobile app and Slack integration have given people a way to effectively interact with alerts, which we were sorely missing before."
David Veits
Lead Application Support Analyst, Kent State University
Save Time and Manage Alerts in Seconds
Create and take action on Opsgenie alerts and incidents from inside Slack, including assigning users, snoozing alerts, and adding notes - all from Slack. Record every important action directly to Opsgenie's Incident Timeline.
Enhance Collaboration
Leverage dedicated incident channels for swarming, alerting based on channel name, and more.
Slack Approved
Install both of Opsgenie's Slack Apps with just a few clicks from the Opsgenie menu or Slack's App Directory.
Secure
Link user profiles between Opsgenie and Slack to ensure only authorized users have access to advanced commands.
Get started with Opsgenie and Slack