Business intelligence for agile organizations
Make faster, better-informed decisions about your agile teams, programs and portfolios.
The Jira Align approach to business intelligence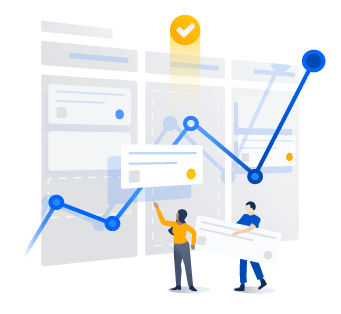 Unlock comprehensive and flexible BI data in your existing data systems
Jira Align BI strengthens your existing investment in business intelligence tooling, whether that be for visualization and reporting (Tableau, BI, etc) or an enterprise data lake (Hadoop, Snowflake, etc).
While robust end-user reporting already exists in Jira Align, our BI solution makes getting Jira Align data into your other data and reporting systems easier and more performant.
Give data analysts easy access and consumption of the data in Jira Align via a data warehouse and tabular semantic models with pre-built relationships and aggregations.
Explore your data with greater control
Use your own visualization solutions, such as Tableau, to browse your Jira Align data in one place.  Visualize and analyze the data, the way you need to, in order to answer the questions most important to your business.  
Extend your existing data systems
Have an existing data lake or data warehouse?  Now you can connect your data in Jira Align to other data sources in your organization, to create visualizations completely unique to stakeholder needs.  See your data, fully in the context of your business.
Get smarter about data visualization
Jira Align brings your program and portfolio data together, visualizing trends and patterns in real time to make successful business decisions. Reduce to generate the reports you need to keep your organization informed and up to date at every level.
Our products are trusted by the world's best companies

See Jira Align's BI in action
Ready to connect your enterprise?
Software without silos enables end to end visibility.