From customer-created templates to a hackathon finale, you won't want to miss Atlassian Presents: Unleash. Check out the full agenda.
Working agreements template
by Atlassian
Create guidelines that explain how teams should work together
Use template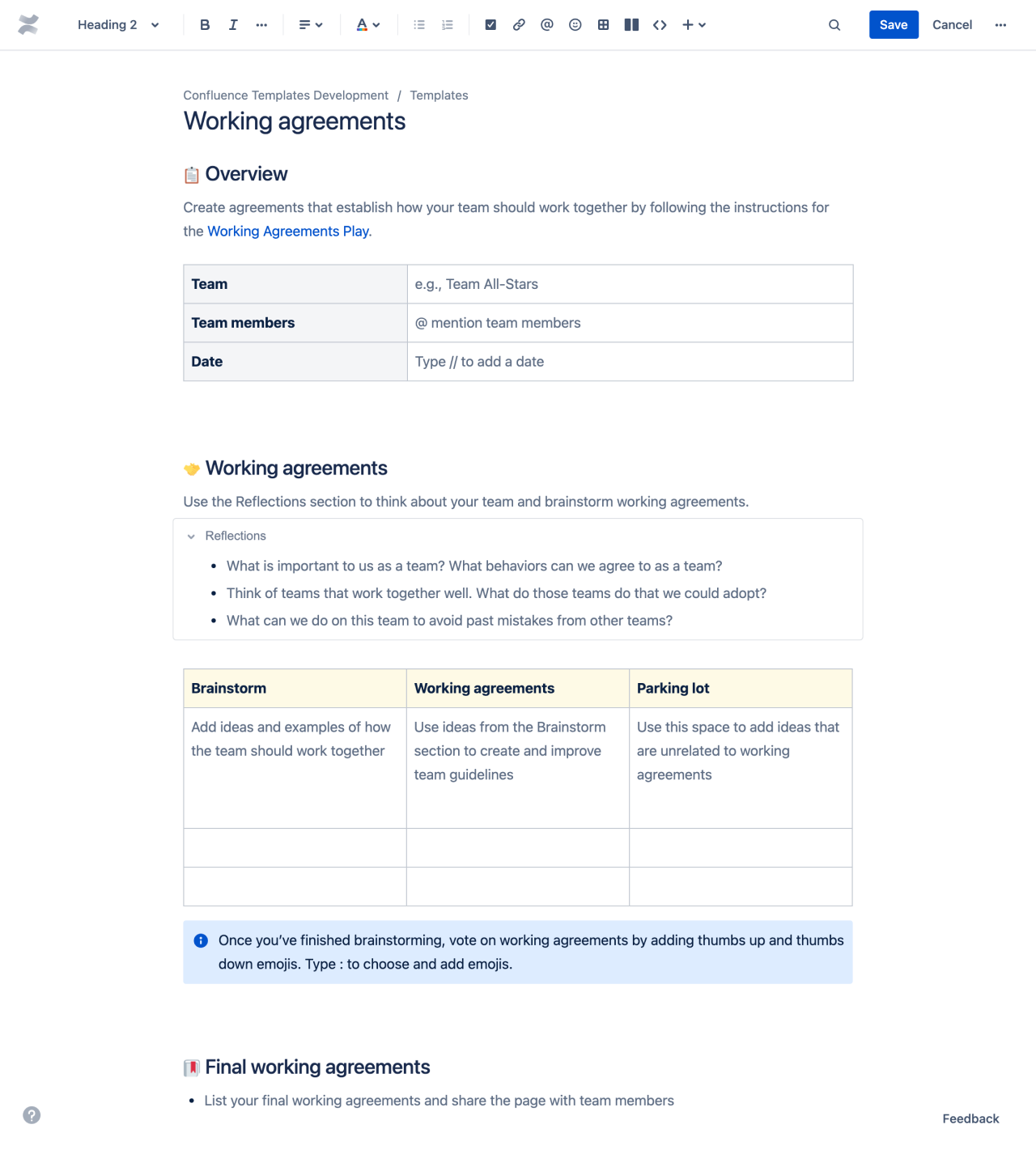 Working agreements are a set of guidelines that teams create together. They define what teammates should expect from each other and help teams put their values into action. Connect with your team on a deeper level by using the working agreements template to run the Working Agreements Play. Created by Atlassian Team Playbook coaches, the Working Agreements Play is a team exercise that helps lay the foundation for an open and collaborative working environment.
How to use the working agreements template
Step 1. Add and discuss ideas
Start by @ mentioning participants and share the page with your team before you meet. Once you're together, kick off the team exercise by asking the group to think about what helps them collaborate effectively. Each participant should add ideas to the page. Then discuss those ideas as a group and transform them into draft working agreements. Review the page as a team to combine similar ideas and move off-topic ideas to the Parking lot section.
Step 2. Vote on working agreements
Once your team has finished drafting working agreements, read each agreement out loud and then vote as a team to commit to the agreement. Quickly vote by adding a thumbs up emoji next to agreements you support. Type : to choose and add emojis to the page. By the end of the exercise, you should get a thumbs up from all participants on all agreements.
Step 3. Share final working agreements
After the group has voted, add your final working agreements to the page. Share the page with teammates that couldn't attend the exercise and encourage them to add comments. You can also add your working agreements to other team pages and workspaces to keep them top of mind.
---
Atlassian is an enterprise software company that develops products for software developers, project managers, and content management.
1-on-1 meeting

Run 1-on-1 meetings and maintain productive working relationships.

4Ls retrospective

Use this template to conduct a 4Ls retrospective with your team.

5 whys analysis

Use this template to conduct a 5 whys analysis and discover the sources of team problems.