Engie + Atlassian
We needed to move towards a more customer-centric approach on ITSM. Jira Service Management helped us meet our target while saving time and money.
Jose Luis Lizárraga Castro
IT Support Engineer at ENGIE Mexico
reduction on license costs
hours saved every month with report automation 
ENGIE Mexico transforms its ITSM to generate more value for their customers while saving time and money
By migrating from ServiceNow to Jira Service Management, ENGIE Mexico was able to improve the customer experience, reduce license costs by 67%, and free up more than 200 hours per month of the technical team's time.
ENGIE is a world leader in its sector. It is focused on renewable energy and low-carbon distribution infrastructure. The company employs around 160,000 people on five continents and generates billions of dollars every year. 
Guided by a customer-centric vision, ENGIE has been working to deliver better and more efficient services to its customers, which naturally translates into a major transformation of service management processes, tools, and solutions.
Faced with that challenge, the Mexican branch understood that it was time to completely review its IT service management (ITSM) process and tooling and find a solution that would better support the company's ambition. 
They already used ServiceNow, a very robust and well-known ITSM software, but the company was not satisfied with the cost-effectiveness and lack of flexibility of the tool.
The ENGIE team felt that the platform was too complex and, therefore, they relied heavily on external consulting teams for everything. As a result, projects dragged out on and on and most resources ended up not even being used, generating unnecessary expenses.
It was time to look for alternatives, and ENGIE started a benchmark against other business units in Latin America and Europe.
After seeing many good use cases of Jira Service Management, the company decided to bet on Atlassian and started a project which had four main goals: 
Improve customer experience and incorporate new services - A better customer experience and the ability to easily add new services
Free up some hours of the technical team - increased productivity of the technical teams 
Make work streams visiable
Save money by reducing the license costs
 After a side-by-side comparison, Engie decided to use the Premium version of Jira Service Management Cloud, which allowed them to combine cost savings with access to unlimited automation features, higher disk storage capacity, and a configuration management database (CMDB).
"We could implement the Premium version of Jira Service Management and still save 67% on licensing costs in comparison to ServiceNow." - Jose Luis Lizárraga, IT Support Engineer at ENGIE Mexico
We were able to implement the Premium version of Jira Service Management and still save 67% on licensing costs in comparison to ServiceNow."
Jose Luis Lizárraga Castro
IT Support Engineer at ENGIE Mexico
A transparent migration for users
The first challenge of the project was to rebuild the same structure used in the other ITSM tool in Jira Service Management.
The idea was to avoid overlapping the tools, general IT demands, change management, and incident management capabilities needed to work seamlessly from day one.
ENGIE connected with Atlassian Solution Partner EnevaSys to remap the 12 current services available and reproduce them in Jira Service Management. During the 3 month process, Engie and the Solution Partner mapped and configured Jira Service Management while also training Engie's 1,700 users.
According to Lizárraga, there were no complications in the migration and everything that had to be adjusted was quickly solved. "The change was transparent and smooth", he explains.
"It was like lowering the curtain down and raising the curtain up again. We simply turned off ServiceNow one night and turned Jira on the very next day. It was transparent to our users", adds Lizárraga.
Automation that saves valuable time
One of the strengths of the Atlassian-way to ITSM is the integration not only with Atlassian's products but also with other platforms.
In the case of ENGIE, connecting the Microsoft Power BI database to Jira was essential to automate the reports and free up time that was previously dedicated to getting the right info, filling out spreadsheets, and organizing many reports.
"We used to spend hundreds of hours generating reports, and now this activity is 100% automated in Jira", he says.
The team estimates that just by automating workflows, reporting, and SLA management in Jira, it was possible to save over 200 hours per month of the technical team's time.
For ENGIE, migrating data from spreadsheets to Jira connected with Power BI had another advantage: the access to information became more transparent and encouraged people to work in a more organized way.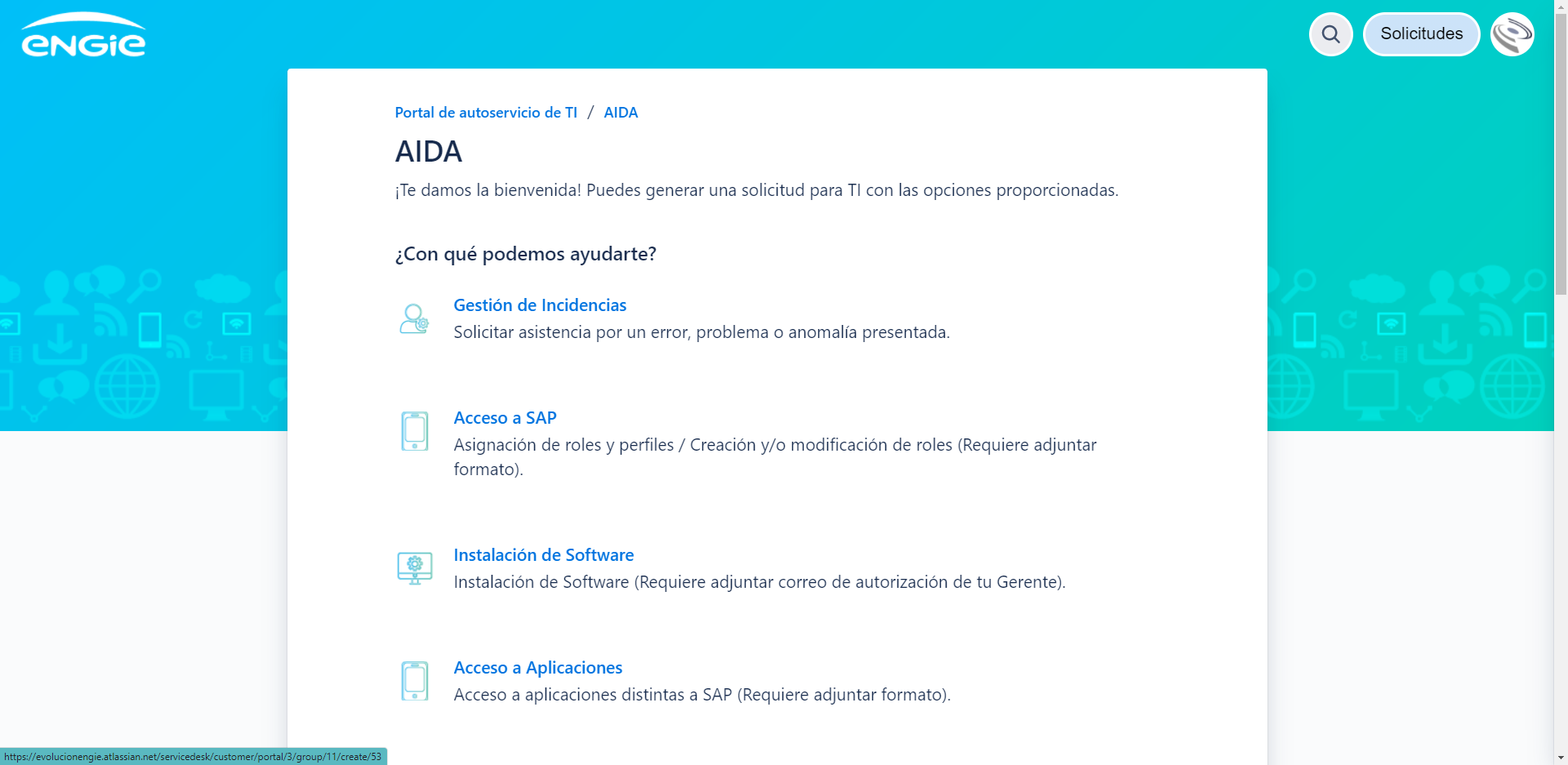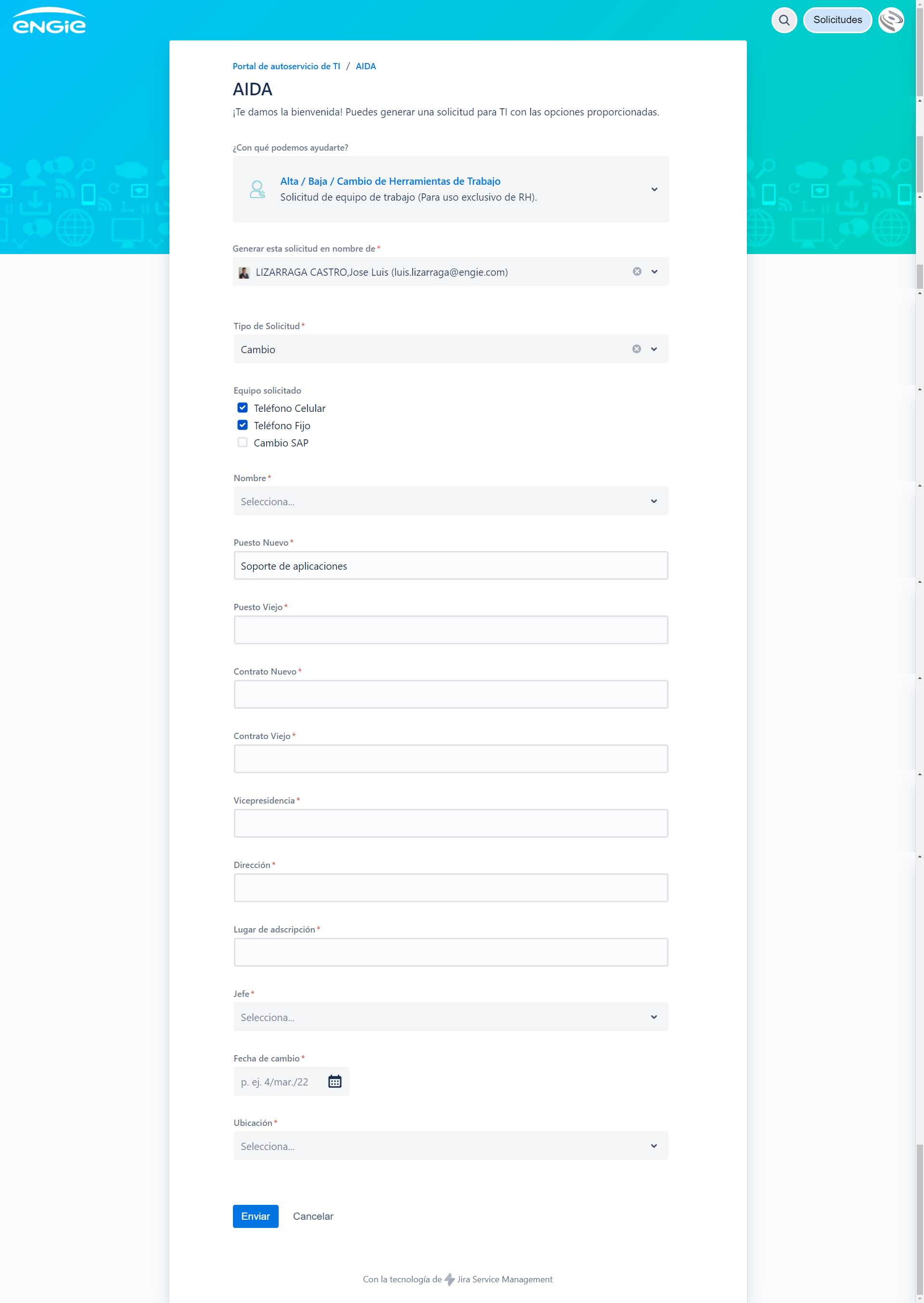 Actual screen of the ENGIE service portal in Jira Service Management
The team can now view all indicators in a simple manner and in real-time this way.
Now, any agent can connect with the system at any time, access a user-friendly dashboard, see the status of tickets, analyze the evolution of their own SLA and the region as a whole, evaluate the backlog, request support, and make decisions.
This evolution boosted collaboration, improved visibility and productivity, and was instrumental to achieve 100% compliance with the SLAs for the more than 900 monthly tickets.
Our goal was to make employees' lives as easy as possible and lead with the things they would find most valuable – things they could look forward to. Making that real for every employee and conveying the value that they would get from it helped outweigh the pain and went a long way to building that internal excitement."
Jose Luis Lizárraga Castro
IT Support Engineer at ENGIE Mexico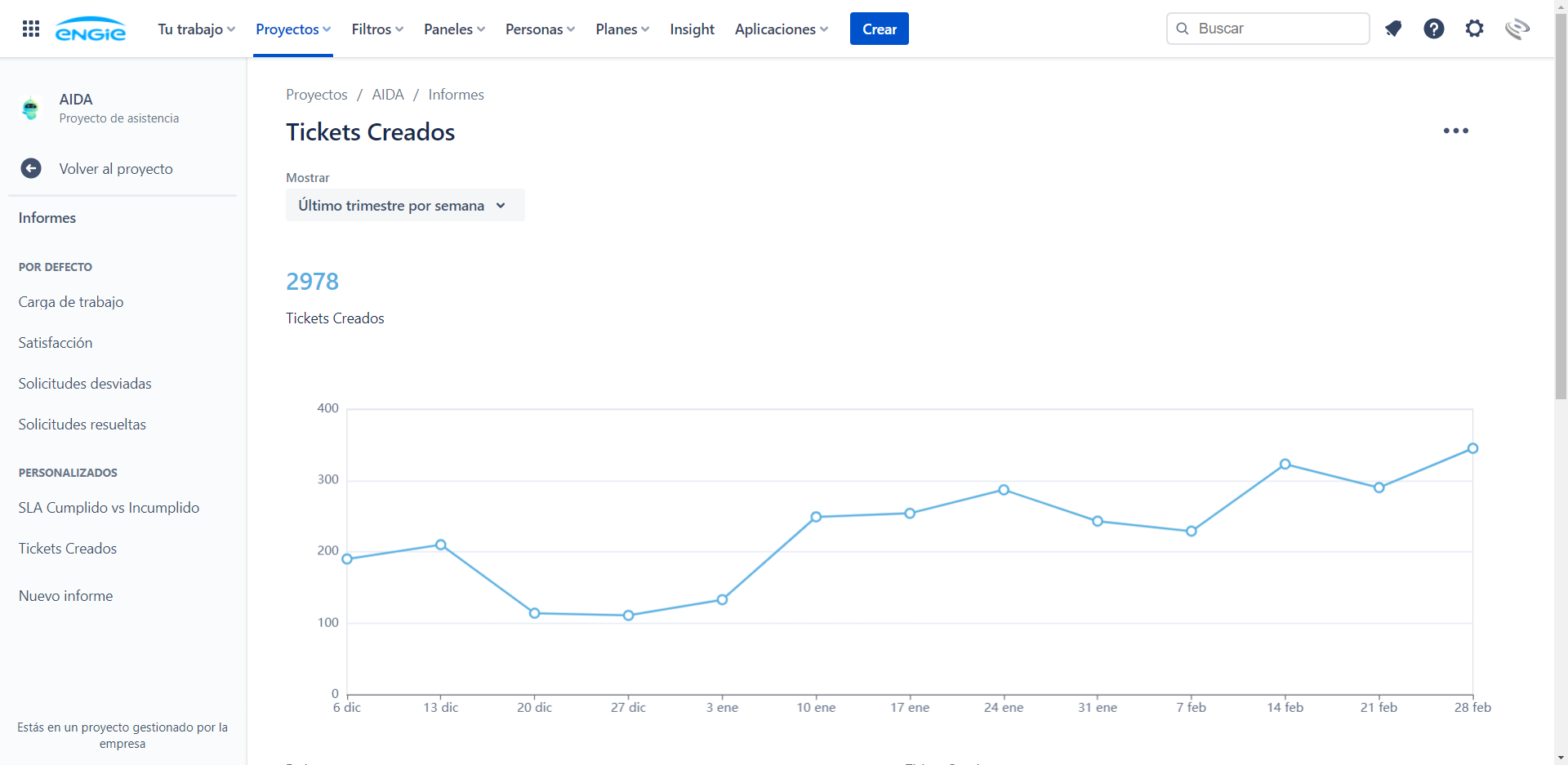 Actual screen of the ENGIE service portal in Jira Service Management
User-friendly platform and strong community helping to accelerate the ITSM evolution
The ease of evolving the platform autonomously was another feature that positively surprised the ENGIE team.
Lizárraga shares that, when using the previous tool, they would have to call the service for everything, since there was not much documentation, nor many templates, or usage examples available.
On the other hand, after the migration, the team was able to take advantage of shared templates and best practices to make improvements in an agile and independent way with Jira, in addition to finding practical tips in the various user communities, videos, or content published by the providers and Atlassian itself.
Soon after the migration, ENGIE was able to launch new services, such as problem management, and enhance important services by leveraging catalog best practices, subtask flows, prioritization and ticket routing capabilities. 
"Jira helped us to improve the user experience while increasing productivity by allowing for better classification of services and automatically routing the requests to the people who can actually solve them."
Jose Luis Lizárraga Castro, IT Support Engineer at ENGIE Mexico
Jira Service Management in HR: automation and efficiency
Within the initial first weeks, the team began to see an ROI: key processes migrated, change management and incident management, new services created, and problem management.
ENGIE then felt confident enough to expand its scope and adopt the platform in other areas of the company for a true ESM approach
To facilitate the work of the Human Resources team, the workflows related to  new employee onboarding and deprovisioning  incorporated and automated, with specific SLAs for each activity.
Human Resources teams no longer need to manually run requests for systems access and employees' assets, nor control email flows and deadlines for the different onboarding or offboarding activities.
As soon as an employee is hired at ENGIE or leaves the company, all the areas involved in the processes receive automatic requests that can be easily approved.
"Now, managers receive a request from Jira and approve it from their mobile phone, without even having to connect to a computer", comments Lizárraga.
The entire flow is now visible, activities are prioritized, and the SLA of each activity is managed automatically, greatly increasing HR's productivity and improving the employee experience.
Atlassian is rapidly becoming the main hub of connection between teams, where everyone can find information and collaborate to deliver more value to our customers.
Jose Luis Lizárraga Castro
IT Support Engineer at ENGIE Mexico
Accelerating self-service with confluence
Another product adopted by ENGIE to expand its user-centric view was Confluence, Atlassian's complete solution for managing project, service, and process documentation.
The platform, which fully integrates with Jira, now centralizes the entire company's knowledge base. And, as it is cloud-based, it can be accessed anytime, anywhere, and by any user.
"It a part of ENGIE's culture to improve self-service. Confluence allowed us to make manuals and processes available to all in a very fluid way. Now, many customers can usually find the solution to their problem even before opening a ticket", adds Lizárraga.
The initiative prevented engineers and technical teams from spending time on solving questions that customers could resolve autonomously and efficiently.
Since the solution was well-received by all, it also started to be adopted by different project areas, which are taking advantage of the various templates available in Confluence to create their own knowledge bases and accelerate self-service.
Jira Service Management boosting continuous improvement
For ENGIE Mexico, this is just the beginning.
Lizárraga comments that his plan is to leverage the autonomy provided by Jira Service Management to continuously improve Engie's service offering.
A more recent initiative has to do with taking advantage of Insight — Asset Management already included in the Premium version of Jira Service Management, to go beyond the CMDB and redesign the entire company's asset management.
"We are integrating everything, from the most basic assets to computers, servers, and mobiles to automate the entire asset management", explains Lizárraga.
The project is in the final implementation stage, and the team is already planning to expand the use of Jira to the IT sourcing and quality area.
Using Atlassian solutions as a boost to accelerate agile and collaborative work ENGIE Mexico expands, consolidates, and improves its vision of customer centricity throughout the organization, one initiative at a time.
Atlassian is rapidly becoming the main hub of connection between teams, where everyone can find information and collaborate to deliver more value to our customers," concludes Lizárraga.
Next story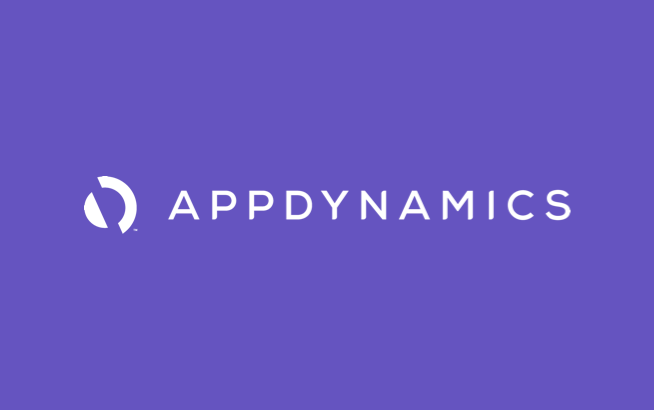 AppDynamics
Understand how AppDynamics transformed from a siloed startup to a team of teams 
Next story
The Telegraph
See how The Telegraph's IT team improved its time to resolution by 66%, reduced call-waiting time by 50%, and increased customer satisfaction by 140%.
Next story
Castlight
How Castlight Health offloaded maintenance and gained priceless peace of mind by migrating to Atlassian cloud products