Project poster template
by Atlassian
Keep your team on the same detailed, collaborative page
Use template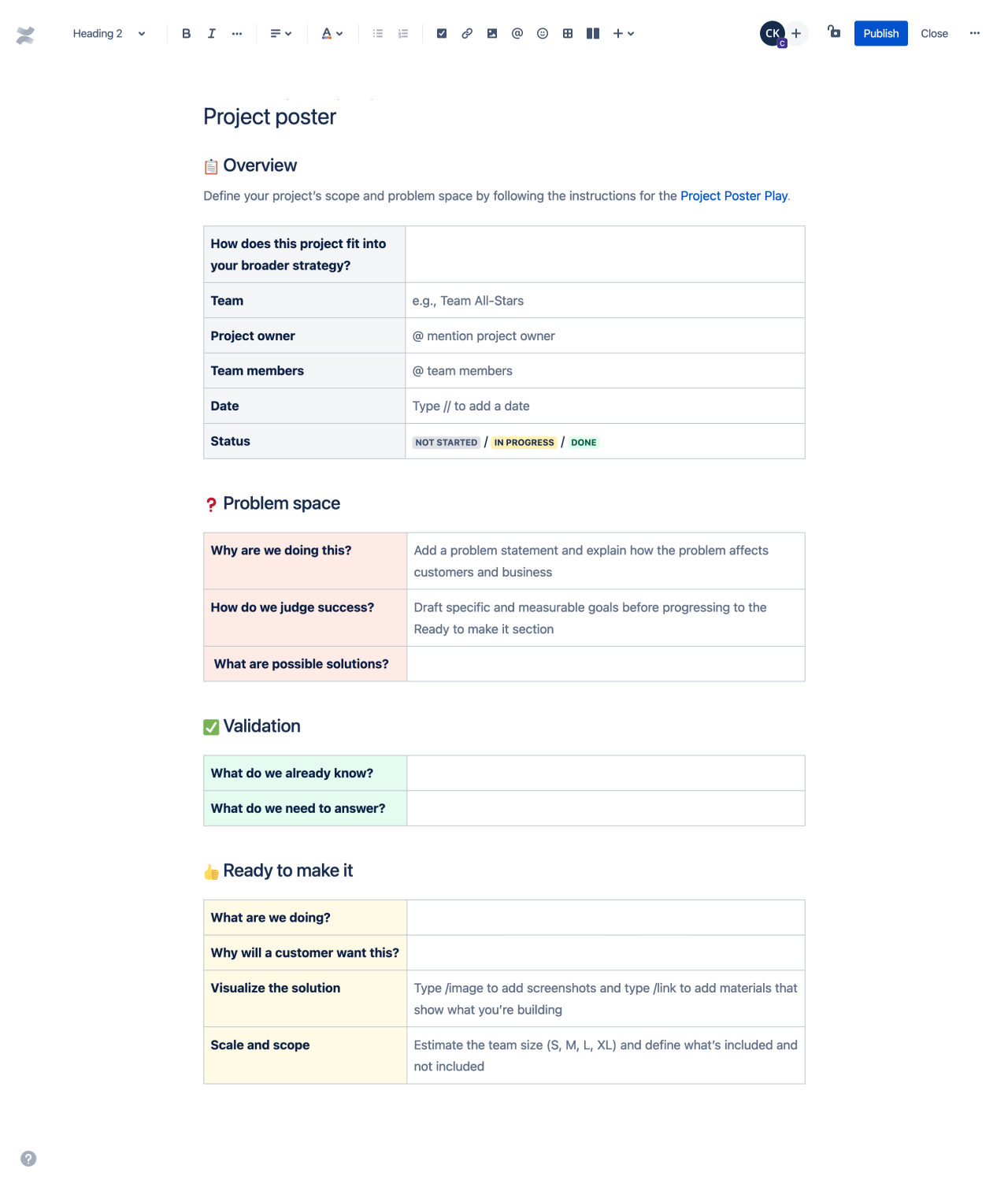 The envisioning and planning stages are the unsung heroes of the project process, setting your entire team up for a successful end result. It's a big job, but a project poster can help. Use the project poster template to run the Project Poster Play. Created by Atlassian Team Playbook coaches, the Project Poster Play is a team exercise that helps you validate assumptions and understand the problem you're solving for. When you're done, all the need-to-know details will live in this simple, collaborative document so that everybody can easily understand the context and business case for your project.
How to use the project poster template
Step 1. Start with the basics
Let's kick things off with the easy stuff. The top section of the template is a space to fill in information like the project owner, team members, current status, and a brief description of how this project fits into your larger strategy. 
One of the many great things about a project poster is that it's a living document. Continue to update it as your project evolves so that everybody can see the most current project information.
Step 2. Define your problem space
Carefully think through the problem that you're trying to solve before you get into the details of your actual project. This helps you capture the project's reason for being.
What's the problem? How does it affect your customers or your team? How will you know you've solved it? What are some possible solutions that immediately come to mind?
Those are the types of questions you'll think through and record here. Don't rush through this. You'll probably revisit this section several times before moving forward with your project, and you might even need to make some adjustments as you collect more feedback and insights. That's normal and all a part of the learning process.
Step 3. Validate your assumptions and get the creative juices flowing
You likely made a lot of assumptions as you were defining your problem. The next section of the template gives you room to test them against facts and numbers.
There are two sections involved here: one where you'll list what you already know and one where you'll jot down the questions you still need to answer.
For example, imagine that you're planning to redesign your company's blog to be more user-friendly. Perhaps you already know that 56% of visitors leave your blog after reading a single post. That would go in the first slot of the validation section. But you also want to find out what would keep them on your site longer. That goes in the second slot of this section.
Keep in mind that your goal here is to confirm or disprove the solution you brainstormed before you go any further. If you can't confidently do that yet, you might need to head back to your problem space or think through other possible solutions.
Step 4. Get to work
This final section is where you'll kick things into high gear. You've already gone through the hard work of defining your problem and picking a validated solution. Use this final section to explain the solution and summarize why a customer will want this. Add notes and type /image to add screenshots and sketches. There's also space to define your scale and scope, such as the team size you'll need.
Hashing all the details out now will help you stay focused on what really matters and ensure that the project doesn't expand beyond your capabilities or capacity.
5. Include reference materials
You want your project plan to be the one-stop-shop for all of the important information related to that project. Type /link to include any reference material that people might need. Whether it's a creative brief or an example you want people to refer back to, add everything to this page so that it's organized and easily accessible.
---
Atlassian is an enterprise software company that develops products for software developers, project managers, and content management.
Collections this template belongs to View all
More project planning templates View all
Brainstorming

Plan, run, and document a remote brainstorming session for your next great idea.

Steven Bao

R&D Program Manager
Atlassian

Business status update

Provide regular updates to leadership and the wider team on business and product performance.

Capacity planning

Take the guess work out of your estimation and prioritization.