Sydney
Learn what it's like to work in our Sydney HQ.
We (heart) Sydney
Walk into our beautiful heritage office in Sydney and you might wonder how this collection of cutting-edge thinkers and talented tinkerers ever ended up amongst the marble and mahogany of one of the CBD's oldest buildings. But we love life's little contradictions. And we're passionately building something of our own inside, every bit as unique as our sumptuous surroundings.

Atlassian is a community of creative, hard-working people hell-bent on making cool things together. In Sydney, our designers, engineers and growth hackers–from over 30 nationalities–combine to chase down the ultimate experience for our customers. And despite the onsite fitness, bike repair and towel service, working with awesome people every day is the best perk of all.
Crash our Big Bash
Hear ye, hear ye: to all who harbor a secret desire to don chainmail, joust, sword fight like a knight, "test" a cure for black plague, or consider a go on the rack. Game of Codes (aka Big Bash) is a play land designed to satisfy your fix for all things medieval.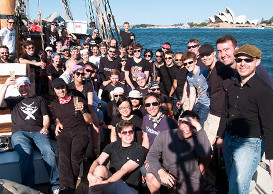 Sometimes, Harbour cruises
At Atlassian, there's a sense of mateship that gives us something special and makes us (officially!) one of Australia's Best Workplaces. From card games to footy, circus classes to full-scale carnivals, and even our annual Melbourne Cup celebration we like to have fun. All in a decidedly non-corporate environment where sockless feet are more common than sensible shoes.
Are you keen on...
From snacks and drinks to yoga and group exercise, we take our office "perks" seriously. And, with bike repair, sit/stand desks at the ready, and flexible working arrangements available when needed, it's our goal to make sure every Atlassian feels at home here.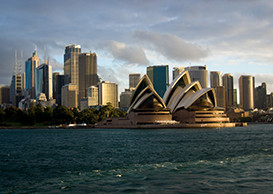 Life in the CBD
The Sydney office is walking distance to the harbour. That means mid-day breaks under a banyan tree in the Royal Botanic Gardens, and coffee with a teammate on the steps of the Opera House. And for those with a heartier nature, you can even bike from the office to Bondi beach.
"We're the best place to work in Australia, and on top of that, the work you get to do helps millions of customers on a daily basis."
— Scott Farquhar
co-founder and co-CEO