SWOT analysis template
by Atlassian
Analyze your company's strengths and weaknesses so that you can respond to market opportunities and threats
Use template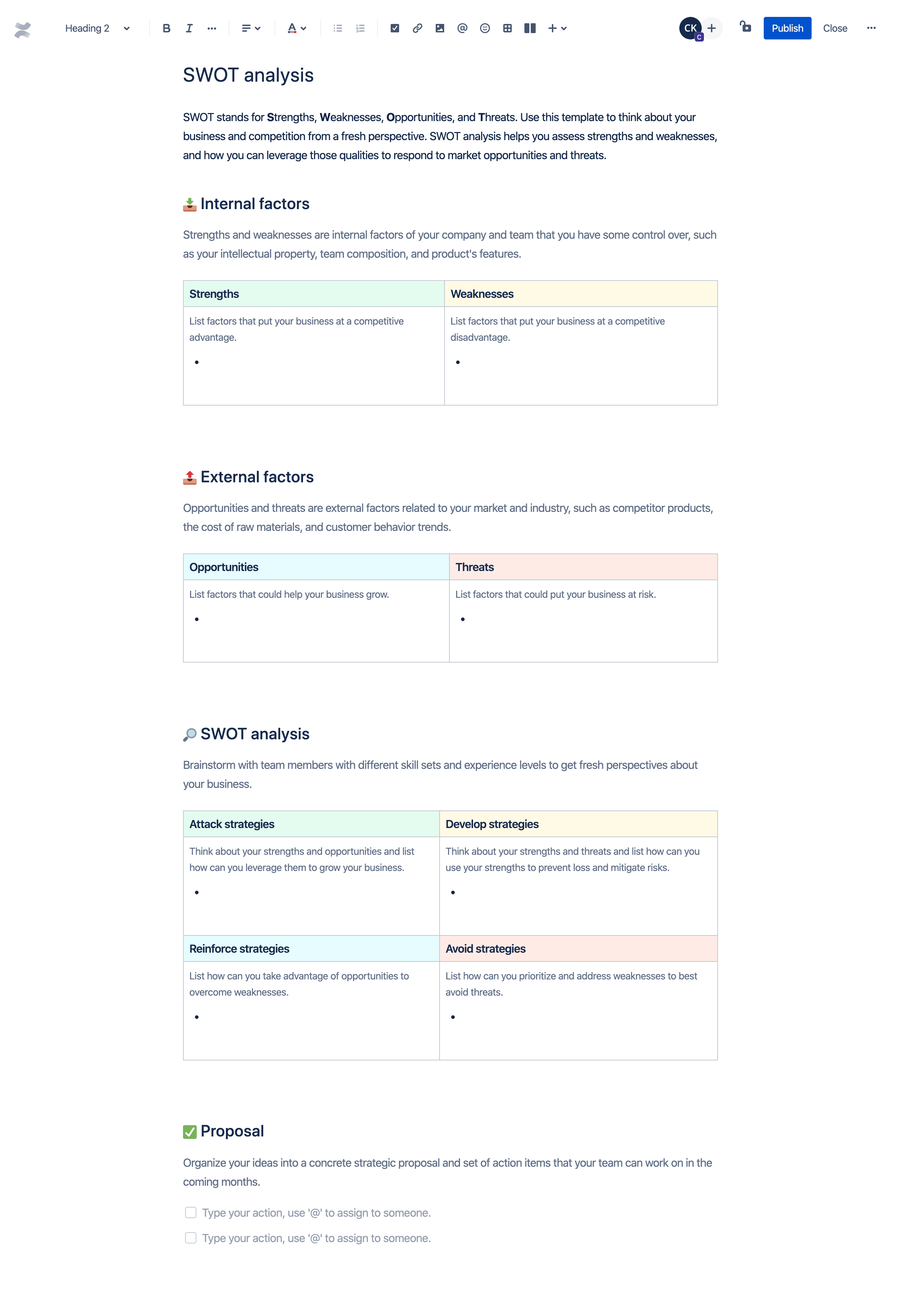 Step back and look at the big picture. What's your long-term strategy to grow your business? Whether you're building a startup or growing an established company, SWOT analysis can help you develop a strategic plan. Use our template to evaluate your company's strengths and weaknesses so that you can respond to market opportunities and threats.
How to use the SWOT analysis template
Step 1. Identify internal SWOT factors
Start your analysis by listing your top strengths and weaknesses. Strengths and weaknesses are internal qualities of your company that you can improve. For example, a car manufacturer may have developed a proprietary technology that reduces operational costs.
Step 2. Identify external SWOT factors
Continue your analysis by evaluating your company's opportunities and threats. These are external factors that could potentially help or harm your business, such as market conditions or customer trends. For example, a foreign country may increase tariffs. A car manufacturer can't change that, but can respond by changing its export strategy.
Step 3. Conduct a SWOT analysis
Now that you've evaluated your strengths, weaknesses, opportunities, and threats, you can use your analysis to develop business strategies. Start by setting up a brainstorming session with stakeholders from different parts of your company. As a group, think about how you can take advantage of internal strengths and external market opportunities to grow your business and overcome weaknesses and threats.
Step 4. Organize your SWOT analysis ideas
With your SWOT analysis complete, you're ready to convert your ideas into a strategic plan. Organize your ideas into a set of action items your team can work on in the coming months. Make sure you're achieving your goals by connecting your action items to measurable OKRs.
---
Atlassian is an enterprise software company that develops products for software developers, project managers, and content management.
Collections this template belongs to
More business strategy templates View all
4Ls retrospective

Use this template to conduct a 4Ls retrospective with your team.

5 whys analysis

Use this template to conduct a 5 whys analysis and discover the sources of team problems.

All hands meeting

Share business updates, victories, employee spotlights, and more with your larger team.