Top 5 employee engagement strategies
By Zöe Desroches
You've spent months – years, even – hiring your dream team. Everyone brings a unique experience, perspective, and their own flair to the group. But getting them to gel as a team isn't always easy. And perhaps some of the long-term employees are less enthusiastic, showing up late to meetings, passing up training opportunities, and skipping your team's social plans. You start to worry they have one foot out the door, or maybe both feet. What happened?
Low employee engagement – that's what happened. And it can happen in any company, even cool tech startups with game rooms and micro-kitchens. To avoid this kind of distancing, it's crucial for People and HR teams to ensure people are satisfied in their roles, staying connected to their colleagues – and enthusiastic about doing their best work. In this section of the Atlassian HR Guide, we take a look at five steps you can take to create the kind of meaningful engagement that keeps employees doing great work and even enjoying their jobs (and you won't have to buy a billiards table to do it).
Follow these five steps to foster a more engaged workforce:
Step 1
Connect employees with their (good) work
It's surprising how often companies miss the most elementary step in creating happy, productive employees: meeting their basic needs. Before any fun engagement tactics can take off, you need to make sure people have the tools and resources to do their jobs well.
Next on the list is the magic bullet for engagement: helping people feel connected to their work. Set clear expectations so that people know when they're hitting their goals and doing a good job, which just feels good. That translates into feeling emotionally invested in their work and team. And when you catch people doing well, tell them so. Who isn't happier and more invested in their work when they get praised? If you leave them wondering if their efforts are on track, even the best employees may lose heart.
Make it all clear and visible with tools that track team priorities and meetings that help individual contributors understand what they're responsible for and why. As an added benefit, you'll get an instant view of team progress toward their goals and milestones.
Step 2
Get your culture and values front and center – and live up to them
Don't lose sight of the individual. Connections between teams and the org happen on a personal level. By sharing documentation on meaningful topics like company culture and values, everyone learns how they fit in and fit together.
You don't need to be together to build your company culture. Use Confluence as a virtual hub to share personal and professional wins with blogs that show up on a company feed. That way, people can easily ask questions and chime in on topics of interest. It's a rush when your blog gets likes and comments – and that builds engagement better than anything.
Keep a close eye on creating a welcoming, inclusive, and safe environment where all people can be themselves. When employees can bring their full selves to work, it instills a sense of belonging and psychological safety – and that's proven to create more innovative outcomes. It's pretty simple, really: people feel more engaged when they feel more welcome.
When it comes to engaging employees, make your culture responsive to their interests. Do they really want a holiday party during the busiest time of year, pulling them away from their families and their work? Ask. The answer might be yes, but it could well be no. Teams of any size can share ideas and find common interests, whether it's a recipe swap, picture contest, art class, or team trip. Spark ideas from this list of proven favorites for remote teams.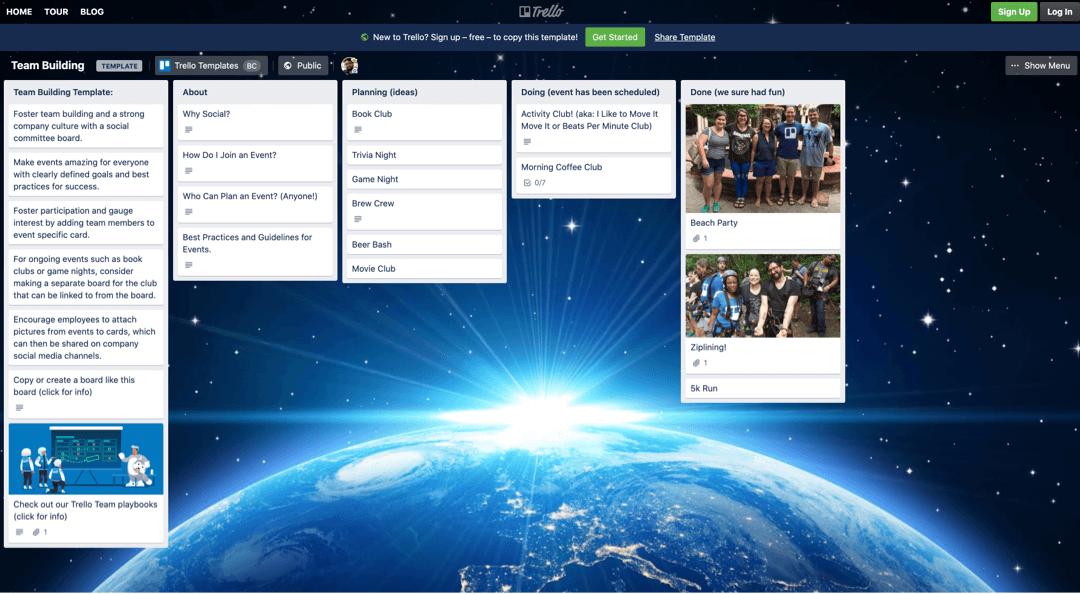 Step 3
Reward and retain
More formal feedback is important, too. It's human nature to crave recognition and rewards in all aspects of our lives, and most people aren't working for fun, so it's especially work. Yet, reviews are often dreaded, even though they're also critical for employee engagement. Build ongoing performance evaluation and feedback cycles to provide employees with frequent signals on how they're doing, but don't just do them in one awful annual lump or never-ending cycles.
Annual reviews should never come as a surprise. Set clear goals and have quick check-ins often, letting employees know where they stand. Set OKRs and let employees give themselves a quick score every month or quarter.
Use Jira Core to keep OKRs and milestones clear and visible to everyone, because employees are more engaged when they can see exactly how well they're doing.
When everyone is humming along doing the right work and performance improves, that's when it's time for rewards. Employee surveys can help you suss out what everyone wants. Ask which benefits or perks are most highly valued, and then show your employees that you're listening by delivering. Free lunches once a week? Friday afternoons off during the summer? Make it happen if you can.
Institute peer bonuses that let employees show their appreciation to each other, as well as spot bonuses from managers to celebrate a job well done. You might be amazed at the power of these perks to drive great work (and retain great workers). Try company-wide awards to keep people excited and communicate company values and goals. And don't discount the impact of simply telling someone they're appreciated – and why. Positive feedback can work wonders.
At Atlassian, anyone can send Kudos – a gift card to Amazon or a local coffee shop – to a fellow worker who did something awesome. It's baked into the HR system, encouraged, and so easy that people really do it!
Step 4
Track and monitor
Keep a finger on the pulse of your workforce by tracking employee retention and turnover rates. Don't ignore the signs if these rates show you've got a problem. Dig deep and ferret out the issues.
Also, just ask. Survey employees about their satisfaction, engagement, benefits, and other details that help you understand where they stand. Be sure to set an example of openness to honest feedback. Establish that bringing up issues – along with ideas for solutions – deserves praise and maybe even a reward. And do collect responses anonymously so people feel free to provide honest input about tough topics.
Conduct surveys frequently enough that you can recognize engagement risks before they boil over into attrition. And be transparent by sharing aggregated results with everyone; employees will feel like their voices matter if they know you're taking their input seriously.
Post survey results on a Confluence page – and keep them in one place so you can see trends over time.
Step 5
Go with the flow
Technology, travel, and the type of work we do have all changed in so many ways it's hard to keep up. And the disruptions won't slow down anytime soon – whether from economic shifts, industry changes like new regulations, or altered working conditions like the sudden wave of remote work triggered by the COVID-19 pandemic. Don't even try to fight it. Get more resilient and ready for change.
The struggle is real, but it's lessened when your teams are tuned in. So, no matter the nature of the disruption, seek ways to bring your employees together so they feel connected and engaged. Virtual events, company swag, and frequent team check-ins all go a long way toward helping everyone stay engaged, even remote workers. Don't forget to send them a t-shirt, too.
Employee engagement matters for individual employees and for the broader organization – it impacts retention and turnover as well as the collaborative work teams do together. And ultimately, it impacts the quality of the products and services your company offers. By making employee engagement a mission-critical part of your work as People and HR leaders, you can play a pivotal role in ensuring your employees stay connected, satisfied, engaged – and around for a long time.
For more tips and ideas about how to keep your employees engaged, check out our page about How to win at employee engagement.