Annual plan one-pager template
Létrehozta: Mike Cannon-Brookes, Co-founder & CEO @ Atlassian
Rally your entire organization around your biggest goals
A sablon használata
In a study of how well employees know their companies, only 29.3% of participants were able to correctly identify their company's strategy. As much as you might like to think your company direction is clear, major goals and priorities might be a bit of a mystery when teams are managing their day-to-day duties. That's why Mike Cannon-Brookes, our co-founder and CEO here at Atlassian, developed the annual plan one pager template. It keeps everybody in the loop on what you're focused on and why, and who's responsible for what, while also helping people connect their own work to bigger objectives.
Hogyan használd a sablont (annual plan one-pager)?
Step 1. Explain your values and mission
Your company values and mission are the foundation of everything you do. But, they might not be quite as top of mind for everybody as you like to think. Use the Values and Mission sections of this template to state them in plain language (meaning you should skip the jargon and buzzwords). This is important context for everyone to keep in mind as they review your strategies and goals.
Step 2. Outline your strategies and three-year goal
You don't just want to use this one pager to talk about where you are – you want to share information about where you're headed. Use the Strategies section to jot down the three main initiatives your company is focused on, the Market focus section to explain your target audience, and the 3-year goal section to share where you want your business to be in the relatively near future.
Step 3. Provide an overview of your OKRs
OKRs are an effective way to keep your entire team on track. However, it's easy to get focused on your own objectives and lose visibility into what other teams are working on. Use the Company OKRs table to keep these top of mind. In addition to noting the team and the OKR itself, make sure that you also @ mention an owner (so people know who's in charge) and assign a score so that everybody can immediately see whether that objective is on track, behind, or still needs work.
Step 4. Set your global priorities
It's easy to forget that all teams share priorities; they just play out differently within specific departments. In the Global priorities section, unite everybody by explaining what you're focused on across the company. For example, if you're working toward expanding to three new markets, note it here. That helps all teams understand how their individual pieces contribute to the larger puzzle.
Step 5. Dig into your team-specific priorities
Now it's time to get a little more granular by breaking down your priorities by team. Use those designated sections to assign an owner, briefly explain that group's mission, and record the key results they're trying to achieve. You'll solidify alignment, increase transparency across the organization, and make sure that each person is accountable for progress.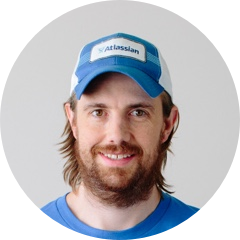 Mike Cannon-Brookes
Co-founder & CEO @ Atlassian
---
Mike Cannon-Brookes is the Co-Founder and Co-CEO of Atlassian. More than 150,000 large and small organizations across the world, including companies like Spotify, NASA, Mercy Ships, Sotheby's and Visa use Atlassian's collaboration products to help their teams work better together.
4Ls retrospective

Use this template to conduct a 4Ls retrospective with your team.

5 whys analysis

Use this template to conduct a 5 whys analysis and discover the sources of team problems.

All hands meeting

Share business updates, victories, employee spotlights, and more with your larger team.