90-day plan template
Létrehozta: Atlassian
Get new employees set up for success
A sablon használata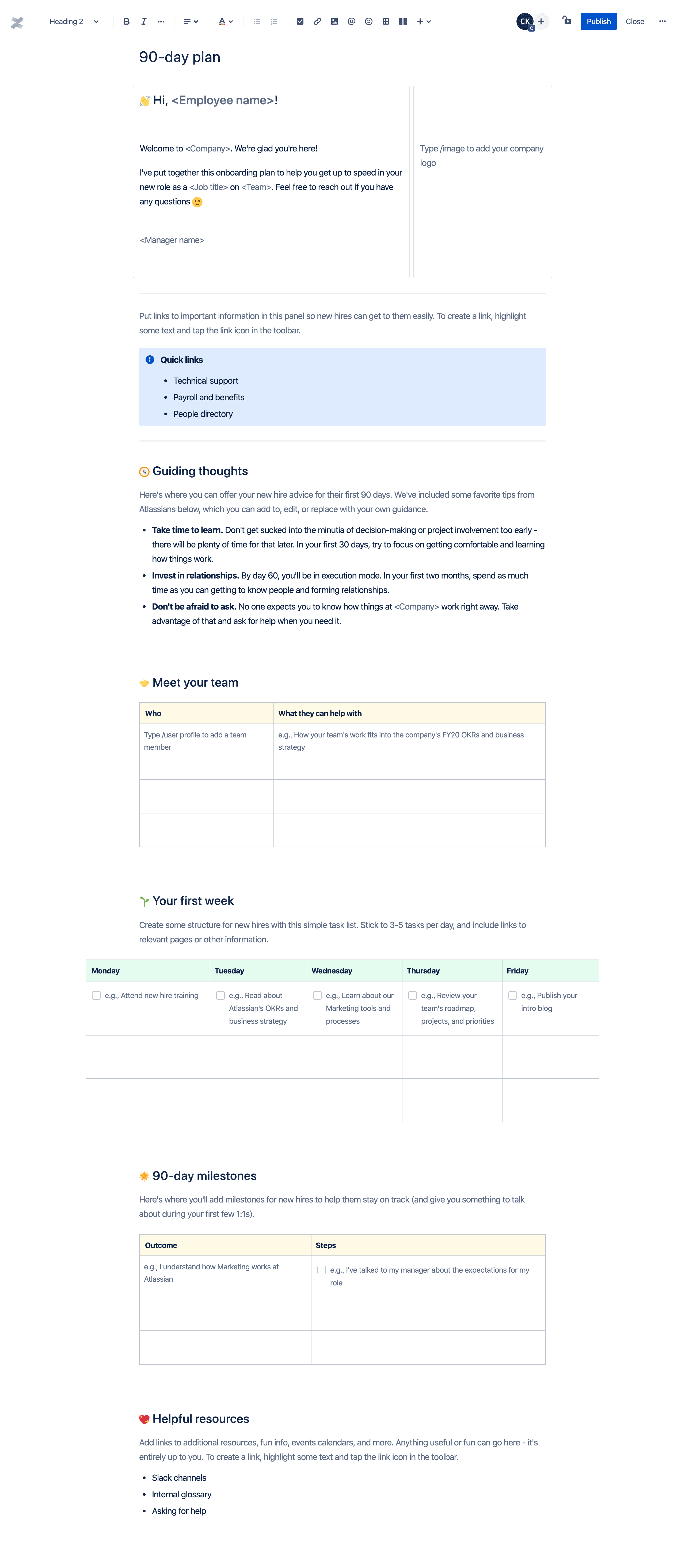 You've spent weeks, maybe even months hiring the right person for a new role. Now that they're here, you want to set them up for success. That's where the 90-day plan template comes in, by streamlining the onboarding process and giving it structure. Introduce new employees to your values, point them to key people and resources, and give them goals and milestones to work towards. It has everything you need to bring new hires up to speed, all in one tidy package.
Hogyan használd a sablont (90-day plan)?
Step 1. Gather resources
There's a lot new hires need to know when they join your company. Start by gathering important links and resources — things that will help someone new navigate their new environment. In the 90-day plan template, we've divided this into two sections: quick links at the top for things like tech support, payroll and benefits systems, and your people directory, and another section at the bottom for things like Slack channels, internal glossaries, and team and culture resources.
You can make these resource sections as comprehensive or as simple as you want. Be sure to explain what the different resources are, why they're important, and how they're used. If that information isn't on the page you're linking to, include a short description with each link in the 90-day plan.
Step 2. Introduce your team
Create a list of team members and their projects in Meet your team. Type "/user profile" in the left-hand column to display a photo of each team member alongside their contact info. That way, your new hire will have all the information they need to set up a fruitful 1:1 with their teammates.
You don't need to fill everything out yourself, either. Ask the people on your team to summarize their project work and add a fun fact or two. It'll take some of the work off your plate and add personality, giving new hires some insight into the people they'll be working with.
Step 3. Create a first-week schedule
It can be hard to keep track of all the meetings, trainings, and tasks you need to complete in your first week at a new job, especially since you're often navigating new IT systems. Help new hires keep track of everything and stay on task by including a first-week schedule in their 90-day plan.
The schedule doesn't have to be comprehensive, but it should include the big events: major trainings or meetings that are required, along with who's leading them and where they are. Don't worry if you're duplicating information; having a hard copy is helpful when you're just getting started since it takes a while to get set up with all the right IT systems.
Step 4. Map out milestones
Think about what you want your new hire to achieve in their first 90 days and choose 3-5 milestones. Focus on milestones that are SMART—Specific, Measurable, Achievable, Relevant, and Time-bound. That way, your new employee can track their progress on their own.
Once you know the outcome you want, list the steps your new hire should take to get there. Stick to a small number of steps and keep them simple. The goal is to help new people learn the ropes and build confidence as they get started. You don't want to overwhelm them with too much all at once.
Step 5. Make it personal
Adding a personal touch to the welcome message and guidance can go a long way toward making the new person feel welcome. Even little things, like adding emojis or a team photo, can make a difference. As you go through the template, think about ways to make it your own.
The first-week calendar is a big part of this. Not everything on it needs to be a training session or form to fill out. Consider including a team coffee or lunch to kick start relationships between your new hire and the rest of your team.
---
Atlassian is an enterprise software company that develops products for software developers, project managers, and content management.
All hands meeting

Share business updates, victories, employee spotlights, and more with your larger team.

Career development plan

Create a development plan to help employees grow and achieve their professional goals.

Employee handbook

Create an employee handbook by using our template to design a table of contents and convey company information.