Take the static out of status reporting
Today's status reports are more work than they're worth. Team Central will change that.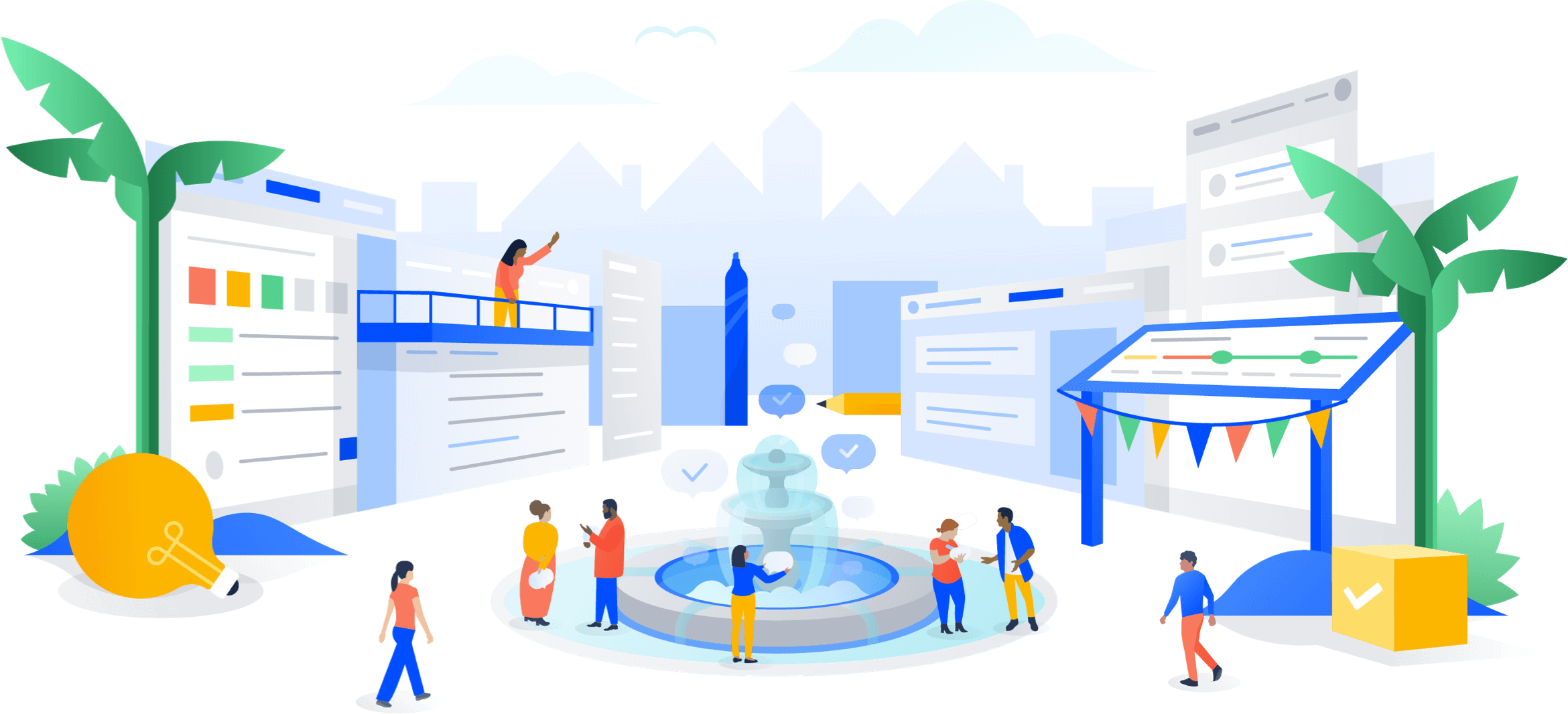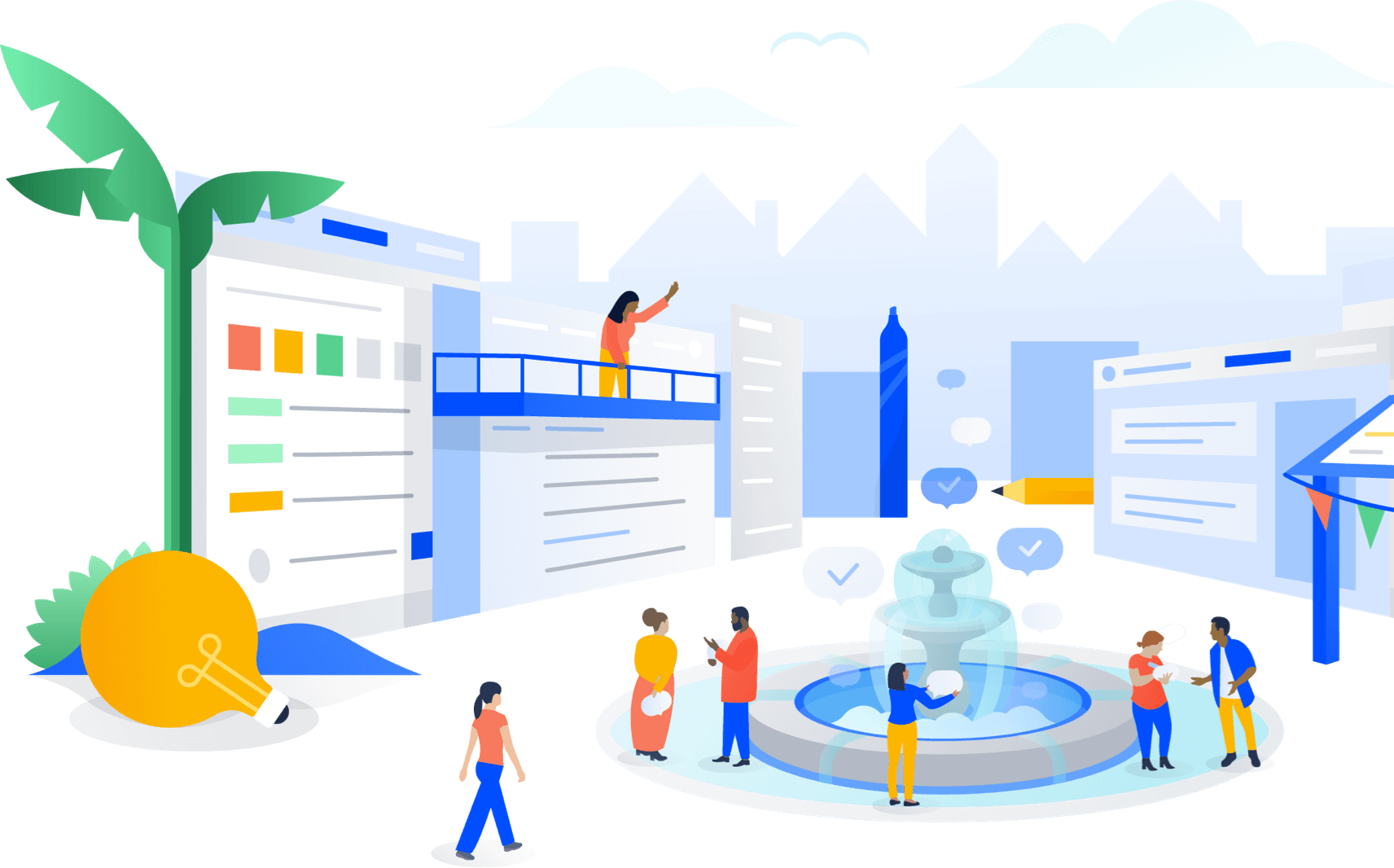 Curated, concise updates in one organized feed
Team Central is here to outshine your outdated status spreadsheets. Give everyone access to real-time progress, potential problems, and priorities, in a digestible feed they'll actually read.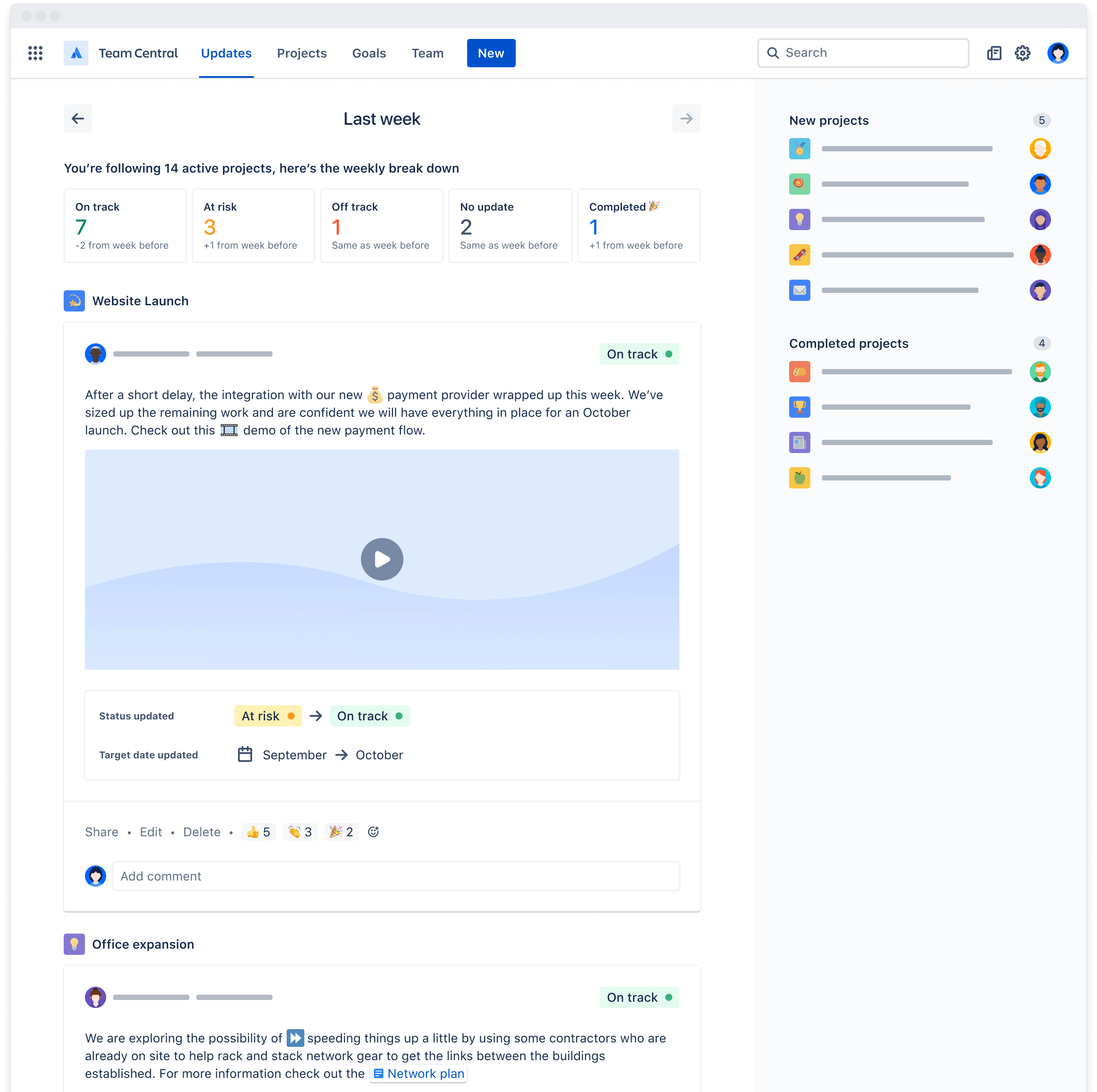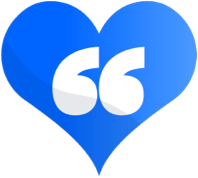 I love status reporting
- Said no one ever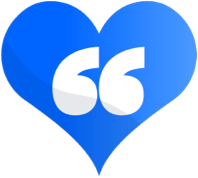 I love status reporting
- Said no one ever
Status reporting needed a makeover. Welcome to the 'after'
---
Status reporting needed a makeover. Welcome to the 'after'
---
Updates
Write better updates
Character limits and easy-to-add videos and images help you write updates people will actually interact with.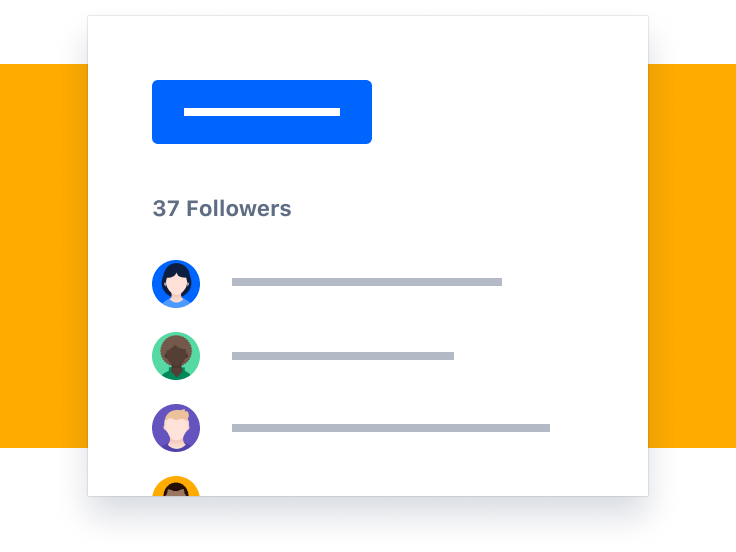 Followers
Opt-out of the noise
Get information that's relevant instead of all the information available. Choose which projects to follow with one click.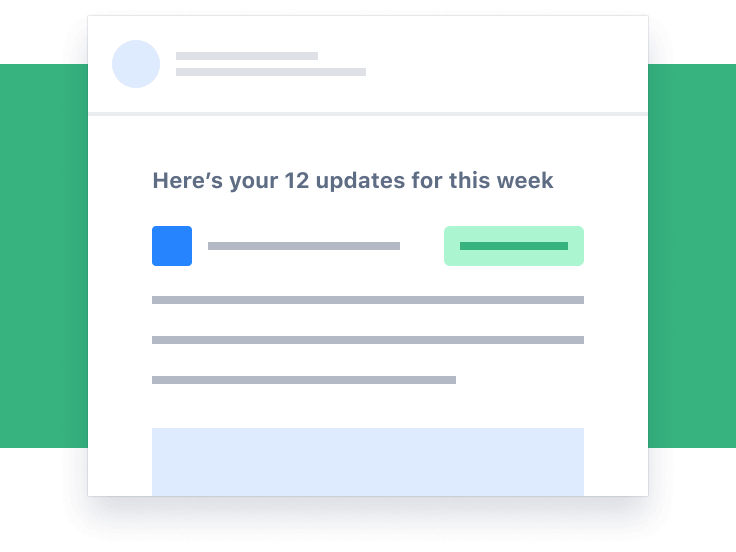 Reminders
Automate the mundane
Project owners get reminded to share end-of-week reflections and deliver updates to followers' inboxes first thing Monday morning.

Labels
Curate as you scale
Gone are the days when you have to write the same update from ten different points of view. Create and follow hashtags to see updates from any lens: department, quarter, company initiative or anything really.

A homepage for every project
Sharing updates in isolation is a recipe for creating more work. Give followers the context they're craving, in a format they can easily consume with a single source-of-truth for every project.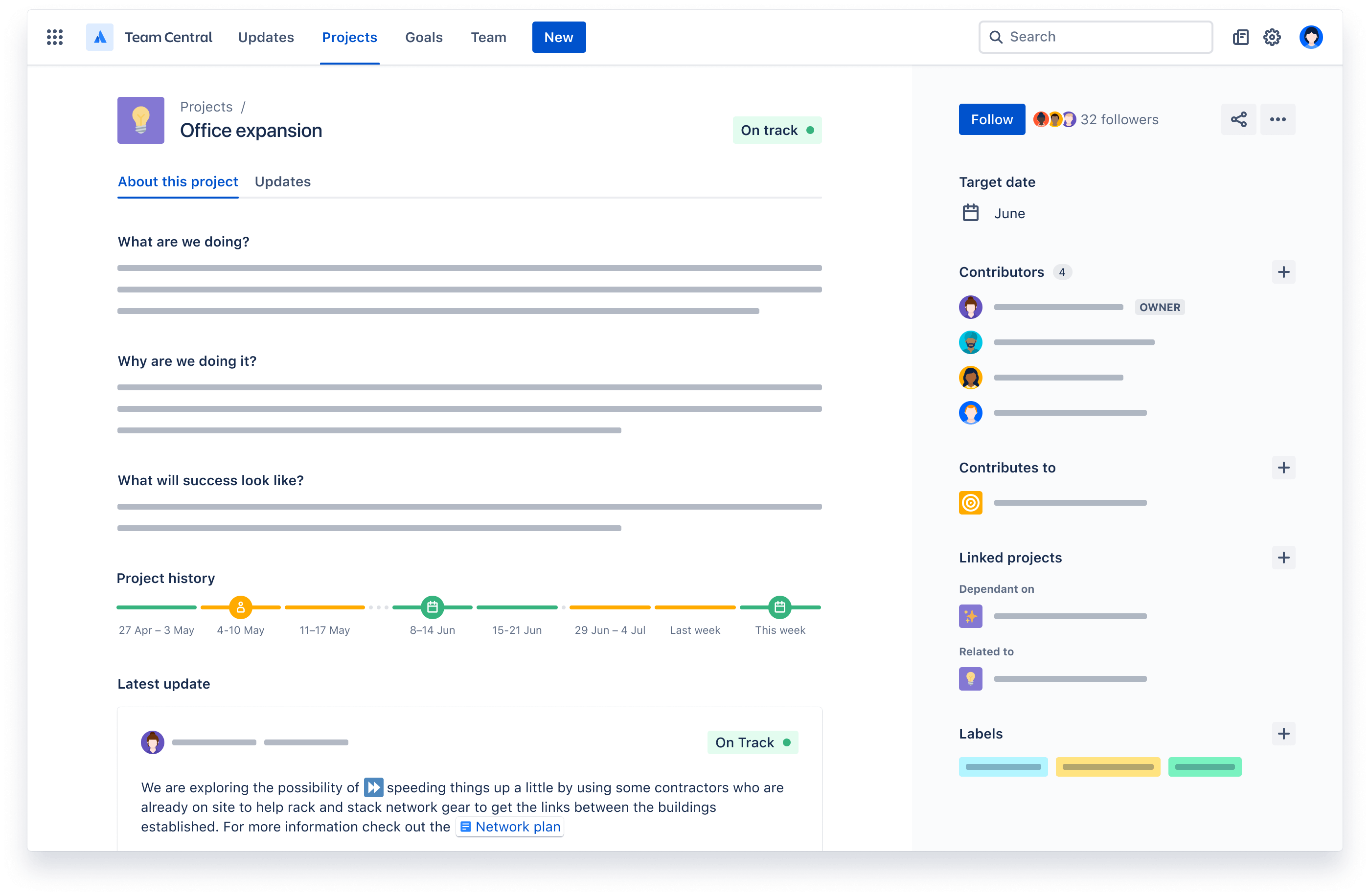 Project history
Remember what happened last week, and the week before...
Followers
Tell writers who's reading their updates
Target date
Avoid unrealistic deadlines in favor of understanding a team's confidence level
Team
See who, not just how many, are working on each project
Goals
Highlight the outcomes each project is driving towards
Linked projects
Make managing dependencies top-of-mind for every project owner
Automated reminders
Remind project owners to share and stakeholders to react without lifting a finger
Embed media
Woo your readers with video updates, presentations, and easy media uploads
Org-wide format
Align all teams on the same foundational project questions
Give everyone access to real-time progress
Best practices
Learn from teams who've broken up with their spreadsheets
We've opened up Atlassian's internal comms playbook, sharing the beliefs, rituals and techniques that helped Atlassian teams evolve from cross-team comms chaos to synchronized, simple comms rituals designed to move work forward. Learn more about the Loop project communications framework, no tool needed.
Integrate your comms and tracking
Team Central is built to complement however your team tracks work.
Jira
Update stakeholders as soon as changes happen to your projects.
Confluence
Summarize project status across programs and quickly dive into project context.
Slack
Deliver digests right to your channels and easily make status updates a ritual.
Status reporting doesn't have to waste everyone's time. Try Team Central today.