Product Guides & Tutorials
Everything you need to know about buying, using, and customizing Jira Software.
Discover Jira mobile apps
Keep work moving forward from anywhere, at any time, with the Jira Cloud mobile app for iOS or Android. It's powerful and palm-sized. 
Want the app on your device? Select the following links to go to the App Stores and Play Store: Jira Cloud for iOS, and Jira Cloud for Android.
---
Benefits of using the Jira mobile app
Respond faster with push notifications. Stay up-to-date; resolve issues faster; respond to issue comments instantly; update your team's board and backlog on-the-fly; view critical dev info quickly. 
Maximize visibility with a single source of truth. Working on projects across multiple teams can make gaining status updates difficult. With the Jira app, overall progress and plans are stored in one place, increasing everyone's shared knowledge and accelerating the path to success.
Move work forward from anywhere, anytime. Using Jira for iOS or Android means collaboration isn't tied to a particular office space or work environment; you can say goodbye to long waits for team collaboration or group status updates. And there's no double-handling – updates in the mobile app are automatically shared with Jira Cloud for macOS, as well as Jira Cloud for web.
---
Who uses the Jira mobile app?
Developers: Receive updates on your build status in Jira. By opening a single Jira issue, view critical development info – branches, commits, pull requests – instantly, and respond to issue comments faster. 
Testers: Testing pre-release versions of software is faster and easier when project status updates are instant. Learn where your fix-requests are up to via Jira, and re-test as soon as you need to.
Project managers: Stay up-to-date with exactly what's being released and when. At a glance, track development projects on Jira's board or backlog, and view long-term goals with roadmaps. Giving spontaneous updates to stakeholders has never been easier.
Release managers: Knowing what's ready for release (and what's not going to make it) and communicating that information to key stakeholders can be a whole lot easier when all critical info is located in one place. It can all be right there in Jira, ready for you.
Here are two Atlassian Community articles describing how individual team members and project managers can use the app for faster collaboration and simpler knowledge sharing. Plus, check out this video for a demonstration of how the app can streamline a DevOps workflow.
---
Get started with the Jira mobile app
Download, verify, invite. With Jira Cloud for iOS or Android, the power to move work forward in Jira Software is in the palm of your hand. 
Step 1: 
Download the app for iOS, Mac, or Android.
Step 2: 
Open the app and follow the prompts to sign up for an account, or log into an existing account: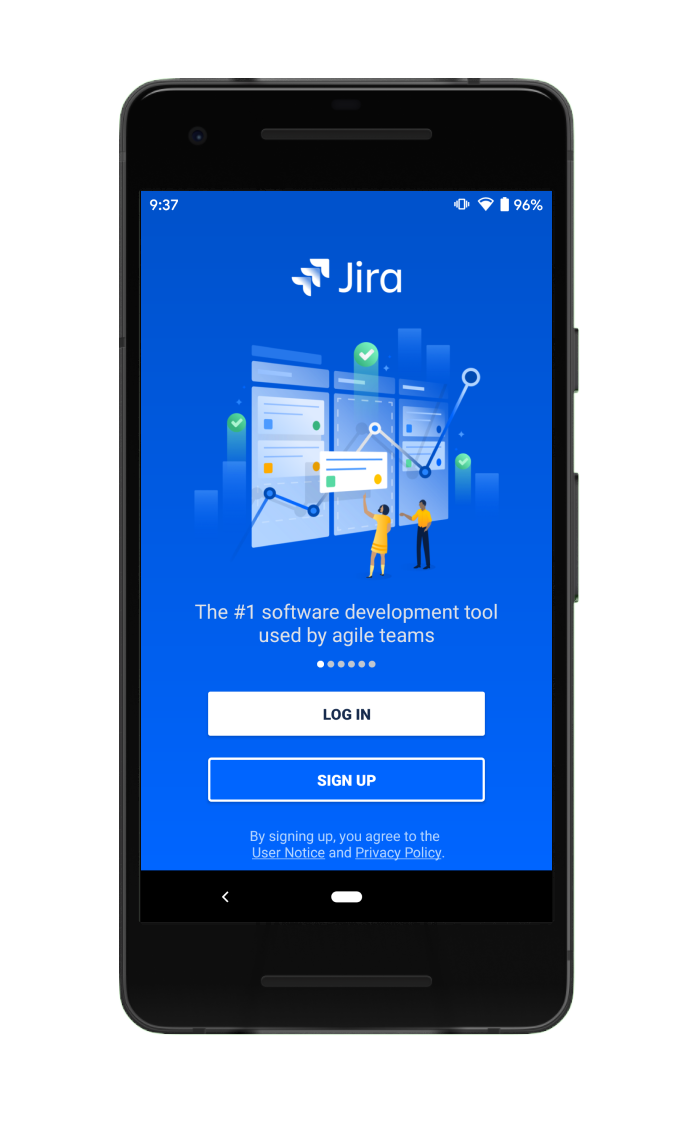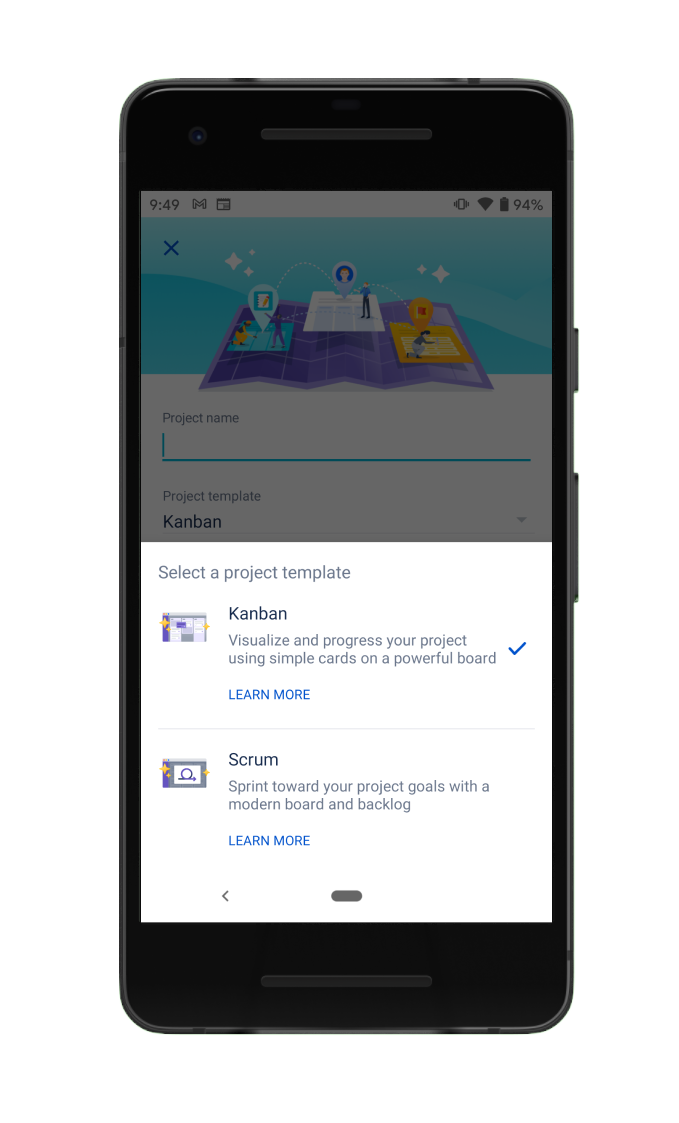 Step 3:
Invite your teammates to join the project. In the tab bar (iOS), side menu (Mac), or bottom navigation bar (Android), tap on your account > Invite people to the site.

---
How do I use Jira Mobile App?
Board basics: Columns and issues
Columns: Your board's columns represent issue statuses.
To edit column names, select the name (or the 'more' icon next to the column's name). 
To rearrange or delete columns, select a column's 'more' icon next to the column's name.
To add additional columns, scroll across your board and select Add column (or select your board's 'more' icon next to the board's name)
Updating and transitioning issues: Select an issue to add comments, assign teammates, edit the description, and more; simply select each field to update it. As you complete work, whether that's in sprints (scrum) or not (kanban), the process for transitioning issues is the same. You can either:
Drag-and-drop issues between columns on your board
Or:
Select each issue and update its status via the dropdown menu under the issue's summary
Roadmap, reports, releases, and notifications
Create a visual representation of your team's long-term plan by adding epics to your roadmap.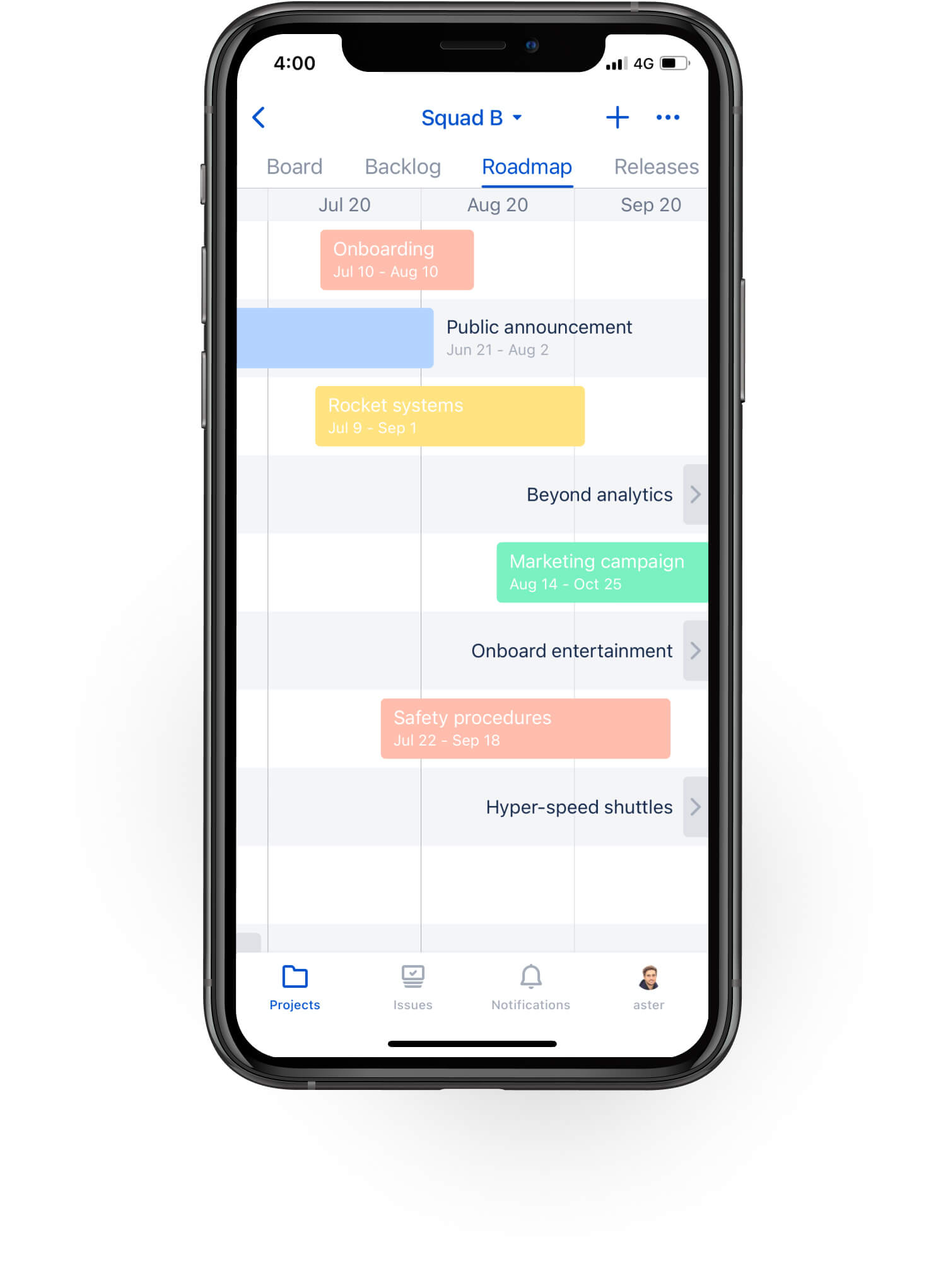 Track and analyze your team's progress with reports, including burndown and velocity.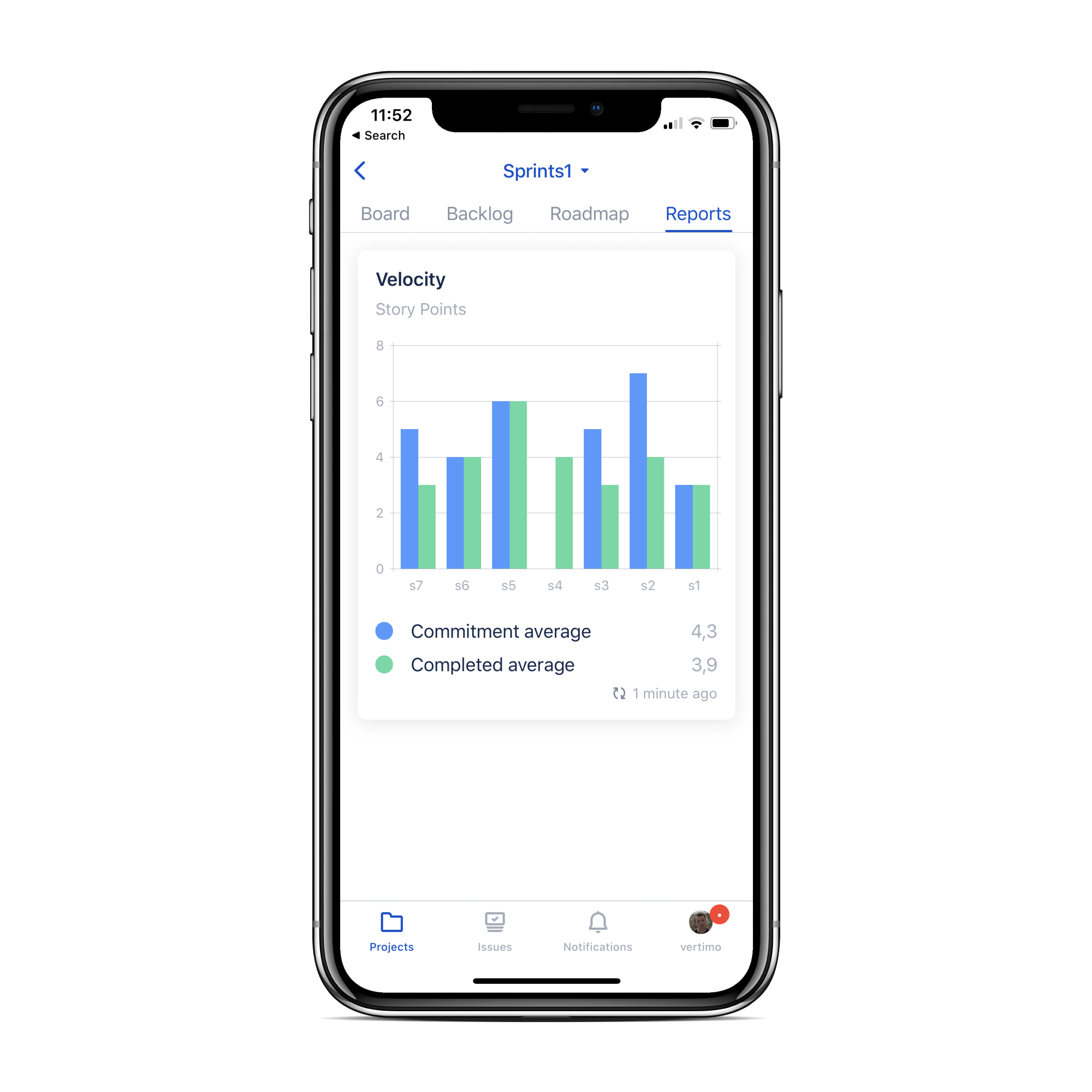 Package your completed work into releases, ready to ship. View critical release information including builds, commits, and overall status updates.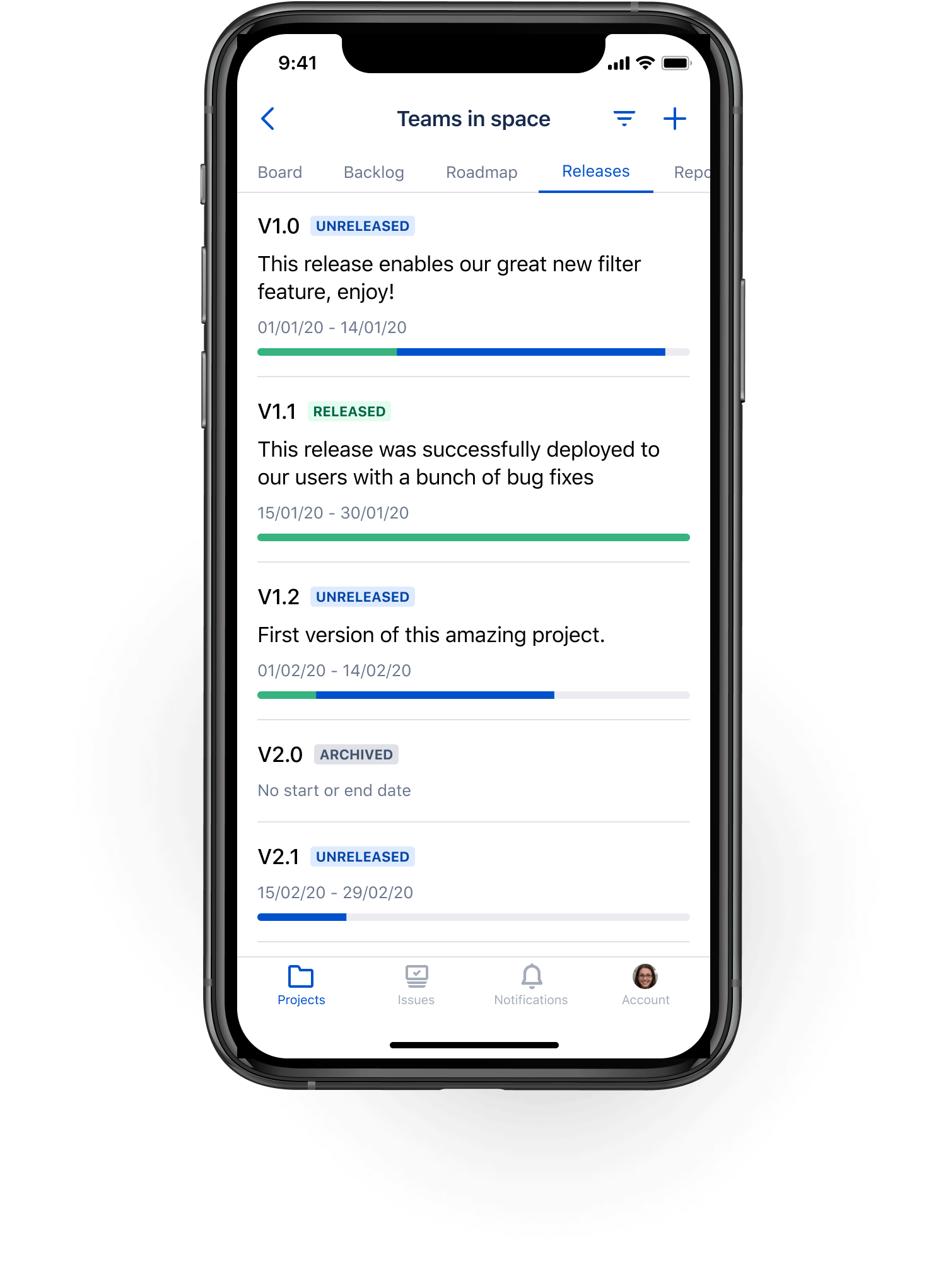 Receive push notifications and stay up-to-date wherever you are. (Access push notification options in Settings.) Tip: You can reply faster to issue comments directly from push notifications, without opening the app.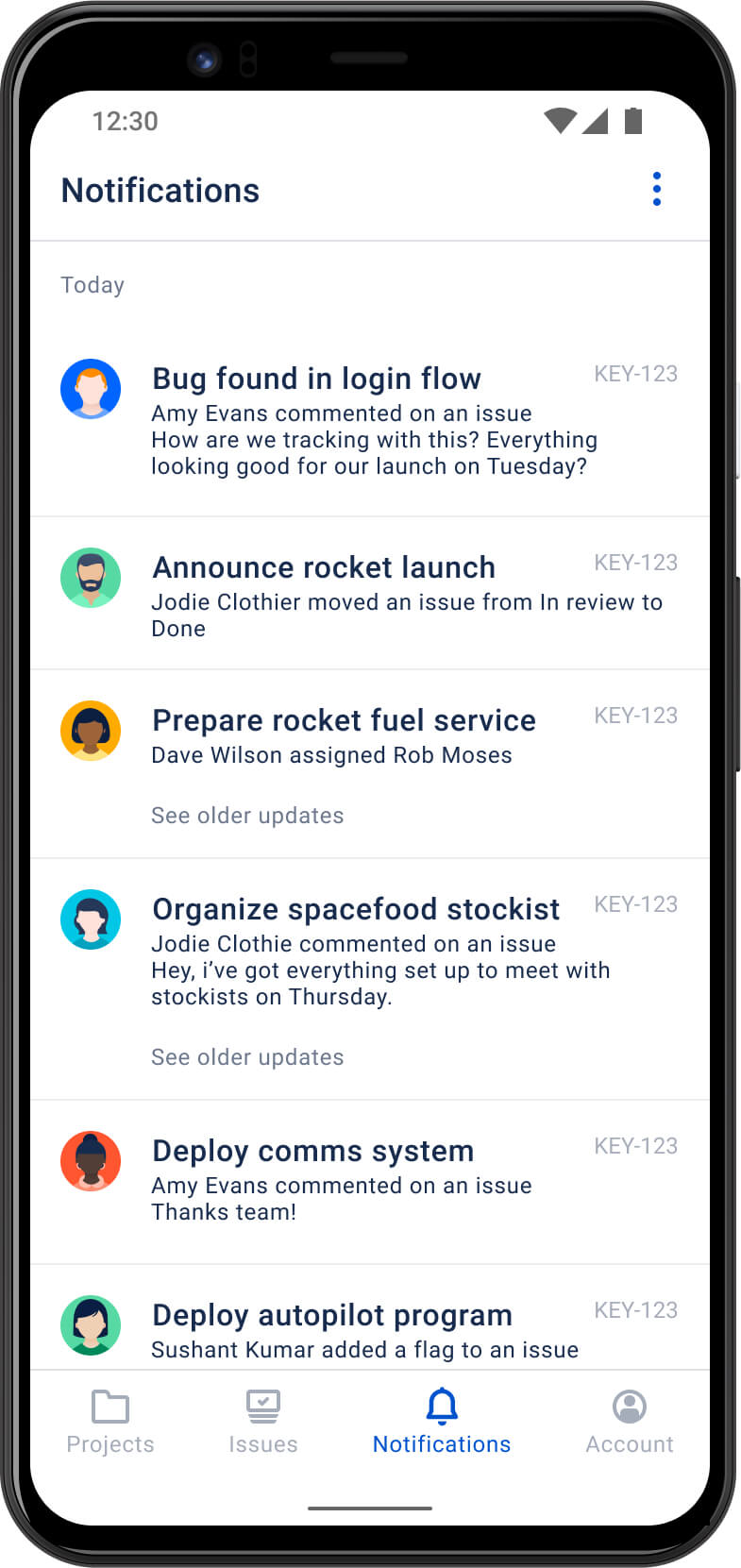 ---
Jira Mobile + web
Jira Cloud on iOS and Android complement Jira in your web browser. The web version provides advanced configuration, including permission schemes, app integrations, and technical settings for administrators. Both platforms (web and mobile) deliver capabilities to move work forward via issue creation, boards and backlogs, reports, releases, and critical development info. Mobile allows you to embrace the power of push notifications to keep you up-to-date, and enables you to stay connected with true location-flexibility.
Get started with Jira Software free today